Best Case Scenarios for the Rest of the Atlanta Braves' Season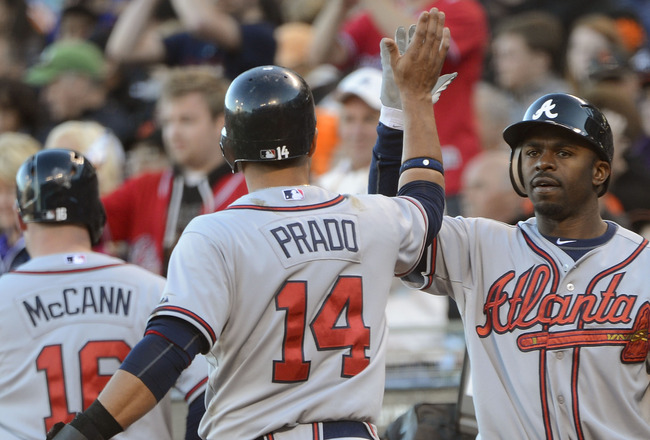 Thearon W. Henderson/Getty Images
As the month of September approaches, the Atlanta Braves find themselves in the same position that they've been in the last few months.
They are at arms length from the Washington Nationals in the NL East division and hold a comfortable lead for one of the two wild-card spots.
However, they are far from locks for the playoffs at this point with the St. Louis Cardinals playing good baseball and the Los Angeles Dodgers upgrading their team in major fashion.
Both those teams will not fade down the stretch, so the Braves will have to avoid back-to-back September collapses.
Here's some best case scenarios for the Atlanta Braves in the rest of 2012 in order for them to make a serious run in the postseason.
1. Dominant Hudson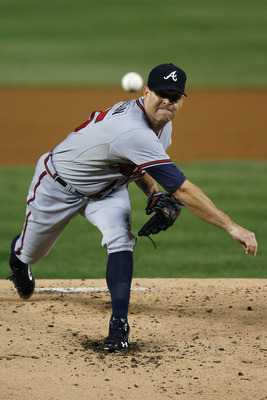 Rob Carr/Getty Images
If you've read some of my prior articles than you know I feel that the Braves could use a No. 1 starter on the pitching staff to make a serious run in the playoffs.
One guy who can be that for the Braves down the stretch is the veteran Tim Hudson.
The Braves need Hudson to pitch like he did against the Giants Sunday night (seven innings, five hits, one run) rather than his last outing against the Washington Nationals (six innings, seven hits, four runs).
Hudson doesn't possess dominant stuff, but when his sinker is working, he can be as effective as any pitcher in baseball.
He's struggled against the Nationals this year, as he's given up at least four runs in his last three starts against them.
Another series with the Nationals looms, so Hudson could have a chance to redeem himself and pick up some games in the division.
Hudson is the lone veteran presence in the starting rotation, and the Braves need him to assert himself as "that guy" on the staff.
2. Hot Heyward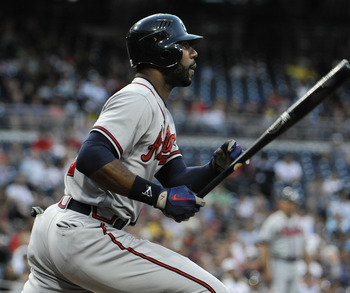 Denis Poroy/Getty Images
Jason Heyward has figured out how to hit at the major league level and is gaining confidence at each at-bat.
In his last seven games, Heyward has gone 11-for-30 (.367) with four home runs and eight RBIs. That includes his last three games against the Giants in which he homered in each game.
The Braves transform into a better baseball team when Heyward is on fire.
The Braves have been 7-2 in the month of August when Heyward has a multi-hit game—their only two losses coming against the Nationals.
Heyward can hit for power and average has above average speed on the basepaths. Heyward has stolen 19 bases this season and also goes from first to third on a regular basis.
His rare combination of power, average and speed give the Braves a real asset down the stretch that not too many teams have on their rosters.
3. Healthy Chipper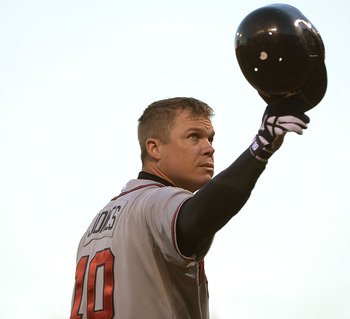 Thearon W. Henderson/Getty Images
Another player that adds a different dimension to the offense is obviously Chipper Jones.
There's not a whole lot more to say about the quality of play from the 40-year-old this season. He's hitting .305 with 13 home-runs and 54 RBIs.
Only a handful of players in baseball history have had better seasons at the age of 40.
Will he be able to last through the season and stay healthy?
He's going to have nagging injuries during basically every game at this point of his career. His most recent one is a strained oblique.
If he can manage to be in the lineup for two out of three games, the Braves lineup becomes that much better.
Chipper's still proving that he can get it done, and just having his presence in the lineup gives teams something else to worry about and allows Freddie Freeman and Heyward to see better pitches.
It's a long grind for a 40-year-old man. But the success that the Braves have for the rest of the year depends largely on the health of a 40-year-old.
4. Uggla/McCann Production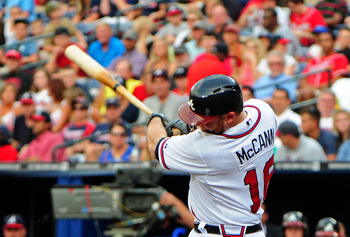 Scott Cunningham/Getty Images
One could argue that the two most frustrating players on the Braves roster this season are Dan Uggla and Brian McCann.
Uggla has simply not lived up to expectations since coming over from the Marlins, and this season has become disastrous.
Since June 5, Uggla has been hitting a putrid .143 with just five home runs. His .206 average is clearly not up-to-par, and his 15 home-runs are just as discouraging.
The Braves picked up Uggla to be a right-handed power hitter. He's hit over 25 home runs in six straight seasons and over 30 in five straight. He will likely fall short this season of both those numbers.
The struggles of McCann this season have been more surprising.
He's been one of the most consistent players in the Braves lineup the last four years as he's hit over .260 with over 20 home runs in each of those seasons.
His batting average this season is .236—easily his worst since being in Atlanta.
With the emergence of Freeman and Heyward, the Braves don't need much from McCann and Uggla.
But for the Braves to really take off, production from McCann and Uggla at the bottom of the order will be key.
5. O'Ventbrel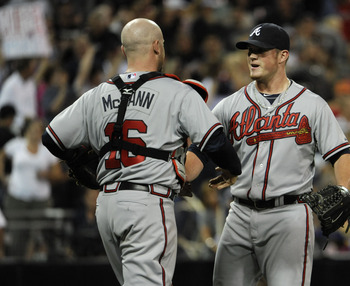 Denis Poroy/Getty Images
The Braves bullpen was the backbone of the 2011 team as Eric O'Flaherty, Jonny Venters and Craig Kimbrel were automatic at the end of games.
As the bullpen wore down at the end of August, the Braves started to fade themselves.
Starters have gone longer this season, and manager Fredi Gonzalez has tried to preserve his bullpen as much as possible.
O'Flaherty is having another strong season with a 2.12 ERA and has cemented his role as the setup man. Kimbrel is arguably the best closer in the game and does not appear to be slowing down any time soon.
Venters struggled to start this season but has seemingly returned to form since coming off of the disabled list—he's lowered his ERA more than a full run.
Best case scenario for the Braves, these three guys all have a stellar September to help make Gonzalez's bullpen one of the best in the game.
Keep Reading

Atlanta Braves: Like this team?