Is New York Yankees' Brass Laughing at LA Dodgers' Trade with BoSox?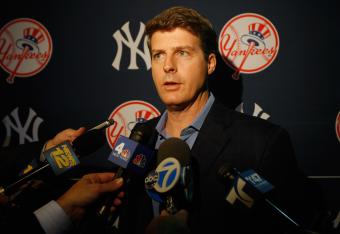 Mike Stobe/Getty Images
The fly on the wall in the executive offices at Fenway Park has got to be chuckling her wings off—right above the heads of the Boston Red Sox brass.
For in a seemingly magical move, Ben Cherington and the Red Sox made nearly $300 million of crippling debt vanish from its green monster coffers in its trade with the Los Angeles Dodgers.
Someone add Cherington to the 2012 U.S. Presidential race! While times may be tough for Red Sox Nation the next year or so, this executive just plopped this proud franchise with a deep farm system on a track for future success.
Meanwhile, in New York City, the fly on the wall in Hal Steinbrenner's office may also be heartily laughing.
With one figurative swipe of a credit card, Steinbrenner and his crew just watched Don Mattingly and Co. inherit a boatload of debt in a bold effort to win the World Series.
"We want to win now," Dodgers' part-owner Magic Johnson told the Los Angeles Times. "We understand that you have to spend money to be good in this league."
More flies are busting guts in Tampa Bay, Oakland and Baltimore. Perhaps the Dodgers could care less about heeding lessons from the "keep up with the Joneses" culture the Yankees are trying to get away from.
Per Mark Carig of the Star Ledger, Steinbrenner is determined to get his ball club below the $189 million luxury-tax threshold.
From Carig:
Hal Steinbrenner believes the Yankees can remain competitive without the bloated budgets that were a staple of his father's free-spending tenure in the Bronx.
Furthermore, New York is working hard to grow its minor league system, more than this team has done in the past.
From Steinbrenner (per Carig):
Budgets matter. Balance sheets matter. I just feel that if you do well on the player development side, and you have a good farm system, you don't need a $220 million payroll. You don't. You can field every bit as good a team with young talent.
Hallelujah!
From the looks of things, the Yankees are on a healthy path to continued excellence in a tough economy. While the Yankees have struggled a little bit lately, this veteran club still boasts an AL East-best record of 74-54.
This, without making a meteoric splurge at the trade deadline.
At the same time, the Yankees brass has very quietly stockpiled incredible talent in its minor league system.
One look at the Yankees top 20 prospects on its minor league affiliates website will give readers half the picture Steinbrenner is painting.
The other half lies in an incredibly impressive showcase of undrafted, under-the-radar hitting prospects and pitching prospects within the Yankees minor league system.
A masterpiece indeed, Yankees fans should be excited about its future.
BoSox fans should excited as well, once the grim fog of war clears and it can unleash the incredible talent it houses within its own farm system.
Of course, this is not to say Dodgers fans should also be stoked—for now, at least.
This team—whose leaders have taken a huge gamble by absorbing massive contracts and trading solid prospects to the Red Sox—is now fully loaded to win the World Series.
But should the Dodgers not bring home the bacon, the backlash against this historic ballclub will be epic.
And, like the flies on the walls in Boston, New York and beyond, the fly in the San Francisco Giants' executive offices will be snickering at the Dodgers for years to come.
This article is
What is the duplicate article?
Why is this article offensive?
Where is this article plagiarized from?
Why is this article poorly edited?

New York Yankees: Like this team?