Tennessee Football: 2012 Season Preview for the Volunteers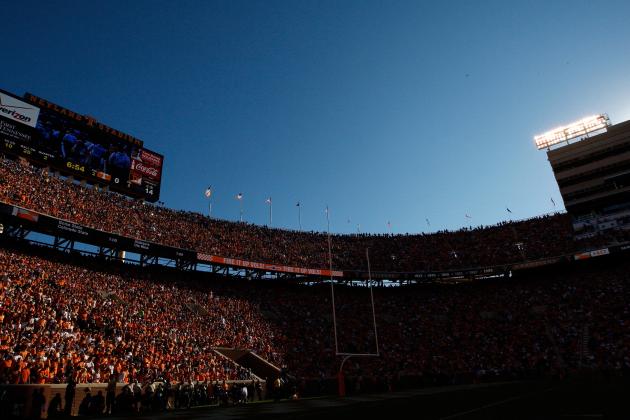 Kevin C. Cox/Getty Images

The countdown is dwindling for the 2012 college football season, and the Tennessee Volunteers are on the clock! Their coach is on the hot seat. Their defense is transitioning to a new scheme. Their offense boasts several future first-rounders.
This is a comprehensive look at virtually every aspect of this fall for the Vols. From an offseason overview to offensive MVP predictions to my five favorite Tennessee Twitter follows, you'll find nothing but orange and white over the next 17 slides.
Read on, and go Vols!
Begin Slideshow

»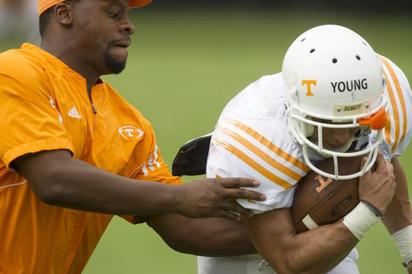 timesfreepress.com
This offseason was a mixed bag for the Tennessee Volunteers, and the plot thickened with the recent news of Da'Rick Rogers' suspension just last week.
The Good
This offseason the Tennessee Volunteers signed the 17th-ranked recruiting class. They saw perennial running back/wide receiver backup Rajion Neal surge forward as the starting tailback for the fall.
Antonio Richardson impressed coaches enough that he was named the starting left tackle. James Stone regained control of the center position, and big Daniel McCullers was named the starting nose tackle as a JUCO transfer.
Justin Hunter, Herman Lathers and Brent Brewer made it back to the field from their season-ending injuries.
The Bad
After Cam Clear was kicked off the team after a theft charge and a knee injury to Brendan Downs, the Vols were scrambling for tight-end depth. Justin King stepped in to back up Mychal Rivera.
Kenneth Bynum also suffered an injury that will likely result in a redshirt.
Starting cornerback Izauea Lanier was ruled academically ineligible, forcing Marsalis Teague and Justin Coleman to fill his role going forward.
Alex Bullard lost his starting spot on the offensive line because of his absence from summer workouts due personal reasons. Tennessee needs his focus to ensure depth.
The Ugly
Da'Rick Rogers was dismissed from the team and transferred to Tennessee Tech (via RotoWorld.com). He racked up over 1,000 receiving yards, 67 receptions and nine touchdowns in a superb 2010 season.
Rogers became the third consecutive Rivals 5-star recruit to leave the program early (Bryce Brown and Janzen Jackson).
Davante Bourque, dark-horse candidate for time at tailback, left camp abruptly for home in the middle of fall camp. He bolted so quickly that his belongings were left in his dorm.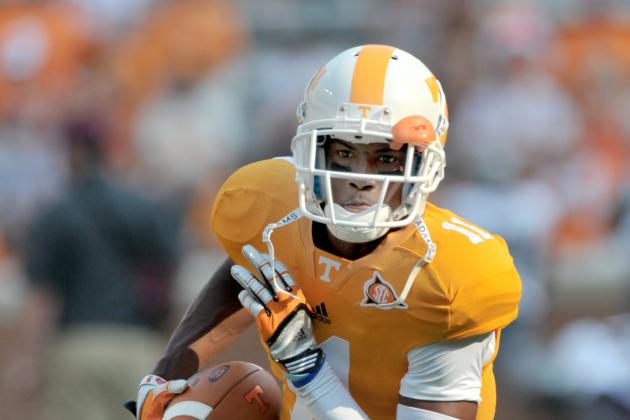 Jim Brown-US PRESSWIRE

The Vols were stunned to hear last week that star wide receiver Da'Rick Rogers was indefinitely suspended from the team.
So while the Rogers era is over, that's no reason to believe that the potent Tennessee offense will be much different.
Justin Hunter was the best pass-catcher on the team until his early-season knee injury in 2011. Nearly 12 months later, he's back on the field and close to 100 percent. Two-time JUCO All-American wide receiver Cordarrelle Patterson will also be reeling in catches, though he'll have to pick up the offense quicker than planned now.
Rajion Neal saw an opening at tailback and seized it. He outworked, out-practiced and out-scrimmaged Marlin Lane for the top spot. Lane was as sure a starter as any Volunteer in spring, but Neal showed the kind of fight that the Volunteers have lacked the past two seasons. Maybe he can be the spark for the running game.
The offensive line is extremely experienced and terrific at pass blocking, giving up the fewest sacks of any SEC team in 2011. The unit needs to improve its run blocking this year but should find that easier if the passing game can put up early points.
And then there's Tyler Bray.
Sure, he's sometimes lacks the kind of maturity you want to see in your quarterback, but I personally think he's ready to light the college football world on fire. As a junior, Bray has the experience, talent and authority to lead a winning team.
It starts with the offense for the 2012 Volunteers.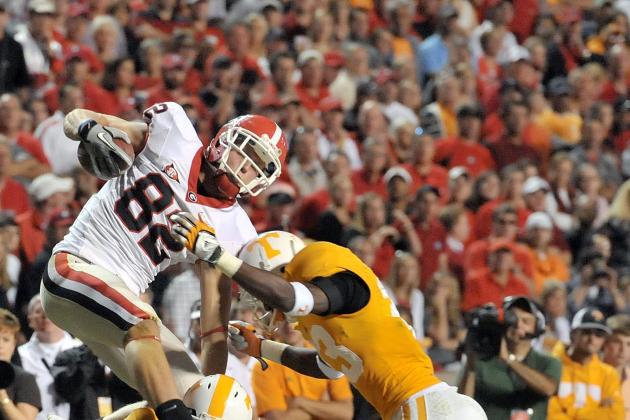 Jim Brown-US PRESSWIRE

The biggest thing to watch for with the 2012 Tennessee defense is the transition to the 3-4. New defensive coordinator Sal Sunseri brought the scheme over from Alabama.
Upfront, Tennessee has a lot of questions. Can Daniel McCullers' 360-pound frame effectively clog up the running game? Will Maurice Couch and Derrington Sentimore prove to be capable defensive ends? The starting three are all JUCO transfers. Will that come into play this fall?
Curt Maggitt and Jacques Smith should wreak havoc as outside linebackers. The pair are two of the fastest linebackers in the SEC, but both are big, strong players, as well.
They're anchored by a dependable inside linebacker duo of Herman Lathers and A.J. Johnson. Lathers and cornerback Prentiss Waggner will lead the defense, while Johnson will look to build on a stellar freshman campaign.
Waggner has been moved back and forth between safety and cornerback much of his Vol career. Brian Randolph has allowed Waggner to move back to his native cornerback, where he intercepted five balls in 2010. Justin Coleman and Marsalis Teague should do a commendable job playing opposite Waggner.
If the offense can get the Volunteers a seven- or even three-point spot in most games, Maggitt's and Smith's pass rushing will be able to dictate the defense.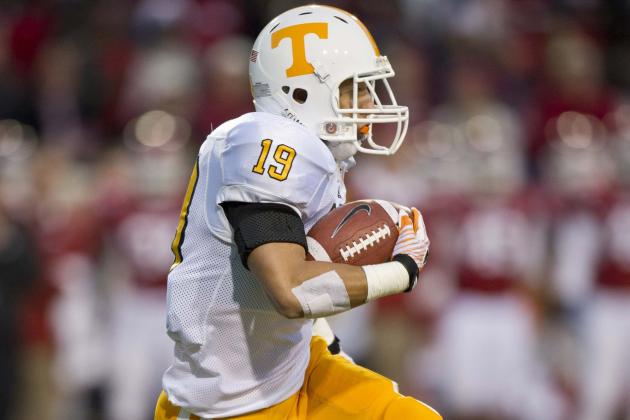 US PRESSWIRE

The 2012 special teams unit for Tennessee could be one of the most improved in the conference. Of course, a lot of that has to do with the terrible performance of the Vols' 2011 special teams. But there are reasons to be positive.
Michael Palardy has dealt with minor injuries to his knees and legs during his two-year career, but he reports that's all in the past (via The Chattanoogan):
Since before I got here, since high school. I have been dealing with a lot of injuries, little tweaks, groins and knees, stuff like that ever since I got here. This offseason has been really good for me; I am feeling really healthy.
Both he and punter Matt Darr have performed well in fall camp. Palardy was a perfect 4-for-4 from 37, 35, 31 and 48 yards in Tennessee's scrimmage on August 17th. Darr booted five punts for a 43.3-yard average. That would have been good for top five in the SEC last season.
Devrin Young highlights the return game and will be looked upon to score the first Tennessee return touchdown since 2007. Young has shown his great speed and shiftiness this offseason and needs to be a game-changer for Tennessee.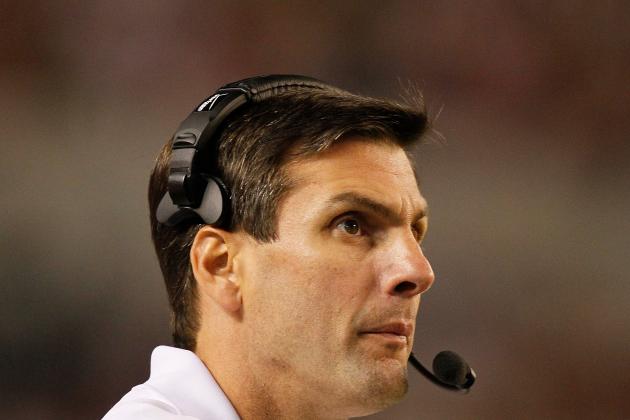 Kevin C. Cox/Getty Images

Derek Dooley has the hottest seat of any SEC coach. After Dooley led the Volunteers to back-to-back losing seasons for the first time since 1910 and 1911, the 2012 season is a crucial one for his job security.
The tools are in place for a strong regular season followed by a bowl trip and victory. But it's the coaches that Dooley has assembled for the Vols that make coaching really interesting.
Finally, the Big Orange has a running-backs coach. Jay Graham, former Vol great, has come in to resurrect a running game that was pitiful in 2011. Graham most recently recruited and developed the best running back in America, Marcus Lattimore.
Sal Sunseri coached the linebackers at Alabama from 2009 to 2011. During that time, he coached such stars as Rolando McClain, Dont'a Hightower and Courtney Upshaw. Now he stands opposite Jim Chaney as the defensive coordinator and has employed a 3-4 defense. It took Georgia several games to comprehend the new scheme, games that the Vols can't afford to lose this fall.
Dooley has compiled a list of strong coaches this offseason after losing many to new jobs. Many have speculated as to why those coaches left, but as you know, winning cures all ills.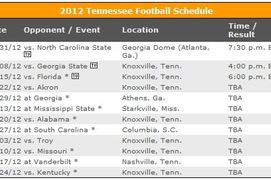 UTsports.com
Another year, another rough October. At least the 2012 Tennessee Volunteers don't have as brutal a September or November, as they did in 2011.
The beginning of the season is winnable and of paramount importance for the Vols. The kickoff to the season against NC State in Atlanta is just north of a pick-'em game, with Tennessee as three- to four-point favorites.
After that, the schedule alternates between two easy games against Georgia State and Akron and two hard games against Florida and Georgia. The worst the Vols should be heading into October is 3-2. The best, naturally, is an attainable 5-0.
October brings a challenging road game against a Mississippi State team that underachieved last year, followed by the always-difficult annual contest against Alabama. This year the Bama game is in Neyland, giving the Vols a decent chance, especially if the season has gone well and they're riding a wave of enthusiasm.
October closes with another tough game, at South Carolina. The Gamecocks had a historically good season last year and might be even better this year. The Vols could easily go 0-3 in October this year, though I think they have a solid chance of beating Mississippi State.
November's success will be dictated by the events of the season. Tennessee could be as good as 5-3 or as bad as 3-5, which doesn't sound like a huge difference, but it means the world in terms of motivation for the last month.
Troy is an automatic win. Missouri and Vanderbilt back to back pose threats to the Volunteers, though the Tigers' first trip to Neyland should be hard on them and the Commodores might be the most overrated team in the country (Vandy went 2-10 after a 7-6 season in 2010...hold your horses).
The Vols are likely to seek revenge against Kentucky in the last game of the season after their winning streak was ended last year.
The schedule is tough, but it's a big improvement over 2011.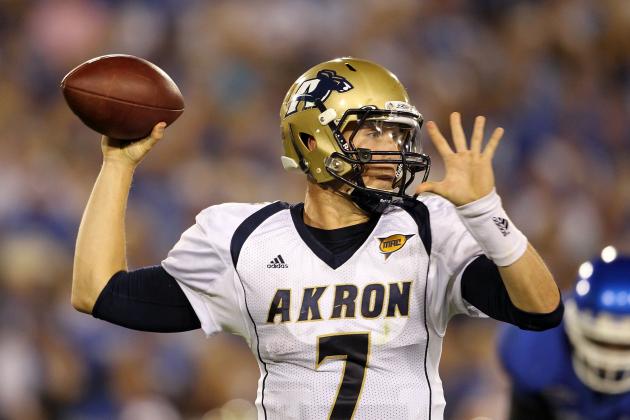 Andy Lyons/Getty Images

September 22, the Tennessee Volunteers take on the Akron Zips in Knoxville.
After back-to-back 2-10 seasons, the Zips are nowhere near ready to defeat a BCS-conference foe, much less one that sports over 100,000 screaming fans at home.
This is even more of a lock than the 2008 homecoming game against Wyoming.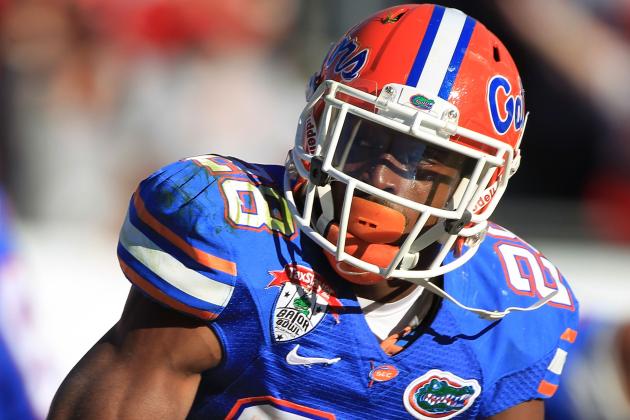 Scott Halleran/Getty Images

The 2012 Volunteers have two virtual tossups in my eyes: September 15th against Florida and November 10th against Missouri.
Florida went 6-6 during the 2011 regular season, just one win better than Tennessee. The Gators lost their offensive coordinator, quarterback and two key running backs this offseason. Florida fields a terrific defense, but it's just a matter of time before the Tennessee offense puts up a couple touchdowns up.
Missouri has quietly been one of the most consistent teams in college football over the past five seasons. The tigers have gone 12-2, 10-4, 8-5, 10-3 and 8-5 since 2007. Those kinds of seasons are what made Phillip Fulmer a Tennessee legend.
The Tigers-Volunteers game will be the first in history between the two schools. I have to think that Mizzou will be weary after its first SEC season, allowing Tennessee to take advantage in a virtual tossup at home.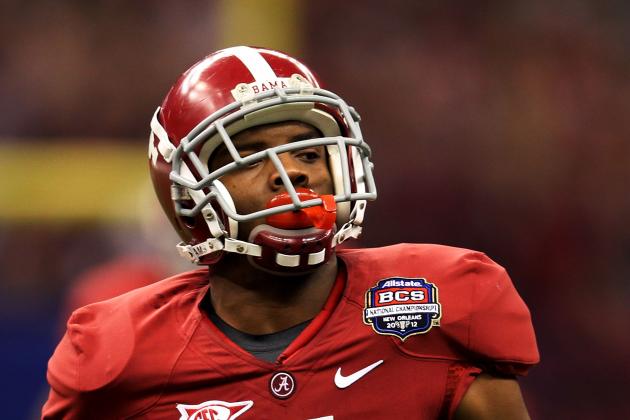 Andy Lyons/Getty Images

It has to be the October 20 game against Alabama. The Tennessee Volunteers haven't beaten Alabama since 2006, and it's once again the most difficult game on the schedule.
Tennessee plays at Mississippi State the week before, so it's not as if the Vols can gear up for the Third Saturday in October in advance. Though this might be the Volunteers' best chance since the deflating 2009 loss, it would still be a big upset.
The second-most-challenging game is at South Carolina, which falls the week after Alabama. Don't get down on your team if Tennessee drops both games. It's still a work in progress, and you can't expect the Vols to consistently defeat teams that are better.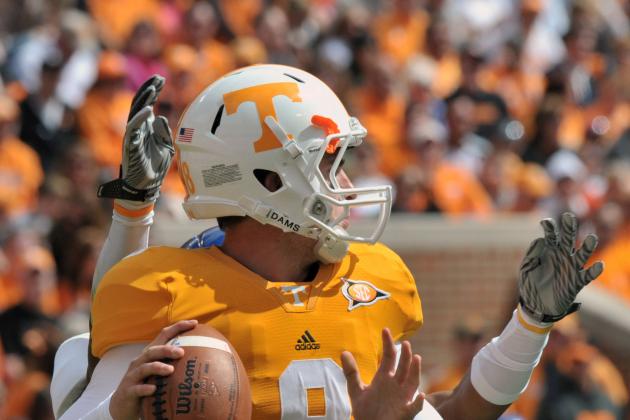 Jim Brown-US PRESSWIRE

Before his dismissal, I might have named Da'Rick Rogers as my prediction for offensive MVP, but now that he's gone, it can only be quarterback Tyler Bray.
Bray is popping up all over national watch lists for quarterback, offensive player and even national player of the year. These preseason honors are coming after a 2011 season that was interrupted by a broken thumb and a 2010 season that was incomplete because he was brought in to start late.
Clearly, these watch lists foresee a big 2012 for Bray. I agree.
If Bray matches his per-game output from last season, he's on track for a 3,400-yard, 30-touchdown season. Can we agree that he is likely to have improved since his sophomore year?
Tyler Bray, runaway offensive MVP for the 2012 Tennessee Volunteers.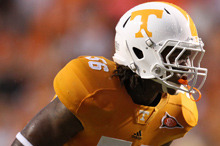 football.draft-hub.com
Not as clear cut as the offensive MVP, my prediction for defensive MVP of the 2012 Vols stems from the fact that he should benefit most from the 3-4 defense.
Curt Maggitt, freshman All-American and wunderkind linebacker, is my prediction. He managed only one sack last season, but he racked up eight tackles for loss. Those tackles could easily be sacks this year now that he'll be involved in almost every pass rush.
Maggitt will start all of Tennessee's 12 games after starting just eight last year. That should also help his stats. Finally, his quarterback hurries could easily force key interceptions that change games this fall.
In just his second year, Curt Maggitt will stand out as the best defensive player on the team.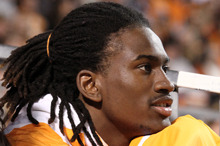 tennessee.scout.com
There are several options for newcomer of the year for the 2012 Tennessee Volunteers.
There is big Daniel McCullers, who could be a game-changer at nose tackle. Defensive end Derrington Sentimore, running backs Alden Hill and Quenshaun Watson, cornerback Deion Bonner, and wide receiver Drae Bowles are all capable of earning this title.
But there is one guy that could be not only a nice addition for Tennessee, but a key cog in the offensive flow. That player is Cordarrelle Patterson.
Patterson was the top JUCO wide receiver and fourth overall JUCO player in 2012, receiving offers from Oklahoma, LSU and Auburn, among others. By virtue of Tyler Bray's prolific arm, you can mark Patterson down for at least 50 receptions, 800 yards and five touchdowns as a newcomer.
And if Bray gets hurt again? Justin Worley was Patterson's high-school teammate for two years. He'll be in great shape.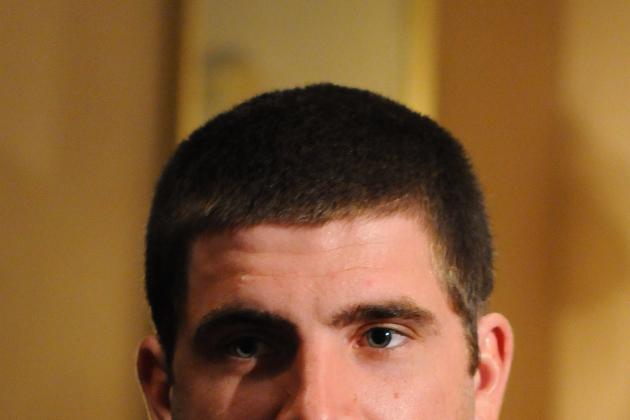 Kelly Lambert

Once again, this award goes to Tyler Bray. He has been in the first round of numerous 2013 NFL mock drafts for years now, and his performance this fall will only bolster that.
If Bray has a strong 2012 campaign, he'll join USC's Matt Barkley, Arkansas' Tyler Wilson and Georgia' Aaron Murray as the best quarterback prospects in the 2013 draft. As a selfish, Vols-first fan, I'd recommend he stay until his senior year.
But that might be the best option even from a unbiased point of view. He would undoubtedly be the top quarterback prospect in the 2014 NFL draft, as this mock indicates.
Either way, Bray figures to be the Vols' best prospect for this year and next.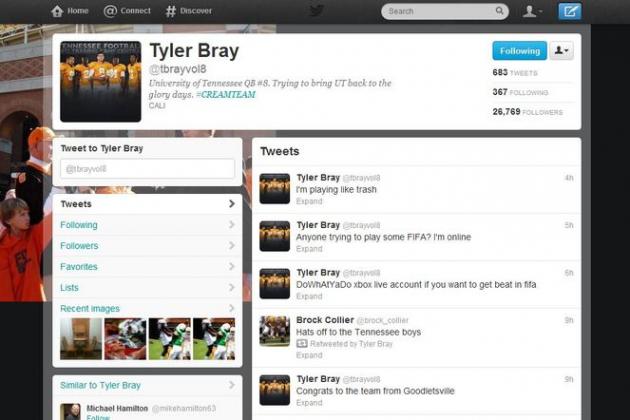 I will let the top five Tennessee Volunteer Twitter follows speak for themselves.
Tyler Bray is a must. You can keep track of the team's and his own progress throughout the season with his regular Tweets:
Any Given Sunday speech makes me want to play already. Season needs to hurry up and get here.

— Tyler Bray (@tbrayvol8) August 13, 2012
For great, up-to-the-minute news on the Volunteers, it's hard to beat Knoxville-based Paul Fortenberry:
Working on a recruiting big board this afternoon. Look for it late tonight or early tomorrow morning.

— Paul Fortenberry (@Volquest_Paul) August 25, 2012
Anyone from the Nashville area knows Clay Travis. The Tennessee lover/hater has an interesting relationship with Derek Dooley, though his scathing Tweets of the coach have softened since Dooley became a more regular guest:
Da'Rick Rogers to Tennessee Tech. Here's a guess: He's a major match-up problem for North Greenville.

— Clay Travis (@ClayTravisBGID) August 27, 2012
I don't think I've ever seen Arian Foster say a word about Tennessee on Twitter. We love you, too, Arian. For you Vols in the NFL mix, go with Eric Berry:
@stuntman1429 heard u had the same problem I had, today I had surgery and doctor freaked when he saw I bled orange #volnation

— Peyton Lee (@BeastLee14) February 27, 2012
I know he's no longer a Vol, but Da'Rick Rogers should continue to be an interesting follow, especially to see how he reacts to wins and losses by Tennessee. Rogers quipped after his dismissal:
Twitter has been hacked. @darickrogers91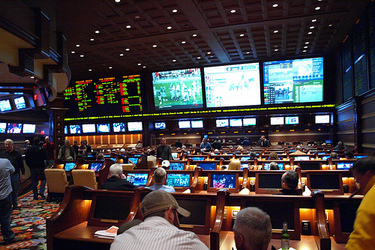 whyy.org
The most recent spread for the Tennessee-NC State game has the Vols as a slight, three-point favorite (via Vegas Insider). That's down from seven points a week ago before the Da'Rick Rogers announcement.
Oddsmakers aren't convinced of Tennessee's improvement and have set the over-under on wins for the season at 7.5.
Is 7-5 or worse really that likely? I might have to jump on this one myself...
For those of you really feeling lucky, why not toss $100 on the 2012 Tennessee Volunteers to win the BCS National Championship? At 150/1 odds, you'd win $15,000 on that bet!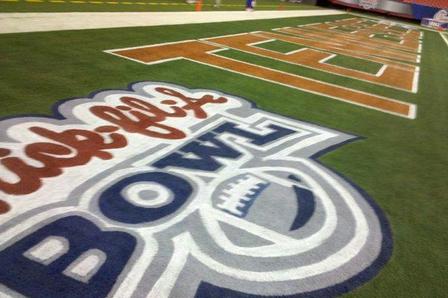 tnjn.com
The Vols are likely going to fall within the seven-to-nine-win range this year. With that, I think the most likely place Tennessee ends up is right back where they start the 2012 season—the Georgia Dome, for the Chick-fil-A Bowl.
The Volunteers haven't had much luck in the Chick-fil-A Bowl in recent years, losing each of the last three times they played in it, to Virginia Tech (2009), Clemson (2003) and Maryland (2002), each in a rout.
The 2012 Vols not only need to break their two-year bowl-trip drought, but they also need to break this three-game losing streak in the Chick-fil-A Bowl, if that's the one they play in.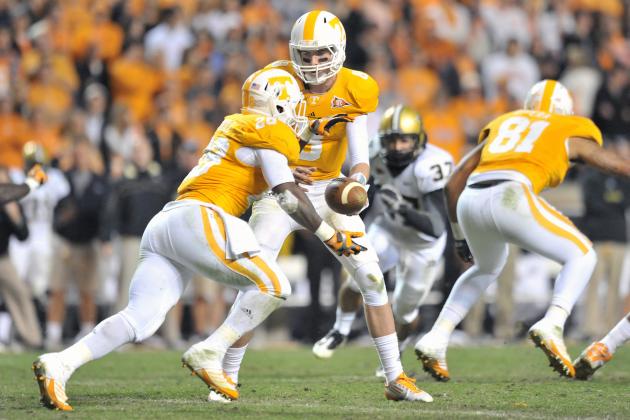 Jim Brown-US PRESSWIRE

Just one week ago, I predicted the 2012 Tennessee Volunteers would go 9-3. I try my best not to be a fanboy, and that terrific record was what I honestly believed.
But the dismissal of Da'Rick Rogers is bound to cost the Vols one game. Just look at what Justin Hunter's injury did last year. I've revised my prediction to a still-solid 8-4 record with a chance at a nine-win season and a Chick-fil-A Bowl appearance.
Players, coaches and fans alike will need to understand that a three- or even four-game losing streak is possible starting with Georgia and ending with South Carolina.
I'm not resigned to that possibility, but you have to set expectations. It's possible to lose all four of those games but still finish 9-4 with wins over Florida, Missouri and a Georgia Tech-like team in Atlanta.
The 2012 season will be a test of mental fortitude. The Vols have faced a lot of adversity over the past two seasons, and this fall may prove to be the culmination of all those hard lessons.
It better be, or else I'll be writing an article entitled "5 Candidates for the Tennessee Volunteers' Head-Coaching Position."