World Football: 13 Summer Transfers That Have Already Shown Their Worth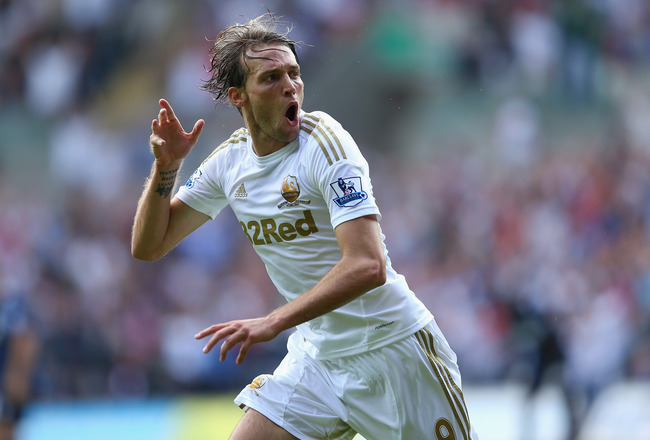 Richard Heathcote/Getty Images
With all of Europe's major leagues having commenced their new campaigns after both Germany's Bundesliga and Italy's Serie A opened up this weekend, we can now start to take a look at this summer's new signings in action.
From the United States to England, Germany and France, we have seen some great opening performances for players that completed moves this summer.
Whether the players have joined on loan, as free transfers or purchased signings, we take a look at the cream of the crop so far as the first half month of action nears its close.
Mladen Petric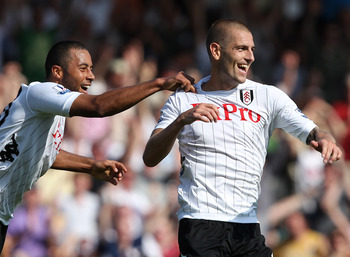 Jan Kruger/Getty Images
Fulham's new 31-year-old forward, Mladen Petric announced his arrival to the English Premier League with two goals and an assist against Norwich City on opening day.
Petric also made a solid account of himself against Manchester United in what looked like a game where Fulham could have managed to steal a point had a few more things gone their way.
Sascha Reither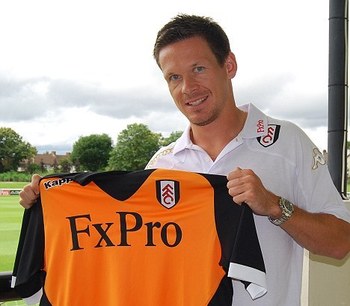 Fulham looked to have signed a gem on loan in right-back Sascha Reither. The 29-year-old looked solid in both his outings for the club against Norwich and Manchester United, and his experience from the Bundesliga looks to be serving him well.
The FC Cologne man agreed to his loan terms in the first week of July according to the Guardian.
Tim Cahill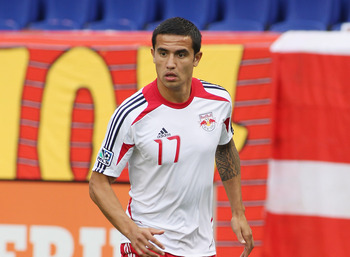 Andy Marlin/Getty Images
Tim Cahill's move to Major League Soccer from the English Premier League is definitely Everton's loss and the New York Red Bulls' gain since FOXSports.com announced the move in late July.
Since his arrival stateside, Cahill has made four appearances for his new club, scoring once, and already having provided an assist as well.
The Red Bulls are yet to lose a match with Cahill on the pitch, having taken eight out of 12 points when the Australian midfielder is in the first team.
Salomon Kalou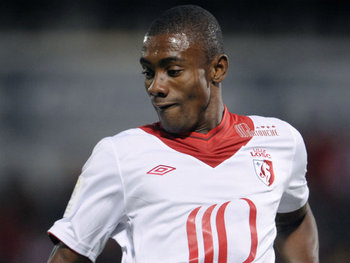 Only three games into his new career at French side OSC Lille, former Chelsea super-sub Salomon Kalou appears to be settling into his new club quite nicely.
Kalou already has a goal to his name for the club who are yet to lose in the first three opening fixtures of the Ligue 1 this season.
Dani Schahin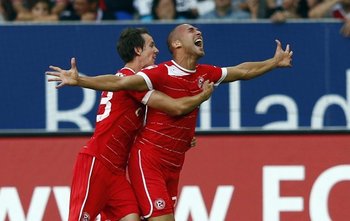 Two goals in his substitute debut against FC Augsburg for Fortuna Düsseldorf saw newcomer Dani Schahin make his presence felt. Having joined the club on a free transfer this summer, he is already on his way to making a difference for his new club.
The 23-year-old Ukrainian spent the past three seasons under contract with Bundesliga 2 side Greuther Fürth. However, his previous employers seemed unimpressed by his talents.
In one league game for Düsseldorf he has scored more goals than he did in 34 appearances for Fürth.
Geoff Cameron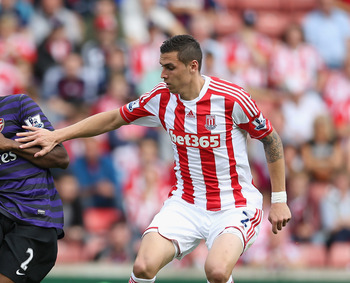 David Rogers/Getty Images
Former Houston Dynamo defender and United States national team member Geoff Cameron made his English Premier League debut for Stoke City against Arsenal on Sunday, August 26, 2012.
In his full first-team appearance, he made a solid display of poise despite the obvious nerves of playing on a cauldron of atmosphere like the Potter's Britannia Stadium.
Cameron was signed by the club much earlier in the summer, but his difficulty in securing a work permit forced him to wait for his debut.
Shinji Kagawa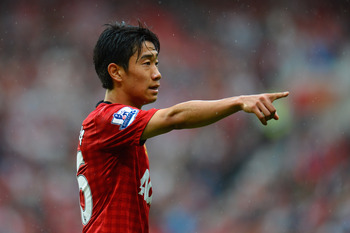 Shaun Botterill/Getty Images
Manchester United's signing of Shinji Kagawa was a long and drawn-out process, but was finalized finally in the first days of July as seen in his official debut video on YouTube.
His debut goal on Saturday in the club's ugly, but crucial victory over Fulham proved a just reward as it is already clear that his work rate in the midfield will be a welcomed addition to the squad.
Robin Van Persie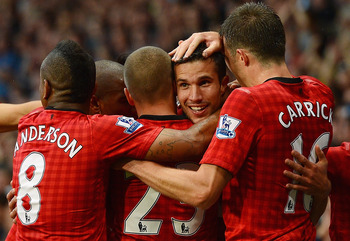 Shaun Botterill/Getty Images
Robin van Persie may have been less than impressive in his away debut at Goodison Park in Manchester United's opening-day loss, but that was not the case over the second weekend in English Premier League action.
The new signing only needed just over 10 minutes to endear himself to the Old Trafford faithful with a brilliant goal from outside the 18-yard box taken on a half-volley. The goal brought the Red Devils level after Fulham's Damien Duff had put the home side down 0-1 in the opening two minutes.
Joe Allen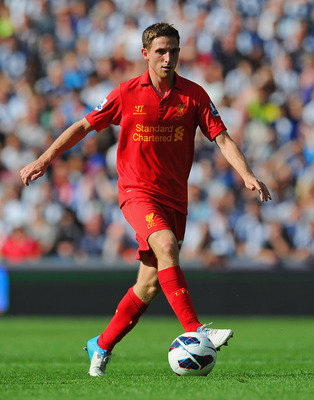 Michael Regan/Getty Images
Liverpool new-boy Joe Allen started against Manchester City on Sunday as one of two attacking midfielders in Brendan Rodger's new scheme.
However, five minutes in he was moved to a deep-holding midfield role thanks to the unfortunate departure of Lucas Leiva from the match.
That proved to be the catalyst to see Allen become potentially something that the Kop has been missing since 2009: a replacement for Xabi Alonso.
Allen showed poise, patience and pure class on the ball. If he continues to display that skill, he looks to prove the best passer and distributor of the ball since the departure of the fans' beloved Spaniard.
Zlatan Ibrahimovic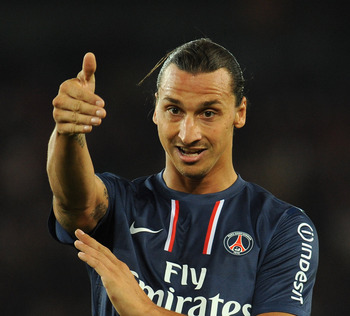 Valerio Pennicino/Getty Images
Paris Saint Germain have splashed some major cash this summer. Part of that outlay was for the arrival of Zlatan Ibrahimovic from AC Milan.
The proven Swedish international striker has never failed to win a league championship at each of his career clubs since Ajax Amsterdam.
His two goals in the opening Ligue 1 match for PSG saw him lead the club back to an opening-night draw.
Santi Cazorla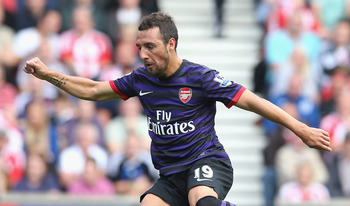 David Rogers/Getty Images
Arsenal may have been held to two draws in their opening fixtures of the English Premier League, but Cazorla's passing and creativity in the Gunners midfield has been sublime.
Cazorla looks like he could finally be the player that fills the void left by Cesc Fabregas and then Samir Nasri over the past two summers at the Emirates.
Eden Hazard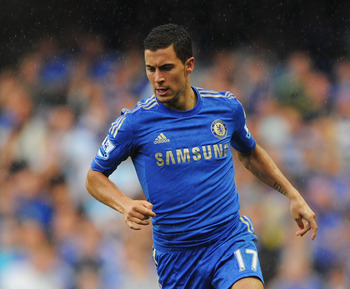 Michael Regan/Getty Images
Only three games into the new campaign for Chelsea has seen new signing Eden Hazard emerge as a possible PFA Young Player of the Year.
The 21-year-old Belgian playmaker has managed to take the shackles off of much-maligned teammate Fernando Torres, and the youngster's play has given the former Liverpool phenom new life in blue.
Torres had been struggling for the past 18 months in a Chelsea kit, but after a great summer in the UEFA European Championships and the arrival of Hazard at Stamford Bridge, he appears his old self once more.
In his three appearances, Hazard already has one goal and four assists. There is only one other new signing that looks to have had that much of an impact in his opening fixtures this new campaign.
Michu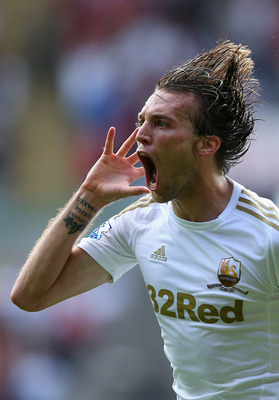 Richard Heathcote/Getty Images
Swansea have made a flying start to the new English Premier League campaign, having scored eight goals in two straight victories. The first was a 5-0 mauling of Queens Park Rangers and the second a 3-0 bashing of West Ham United.
In the middle of it all has been new signing Michu, who could very well prove one of the steals of the summer after joining the club in a deal announced by Sky Sports.
The former Rayo Vallecano midfielder has scored three goals and added one assist so far for the club, and his play in the midfield has been exemplary to say the least.
Keep Reading