Americans Abroad: Weekend Review of U.S. Stars in Action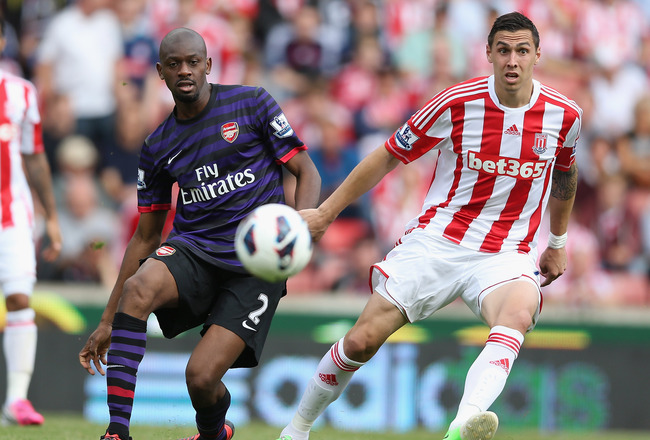 David Rogers/Getty Images
It was a pretty positive weekend abroad for the overwhelming majority of the United States men's national team regulars.
Almost all of the USMNT players saw action and most put in a full shift.
From England to Germany to Italy to Mexico to a full others, here is a breakdown of their performances.
Not Good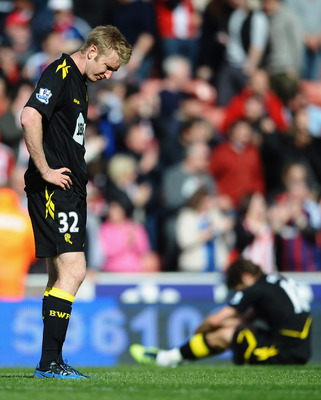 Laurence Griffiths/Getty Images
Tim Ream sat the bench again for Bolton in the English Championship for the second straight game. Ream has not played since Bolton's opening day defeat to Burnley.
For a player who was seeing regular time for the club last season in the English Premier League, sitting the bench a league down this season is a big step in the wrong direction.
The only other regular USMNT player who did not see action was Danny Williams, who made the bench, but did not play for Hoffenheim.
Good News, Bad News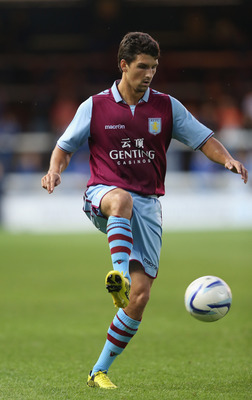 Mark Thompson/Getty Images
The bad news for the American duo of Eric Lichaj and Brad Guzan at Aston Villa is that neither started Saturday's 3-1 defeat to Everton.
The good news for Lichaj was that he did see some action, coming on for the last 30 minutes of the game. In his time, Lichaj did a nice job, maintained possession well and got forward multiple times.
It was a solid shift from the Illinois native. Hopefully, Jurgen Klinsmann was watching.
It is also worth noting that Lichaj's shift came on the left side of defense proving the Villa man's versatility in being able to play on both sides of the backline.
The good news for Guzan was that Shea Given did not have a great performance, including a howler on Everton's second goal. In a performance reminiscent of his play at this summer's European Championship, Given was brilliant, awful and unlucky, all in the same game.
Given's mistake may be just the crack Guzan needs to push himself into Villa's starting eleven.
Of course, the bad news for both Lichaj and Guzan, is that if Villa continue playing the way they are, Lichaj and Guzan will be playing next season in the English Championship as Villa are now dead last in the EPL standings.
It has been a sad decline for a Villa team which, in the Martin O'Neil era, was a perennial contender for European football and which has subsequently become a club perennially fighting relegation.
The Usual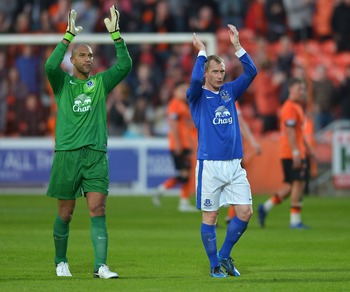 Mark Runnacles/Getty Images
In yet another sign of American progress in the world's game, almost all of the USMNT's regulars saw action this weekend.
Fabian Johnson, Jermaine Jones and Steve Cherundolo all saw 90-minute shifts in the Bundesliga.
Tim Howard put in a 90-minute effort for Everton, although he will certainly feel he should have done better on the goal he gave up.
Michael Parkhurst, Clarence Goodson and Terrence Boyd all put in 90-minute efforts, while Jozy Altidore played 81 minutes and Alejandro Bedoya continued to see time with his new club, Helsingborg, coming off the bench for 36 minutes.
In Scotland, Carlos Bocanegra played 90 minutes for Rangers in the Scottish fourth division and hopefully will be securing a transfer soon with the deadline rapidly approaching.
South of the border in the Mexican league, Jose Torres played 90 minutes and Joe Corona played 79 minutes. Herculez Gomez' Santos Laguna did not play.
Transfer Purgatory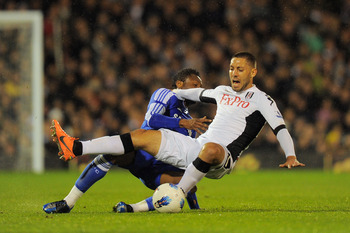 Mike Hewitt/Getty Images
Besides Bocanegra, two other Americans are awaiting transfers and did not play.
Maurice Edu is very close to finalizing his move to join Geoff Cameron at Stoke City.
And, Clint Dempsey once again sat out Fulham's match awaiting resolution of his situation.
Great Starts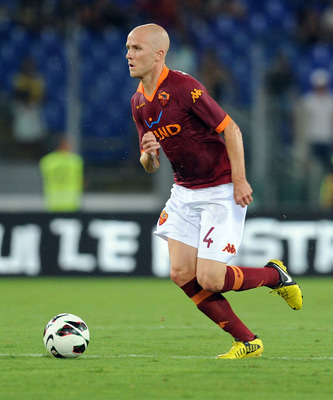 Giuseppe Bellini/Getty Images
The big stories of the weekend were the official debuts of American internationals Michael Bradley and Geoff Cameron for their new clubs.
In their first game of the season, Bradley started for AS Roma and assisted on Roma's equalizer in the 90th minute.
This is good news for many USMNT fans who were worried Bradley's move to Roma was more a public relations move for the club interested in expanding their American fan base rather than a move designed to use Bradley as a significant part of their first team plans.
Geoff Cameron also got off to a lively start with Stoke City, leading everyone on the pitch with eight tackles and six interceptions and helping Stoke take a point off Arsenal.
Cameron, who was deployed as a center midfielder during the match, also took the Rory Delap role of providing the long throws for Stoke in the attacking third.
Although Cameron did get turned on the dribble a couple of times by Arsenal's speedy attackers, it was, overall, a fine debut. Cameron used his long legs throughout the match to disrupt Arsenal's poor-man's tiki-taka in the middle of the pitch and disrupted the Gunner's play well.
Follow me on Twitter @AmerTouchline
Keep Reading

United States (National Football): Like this team?