Oakland A's: Ranking Their 10 Biggest Surprises of 2012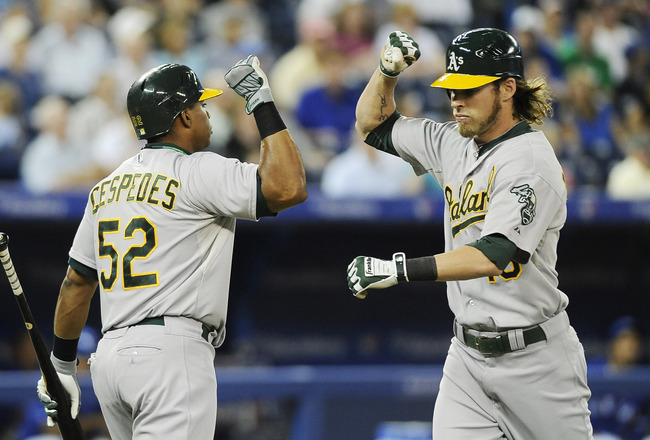 Much of the success in 2012 is due to new faces: Yoenis Cespedes and Josh Reddick
Brad White/Getty Images
For a team that had little to no expectations, the Oakland Athletics have provided many shocking moments and feats in 2012.
At the halfway point, the surprises continued to throw many into disbelief.
Now as the season comes to a close, the perplexity of how this team continues to keep themselves in the headlines has switched from confusing to astounding.
Here are the 10 biggest surprises of the Oakland A's 2012 season.
No. 10: Injuries Have Been a Non-Factor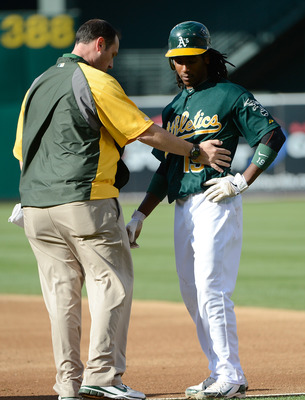 An athletic trainer checks on Jemile Weeks
Thearon W. Henderson/Getty Images
Injuries can plague a team's chances at a postseason appearance. Just ask the Philadelphia Phillies.
The Oakland Athletics have had their fair share of injuries.
Before the season started, third baseman Scott Sizemore was lost for the season. Yoenis Cespedes has missed a few games, as has Coco Crisp, Brandon McCarthy and Cliff Pennington.
Each time, replacements stepped up.
Brandon Inge arrived from the Detroit Tigers and battled effectively to keep his career going another year. Jonny Gomes now has 15 home runs, the third most on the team.
Role players such as Collin Cowgill, Josh Donaldson, Eric Sogard and Adam Rosales have shaped up to be effective, short-term stopgaps.
But best of all, no starter has missed significant time.
No. 9: Yoenis Cespedes Is Who We Thought He Would Be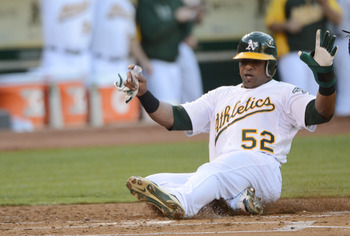 Yoenis Cespedes slides into home safely
Thearon W. Henderson/Getty Images
After signing Cuban-born Yoenis Cespedes to a four-year deal worth $36 million, there was cause for concern over how quickly he could adjust to Major League Baseball.
Granted, Cespedes is just 26 years old and comes equipped with great baseball talent. He had a bit of leeway to start.
Apparently, he didn't need it.
Cespedes is hitting .294 with a slugging percentage of .500. He's driven in 62 runs on 104 hits. A combination of power and speed, he has 16 home runs and 12 stolen bases too.
His first home run came in the second MLB game of his career.
So far, so good.
No. 8: Bartolo Colon Tests Positive for Banned Substance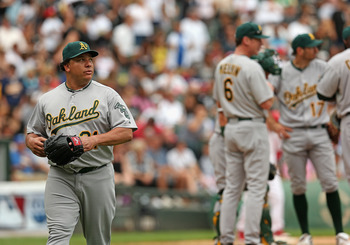 Bartolo Colon will no longer be a part of the A's rotation
Jonathan Daniel/Getty Images
In a shocking turn of events, pitcher Bartolo Colon tested positive for testosterone and has been banned from baseball for 50 games.
Although, it might not come as that big of a surprise.
Between 2006-11, Colon's record was 22-31. He didn't even pitch in 2010.
In that time, his ERA dipped below 4.00 just once.
Magically in 2012, Colon—now at 39 years old—has earned 10 wins with a 3.43 ERA.
No. 7: Manny Ramirez Is Not on the Team
Manny Ramirez was released before seeing big league action
Kevork Djansezian/Getty Images
Did you just read that headline and think, "oh yeah, I forgot about Manny?"
With the no-namers the Oakland Athletics planned to put on the field at the start of the season, Manny Ramirez easily took up all the spotlight.
He served his 50-game suspension and played a handful of games in Triple-A Sacramento.
Then the A's cut him.
Ramirez left the game awfully quietly and the A's haven't looked back since.
That's a 180-degree turn for a guy who was supposed to provide the only power in the lineup.
No. 6: The A's Weren't Trade Deadline Sellers
Grant Balfour was one of the hottest commodities; he'll stay a little longer.
Jason O. Watson/Getty Images
It almost seems as if the Oakland Athletics trade deadline fire sale is as much a part of baseball as the All-Star game is.
But this year was different.
As A's fans held their breath to see who would be coming or going, August arrived quieter than any year in recent memory.
Hardly any name seemed untouchable. Bartolo Colon, Brandon McCarthy, Yoenis Cespedes, Kurt Suzuki, Grant Balfour and Josh Reddick were all linked to other teams at one point or another.
All but Suzuki remain in green and gold.
No. 5: Josh Reddick: "Reddick"ulously Talented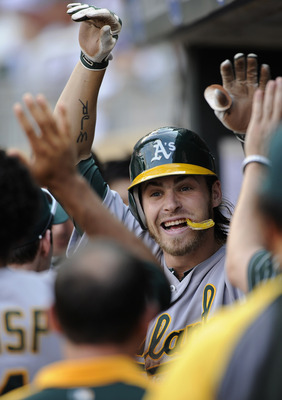 Josh Reddick celebrates with teammates
Hannah Foslien/Getty Images
In the offseason when the Oakland Athletics shipped closer Andrew Bailey and fan-favorite Ryan Sweeney off to the Boston Red Sox, many were unhappy.
In return, the A's received some long-haired kid with a smile plastered on his face.
Josh Reddick had a spot from the get-go, only because the A's lacked outfielders. Josh Willingham and David DeJesus signed elsewhere. Coco Crisp and Yoenis Cespedes were still unsigned.
For a guy who got his spot "by default," he certainly has earned it.
Reddick leads the A's in home runs (26) and RBI (65), hits (120) and doubles (23). Defensively, Reddick is second in Major League Baseball for outfield assists (13).
No. 4: Jemile Weeks Sent Down to the Minors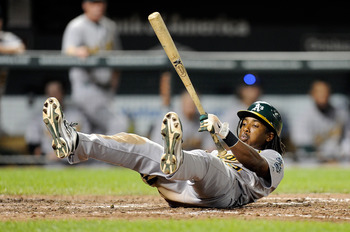 Jemile Weeks' hitting has reached a new low
Greg Fiume/Getty Images
After about a half season in which Jemile Weeks played Rookie of the Year caliber baseball a year ago, he hasn't come close to that production in 2012.
In more games, Weeks' stats are down in nearly every category.
After his batting average dropped from .303 in 2011 to .220 this year, the A's decided they've seen enough.
In somewhat of a surprising move, Oakland sent their second baseman of the future back down to the minors.
Not all surprises are good.
No. 3: The Month of July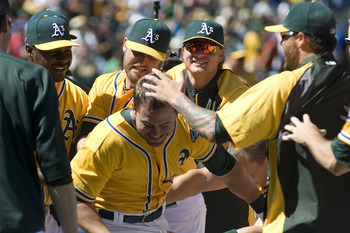 The A's celebrate a walk-off win
Ed Szczepanski-US PRESSWIRE
Through the month of May, the Oakland Athletics played average baseball.
In June, the team began picking up a bit of steam with 15 wins.
In July, they blew the lid off.
The A's won 19 games and only lost five. Their play in July is the reason they're in contention today.
Oakland won every series in July, except for one (against the Tampa Bay Rays that started in July and finished in August). Their wins included a sweep of the Boston Red Sox and the New York Yankees. They also drubbed the Toronto Blue Jays 16-0, then scored 14 in a win against the Baltimore Orioles two days later.
Then, of course, there are the half dozen walk-off wins.
No. 2: The Young Pitching Staff Gets It Done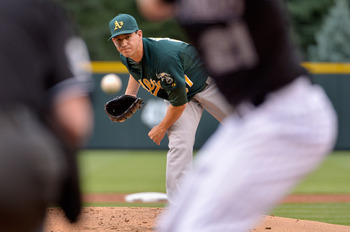 Young pitching stud Tommy Milone
Doug Pensinger/Getty Images
On December 29, 2011, the Oakland Athletics traded Trevor Cahill and Craig Breslow for Jarrod Parker, Ryan Cook and Collin Cowgill. Parker was the main part of the return package.
Two weeks later, the A's sent Gio Gonzalez to the Washington Nationals for Tommy Milone, Brad Peacock, Derek Norris and A.J. Cole. Milone and Peacock were expected to fight for a spot on the 25-man roster.
Fast forward eight months.
Milone sits at 11-9 with a 3.73 ERA, 31 walks and a team-leading 117 strikeouts. Parker is 8-7 with a 3.52 ERA and is second on the team with 104 strikeouts.
And that Ryan Cook guy?
He was Oakland's All-Star representative in July.
No. 1: They're in Contention and 12 Games over .500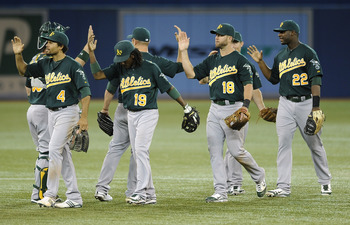 The A's high five each other after a recent win
Brad White/Getty Images
The biggest surprise of the season so far? The Oakland Athletics are fighting for a wild-card spot in playoffs.
Currently, the squad is 14 games over .500 and tied with the Baltimore Orioles for the wild-card lead.
In a year in which the A's were expected to fall to 15-20 games behind the Texas Rangers and Los Angeles Angels, the A's are 5.5 games back from Texas. They're 4.5 ahead of the Angels.
With one month left in baseball, the playoffs are in reach.
Keep Reading

Oakland Athletics: Like this team?