Winnipeg Jets: 5 Players Under the Most Pressure to Perform in 2013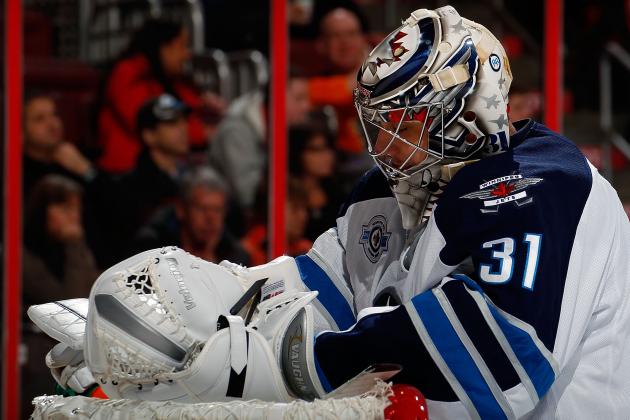 Paul Bereswill/Getty Images

Players in the NHL face pressure all the time. Players in the NHL in a Canadian market tend to face the most pressure. And soon enough, the Winnipeg Jets will be scrutinized in the Winnipeg media for any lackluster display on the ice.
The pressure to play in Winnipeg will increase as the years go on. Fans are going to want playoffs and will look for their leaders to take them there. When patience runs out, fans become querulous. Players have to perform, even under the pressure they face.
The Jets have some of those players that will be looked at closely. And if they don't get the job done, you can bet we'll hear about it the next day.
There will be many Jets facing pressure this season, but I'll take a look at the five players that will be under the most pressure to perform in 2012-13.
Begin Slideshow

»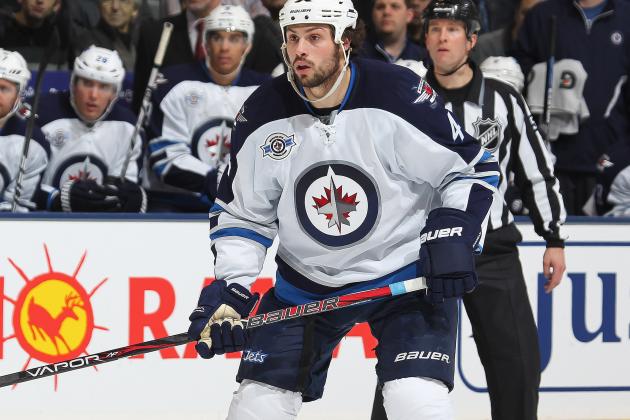 Claus Andersen/Getty Images

Zach Bogosian was a former third-overall pick drafted in 2008 by the Atlanta Thrashers. However, the third-overall pick hasn't lived up to any expectations just yet.
But that's not a knock. Bogosian is a very talented defenseman, both offensively and defensively, but his problem is consistency.
Bogosian began his career with a shortened season after suffering an injury as a rookie. However, he still managed to put up nine goals and 19 points in 47 games, as well as finish the year at +11. He looked like the real deal.
The following two seasons in Atlanta are where Bogosian fell off. Last season in Winnipeg, Bogosian finally looked like he found some of his game again, in all three zones. He'll have to continually progress and look like the dominant defenseman he once was as a rookie for people to believe that the former lottery pick wasn't a bust.
Even so, Bogosian is only 22 years old and we are years away before pronouncing him that. He's being relied upon to become one of the team's shutdown defenseman, however, and has to start playing like one. Of all Jets defenseman, Bogosian will face the most pressure this season.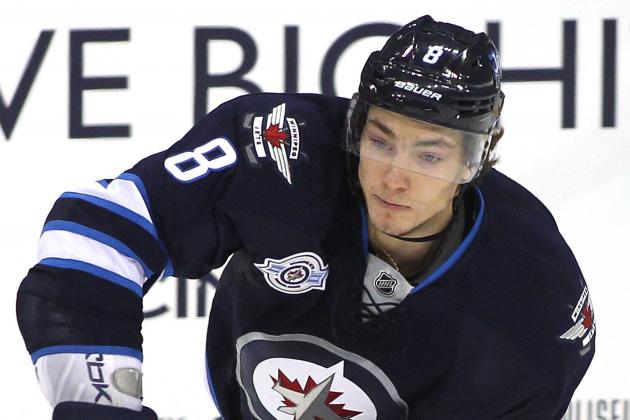 Marianne Helm/Getty Images

Alex Burmistrov has only played in two seasons in the NHL, but the young and flashy Russian forward will face a lot of pressure in the upcoming campaign.
Burmistrov was a former eighth-overall pick with the Atlanta Thrashers. That alone tells you how much pressure is under him to perform, but it's more than just how high he was drafted.
Burmistrov is a solid two-way forward with Pavel Datsyuk-like backchecking ability. As far as offense, he's flashy and he can score goals as well as create scoring chances. So why is he under pressure? Burmistrov could be a case of management misuse.
Burmistrov saw little time with any real offensive threats last season, and little ice time in general since being constantly paired on the third and fourth lines. There aren't any setbacks as far as defensive ability, but he'll never be able to excel as a playmaker if the management doesn't give him the opportunity.
As far as the stat sheet, Burmistrov's numbers have increased in almost every category from his rookie to sophomore season. Seven more goals and eight more points as a sophomore, as well as a +16 differential. Hits and shots increased as well.
I hate to even have Burmistrov on the list especially this early in his career, but the fact is he'll face as much pressure as any especially after the Jets signed Olli Jokinen in the offseason, a move that could slot Burmistrov as the third line center again.
When the average fan takes a look at Burmistrov, they'll see a low goal total as well as a low point total. But what they won't see is the line he's on and the players on that line.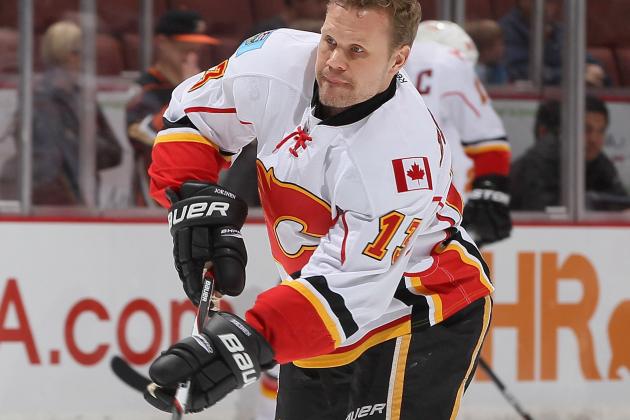 Jeff Gross/Getty Images

The Jets major acquisition this offseason will be expected to play top six minutes and produce like a top six forward.
I guess you can argue that every team's top offseason acquisition will face a lot of pressure to perform in his new uniform, but this is certainly the case for Olli Jokinen. Jokinen's two-year deal gives him two years to help lead the Jets to a playoff appearance.
Jokinen is already a highly scrutinized player as he only made the playoffs once in his career, which was a short playoff series. Jokinen has been an underperforming player since leaving the Florida Panthers back in 2007-08, but had a rejuvenated season last year as he reached the 60-point plateau for the first time since his departure in Florida.
The tall center will likely center one of the top two lines, see power play time, and rack up the time on ice. And for $4.5 million a year, he'd better produce with the opportunities he'll see.
Or else, the scrutiny will continue.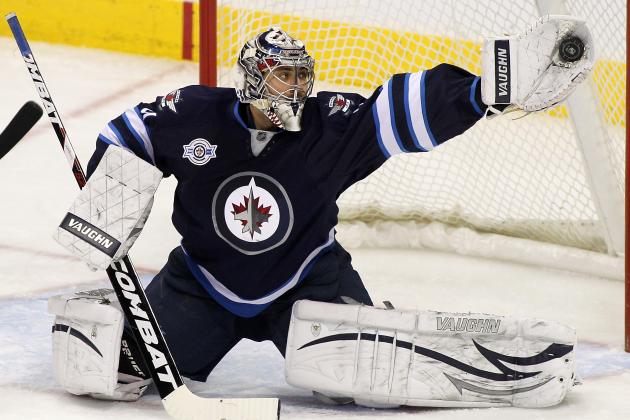 Marianne Helm/Getty Images

This has been an eventful offseason for the Jets star netminder.
Early in the offseason, Ondrej Pavelec was rumored to bolt to the KHL for a lot of money and a lot of years. The Jets management knew they had to lock him up, and that they did. Pavelec re-signed with the Jets for five years and got the money he sought as well.
Shortly after, the Jets found out that Pavelec received a DUI back in his home country of the Czech Republic. This occurred before the Jets re-signed him and the Jets were unaware of the whole situation.
Does this alone make Pavelec the No. 2 most pressured player in Winnipeg this season? No, not at all, but it certainly adds to it.
Pavelec got paid. He got the years. He's now officially the anchor for the next five seasons and potentially more, as many thought he'd be. So now he has to live up to the hype, expectations and contract.
Pavelec had a career-high of 29 wins last season. When looking at the two main statistics, however, Pavelec was amongst the worst in the league. Pavelec finished last season with a .906 save percentage and a 2.91 goals against average, statistics that are used to determine how good a goalie just is.
For Pavelec, we could likely throw those numbers out the window for last season. Many times he looked elite, maybe even more times than not. But there were the times when he looked poor. It's tough for anyone to put all the blame on him because the Jets have been a team with a bad defensive system for years.
Yes, Pavelec will need better help defensively, but most of the elite goalies don't use that excuse. Pavelec will have to show what he's made of even in the games where the defense takes a night off.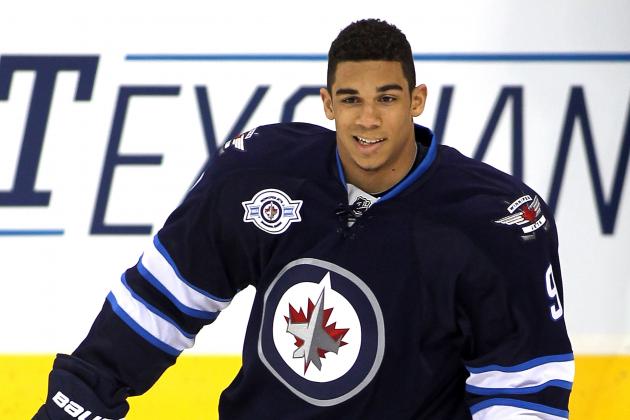 Marianne Helm/Getty Images

The player who will face the most pressure for the Winnipeg Jets this season is forward Evander Kane.
Kane put the pressure on himself by "holding out" for so long. He may not have come to terms yet and it may not be looked at in this way, but in my opinion it's the same as a "hold out". The Jets offered him the money and enough years for him to be the franchise player. Yet, both sides can't come to an agreement with training camp right around the corner.
It seems like there's a new "Kane wants out of Winnipeg" rumor each week regardless of whether the source is as legit as Darren Dreger or not. And these reports have fans worrying and wondering just what is going on behind the scenes.
When or if Kane eventually signs, he's going to have to answer to a lot of people and show that he's worth the wait as well as the money and years he'll receive. Kane has to express his happiness in Winnipeg instead of having the fans and media debate for months whether or not Kane is happy, trying and motivated to play hockey.
We know how good Kane can and will be in this league. When it's time to actually play, Kane will be examined closely night-in and night-out.
As far as performance, Kane topped his goals, assists and points totals in each of his three seasons. Last season was his best when he reached 30 goals for the first time and came close to 60 points. The pressure will be on him to once again top all of his totals from last season.
He's taken quiet steps after each season, but this season may be the one where he has to take the gigantic leap into elite.