Notre Dame Football: 2012 Season Preview for the Fighting Irish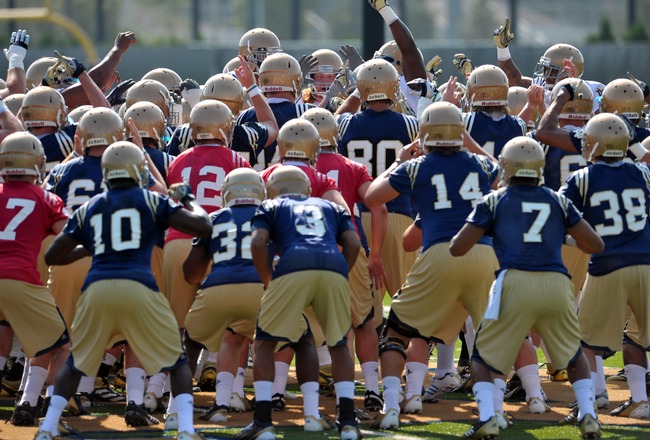 Matt Cashore-US PRESSWIRE
It's that time of the year, folks.
The Fighting Irish of Notre Dame begin their 2012 season on Saturday morning in Dublin, Ireland against traditional rival Navy. The game will be broadcast by CBS and begins at 9 a.m. ET.
The contest is the first that the Fighting Irish have played overseas since playing the Midshipmen in Dublin back in 1996.
It's the first game of a grueling 12-game slate for the Fighting Irish, even having been deemed as the country's most difficult schedule by CBSSports.com college football writer Bruce Feldman.
And in Brian Kelly's third season at the helm, expectations are beginning to soar, despite the demanding schedule. With an untested quarterback and a shaky secondary, what should fans expect from Notre Dame this season?
I'll answer that question and more in the annual season preview.
Enjoy.
Offseason Synopsis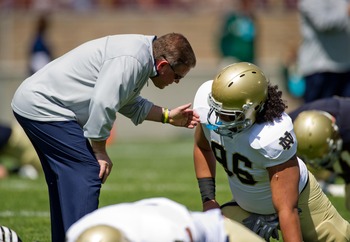 Matt Cashore-US PRESSWIRE
After falling to Florida State in the Champs Sports Bowl back in December, things were relatively quiet in South Bend until incumbent starting quarterback Tommy Rees and linebacker Carlo Calabrese were arrested at an off-campus party during the first week of May.
The incident spread shock waves around Notre Dame nation, as Rees' arrest turned the starting quarterback derby on its head.
Brian Kelly ultimately decided to suspend both Rees and Calabrese for the team's season-opening game against Navy, decidedly giving fan favorite Everett Golson the honor of starting quarterback duties.
Aside from those off-field incidents, the Irish made some positive noise on the recruiting trail, securing commitments from a handful of elite prospects, particularly linebackers Jaylon Smith and Alex Anzalone, as well as former Penn State commit and receiver Will Fuller.
For a complete list of Notre Dame's 2013 recruiting class, click here.
Offensive Preview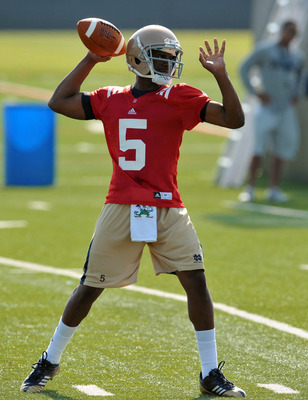 Matt Cashore-US PRESSWIRE
The 2012 Fighting Irish offense, just as any other, begins at the quarterback position. Brian Kelly's offense will be operated by newly named starting quarterback Everett Golson, a speedy, dual-threat player from Myrtle Beach, SC.
Golson, a redshirt freshman, will be surrounded by weapons, particularly at running back, where the Irish have the luxury of returning starter Cierre Wood toting the rock. Wood put together a fabulous 2011 season, racking up 1,102 rushing yards on 217 carries. Another 1,000-yard season is highly likely for the Oxnard, Cal. native.
Wood isn't the only threat at running back, though. The Irish will be four deep at the position, with George Atkinson III, Theo Riddick and Will Mahone each vying for carries.
The receiver position isn't nearly as solid as running back, especially with Michael Floyd having graduated and taken his talents to the NFL's Arizona Cardinals. However, there's enough talent on the depth chart to lessen the blow from Floyd's departure. Freshmen Chris Brown, Justin Ferguson and Davonte Neal each impressed during fall camp, and all will see time on the field.
Aside from those three rookies, keep an eye out for redshirt freshman DaVaris Daniels, a former 4-Star recruit from Vernon Hills, Ill. Daniels, the son of former NFL great Phil Daniels, may be the most talented of the receivers on this season's roster.
Interestingly enough, the Irish's most lethal receiving threat this season will be tight end Tyler Eifert, who has been projected as the No. 1 tight end in next April's NFL draft. Eifert headlines a star-studded tight end group, which also includes Troy Niklas and Ben Koyack. The position would have gone four deep, until Alex Welch tore his ACL during the first week of fall camp.
Lining up alongside those tight ends is a monstrous offensive line, led by fifth-year senior center Braxston Cave. With three of five starters returning, expect the Irish to dominate the line of scrimmage.
Defensive Preview
Mitch Stringer-US PRESSWIRE
Heading into the 2012 season, Notre Dame's defense is marred by a patchwork secondary.
Presumptive starting cornerback Lo Wood tore his Achilles tendon last week, forcing the Irish to find answers at an already terribly thin position. Wood's replacement is freshman KeiVarae Russell, who was a running back up until Wood's injury.
Russell will start alongside Bennett Jackson, who is the lone cornerback with any true experience on the depth chart, now that Wood is out for the season.
Yet there is leadership existing in the secondary, with fifth-year senior Jamoris Slaughter at strong safety and true senior Zeke Motta at free safety.
Unlike the secondary, the Irish linebacking corps is extremely deep and talented. Unquestioned team leader and middle linebacker Manti Te'o is entering his senior season at Notre Dame, and he will be joined by Prince Shembo, Dan Fox and Ben Councell at linebacker when the Irish take to the pitch at Aviva Stadium in Dublin on Saturday.
They'll be complemented excellently by a young, but stout defensive line, comprised of defensive ends Stephon Tuitt and Kapron Lewis-Moore, and defensive tackle Louis Nix. Each of the three are returning starters for the Irish. Depth is a tremendous attribute for this unit, as Chase Hounshell, Sheldon Day, Jarron Jones and Tony Springmann will compete for minutes at defensive end. Kona Schwenke and Tyler Stockton will do the same at nose tackle.
Special Teams Preview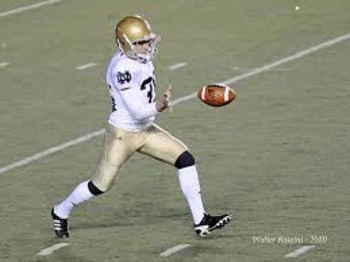 Special teams were an area of concern for Notre Dame last season, particularly the punt return game, which didn't accumulate more than three yards until Michael Floyd broke loose in the Champs Sports Bowl against Florida State.
This season's punt return unit is seeking stability, and that may just come in the form of true freshman Davonte Neal, the Irish's newest starting punt returner. The 5'9", 171-pound Arizona native is an electric playmaker with the ball in his hands and only needs a bit of space to blow a play wide open.
Another explosive player in the return game is George Atkinson III, who will handle kickoff duties for the Irish as he did last season. Atkinson had two kickoff return touchdowns as a freshman, with the first coming at a pivotal stretch against Michigan State at Notre Dame Stadium.
In the kicking game, senior Nick Tausch beat out sophomore Kyle Brindza at placekicker, while Ben Turk will remain as the Irish's starting punter.
Coaching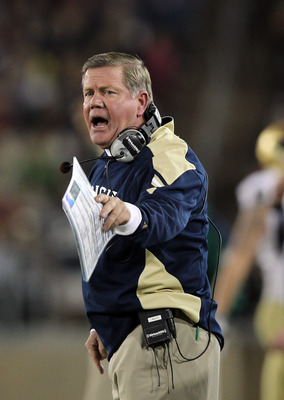 Ezra Shaw/Getty Images
In two full seasons as head coach at Notre Dame, Brian Kelly has compiled a 16-10 record, a figure that Fighting Irish fans aren't exactly thrilled with.
Kelly's third season isn't a make-or-break season for Kelly, but a poor season will certainly heat up Kelly's seat in South Bend.
Kelly's 2012 coaching staff features a few new faces in offensive line coach Harry Hiestand, safeties coach Bob Elliott and tight ends coach Scott Booker. There were a few other shuffles in the coaching staff this season, and they are listed below:
—Mike Denbrock: Outside Wide Receivers/Passing Game Coordinator
—Bob Diaco: Assistant Head Coach/Defensive Coordinator/Linebackers
—Chuck Martin: Offensive Coordinator/Quarterbacks
Schedule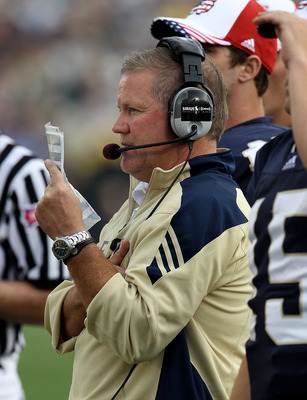 Jonathan Daniel/Getty Images
Notre Dame's 2012 schedule is as follows:
Sept. 1 vs. Navy, 9 a.m. ET, CBS (Dublin, Ireland)
Sept. 8 vs. Purdue, 3 p.m. ET, NBC
Sept. 15 at Michigan State, 8 p.m. ET, ABC
Sept. 22 vs. Michigan, 7:30 p.m. ET, NBC
Oct. 6 vs. Miami, 7:30 p.m. ET, NBC (Chicago, Illinois)
Oct. 13 vs. Stanford, 3:30 p.m. ET, NBC
Oct. 20 vs. BYU, 3:30 p.m. ET, NBC
Oct. 27 at Oklahoma, TBA
Nov. 3 vs. Pittsburgh, 3:30 p.m. ET, NBC
Nov. 10 at Boston College, TBA
Nov. 17 vs. Wake Forest, 3:30 p.m.. ET, NBC
Nov. 24 at USC, TBA
One Game the Fighting Irish Absolutely Will Win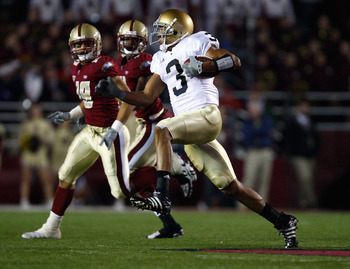 Jim Rogash/Getty Images
If there's one guaranteed victory on Notre Dame's 2012 schedule, it's against the Boston College Eagles on November 10th in Chestnut Hill, Mass.
Fourth-year head coach Frank Spaziani is coming off a 2011 season in which his Eagles won only four games, the worst finish in his three seasons as head coach. The situation in Chestnut Hill didn't get any easier over the offseason, as leading rusher Montel Harris was forced to leave the program after multiple violations of team rules.
That was gut-wrenching news for the Eagles offense, as the unit ranked 113th nationally in points per game at clip of 15.7. Without Harris, the offense can't expect to be an improved unit this season.
The Fighting Irish defense will have no trouble shutting down a weak Boston College offense.
My Prediction: Notre Dame 38, Boston College 14
One Game That's a Tossup
If you've watched the past two meetings between Michigan and Notre Dame, you've seen why these two programs are so evenly matched. You've also seen why the Fighting Irish are due for a few lucky bounces, as well.
In three consecutive seasons, the Wolverines have come from behind to beat the Irish in the final 30 seconds of regulation. Last season's meeting was the most dramatic of all, as Denard Robinson connected with receiver Roy Roundtree for a touchdown with two seconds remaining to seal the victory.
Clearly, neither team has been an overwhelming favorite or underdog during the past three seasons, and that won't be changing this season.
Brian Kelly's squad has one final shot at pesky Michigan quarterback Denard Robinson, who has accumulated 948 yards of offense against the Fighting Irish during the past two seasons. A third consecutive season of Robinson tearing apart the Notre Dame defense would be unthinkable for Fighting Irish fans.
My Prediction: Michigan 31, Notre Dame 24
One Game the Fighting Irish Could Lose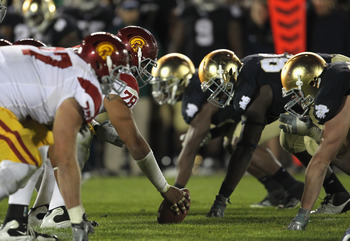 Jonathan Daniel/Getty Images
One game that Brian Kelly's squad could (and will) lose is against Lane Kiffin's USC Trojans at Los Angeles Memorial Coliseum over Thanksgiving weekend.
The Trojans are the deepest and most talented team the Irish will see all season. USC isn't ranked No. 1 in the AP Top 25 poll for no reason. Kiffin's squad features a slew of skill position talent, specifically receivers Robert Woods and Marqise Lee, running back Curtis McNeal and quarterback Matt Barkley.
Woods and Lee each eclipsed the 1,000-yard mark last season, as did McNeal.
However, the most impressive figures came from Barkley. The senior completed 308-of-446 pass attempts for 3,528 yards and 39 touchdown passes. With his two favorite targets back this season, expect Barley to post even more sterling numbers this season.
My Prediction: USC 35, Notre Dame 17
Offensive MVP Prediction
This season's offensive MVP will be the quarterback that every Fighting Irish fan has been dreaming about since he stepped on campus nearly two years ago.
Everett Golson will take home the honors this season, despite struggling early on.
The 6'0", 185-pound quarterback will finish the season just shy of reaching 3,000 passing yards to go along with 20 touchdown passes. Yet the most impressive statistic from Golson will be rushing yards. Golson, despite being a pass-first quarterback, will finish the season with nearly 500 rushing yards.
All of this is barring injury, of course.
Defensive MVP Prediction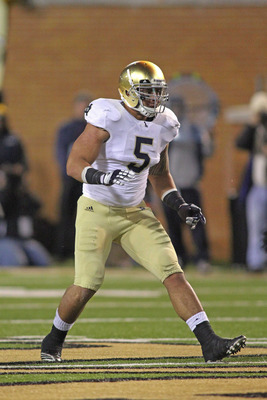 Jeremy Brevard-US PRESSWIRE
This season's defensive MVP comes as no surprise. Inside linebacker Manti Te'o will take home the honor following the finish of the 2012 regular season.
Te'o, who has led the Fighting Irish in tackles during the past two seasons, will do so for a third season in South Bend. Te'o was projected as a first-round choice in last spring's NFL draft, but decided to return to school for his senior season. The news gave the Irish defense a shot in the arm, as Te'o gives the unit one of the nation's most formidable defensive presences.
And with a relatively young defense taking the field this season, Te'o will provide a much-needed voice of maturity and leadership.
Newcomer of the Year Prediction
Because Everett Golson will take home offensive MVP honors, the Newcomer of the Year Award will be given to freshman slot receiver Davonte Neal.
Neal, a Scottsdale, Ariz. native, will be Notre Dame's starting punt returner this season, as well as backup slot receiver. Neal was thought to be an option at cornerback, but Brian Kelly and his staff ultimately decided that Neal gave the team a bigger boost on the offensive side of the ball.
The 5'9", 171-pound athlete will also take a few occasional carries out of the backfield. Specifically, Neal could be most dangerous on end arounds and jet sweeps.
Since Notre Dame began recruiting the Chaparral High School product, one player who Neal reminds me of is former USC star, and current Miami Dolphin Reggie Bush. Both players are lightning quick and possess the ability to make an impact on special teams and both the running and passing games.
Best NFL Draft Prospect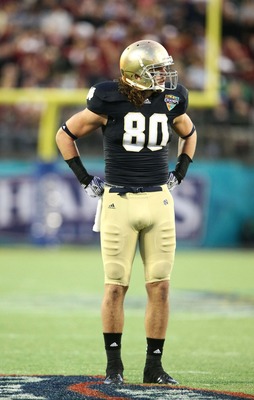 Douglas Jones-US PRESSWIRE
Notre Dame has been considered "Tight End U" for the better part of the 2000s, as the program has pumped out one elite tight end after another. Anthony Fasano, John Carlson, Kyle Rudolph and current Irish tight end Tyler Eifert all come to mind.
Eifert will be the next NFL-bound tight end to come out of Notre Dame. The 6'6", 260-pound Eifert creates matchup problems against opposing defenses, as he is physically larger and faster than most high-level linebackers.
Even at 260 pounds, Eifert runs like a deer over the middle of the field. He'll create a huge, reliable target for first-year starting quarterback Everett Golson.
Best 5 Twitter Follows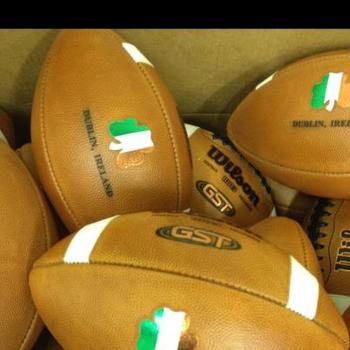 Following are the five best Twitter follows associated with Notre Dame football:
@NDFBEquipment—Ryan Grooms, the Notre Dame football equipment manager, provides fans with an inside look at how anything from helmets to jerseys to shoulder pads and more are put together on a week-to-week basis.
@KLM_89—Kapron Lewis-Moore provides one of the more entertaining Twitter accounts, as the fifth-year senior defensive end has quite a few comedic things to say.
@NDHardin—Brian Hardin is the media relations director of the Notre Dame football program. Hardin provides fans with the finer details of media-related details of the program. Hardin is your guy for all necessary information concerning Notre Dame football.
@IrishChocolate9—Louis Nix, who shoots, produces and directs his weekly "Chocolate News" segment, is an excellent Twitter follow. He provides fans with, perhaps, the most detailed glimpse of the social life of a Notre Dame football player.
@CoachBrianKelly—For any college football program, following the head coach on Twitter is a necessity. Brian Kelly doesn't tweet often, but when he does, it's worth reading.
What Does Vegas Say?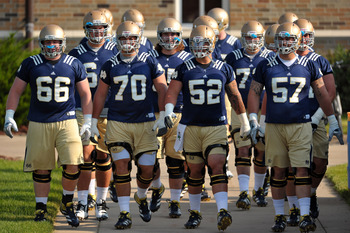 Matt Cashore-US PRESSWIRE
Vegas has officially posted its lines on a handful of Notre Dame games, as well as a betting line on the Irish's shots at winning the BCS National Championship.
The men out in Sin City have pegged Notre Dame with an over/under of 8.5 wins. The bettors are also offering a price of +2500 on the Irish taking home this season's national championship.
Bowl Bound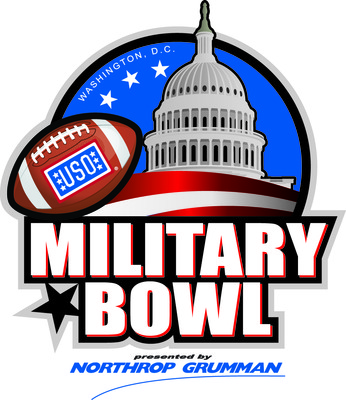 Notre Dame is in a extremely precarious position entering this season, as the Irish do not have any bowl tie-ins below the BCS level. Simply put, this is a BCS-or-bust season for the Fighting Irish in that regard.
Brian Kelly and Co. do have hope that a power six conference may not fulfill its bowl allotment, but the Irish do not wish to be scoreboard watchers this season.
This season's Notre Dame squad will not be a BCS participant, landing the Irish in the Military Bowl in Washington, D.C. on December 27th.
Final Prediction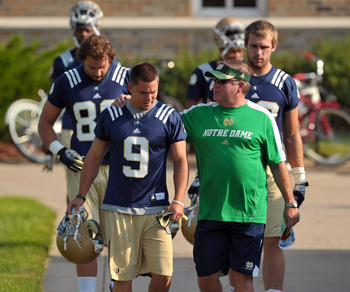 Matt Cashore-US PRESSWIRE
Facing a brutal schedule entering the season, Notre Dame doesn't have a realistic opportunity to qualify for a BCS bowl.
My predictions are as follows:
WINS: Navy, Purdue, Miami, Stanford, BYU, Pittsburgh, Boston College, Wake Forest
LOSSES: Michigan State, Michigan, Oklahoma, USC
The combined wins and losses place the Irish at 8-4 at the conclusion of the regular season, which Brian Kelly and his staff should be more than proud of.
The Irish will struggle on the road, as three of the four projected losses come away from Notre Dame Stadium. Also, Michigan, Oklahoma and USC are simply much better teams than this season's Notre Dame squad.
Historically speaking, the Irish have also struggled in night games, as witnessed last season by the collapse at Michigan and complete letdown at home versus USC. The story will remain the same in 2012.
Keep Reading

Notre Dame Football: Like this team?