10 Things We Learned from the Buffalo Bills' 3rd Preseason Game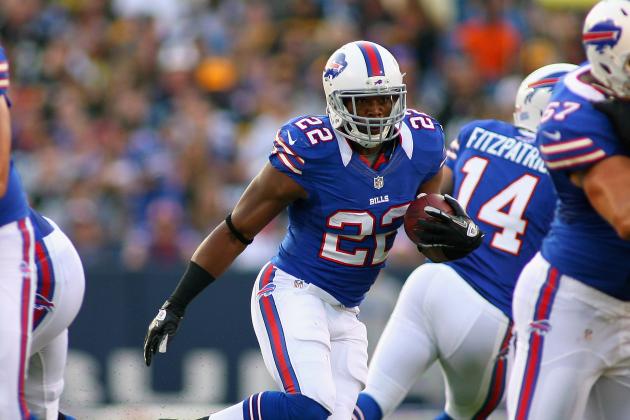 Rick Stewart/Getty Images
Fred Jackson looked every bit as dangerous against the Steelers as he did before his injury last year.
Three out of four NFL preseason games are in the books, and the Buffalo Bills are 0-3.
While the Bills' lack of success will be quickly forgotten if they can manage to beat the New York Jets in Week 1 in about two weeks, if they fail out of the gate, the team's preseason woes could be looked at differently.
The 38-7 loss to the Pittsburgh Steelers wasn't pretty. Still, there were some positives for Bills fans.
Here's a rundown of the 10 things we learned from this game from a Bills' perspective.
Begin Slideshow

»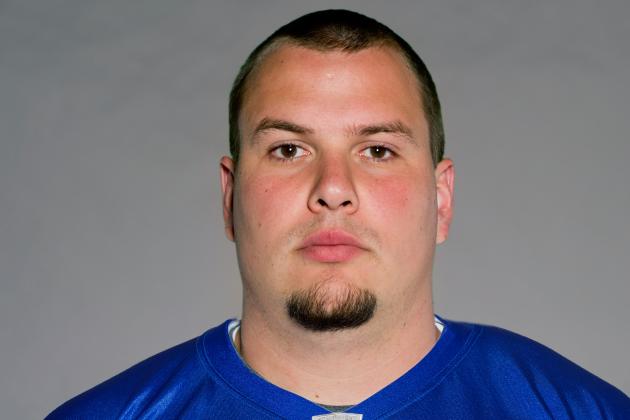 Handout/Getty Images
Urbik needs some work in the appearance department.
Kraig Urbik was plucked off the practice squad of the Steelers by GM Buddy Nix.
At the time, he was a large, bald man with a questionable yellow and black facial hair. He is now a large, bald man with questionable blue and white facial hair.
It's hard to say much of anything good about the offensive line's performance Saturday night.
There were some nice running plays to Fred Jackson and some big holes for him the run through, but Ryan Fitzpatrick got hit a lot, and he two balls deflected.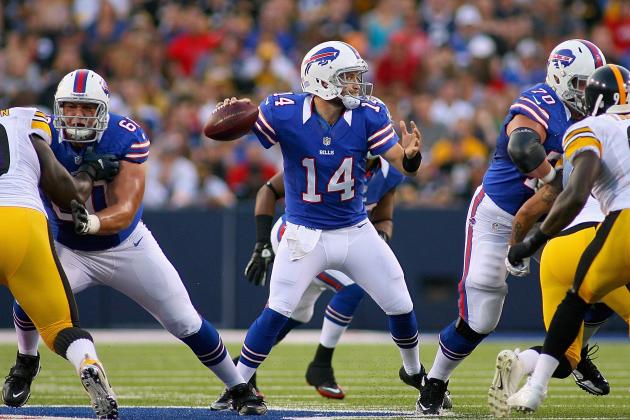 Rick Stewart/Getty Images
Fitz never looked comfortable.
This is not the dress rehearsal Bills fans wanted to see from Ryan Fitzpatrick. He looked uncomfortable at times with Pittsburgh's pass rush.
He finished the game going 7-of-18 for 89 yards with two 20-plus-yard plays to David Nelson and Stevie Johnson.
The passing definitely was off, and had this been a regular-season game, you'd have to think more of an emphasis would be placed on running the ball.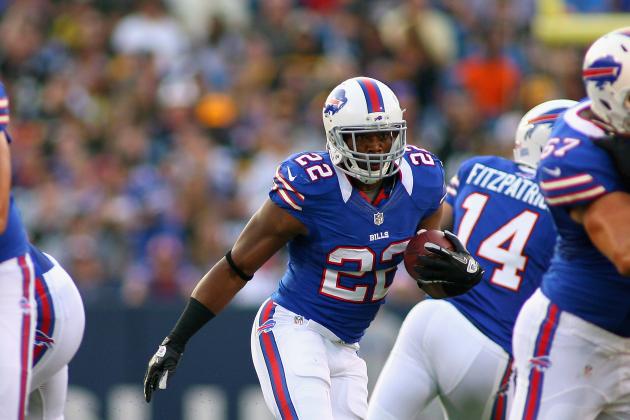 Rick Stewart/Getty Images
Fred Jackson was the Bills best player, again.
If anyone was concerned about Fred Jackson's health coming off the leg injury last year, they'd have to be comforted by what they saw from him against the Steelers. Jackson looked every bit as slick and heady as he did when he was an MVP candidate early last season.
His 34 yards on seven carries is a more modest result than it appeared. The bigger outcome has to be Jackson appearing to be back in top form, and that's good news. There was an immediate drop off in the entire team's play after his injury.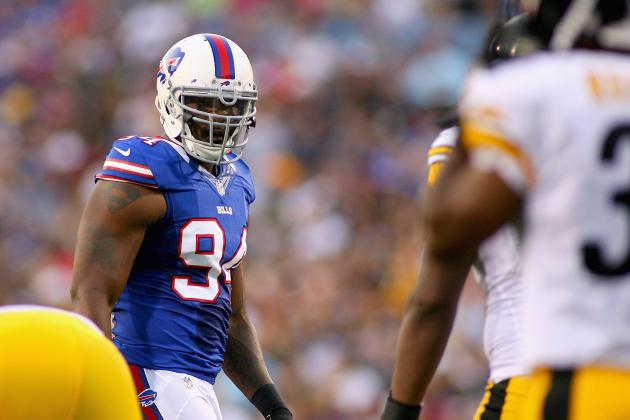 Rick Stewart/Getty Images
Mario Williams recorded two sacks against the Steelers.
The Bills have a defensive line that will be a serious problem for opposing offenses. They were able to create pressure using a four-man rush.
The Bills' first unit yielded two sacks. With Mark Anderson inactive (groin), the line's play was even more impressive.
Kyle Williams, like Fred Jackson, appears to suffer no ill-effects from last year's injury. He played fast all night, and he was probably the line's most outstanding player.
Though Mario Williams got credit for both sacks, they were the result of a collapsing pocket with pressure coming from elsewhere.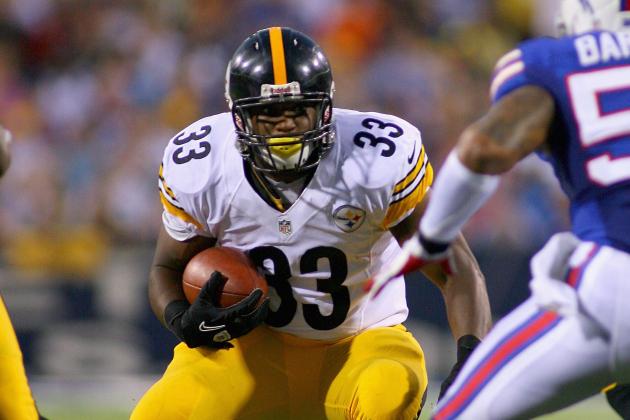 Rick Stewart/Getty Images
Isaac Redman found little running room.
The Bills' first-team defense had been gashed by second-tier running backs in the past.
After a 20-plus-yard run from Isaac Redman was negated due to a holding call, he never saw daylight again.
Linebackers Nick Barnett and Kelvin Sheppard both looked good in run support, and the defensive line was swarming at the line of scrimmage.
It would have been nice, however, for the Bills to have stopped Redman on 3rd-and-goal from the 2-yard line in the first quarter.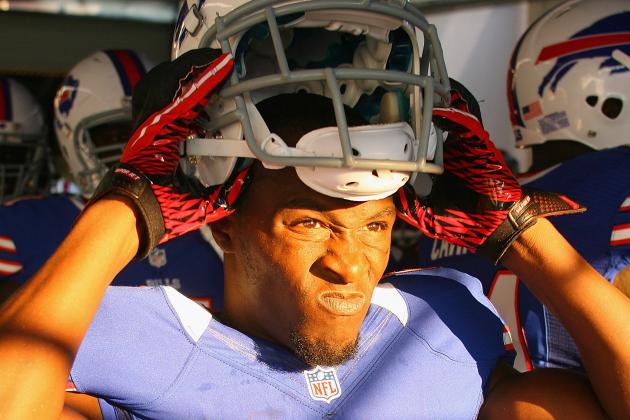 Rick Stewart/Getty Images
Leodis getting his game face on.
Not that there was actually a competition, but Leodis McKelvin looked dangerous in the return game against the Steelers, returning four punts for 43 yards, with a long of 18.
Naaman Roosevelt also had one return for 18 yards, but he just doesn't look as smooth or quick as McKelvin.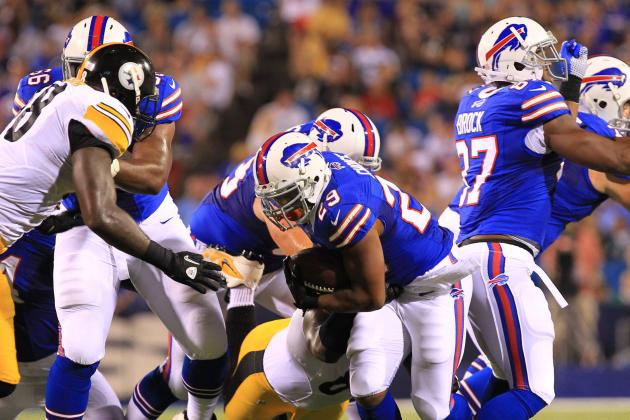 Kevin Hoffman-US PRESSWIRE
Tashard Choice had his best game as a Bill.
Tashard Choice rushed for 50 yards on seven carries against backups, so maybe the enthusiasm should be tempered. Choice could just be another Joique Bell.
For the first time, though, Choice looked good enough to be a serviceable backup running back in the NFL.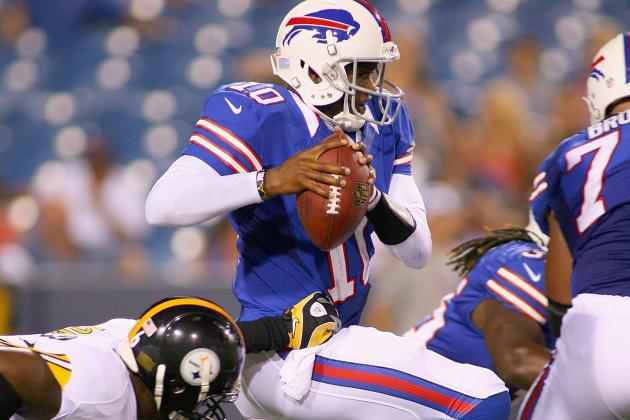 Rick Stewart/Getty Images
Vince Young struggled.
One moment Vince Young looks great, the next he looks like he couldn't be a backup in college. His footwork is consistently bad.
His two interceptions Saturday night were nearly identical weak short throws to the sideline. The second was returned all the way to the Bills' 8-yard line.
Vince Young really took a step back with this performance.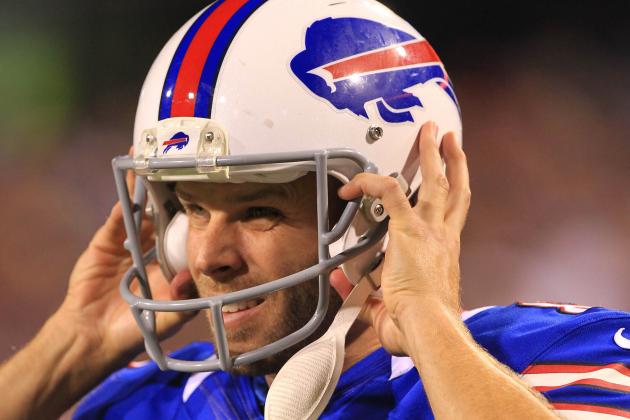 Kevin Hoffman-US PRESSWIRE
Brian 'The Aussie' Moorman.
Brian Moorman looks like he spent the entire offseason in some secret and elite punting boot camp where he has mastered his craft.
The Bills should try to bring in a hotshot college punter every year to push Moorman to such heights if that's what's needed.
He's perfected the "Aussie" style of kicking to pin his punts deep.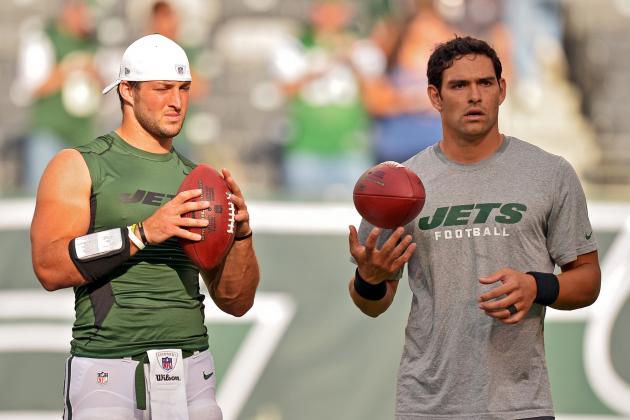 Drew Hallowell/Getty Images
The Bills are coming, pretty boys.
Preseason games may get us excited for the real thing, but until then, we are left to wait for the first official games.