WWE Survivor Series: Best Fantasy Lineup Card of All Time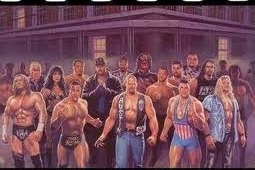 The upcoming WWE pay-per-view, Survivor Series, is my favorite pay-per-view of the year.
Why?
Every year, we see multiple superstars paired up with one another who we probably never saw paired up before, and we'll probably never see paired up again.
The five-on-five elimination match always has been of the most exciting concepts of all time, mainly because of the endless possibilities the WWE creative team can come up with.
I took this concept one step further and created a Survivor Series lineup card using wrestlers from all different generations that would definitely put on the greatest show of all time.
All of these matches should leave you salivating over what would be if these fantasy matchups actually took place.
Begin Slideshow

»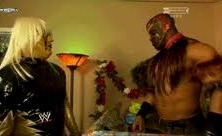 Jake "The Snake" Roberts, Gangrel, The Boogeyman, Papa Shango and Doink the Clown
vs.
Zeus, The Giant Gonzalez, Goldust, Nailz and The Missing Link
Giants, psychos, clowns, ex-convicts, vampires, voodoo, snakes, worms...really what more do you need?
At the very least, this match would definitely leave the crowd entertained, as some of the strange occurrences in the ring would likely cause them to be spooked and disgusted.
Seriously, could you just imagine the strange occurrences that would take place in that very ring?
Questions I have are, would any of these wrestlers fall for the others' disgusting tricks?
Would The Boogeyman really allow Goldust to stalk and grope him?
Would The Giant Gonzalez really be afraid of Jake Roberts' snake?
Would Zeus really fall for any of Doink the Clown's tricks?
My guess for the answer to all these questions—probably not!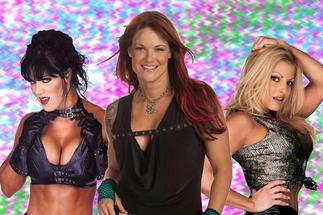 Trish Stratus, Chyna, The Fabulous Moolah, Sable and Mickie James
vs.
Lita, Kharma, Beth Phoenix, Sunny and VIctoria
Ten of the greatest females fighters all in one ring together would definitely be a fun sight to watch, especially for the male spectators.
This match would have it all!
Like beautiful girls? Lita and Sable are arguably two of the prettiest girls to ever step foot in a WWE ring.
Maybe you like girls with power? Chyna and Kharma have plenty of power.
Maybe you just like good technical wrestling? The Fabulous Moolah and Beth Phoenix are both very skilled.
Wait!
I know what you'd want to get out of this match: Two girls embracing in a victory kiss. Trish Stratus and Mickie James will take care of that for you.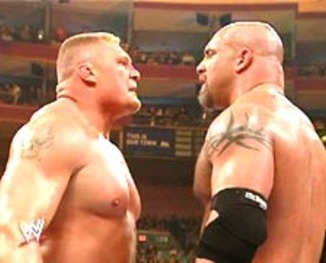 John Cena, Batista, Bobby Lashley, Goldberg and Andre the Giant
vs.
Brock Lesnar, The Big Show, Kane, Mark Henry and Kevin Nash
Size, power and strength...and lots of it!
This would be one explosive match.
You have the world's strongest man, three seven-footers (another near seven-footer in Kevin Nash), a former UFC champion, two more MMA fighters, a plethora of body builders...the list goes on and on.
It'd be fun to watch these guys attempt to outmuscle one another and outdo one another with their powerful finishing moves.
I wonder which one of these almighty wrestlers would be able to lift the most men over their shoulders throughout this entire match.
Hmmmm!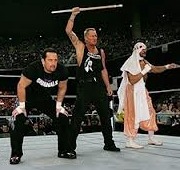 Mick Foley, Terry Funk, Abdullah the Butcher, Bruiser Brody and The Original Sheik
vs.
Buh Buh Ray Dudley, Sabu, Sandman, Tommy Dreamer and Raven
Tables! Ladders! Chairs! Barbed wire! 2x4s! Ladders!
Just throw all these weapons in the ring and let these men go at at against one another.
Maybe the match should be a Hell in a Cell match?
It wouldn't matter to these guys what type of match this would be. They'd just love beating the heck out of one another with anything they can get their hands on.
Blood would be a guarantee. Heck, a pool of blood would be a guarantee. The action would be guaranteed to spill outside of the ring because I just don't see these fighters keeping the action within the confines of the ropes.
I don't think there is any way this match would not entertain the entire crowd.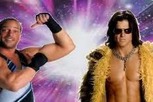 Rey Mysterio, Rob Van Dam, Jeff Hardy, Paul London and Kofi Kingston
vs.
Evan Bourne, John Morrison, Sin Cara, The Ultimo Dragon and Jimmy "Superfly" Snuka
High-fliers are always fun to watch, especially if there are many of them.
For fans of high-fliers, this would be a matchup they'd never forget. Ten of the best high-fliers of the past, present and future in the WWE together in one ring would make for the most athletic showcase in WWE history.
I'm sure most of these men would be willing to take some dangerous leaps just so their team could win this match.
After all, they've done it before, why would it be any different during this match?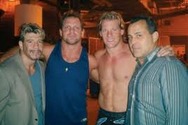 Owen Hart, Chris Benoit, Chris Jericho, Eddie Guerrero and Dean Malenko
vs.
Kurt Angle, Mr. Perfect, Bob Backlund, Daniel Bryan and The Dynamite Kid
Now, I'm no expert on the topic, but the art of wrestling has to be a tough trade to learn. At the very least, to become a truly great technical wrestler, a person has to spend countless hours practicing and perfecting many different moves and maneuvers.
The 10 men who would be involved in this match are considered some of the greatest technical wrestlers in the history of the WWE, and I'm sure that it took them a long time and an incredibly strong desire to gain that type of glory.
This match would be a great bout to watch for any old-school wrestling fan who is not watching the WWE for the storylines, love triangles and men with bodies full of muscle, but for someone who just wants to see some good, old-fashioned wrestling.
My guess is, these men wouldn't disappoint a fan like that due to the combination of speed moves and submissions holds they carry in their arsenal.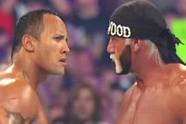 The Rock, Stone Cold Steve Austin, The Undertaker, Bret Hart and Bruno Sammartino
vs.
Hulk Hogan, Triple H, Shawn Michaels, Ric Flair and Randy Savage
The best there are, the best there were and the best there ever will be!
These 10 men possessed, and most of them still possess, a rare combination of charisma and prowess that led them to being recognized as the greatest wrestlers the WWE has ever seen.
Just think of all the rivalries that would be revisited during this match as well.
Hulk Hogan vs. The Rock.
Stone Cold Steve Austin vs. Triple H.
The Undertaker vs. Shawn Michaels.
Bret Hart vs. Shawn Michaels...and that's only to name a few!
Not only would the egotism in this ring be unmatched, but so would the talent and the legacies these men left behind.