Auburn Football: 2012 Season Preview for the Auburn Tigers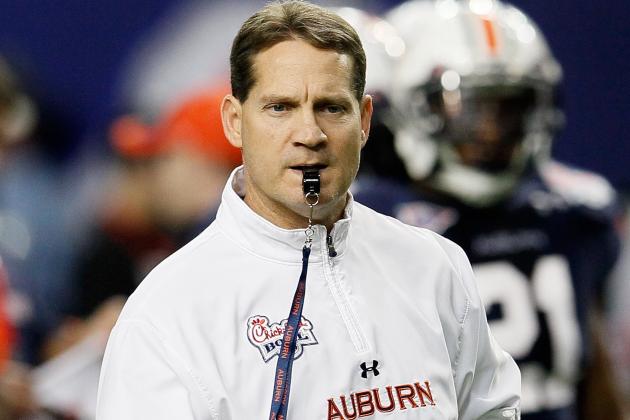 Kevin C. Cox/Getty Images
Can Gene Chizik get Auburn back into the national conversation in 2012?
Congratulations, Auburn fans. You have made it. It is finally game week. Grills will be fired up, music will be playing and every team in America will walk onto the field as an undefeated team next Saturday.
One of the more forgettable offseasons in the Auburn football program's history has come and gone, and it's time to turn the focus to the field.
Optimism as well as high expectations for 2012 have seeped into the hearts and minds of many Auburn fans. Much of the excitement has to do with with the addition of proven defensive coordinator Brian Van Gorder and quarterback guru Scot Loeffler as offensive coordinator.
Another reason for hope is that the young team we watched struggle mightily at times against the nation's best teams is one year older. Auburn is still a very young team, but it has had a year to get bigger, faster and stronger. Most importantly, it has had a year to reflect on the stinging losses it endured.
Auburn is coming into the 2012 season unranked by the Associated Press and ranked 25th by the coaches. Does Auburn have a shot to end up in Atlanta for the SEC Championship game?
Let's take a look....
Begin Slideshow

»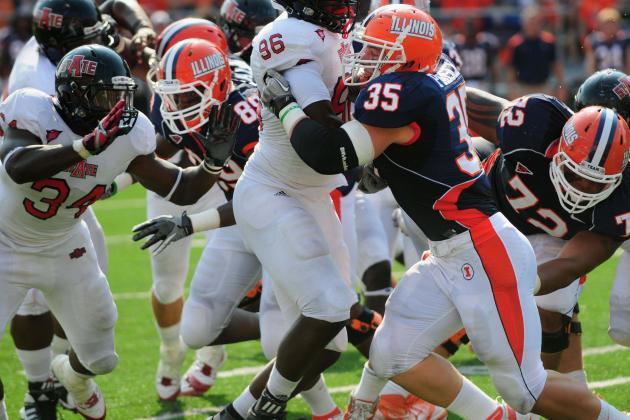 Reid Compton-US PRESSWIRE
Jay Prosch was a big addition this offseason
It was an offseason to forget for Auburn. Issues began to arise within the program prior to the Chick-fil-a bowl. Michael Dyer was dismissed from the team for an unspecified violation of team rules, but we have our theories. The 2010 BCS Championship game MVP won't be playing for anyone after also getting the boot from Gus Malzahn at Arkansas State.
Speaking of Gus Malzahn, he surprised many by taking his talents to Jonesboro, Ark. to coach the Red Wolves of Arkansas State. He had been courted by bigger schools, but many of them did not pull the trigger on hiring him.
Ted Roof did not make it to the bowl game, as he initially was hired at the University of Central Florida to be their defensive coordinator. Many Auburn fans are glad to see him go, and it did not take a very trained eye to see there were some scheming conflicts between he and Gene Chizik.
Roof is now the defensive coordinator at Penn State. (I don't think any Auburn fans disliked him so much that they would wish that on him.)
In April, the former Auburn players who committed armed robbery in the summer of 2011 were on trial, and the testimonies revealed some disturbing behavior by a few of Auburn's football players. It was not easy to follow the testimonies.
Antonio Goodwin was sentenced to 15 years in prison for his wrongdoings. The remaining three players are still awaiting trial.
On an otherwise normal summer Friday night in Auburn, there was a senseless shooting that took the lives of Ed Christian, Ladarious Phillips and Demario Pitts. Christian and Phillips were two former Auburn football players.
Injured in the shooting were John Robertson, Xavier Ross, and Erick Mack. Mack is a current football player, although he has not seen much practice time as he deals with "personal issues." Desmonte Leonard surrendered after a two to three-day manhunt.
Is that enough bad news for you? Glad we got that out of the way. On to some good news from the offseason.
According to everyone who has an opinion, Gene Chizik hit a home run with the hiring of Brian Van Gorder as Defensive Coordinator. Van Gorder comes from the Atlanta Falcons after being defensive coordinator there for the past four seasons. He was also a defensive coordinator at UGA, where he won the Broyles Award in 2003. Van Gorder's defenses are very aggressive, and it won't be as much "read and react" as Ted Roof's schemes were.
The hiring of Scot Loeffler was different. No one would have questioned the quality of the hire if it were not for the length of time it took to become official. Loeffler came from Temple where he was offensive coordinator under Steve Addazio. He has coached Tim Tebow and Tom Brady, among others. A lot of people are excited to be moving to a more "traditional" offensive approach.
Gus Malzahn's system works, and he was the right hire at the right time for Auburn, but the Tigers want to return to their roots with a strong defense and a smash-mouth offense. That is the only way to have consistent success in the SEC. Loeffler runs an offensive system that will have the QB under center, and we will see multiple TE sets.
Gene Chizik also brought on Willie Martinez to coach defensive backs and moved Phillip Lolley to an administrative role. Defensive back play has been a thorn in the side of Auburn the past three years.
Martinez comes from Oklahoma, where he coached secondary there as well. Prior to that, Martinez was the defensive coordinator at UGA.
Gene Chizik reeled in his third straight top-10 recruiting class, according to Rivals. Many of these freshmen will be thrown into the fire immediately and asked to contribute. Chizik has said multiple times that one more recruiting class is needed to reach the talent and depth that Auburn needs to compete at the top of the SEC.
Jay Prosch was added to the roster and will be eligible to play immediately for Auburn. He wanted to be closer to his mother, who is battling brain cancer. He comes from Illinois, where he was an All-American fullback for the Fightin' Zookers. He will be a big key to helping out a young offensive line and will open up running lanes for the running backs.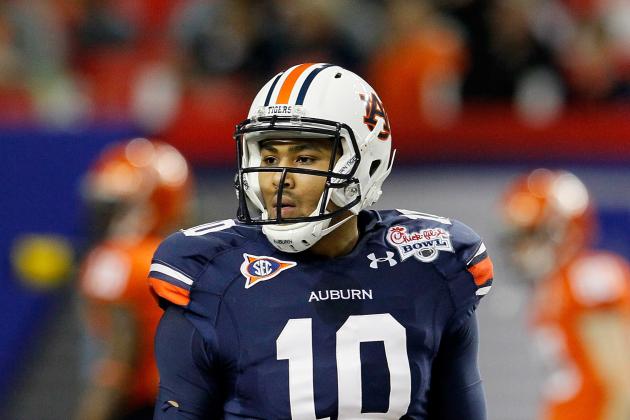 Kevin C. Cox/Getty Images
Can Kiehl Frazier lead Auburn to big wins as a Sophomore?
When looking for a new offensive coordinator, Gene Chizik wanted to return to the Auburn style of offensive football. He wants the offense to protect the defense. That is not something Auburn has had the past three years.
Two minutes after making a big stop, the defense would be right back out there. It is hard to win football games and hard to stop opposing offenses that way. Gus Malzahn's system is proven to be successful, and he was the right hire for Auburn at the time. Records were broken and championships were won, but it is not an offense that can have consistent success in the defensive league of the SEC. So Chizik turned his eyes north and snatched Scot Loeffler from Temple to be his offensive coordinator.
There will be a lot of different things that will happen on the offensive side of the ball this year. For one, you will see a strange thing that other football teams do called a "huddle." The QB will be under center, and there will be concepts from both the pro and spread style of offense. Loeffler has worked in both styles, pro style at Michigan under Lloyd Carr and Spread style under Urban Meyer at Florida.
What plagued Auburn so much last year was the offensive line. It should have been expected after losing one of the top offensive line units following the 2010 season. It almost seemed unfair last year at times going against the LSU and Alabama defensive lines with Auburn being so young up front.
The youth part hasn't changed, and there will be struggles on the offensive line again this year. They are already off to a bad start with the suspension of Reese Dismukes. Tunde Fariyike or John Sullen is expected to start at center while Dismukes serves his suspension. With the move to a more NFL-style offense, one has to expect that there will be a lot more communication needed from the offensive linemen. Defensive coordinators will throw the kitchen sink at the young offensive line with complex stunts and blitzes.
The offensive line will most likely only have one player above the sophomore level. They will look to senior John Sullen for leadership. Kiehl Frazier does have much more mobility than Clint Moseley or Barrett Trotter did last season. He will most likely have to use that mobility and extend plays with his legs.
The 2012 recruiting class brought on seven offensive linemen. It was thought of by many recruiting analysts to be one of the top two offensive line classes in the country. Patrick Miller and Alex Kozan are just two true freshmen that may see significant playing time this year. This offensive line has an extremely bright future, but will once again have struggles against the top defensive lines in the league.
When it comes to receivers and tight ends, we know what Emory Blake and Phillip Lutzenkirchen can do. After all, Lutzenkirchen is German for "Touchdown Maker" (loosely translated). Both players were selected to the preseason All-SEC Team.
The big question is, who will draw the attention away from those two? Last year, Blake dealt with injuries for half of the year, and the QB rarely had time to get the ball to them. Deangelo Benton had been having a strong camp until it was announced that he has been suspended indefinitely. Trovon Reed is someone that Auburn expects to have a big year. Reed came to Auburn as a blue chip recruit, but injuries have derailed him thus far.
It is expected that Loeffler will use Reed the same way that Florida used Percy Harvin. Quan Bray will be used in the same fashion. Look for Ricardo Louis and Sammie Coates to get plenty of opportunities this fall as well.
This offense will also have offensive sets that feature multiple tight ends. There will be formations where Brandon Fulse and CJ Uzomah will be on the field at the same time as Lutzenkirchen. Having a safety valve in these tight ends will take some pressure off of Frazier if nothing else is there.
Just like the offensive linemen, the receivers have to learn a very complex offensive system that depends on timing, spacing and route depth. Malzahn's offensive system had routes that didn't really change. The receivers simply had to do their assigned route.
Loeffler's system will require more reads and communication among the receivers. A poorly-timed route or someone at the wrong depth can create a busted play. This group of receivers and tight ends has everything in place to be one of the best in the SEC.
It does not matter who the offensive coordinator is. Auburn will always put a high priority on running the football. Loeffler is no expection.
The running back position will look much different in 2012. No Mike Dyer. No Jovon Robinson. Fortunately for Auburn, those two players play in a position where Auburn has plenty of depth. There usually isn't a shortage of talent at running back for Auburn. As talented as Dyer is, many around the Auburn program will say that losing him was addition by subtraction. Auburn was counting on Jovon Robinson to be the bruiser and next star in the making. He hopes to be enrolled at Auburn next spring or fall.
Auburn has Tre Mason, Corey Grant, Mike Blakely and of course, Onterio McCalebb. Tre Mason had a strong performance in the Chick-Fil-A bowl against UVA. He rushed nine times for 64 yards and a touchdown. Mason has great speed, and he has the size to run the ball between the tackles.
Corey Grant has been described as the fastest guy on the team by some. That's saying something when you play with a guy who has caught a squirrel like McCalebb. He sat out last year after he transferred from Alabama. He most likely will not get as many touches as the other running backs but with the loss of Robinson, but he should get his chances. Gene Chizik recently rewarded him with a scholarship for his hard work.
Mike Blakely is another transfer. He came from Florida after completing spring practice with the Gators.
Then, there is McCalebb. Once he got over his issue of tripping over the yard lines, McCalebb proved that his speed and ability to turn the corner is a game-changer. He has put on some more weight, but he still can't be expected to carry the ball 20-30 times a game.
All-American Fullback Jay Prosch was the biggest addition this offseason for Auburn. Not only are his calves the size of a normal person's head, he loves to hit people and open up running lanes. He will have a big impact on the running backs and will help the young offensive lineman protect Frazier.
Last but not least, the quarterback position will be a big question mark for Auburn unless Frazier plays lights out the first couple of games. Did Gene Chizik have on his poker face with the QB challenge? Everyone but him knew who the starting QB was going to be. Or did Frazier really not perform better than someone with a bum shoulder or someone who was attending his senior prom last year?
The most surprising thing to come out of camp besides the longevity of the QB race has been the revelation that Gus Malzahn apparently didn't teach his QB's mechanics. Stan White on WJOX said, "Malzahn only taught his system, Loeffler teaches mechanics and his system."
Frazier had been recruited by Malzahn since he was a middle-schooler. However, it seems that Frazier has taken better to Loeffler's style of coaching. Frazier only threw 12 passes last year, and to have called him a QB would be an insult to the position. He was a running back. You cannot surmise that Frazier is a bad passer based solely on his performance last year.
No Auburn fan wants to think about this, but what if Frazier gets hurt? Moseley says that he could go in there if he has to but he also says that he would be "put on the DL" if he were a baseball player. Chizik said that Moseley is the clear backup, but it is hard to see them putting Moseley in there should an injury occur.
Frazier certainly has the potential to have a remarkable career at Auburn, and most believe that he will. The coaches will definitely ease him in and not ask him to do too much too early. The last thing that needs to happen is him getting off to a slow start and losing all of his confidence. If the offensive line can give Frazier some protection, he could have a special year.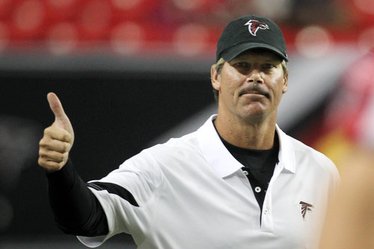 Will Van Gorder bring Auburn defense back to what it once was?
To say that Auburn fans have been frustrated over the play of the defense under Ted Roof would be the understatement of the century. Auburn has a history of tough defenses, and for the past three years, Auburn has only been able to hang its hat on the offense.
Sure, there were some high points. Holding Alabama to only three points in the second half of "28-27," holding Oregon to only 19 points and a few others. But there was also the blatant lack of fundamentals. Linebackers not wrapping up, defensive backs not turning around when the ball is in the air, etc. [Enter Brian Van Gorder, Stage right]
There will be an immediate upgrade to the defense. Van Gorder's defenses at UGA from 2001 to 2004 ranked 49, 15, 4 and 8 in total defense. Van Gorder leaves Atlanta after what was probably his best year as its defensive coordinator. His 2011 Falcons defense ranked 12th in total defense.
It has been chronicled numerous times that Chizik and Ted Roof had conflicting ideas on how to stop opposing offenses. Van Gorder brings an aggressive and attacking style of defense. It will be most noticeable on the defensive line.
Instead of the defensive ends having assigned sides, they will line up on either side and will allow the best players to be on the field at the same time. It will also keep the linemen more fresh as they are rotating in. Corey Lemonier, Nosa Eguae, Dee Ford and Craig Sanders will all play a lot of snaps at both the right and left defensive ends.
Lemonier ranked fourth in the SEC in 2011 with 9.5 sacks. He was named to the preseason All-SEC first team defense.
On the interior of the defensive line, Kenneth Carter, Angelo Blackson, Gabe Wright and Jeffrey Whitaker will be the mainstays. Whitaker and Blackson will probably be the first two out while Wright and Carter rotate in. Both DL coach Mike Pelton and Van Gorder have heaped praise on the defensive line, and the unit should be much improved over the 2011 bunch.
Van Gorder has specifically mentioned Whitaker as being a potential difference-maker. Look for the defensive line to be the brightest spot on the Auburn football team in 2012.
Van Gorder puts a lot of pressure on his middle linebacker to make the right calls and get the defense aligned properly. Jake Holland will start the season at middle linebacker. Last season, his productivity was hampered by injuries. Eltoro Freeman took over the starting spot by year's end.
Joining Holland at the Sam and Will linebacker will be Jonathan Evans and Daren Bates, respectively. Bates was tops on the team last year in tackles and made big strides in his second year at the linebacker position. Evans has been very reliable during his career on The Plains.
Cassanova McKinzy (you love the name, don't you?) will be the man to back up Holland at MLB. He came in as a highly-touted recruit and the coaching staff hopes that translates into being a reliable player on the field.
It had been hoped that Kris Frost would step up in fall camp and make a push for playing time, but the red-shirt freshman has fallen behind while not grasping the defensive system to the liking of Van Gorder
The linebacker core is somewhat of an uncertainty other than Daren Bates. Holland will be the key to success for the group. If he can make the right reads and get the defense aligned properly, this unit can turn into a strength by the end of the season.
There has not been a more frustrating group for Auburn fans than defensive backs the last three years. Mike Kafka torched the Auburn secondary in the 2009 Outback Bowl for 500-plus yards. Tyler Wilson made his college debut and made Auburn defenders look silly in 2010.
Things weren't any better in 2011. The lack of fundamentals and productivity led to Gene Chizik assigning Phillip Lolley to an administrative role. Chizik brought in Willie Martinez from Oklahoma State to get this group fixed. Willie Martinez was the defensive coordinator at UGA after Van Gorder and coached the Georgia defensive backs while Van Gorder was DC at UGA.
The style of defense that Van Gorder runs will need cornerbacks that can be trusted in man-to-man coverage. Robinson Therezie, Jonathan Jones, Ryan White and freshman Joshua Holsey have had an impressive camp. Therezie is projected to start at one corner. Chris Davis will most likely start opposite Therezie. Both Therezie and Davis are capable of playing strong man to man coverage.
Jonathan Mincey and T'Sharvan Bell will also see some time at corner. Auburn will play a lot of nickel (five defensive backs), and in that case, Chris Davis will probably move to Nickelback while Bell comes into play corner. Auburn has established some solid depth at the corner position.
At safety, Ryan Smith and Jermaine Whitehead will get the nod. Smith will play free safety and Whitehead will play strong safety. It was expected that Erique Florence had the starting job at free safety after last fall. Injuries have led to him falling behind.
Behind Whitehead, Demetruce McNeal and Ikeem Means will continue to push for playing time. Trent Fisher and Florence will continue to battle with Smith. With improved fundamentals, depth and talent, the defensive back unit should be much improved over the previous years.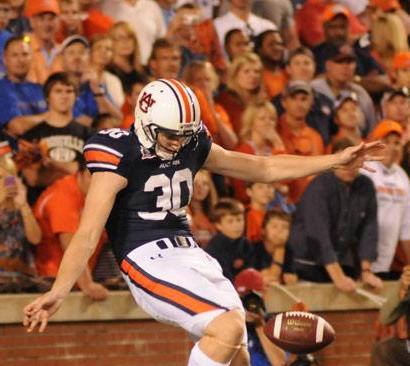 Steven Clark is a game changer at punter
Jay Boulware and the Auburn special teams have turned into one of the most consistent performers of the Auburn program in Gene Chizik's first three years. Now that Auburn has more depth, it can use its talented young freshmen to make an immediate impact on special teams.
A big loss that many people have not mentioned has been long snapper Josh Harris. He is up the road in Atlanta trying to earn a spot on the Atlanta Falcons roster as a long-snapper. You know that he did his job because he was hardly mentioned on most broadcasts.
Long snapper is a thankless job because he only gets noticed when he makes a bad snap. Auburn will look to Jake Lembke for a smooth transition at the deep snapper position.
Steven Clark put it all together last year. He was Auburn's first Ray Guy finalist (nation's best punter). All he did was average 40.8 yards on 72 punts with 33 inside the 20 and 13 of 50 yards or longer His 33 punts inside the 20 led the SEC and was third in FBS, and he dropped nine punts inside the 10.
Clark, like LSU's Brad Wing, has the ability to turn the game around. It's never a bad thing when an opposing offense has to go 80-plus yards to score.
As for kickoffs and field goals, Auburn has Cody Parkey again. Parkey was third in the FBS with 38 touchbacks. Depending on how Auburn goes about the new kickoff rule, Parkey may crush that number.
Parkey has a lot of leg strength and he was very accurate last year. He was perfect on PAT's and was able to connect on multiple field goal tries of 40-plus yards. He is on the 2012 Lou Groza Award (Nation's best kicker) watch list.
Kickoff returns have been a strength for Auburn recently. Last year, Tre Mason showed off his speed in the first game as he took one back for a touchdown against Utah State. Expect Mason, McCalebb, Corey Grant, Trovon Reed and Mike Blakely to handle some kickoff return duties.
As for punt returns, Reed and Quan Bray are the top candidates. Both Reed and Bray have experience. Reed had a fairly big mental lapse last year against Clemson, when he caught a punt inside the 10-yard line and attempted to return it. It was a turning point in that game.
The Auburn special teams should be a strength to the 2012 season.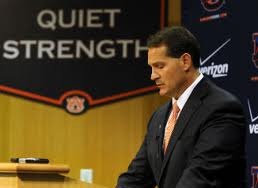 Photo via Todd Van Emst
Has there ever been a coach that has won a national title, an SEC Championship and still be judged as an uncertainty?
The answer is yes. His name is Gene Chizik. The national media and rival fanbases consistently undervalue Chizik.
"Chizik is only 16-10 without Cam Newton."
Chizik certainly had a once-in-a-lifetime player fall in his lap in Cam Newton. Someone had to recruit him, though (insert $180,000 joke here). He also had the top offensive line in the country as well as a stout defensive line. Nothing to do with Cam there.
There is not another coach in America could have kept his team focused through the media firestorm and the equivalent of a rectal probe that the NCAA gave and continues to give to the Auburn program.
Any coach is only as good as his assistants, and Chizik hired a top staff when he came to Auburn. A couple of those hires may have fizzled out, but he assembled the right staff at the right time for Auburn. He took a team that was 5-7 in 2008 and led most of the same players to a BCS National championship in 2010. He took a team that lost 23 players to graduation or the draft and won eight games when many predicted that Auburn would not make a bowl.
The point is that Chizik is an undervalued coach at this point in his career. The off-field problems are beginning to raise some eyebrows. There will always be a small percentage of players who make mistakes when dealing with 100-plus young players. No excuse for them to make those bad decisions, but it is not quite the right time to say that there is a discipline problem in the Auburn program. If problems continue, it may be appropriate to ask if there is a discipline problem. Auburn fans are happy to have Gene Chizik running the program.
With two new offensive coordinators, the assistant coaches have had to learn a new system as well.
Scot Loeffler is someone who will bring a style of offense that Auburn needs to maintain consistent success. He plans to put the ball into the playmaker's hands. That may be in the pro or spread style of offense.
Jeff Grimes brought in seven new offensive linemen and has a lot of young, talented, inexperienced depth up front. Grimes is proven to be a successful offensive line coach. He turned down an opportunity to join Mack Brown's staff at Texas in 2010 to stay on Chizik's staff.
Curtis Luper has helped Auburn produce a 1,000-yard rusher each season that he has been here. That streak may be threatened this year with the departure of Mike Dyer and another young offensive line.
Trooper Taylor loves waving his towel around on the sidelines, but he is also a great receivers coach and recruiter. He has a very talented and capable group of receivers led by Emory Blake.
As mentioned in the defensive preview, Chizik hit a home run with his defensive coordinator hire of Brian Van Gorder. There will be an immediate upgrade to the defense. He has been nomadic, and if he stays in Auburn for more than two or three years, look for one of the nation's best defenses in the future.
When Mike Pelton was hired to replace Tracy Rocker, there were some doubts in his abilities to recruit and develop top defensive linemen. Those doubts have been put to rest. His group of defensive linemen this fall should be among the top in the SEC.
Tommy Thigpen has moved from coaching safeties to coaching linebackers. He played linebacker at his alma mater, North Carolina. He will be responsible for the most important position in Van Gorder's defensive scheme.
Willie Martinez comes in from Oklahoma to coach the Auburn secondary. He led the Sooner secondary to having the eighth-best pass efficiency defense in 2010. His history with Van Gorder is a great asset for this coaching staff.
Chizik has put together another top-notch staff that can recruit and develop players as well as the top staffs in the country.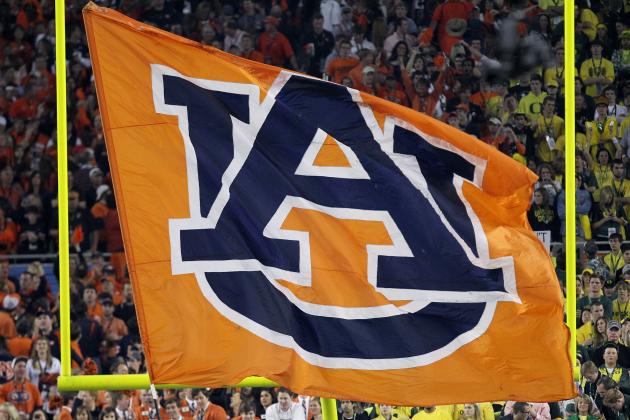 Ronald Martinez/Getty Images

We will know exactly what kind of team Auburn will be after the first two weeks of the year. It's been a long time since Auburn has had a month of September like it will have this year.
Auburn's record can range anywhere from 6-6 to 9-3. Auburn simply can't afford to start out 0-2. Luckily for Auburn, this is one of those even numbered years where the majority of the tough games against top teams happen in Jordan-Hare. Auburn has to go to Mississippi State, Ole Miss and Alabama in the SEC.
Auburn opens up against Clemson in the end of what has been a three-game series. The rubber game is next Saturday. Auburn will come in as an underdog against Clemson, who was ranked 14th in both preseason polls. Auburn jumped off to a quick start against Clemson last year, but eventually lost for the first time in what was 17 games.
Clemson brings a high-powered offensive attack to the Dome under Chad Morris. They also bring a defense who is looking to redeem themselves after giving up 70 points to West Virginia in the Orange bowl. Brent Venables comes from Oklahoma as the defensive coordinator.
Auburn will hop on the bus to Starkville, MS the following Saturday. Every year, the Bulldogs have the Auburn game circled as a must-win. It will be Kiehl Frazier's first SEC road start. Dan Mullen is trying to get his first win over an SEC West opponent not named Ole Miss. This is probably his most talented team.
MSU lost to Auburn literally by inches last fall. The loser will find themselves in an immediate hole in the SEC West. Division title hopes can possibly be wiped out as soon as Week 2.
Auburn gets a little break in Week 3 as Louisiana-Monroe comes to town. Auburn will not let them come into Jordan-Hare and win like they did in 2007, when they upset Alabama in Bryant-Denny.
The defending SEC champions come to Auburn to close out September. If Auburn is 3-0 at this point and pull off an upset against the Bengal Tigers, then people will seriously begin to take notice. Auburn gets to welcome Zach Mettenberger to his first SEC road start.
After a bye week, Tyler Wilson and Arkansas come to town to start off October. The loss of Bobby Petrino is a bigger deal than many are making it out to be. Wilson is still there, but Petrino's play-calling ability will be missed. He had the rare ability to see through a defense and call the right play at the right time.
Auburn goes to Oxford to meet Hugh Freeze's Rebels. Ole Miss is expected to have a down year this year.
The Tigers stay on the road and head up to Nashville to play the upstart Vanderbilt Commodores. This game brings back bad memories of 2008 where Auburn was upset by Vanderbilt. Despite only winning two SEC games last year, many "experts" think Vanderbilt is in for a surprise year.
After two weeks on the road, SEC newcomer Texas A&M comes to town for their first trip to Jordan-Hare stadium and to the state of Alabama. While Texas A&M has potential to be a player in the SEC west in the future. No one expects them to make a serious run under first-year head coach Kevin Sumlin.
Auburn hosts New Mexico State the next week.
Following New Mexico State, UGA comes to town. Auburn had one of the most lopsided losses in the Deep South's Oldest Rivalry last fall. UGA has had Auburn's number recently. Georgia has won five of the past six games.This year's game should be closer, but UGA still has Aaron Murray. UGA is favored by some to represent the SEC East in the Georgia Dome.
Auburn welcomes Alabama A&M in for homecoming before the Iron Bowl.
It is Auburn's turn to go to Jordan-Hare West (Bryant-Denny) in Tuscaloosa. The Crimson Tide have only defeated Auburn one time in Bryant-Denny (2008). Alabama came to Auburn last year on their way to a national title and defeated Auburn, 42-14.
It's a much different schedule than years past. The bye week is in Week 4 instead of later in the season like it has been recently. If Auburn starts out 0-2, then 6-6 is a real possibility with LSU, Arkansas, UGA and Alabama remaining on the schedule. A 1-1 start can give them a realistic shot at an eight or nine-win season.
Auburn will be in the driver's seat if it can somehow start out 2-0. It's a safe assumption that Auburn will win one of the games against the "Big 4" on the schedule with three of them taking place in Auburn and with the team having another year of experience under its belt.
Gene Chizik has won at least one game that "he wasn't supposed to" in each year. He defeated Ole Miss in 2009 on Halloween. The Rebels reached the Cotton Bowl last year. No one thought Auburn could go into Tuscaloosa and defeat Alabama in the 2010 Iron Bowl.
Last year, Auburn beat a top 10 team in South Carolina. It should be expected for that trend to continue this year.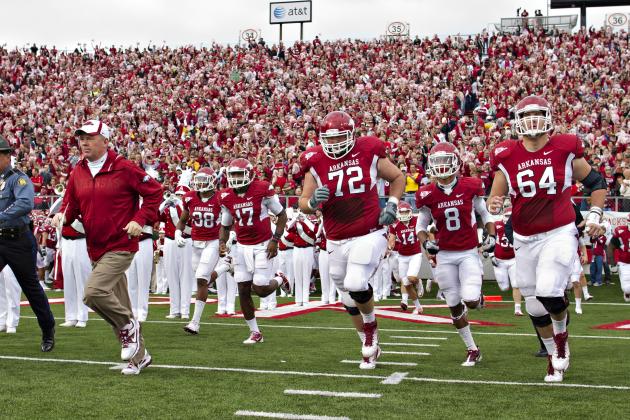 Wesley Hitt/Getty Images
The loss of Bobby Petrino will hurt more than most think
Now that we've dissected the schedule, let's make some bold predictions. It would be too easy for me to say that Auburn will absolutely beat someone like New Mexico State or Alabama A&M. No one likes a guy to take the easy route.
Auburn WILL defeat No. 10 Arkansas on October 6 in Jordan-Hare. Let me explain..
Auburn is coming off of a bye week and a probable loss to LSU. Arkansas will be in the second game of a two-game road trip. The first game of the road trip will be in College Station, TX on Sept. 29 in what will be Texas A&M's second SEC home game. It will be an emotional game that will probably be a shootout.
Bobby Petrino, more than any coach in the SEC, was as big of a factor to his team's success. You can argue about the type of guy he is, but you cannot argue about the offensive mind that he has. He has the unique ability to see through an opposing defense and call exactly the right play. His departure is as big as any graduating player.
Knile Davis returns for the Hogs this year after a knee injury kept him out last year. He says he is 100 percent, but almost always, the people who suffer knee injuries never come back to what they once were.
The Auburn defensive line will put a lot of pressure on Tyler Wilson, and the improved Auburn secondary will make enough plays to keep the game close. Kiehl Frazier will lead Auburn to what may be his first upset of a top-10 team at home.
Auburn 31, Arkansas 28
41-34 and 17-14. Those are the scores the past two years against Dan Mullen's Bulldogs of Mississippi State. Both games have been wild all the way to the finish as you can see in the video clip. Last year, Ryan Smith stopped Christopher Relf inches from the goal line to stop the Bulldogs on what would have been the game winning drive.
Two years ago, Auburn stopped Mississippi State on the final drive of the game as well.
I don't expect this game to be any different from the previous two. Dan Mullen is trying to win his first game over an SEC West Opponent not named Ole Miss. The Bulldogs circle this one on the calendar every year.
It will be Kiehl Frazier's first road SEC start. Luckily for Auburn, the game has been assigned as the early game, so the cowbells may not be ringing quite as loud.
Christopher Relf has improved over the course of the offseason, according to most.
Auburn will be coming off what is sure to be a hard-fought game against Clemson, and Mississippi State will not be battle-tested by Jackson State in its opener.
This game could go either way, and no one should be shocked if Auburn wins or loses.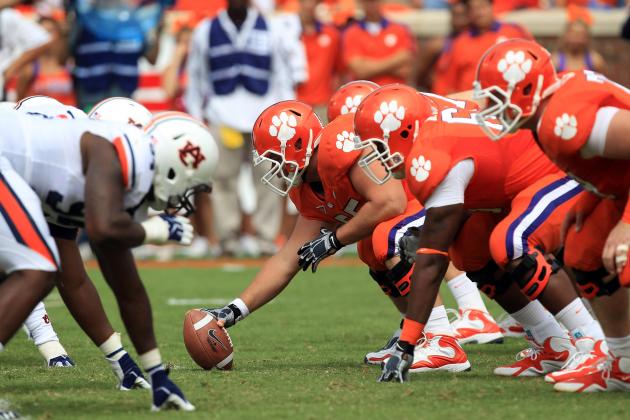 Streeter Lecka/Getty Images
Clemson will give Auburn a strong early test
Yes, we have to pick a game that Auburn could lose. No reason to look any further than this upcoming Saturday. Auburn faces off against Clemson in what is essentially the rubber game of the past three years. Auburn won in overtime in 2010 and Clemson won in 2011.
There is a ton of uncertainty surrounding Auburn because of the new coordinators. No one knows what to expect.
The suspension of Sammy Watkins is a big deal for the Clemson team, but the suspension of Auburn center Reese Dismukes is bigger.
The Auburn defensive line will have the advantage against Clemson's offensive line. Even without Watkins, Clemson's offensive skill players will be the most talented group on the field. Auburn will still be adjusting to Van Gorder's defense, and it's a safe bet they would rather not be breaking in a new coordinator against Chad Morris' Clemson offense.
Clemson defensive coordinator Brent Venables will certainly do his best to confuse the young Auburn offensive line with different blitzes and stunts. Jay Prosch will have his hands full helping Frazier have some more time in the pocket.
Loeffler will not put too much pressure on Frazier early in the game so that he can gain some confidence. They will simply ask Frazier to not lose the game and hope the defense can keep it close into the second half. Auburn may try to run a ball control-style offense and keep Tajh Boyd and the Clemson offense on the sidelines.
Auburn should win the special teams/field position battle, and the more times it can make the Clemson offense drive it 80 yards or more for a score, the better.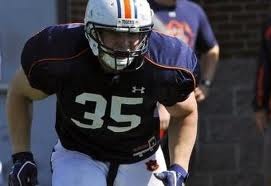 Prosch is sort of a big deal..
Most. VALUABLE. Player. What player can Auburn not do without? If you ask me, it's Jay Prosch. He has never taken a snap in a collegiate game for Auburn, but he has the credentials to be a difference-maker. With such a young offensive line, Prosch can take a little pressure off of them in protecting Kiehl Frazier.
Along with that, he can open up running lanes for Auburn's stable of running backs. The best thing is that he enjoys doing it too. He wants to find an opposing linebacker and put a helmet on them. He has earned rave reviews from spring and fall camp.
You will not see Prosch touching the ball this season. He does not have to to make an impact. Without Prosch in the backfield protecting Frazier and opening up lanes for the running backs, Auburn will not be successful. That is why he is my prediction for offensive MVP.
Kevin C. Cox/Getty Images
Look for Lemonier to spend a lot of time in the opposing team's backfield
This was not that hard of a choice. Corey Lemonier is the Most Valuable Player on the defensive side of the ball. He is the anchor to what should be a top-level SEC defensive line this fall. Lemonier's 9.5 sacks ranked third in the SEC last fall, and look for him to approve on that in a defensive system that fits him perfectly.
Van Gorder wants his defensive ends to do less reading and reacting and do more rushing and attacking. At 6'4", 246 lbs., Lemonier is a speedy and powerful defensive end that will be able to maneuver his way around any offensive tackle he goes against. He will line up on both the left and right side of the defensive line. Quarterbacks and running backs will have to account for Lemonier at all times.
It would be to the surprise of no one if he forgoes his senior season next year and is drafted in the earlier rounds of the NFL draft.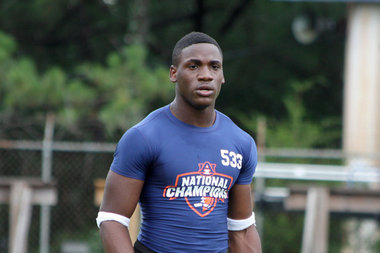 Ricardo Louis could be the next big time WR threat for Auburn
If this prediction was needed a month ago, Jovon Robinson would have been an easy choice. We all know what happened there.
Ricardo Louis will be the next big Auburn WR threat, and he will be the newcomer of the year when we look back at these predictions in January.
Listed at 6'2" and 210 lbs., Louis brings a ton of athleticism to the wide receiver position. The fact that he runs a sub 4.4 40-yard dash does not hurt his chances at a break out year.
"There's a reason Ricardo was recruited. He has the ability to put it all together and understand where he belongs in this offense," Trooper Taylor said in an interview with Auburnsports.com (subscription required).
With the talent that has been stockpiled in the last three recruiting classes, the newcomer of the year can be anyone, but my vote is for Ricardo Louis.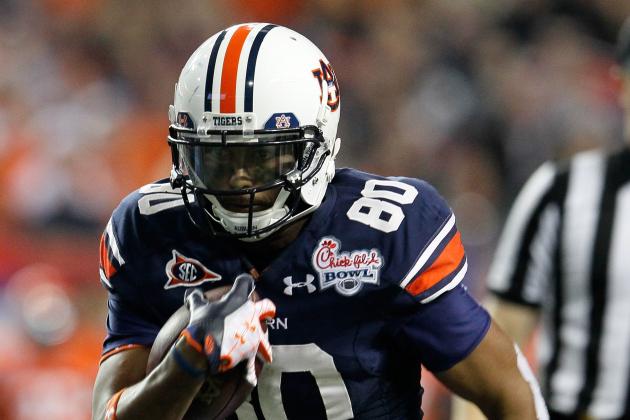 Kevin C. Cox/Getty Images
Emory Blake has all the tools to be a successful NFL receiver
Emory Blake has turned into Auburn's most reliable receiving threat. The son of former NFL quarterback Jeff Blake has everything necessary to be a great NFL receiver.
If the ball is thrown anywhere near Blake, there is a good chance that he is going to make the catch. Blake was a great compliment to Darvin Adams and Terrell Zachary in 2010. Injuries and double teams led to lower production in 2011.
Coming into his senior season, Blake has already accomplished a lot. He had a TD reception in seven consecutive games from 2010-11, which is the second longest streak in school history behind Terry Beasley. He is 17th in school history with 1,233 yards receiving. He ranks ninth in school history with 13 receiving touchdowns.
In 2010, he led the team in TD receptions with eight. Blake ranked seventh in the SEC in receiving yards per game in 2011. Blake had three 100-yard receiving games last fall.
If Emory Blake has another solid year, he should be drafted in the earlier rounds of the NFL draft next April.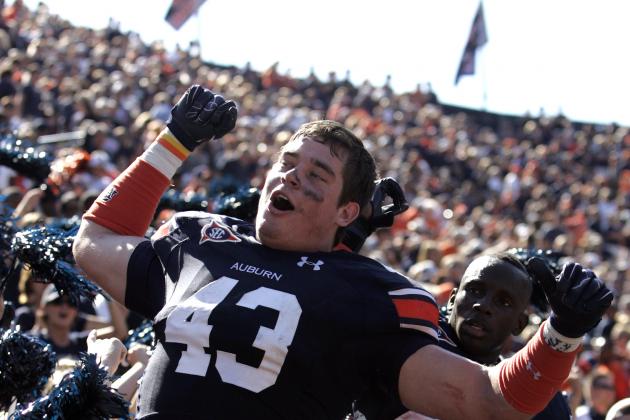 Butch Dill/Getty Images
Lutzenkirchen boasts 27,500+ Twitter followers
Anyone who is a sports fan needs to be on the Twitter machine. It is a great social media tool that allows you to follow your athletes, sports personalities and your favorite Bleacher Report bloggers. You can get your breaking sports news before it breaks.
Here are my top five Twitter follows for the Auburn football program. Most of the athletes do not talk about football, and that is probably a good thing. It is still fun to get a glimpse into their daily lives as athletes and college students.
1. Phillip Lutzenkirchen (@lutzenkirchen): Lutzenkirchen has become a fan favorite on the field, as well as on social media. Lutzenkirchen has over 27,500 followers.
2. Tre Mason (@TreMason21): Scroll through Tre's timeline and you will see various pictures of his daily life.
3. Greg Robinson (@iGregRobinson): The offensive lineman will have a conversation with you and always takes time to say thanks to his followers. He also tweets some inspirational quotes.
4. Sammie Coates (@sammiecoates11): Give the Auburn WR a follow
5. Jay Jacobs (@JayJacobsAUAD): The Auburn athletic director is new to Twitter. He joined in July of this year. Give him a follow.
These are only a few of the follows that I have in my timeline. There are plenty more you can follow throughout the season. Coach Chizik has a Twitter account (@CoachGeneChizik), but he has not tweeted in over a year.
Starting quarterback Kiehl Frazier (@KiehlFrazier) was on Twitter until just recently. It appears that he has gotten off of Twitter for the upcoming season. Hard to argue with that.
Shameless plug here, but if you would like to give me a follow, you can do so at @TrueBlueAU.
As a disclaimer, Auburn fans do not need to tweet recruits/commits. This is an NCAA violation and, quite frankly, kind of creepy.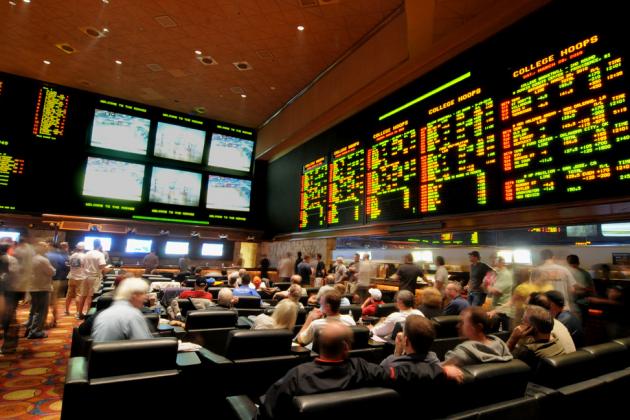 Handout/Getty Images
Who are you putting your money on?
Las Vegas, like Wall Street, gives us fans a good barometer of what to expect. Sometimes they are wrong, but it is always surprising how close they come.
Here are the current lines for a few of Auburn's games this season and for the SEC and national championship:
Clemson: (+3.5)
LSU: (+11)
Arkansas: (+6)
Georgia: (+7)
Alabama: (+20.5)
SEC Championship: (+7500)
National Championship: (100/1)
What do these numbers say? Well, the numbers say that Vegas does not have much confidence in Auburn right now. Auburn is playing in five of its "Games of the Year," but are not favored in any of them.
According to Vegas, Auburn should not even show up to the Iron Bowl. That 20.5 is a huge number.
Judging by the numbers, Auburn has the same chance of winning the SEC has Mississippi State and Texas A&M.
Auburn has the 22nd-best chance to win the BCS National Championship. USC is the current favorite, just in front of Alabama.
If you are the gambling type, you can find all these odds here.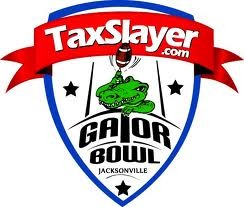 Could Auburn wind up in Jacksonville?
For some reason, there are already bowl projections out for the 2012-2013 bowl games. Auburn's projections stretch from the Chick-Fil-A Bowl (again) to the BBVA Compass Bowl. Will Chick-Fil-A want Auburn to play in a third straight event that they have sponsored? Maybe.
Auburn fans will travel, especially to Atlanta, where they are starting the season. If Auburn ends up in the BBVA Compass Bowl, most fans will be disappointed. The BBVA Compass bowl is usually reserved for the SEC's eighth or ninth-best team.
There is a better chance of Auburn landing in the Chick-Fil-A bowl than there is in the BBVA Compass Bowl.
Another bowl that Auburn could land in is the TaxSlayer.com Gator Bowl. That is usually reserved for SEC East teams, but that would not be uncommon for Auburn.
In 2009, Auburn played in the Outback Bowl. That is also a bowl normally reserved for the SEC East.
By definition, the Gator Bowl is reserved for the SEC's sixth-best team. Auburn will most likely be a middle-of-the-pack SEC team this year.
The SEC will probably have two BCS bowls again, one in the national championship and one in the Sugar bowl. The loser of the SEC championship game will go to the Sugar Bowl or to the Capital One Bowl. Higher bowls than the Gator Bowl are Sugar, Capital One, Cotton, Outback and Chick-Fil-A.
Official Prediction: TaxSlayer.com Gator Bowl vs. Nebraska.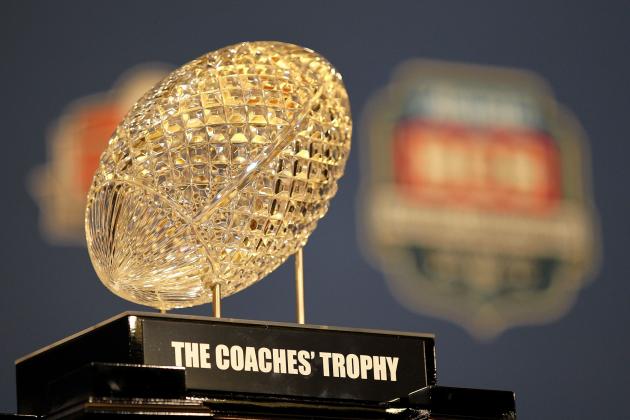 Andy Lyons/Getty Images
Staring into the crystal ball...
So what does all this mean? At the end of the day, all fans worry about is the W-L record.
Does Auburn have another magical season in it just two years removed from a National Championship? Personally, I think Auburn is still one year away from competing with the best teams in the SEC. Youth can no longer be an excuse after this year.
Here are my official predictions for the 2012 football season:
Clemson: L: The Auburn defense puts a lot of pressure on Tajh Boyd all night, but the bad Tigers find just enough offense to win in Atlanta.
Mississippi State: W: Kiehl Frazier gets his first SEC road win. The Tigers have had Dan Mullen's number for the last three years.
Louisiana-Monroe: W: The first gimme of the 2012 season. This game may be closer than some Auburn fans like before Auburn pulls away in the second half. Auburn wins, but could be guilty of looking ahead to LSU.
LSU: L: The Tigers just don't have what it takes on the offensive line right now to pull the upset on what may be the No. 1 team in the country at the time.
Arkansas: W: My upset pick for 2012. Auburn pulls it off against Tyler Wilson and the Hogs with good defense and a last-second field goal.
Ole Miss: W: The Rebels put up a good fight at home, but do not have the depth to pull off the upset.
Vanderbilt: W: This game is scary. Vandy played teams a lot better in 2011 under James Franklin. Auburn is on a roll at this point in the year and gets the road win.
Texas A&M: W: The Aggies come to Alabama for the first time as a member of the SEC and they put up some points, but Auburn outscores them.
New Mexico State: W: The starters will get some rest before heading into the last three games.
Georgia: L: Another great game in the rivalry goes down to the wire, but Aaron Murray and UGA find a way to win in Jordan-Hare.
Alabama A&M: W: The homecoming game gives starters another rest before the Iron Bowl.
Alabama: L: The Crimson Tide prove too much for Auburn and defeat the Tigers for just the second time in Bryant-Denny Stadium.
That puts Auburn at 8-4 for 2012 and likely headed for a New Year's Day bowl game. That is not a bad season, but will leave Auburn fans with a bad taste in their mouth after losing to UGA, Bama, and LSU once again. The future is extremely bright for Auburn, but the Tigers will take their lumps again this season. The Tigers will return to the SEC title conversation in 2013.
Do you agree? Please let us know how you feel and give us your own predictions in the comment section.