Florida Football: 2012 Gators Destined to Play in SEC Championship Game?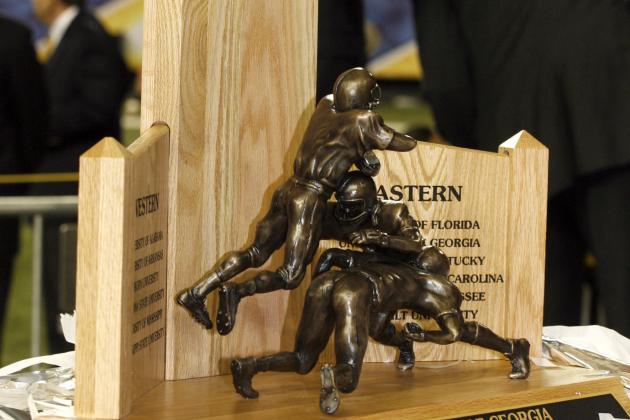 Mike Zarrilli/Getty Images

There are several legitimate reasons why it makes sense to count this as rebuilding Year 1 for Gator football. Yet, some expect Florida to find its way back to the SEC title game this season.
Why is that?
Florida went 7-6 in 2011 in Year 1, transitioning from the Urban Meyer, Tim Tebow-charged, read-option attack. They are changing offensive coordinators—and schemes—again this year, as well as breaking in two quarterbacks.
Georgia and South Carolina finished last year in the top 10, and both teams open this season there as well. Yet somehow, Phil Steele's Preseason 2012 magazine, touted as the most accurate in the industry, picks the Gators to win the SEC East.
Steele isn't the only one picking them that high. There are others—inside and out—of their fanbase who feel the Gators will be right back in the hunt this year.
With that in mind, let's look at the five reasons many expect the Gators to play for the SEC championship this season.
Begin Slideshow

»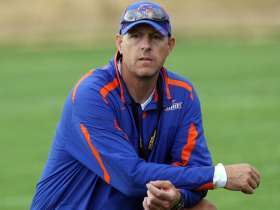 Compliments of Jacksonville.com sports.jpl
You can believe whatever you want about Charlie Weiss. But after all the fanfare, expectations and promises made and not kept, it is far better for this team that he is gone.
If you paid attention to him on the sideline last year, you knew he was a man who didn't want to be in Gainesville. I am aware he has health issues. But he isn't the only coach working with health problems.
Take long-time Iowa defensive coordinator Norm Parker, who retired this year. Parker suffered debilitating diabetes issues. And he never looked the way Weiss looked on the sideline.
Parker once had a couple of toes amputated on Friday, spent the night in the hospital and coached the game the next day. Think Charlie would do that?
He may for his team.
Brent Pease is a very good offensive coach. Just as importantly, he wants to be here. He is very approachable and works closely with the players to help them understand what he wants.
Though Weis was supposed to be a players' coach, some players were a bit intimidated by his stand-offish style at Florida.
Pease's offense will not be difficult. Like Weis, he uses the pro set, an offense that features a lot of motion and shifts. He also will use double tight ends on occasion.
Expect the offensive numbers to be improved in 2012. Not necessarily because Pease is better than Weis, but because he is better for Florida than Weis.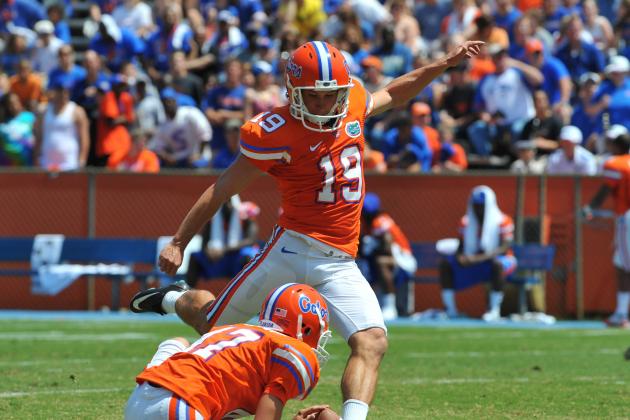 Al Messerschmidt/Getty Images

Senior kicker Caleb Sturgis hit 22 of 26 field goals last season. His longest was 55 yards. He kicked off 58 times and had 10 touchbacks. So far at Florida, he has made five field goals of more than 50 yards.
Sturgis was a Groza Award finalist last season.
Overall, the Florida special teams were ranked No. 3 in the nation last season by Phil Steele (see page 48 of Steele's Preseason College Football special).
This year, the only key player not returning on special teams for the Gators is their top punt returner. Still, there are experienced players who have returned punts. With its excellent team speed, Florida will not have a problem finding replacements.
There is no reason to expect this team to fall outside the top five or six in special teams this season.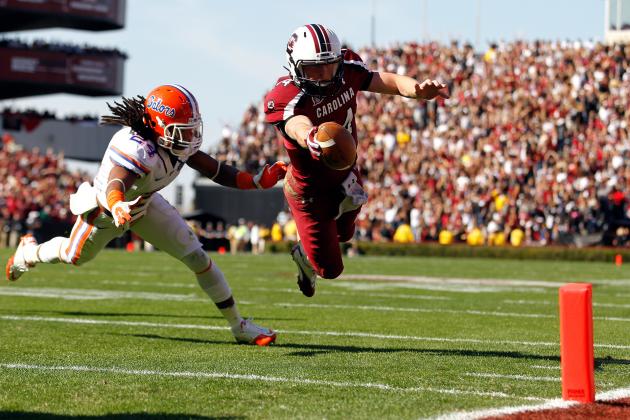 Streeter Lecka/Getty Images

Last season, Florida lost at Auburn by 11, to Georgia by four and at South Carolina by five. Improvements on the offensive line this season could help to reverse those outcomes.
The Gators return four starters on the offensive line versus one a year ago. And all four are highly touted and made improvements last season.
Offensive linemen don't just come in and start playing well anywhere. Developing a high-quality offensive lineman is a process. It takes time and effort—provided you have the proper player—which Florida does.
Fans will be impressed with the difference this makes in the Florida offense. The offensive line will be an asset, not a liability.
Improvements in the offensive scheme and a better offensive line will mean more scoring. The defensive play will be at least as good and may be better.
That combination means those closer games lost last year will likely flip this season.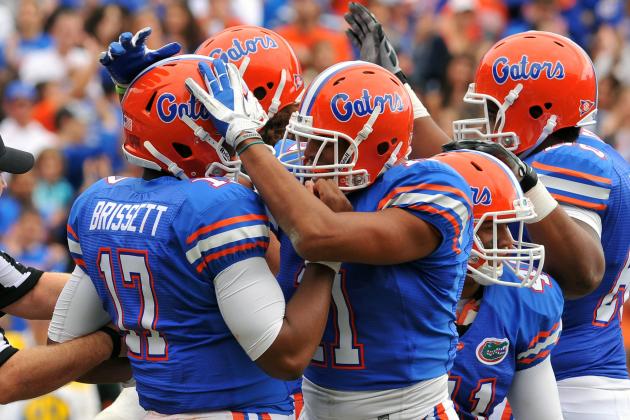 Al Messerschmidt/Getty Images

Unlike some may make it sound, the Gators are not entering the season with a quarterback problem. To the contrary, they are coming in with two capable quarterbacks.
Though the Gators are losing their starter from last season (John Brantley), expect the play from the position to improve, regardless which of the two new guys gets the nod.
That's not because Brantley wasn't a good player, he was. But he played hurt a good bit and was running for his life even when he wasn't hurt.
The Florida receiving corps returns almost intact this year. Its only losses were receiver Deonte Thompson and running back Chris Rainey.
Otherwise, the unit returns intact, including tight end Jordan Reed, who was the No. 2 receiver on the team.
In Brent Pease's offense, you will see some double tight-end formations, and the tight ends will be targeted regularly.
Again, expect improvements on the offensive line to make all the difference. It will help both quarterback and receiver play, not to mention the difference the improved line play will make for running back, Mike Gillislee. Expect good numbers for him this season.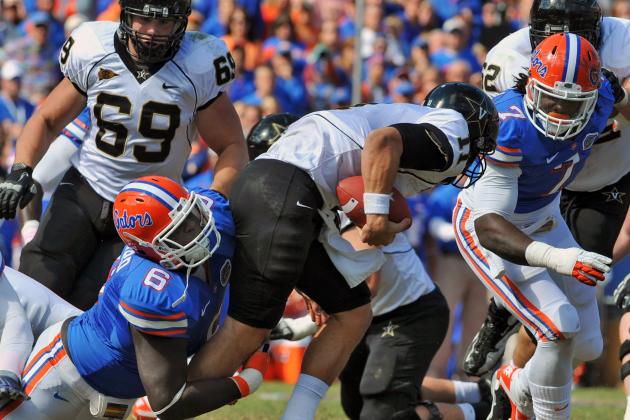 Al Messerschmidt/Getty Images

That's right, the defense will be as good and possibly better than last season, when the Gators' defense was ranked No. 8 in the nation.
The Gators return 10 of 11 starters. So there is no reason to think they won't be at least as good—likely better, due to experience—than last season.
Projections from the various preseason publications have the Florida defensive line ranked as high as No. 2 and consistently in the top 10. The linebackers all return and will be one of the nation's best units. Also, the defensive backfield is projected to be one of the most improved in college football.
In summary, this defense is very close statistically to the two national championship defenses of the 2006 and 2008 Gators. With the special-teams units in the top five nationally, all that is needed is for the offense to raise its level of play just a bit.
To get a better insight into the numbers and comparisons of the Florida defense, please read my article published on Bleacher Report on August 4. It provides additional detail not included here.
The 2012 Florida Gators are close to being a championship-caliber team. Whether they will beat out Georgia and South Carolina for a spot in the SEC championship game remains to be seen.
If the Gators get the expected play from the quarterback position early in the season, there is no reason not to expect Florida to be in the SEC race all year. But the Gators will need a fast start if they expect to win it.
They cannot enter the game with South Carolina with more than a single SEC loss and expect to win the East. The Gators need to beat both Texas A&M and Tennessee. Winning both sets them up to be in the race all season.
A&M is a bit of an unknown due to its coaching change. But the Florida defense will likely make a difference there.
Having won seven in a row from UT could create a false sense of confidence going into Knoxville. Just keep in mind; this is a different bunch up there now. If the Volunteers win their first game over N.C. State, be ready for a war in Neyland Stadium.
At 7-6 last season, this team was closer to the top than it looked. With important conference games early, we will know early on if the Gators are capable. Win early, and they will be in it all year.
Lose early and Florida will likely be playing spoiler when it gets to South Carolina and Georgia.