Dallas Stars: The 10 Most Important Players in Franchise History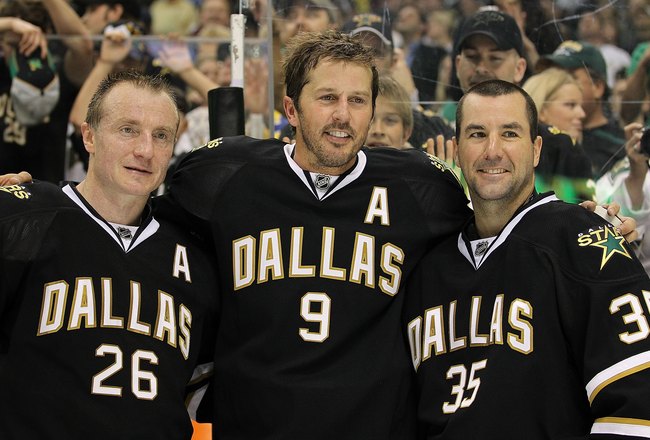 Ronald Martinez/Getty Images
The Dallas Stars (or North Stars) franchise has been in the NHL since 1967, so picking the 10 most important players in its history was no small task.
Some didn't make it because their time in Dallas was too short, others missed the cut because not much happened while they were with the team.
Using that imperfect formula, hours of research to make sure a North Star wasn't forgotten, personal memories and YouTube videos, this list was compiled.
Mike Modano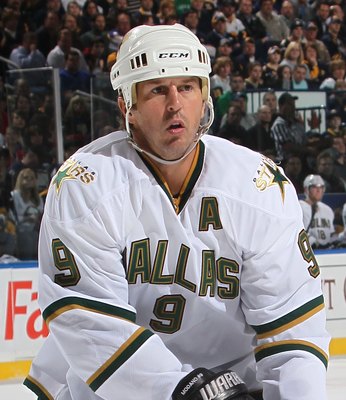 Bruce Bennett/Getty Images
Mike Modano is considered one of the greatest American-born hockey players of all time. He spent all but his last season with the Dallas Stars.
Modano was the first overall pick in the 1988 draft for the Minnesota North Stars. Luckily for the city of Dallas, when the team was moved, so was the franchise center.
In the 1999 Stanley Cup run, Modano tallied 18 assists and 23 points overall. He is the franchise leader in goals, assists and points—all by large margins.
Outside of being a constant presence for the team, Modano has done a lot to make hockey relevant in the Dallas market off the ice. Currently, he is part-owner of the Allen Americans, who are based in the Dallas suburbs.
Brett Hull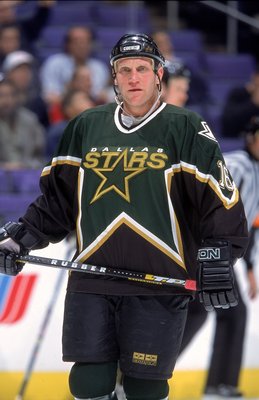 Robert Laberge/Getty Images
While Brett Hull's career in Dallas only lasted three years, it was a successful tenure. The reason he is so important boils down to one play—well, one skate, really.
Hull went on to play with two more teams after his time in Dallas, but he will go down in history for scoring the game-winner that led to Dallas' only Stanley Cup Championship.
In 2002, while with the Detroit Red Wings, Hull added another title to his resume. However, the goal to clinch the 1999 Cup will remain etched in the memories of Dallas hockey fans for decades to come
Joe Nieuwendyk
Dave Sandford/Getty Images
Joe Nieuwendyk spent seven years of his playing career in Dallas. In that time, he was able to claim his second of three championships and grab the Conn Smythe trophy.
Nieuwendyk's importance to the franchise is immeasurable. Not only was he key to winning the first Stanley Cup in Dallas, but he is also key to bringing in more in a different role.
He now has the nickname of "GM Joe" in many circles. Add that to the fact that he was a fan favorite in addition to sticking with the team during the lack of ownership and you've got a recipe for one of the best players in franchise history.
Jere Lehtinen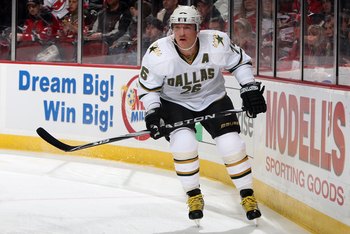 Jim McIsaac/Getty Images
Jere Lehtinen was a Dallas Star his entire career. In his 14 seasons, he piled up 514 points, which puts him ninth all-time in the organization. His 243 goals have him seventh in franchise history as well.
The most impressive thing about his career is that he is a three-time winner of the Frank J. Selke Trophy—just more hardware he brought in to add to the Stanley Cup.
Lehtinen's defensive prowess played a large part in the championship runs and Presidents' Trophies the Stars were able to collect in the late-90s.
Sergei Zubov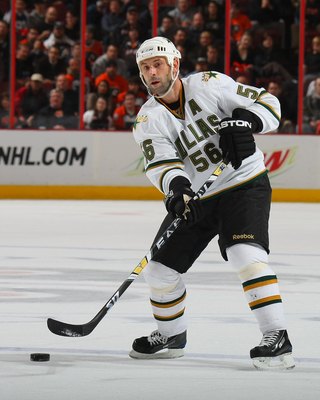 Bruce Bennett/Getty Images
Sergei Zubov was another key defender for the Stars during his time in Dallas. His career rating of plus-148 is outstanding, especially with some of the struggles the Stars went through during his last few years on the team.
Zubov was also a great assist man from the blue line. Of his 619 career assists, the 442 he scored with the Stars place him third all-time in franchise history.
One of his best contributions was on the power play. Over half of his goals were scored with the man advantage.
Neal Broten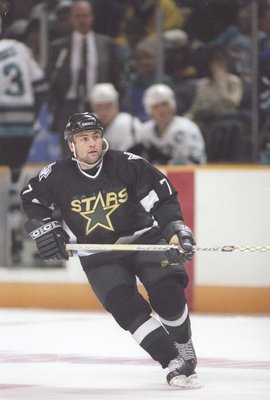 Otto Greule Jr/Getty Images
Behind Mike Modano, Neal Broten had arguably the greatest statistical career with the Dallas Stars.
His 867 points are second behind Modano, as are his 593 assists. The one interesting stat is that his points-per-game average is 1.00 compared to Modano's .93.
Broten is a throwback who spent more years playing in Minnesota with the North Stars than in Dallas. He still spent a little over six seasons as a teammate of Modano's and it seems safe to say a little bit of Broten rubbed off on him.
Brian Bellows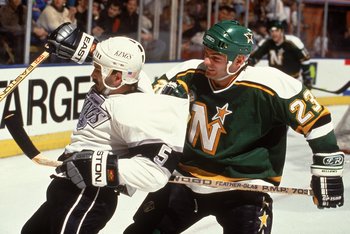 Mike Powell/Getty Images
Brian Bellows was a career North Star who ended up leaving the team before it was moved to Dallas.
Bellows' 722 points with the North Stars leaves him third overall in franchise history and his 342 goals are second behind Modano.
In the 1990-91 season, Bellows was a major part of the charge to the Stanley Cup Finals. His 29 points in 23 games was great for the franchise, but not enough to beat the Pittsburgh Penguins.
Despite the result, he cemented himself as one of the Stars' greats.
Bobby Smith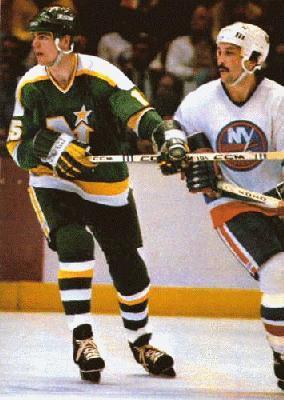 Image from http://www.northstarshockey.com/81run.htm
Bobby Smith is another throwback who never played in Dallas. Smith took the league by storm during his rookie campaign with 74 points. His 30 goals helped snag him the Calder Trophy in 1979.
In a little more than eight seasons with the North Stars, Smith was able to make three All-Star teams.
The biggest thing hurting Smith is that he spent his entire career playing against Wayne Gretzky.
In the 1981-82 season, Smith posted 114 points, which was his greatest season statistically. That same year, Gretzky posted 120 assists with the Oilers and led the league with 212 points.
While Smith played in the shadow of The Great One, he still managed to do big things for the franchise.
Ed Belfour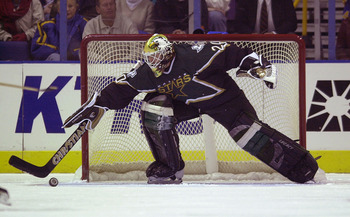 Elsa/Getty Images
Much like Brett Hull, Ed Belfour didn't spend most of his career in Dallas, but this is about what the Hall of Famer did while he was with the team.
Belfour was the goalie leading the charge to two Presidents' Trophies and the 1999 Stanley Cup. During his time in Dallas, Belfour also picked up the very first Roger Crozier Saving Grace Award and a William M. Jennings Trophy.
In four playoff appearances with the Stars, Belfour posted a 44-29 postseason record.
Another large contribution was Belfour helping mentor Marty Turco. By helping mold Turco, Belfour contributed to about a decade of solid goaltending for the Stars.
Brenden Morrow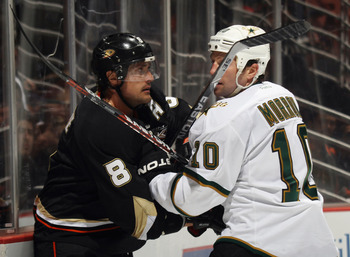 Bruce Bennett/Getty Images
Brenden Morrow has missed a lot of time in the past few seasons, but he still plays a major role in the Dallas Stars organization.
The biggest thing Morrow has brought to the team is toughness. That is one area the Stars have been lacking in recent years.
Morrow has been a veteran presence that helps tutor the young talent and he is still capable of adding production when he is healthy. He has also served as a bridge between the glory days of the late-90s and early-2000s to the young talent pushing to be a top franchise today.
Contact Mitch Klemp at MitchKlemp@yahoo.com and follow him on twitter @MeestaMitch
Keep Reading

Dallas Stars: Like this team?