Chelsea FC: Kevin De Bruyne Loan Report vs. Borussia Dortmund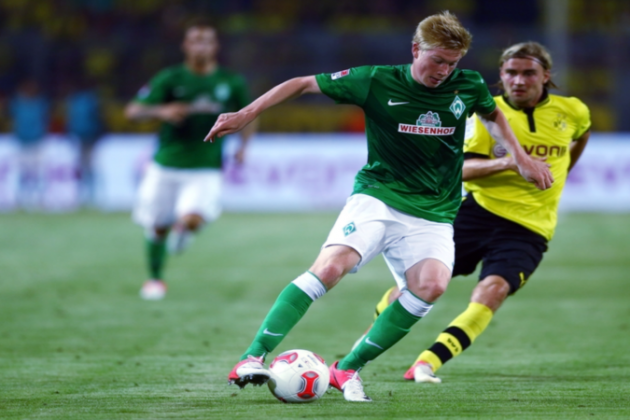 Christof Koepsel/Bongarts/Getty Images
Chelsea loanee Kevin De Bruyne started for Werder Bremen against reigning Bundesliga champions Borussia Dortmund.
Marco Reus put Die Borussen in front only for Theodor Gebre Selassie, who was impressive during Euro 2012, to equalise for Bremen. Mario Götze came off the bench to score what turned out to be the winning goal for Dortmund.
This article is published for Chelsea supporters who didn't watch Bremen lose 2-1 and were wondering how De Bruyne played.
Begin Slideshow

»
Photo: lineupbuilder.com
When will Thomas Schaaf learn that tinkering is not a good thing?
Kevin De Bruyne as a false 9 is as asinine as starting Marko Marin as a No. 10. De Bruyne didn't even play as a forward during his youth days, so that gives you an idea of how left-wing Schaaf's tactical decision was.
For those who aren't familiar with a false 9, here's Zonal Marking's definition of the position:
A unconventional lone striker, who drops deep into midfield. Francesco Totti perhaps invented it for Roma in 2006/7, Lionel Messi played here when he swapped positions with Samuel Eto'o for Barcelona in 2008/09, and Robin van Persie played the role for Arsenal at the start of the 2009/10 season.
When De Bruyne was up front, he couldn't handle Mats Hummels or Neven Subotić—well, duh. When De Bruyne dropped into midfield, he was hassled to the point that he drifted out wide, which was ironic because he hates playing out wide.
Somehow, during Schaaf's epiphany, he didn't consider those scenarios that could hinder De Bruyne up front.
Also, it's not like Schaaf decided to try De Bruyne as a false 9 against Fortuna Düsseldorf. The 51-year-old pulled this trick out of the bag against Borussia Dortmund. No, it's not ballsy, it's stupid.
Then again, this is the same manager that stunted Marin's development last season, so you can't rule out Schaaf being illogical.
De Bruyne moved back into midfield when Nils Petersen came on as a sub—it only took Schaaf 66 minutes to realise his tactical blunder.
Here's a look at De Bruyne's starting and average position during the game.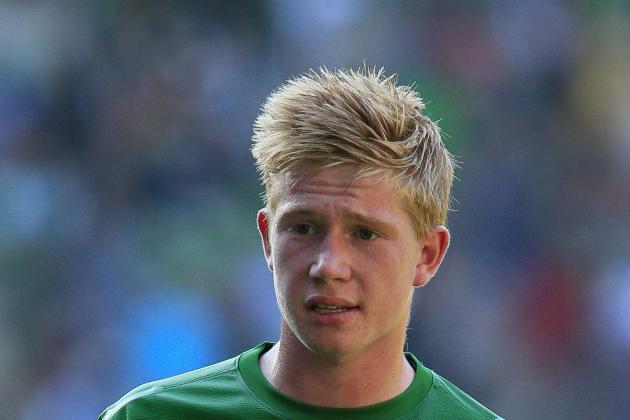 Martin Stoever/Getty Images

Rating: 5/10
Kevin De Bruyne's quick feet and ability to avoid incoming tackles allowed him to have some nice moments. His swift pass put Eljero Elia into an advantageous position and there were a few occasions where De Bruyne launched accurate diagonal passes.
When the Belgian had the ball at his feet, he had no problems going past opposing players, but the end product wasn't there.
The rating would be lower if he wasn't played out of position.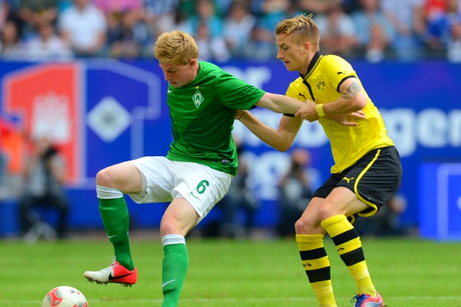 Photo: caughtoffside.com
Kevin De Bruyne completed the most dribbles in the game. However, he did give away possession seven times, which was second to Robert Lewandowski losing the ball eight times.
The fact that De Bruyne didn't get off a single shot or complete a key pass isn't a surprise considering he was played out of position as a false 9. You're not going to play well if you don't know what you're doing.
| | |
| --- | --- |
| vs. Borussia Dortmund | De Bruyne |
| Goals | - |
| Assists | - |
| Shots Created | - |
| Passes | 27 |
| Pass % | 81 |
| Long Passes | 4/6 |
| Crosses | 2/3 |
| Completed Dribbles | 5 |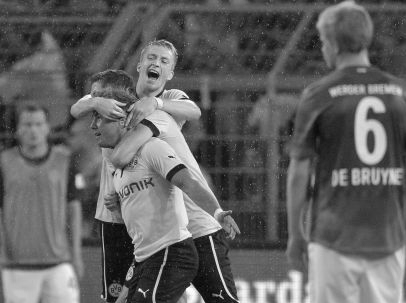 Photo: Martin Meissner/AP
1. Kevin De Bruyne isn't a false 9.
2. Whilst he didn't pull off this trick, his dribbling against Borussia Dortmund was sharp.
3. Ideally, De Bruyne is best suited in Aaron Hunt's role in midfield, where the German orchestrated play in an imperious manner.
4. Since Hunt won't be dropped anytime soon, De Bruyne could replace Zlatko Junuzović, who was woeful—though not as bad as Aleksandar Ignjovski.
5. If Thomas Schaaf wants to continue experimenting, he should play De Bruyne as a deep-lying forward behind Nils Petersen.
Please read Best Bundesliga Summer Signings.
Follow @allanjiangLIVE

Connect with +allanjiang