Eagles vs. Browns: Philadelphia's Biggest Winners and Losers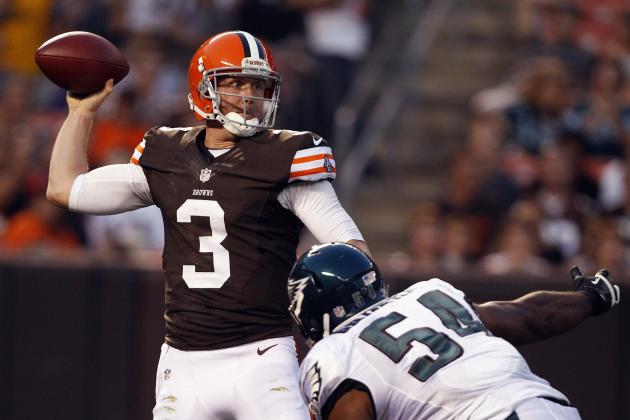 Matt Sullivan/Getty Images

The Philadelphia Eagles performed extraordinarily well in their third preseason game and showed what the team is capable of if it lives up to its talent. By handling the Cleveland Browns easily, the Eagles gave fans much reason for optimism going into the regular season.
The game was mostly one-sided, and the Browns were outplayed in almost every facet of the game. Although, as in every game, there were areas where Philadelphia struggled and still needs improvement.
Here are the biggest winners and losers from the game against Cleveland.
Begin Slideshow

»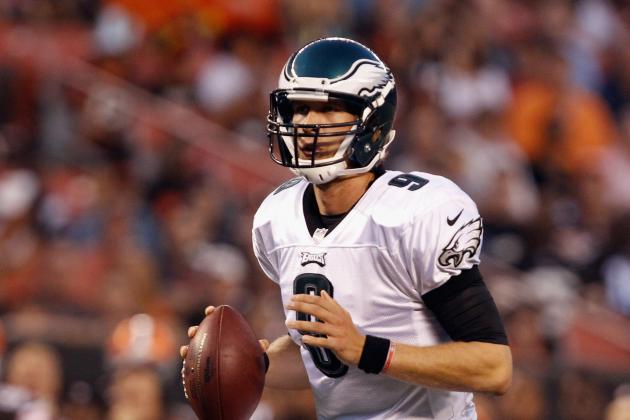 Matt Sullivan/Getty Images

The Eagles continued to show the strength of their backup quarterbacks with strong performances from Foles and Edwards. Most notably Foles, who completed long bombs and showed that he has the tools to be a future franchise player.
Foles threw for two touchdowns and continued to show the poise and precision that he did in previous games. His most impressive play was perhaps a beautifully thrown pass in a spot where only his receiver could get it, which resulted in a diving Damaris Johnson reception.
Edwards also played well, as he threw for over 120 yards and a touchdown.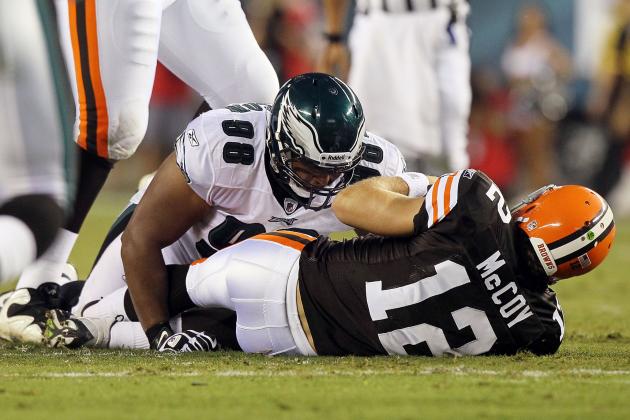 Jim McIsaac/Getty Images

It is starting to appear as if the biggest strength of the Eagles is the pass rush. The Eagles seemed to be generating pressure all night long and were a nightmare for the Browns' quarterbacks. Brandon Weeden began the game hot but cooled down quickly due to the pressure.
The D-line continues to show its incredible amount of depth. The depth is so great that the Eagles may cut Darryl Tapp, who could be a starter on many other NFL teams.
Generating pressure seems to be no obstacle for this talented pass-rushing corps.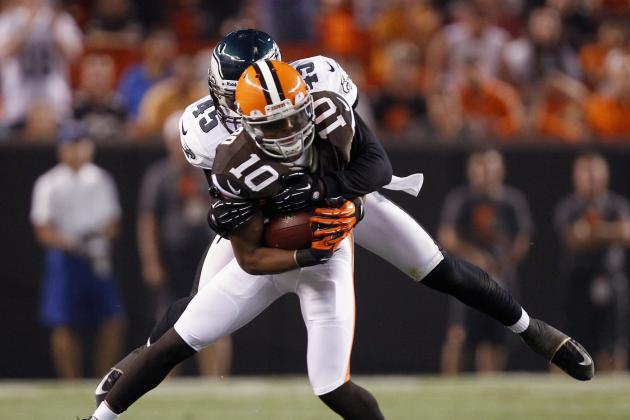 Matt Sullivan/Getty Images

There were many positive about the Eagles secondary, such as the improved intensity level and tackling. However, the pass defense still leaves a bit to be desired.
Too often, the Eagles were beat for big plays against the first-team Browns offense. Part of this was due to Weeden's strong arm and accurate passes, but the Eagles have two cornerbacks who are capable of being shutdown corners.
They cannot allow themselves to be beat so frequently during the regular season.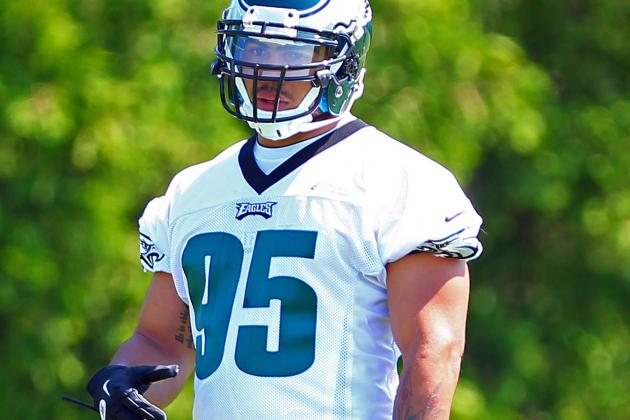 Rich Schultz/Getty Images

Kendricks has continued to prove himself a wise selection by Reid. The first-year player out of Cal has truly been a standout ever since training camp.
He continued to show impressive speed, instincts and tackling against the Browns. The Eagles seem to have finally found a good corps of linebackers this offseason.
If Kendricks can continue to play well, and DeMeco Ryans can shake off some of his rust and adjust to the playbook, the Eagles could have one of the best linebacker corps in the Andy Reid era.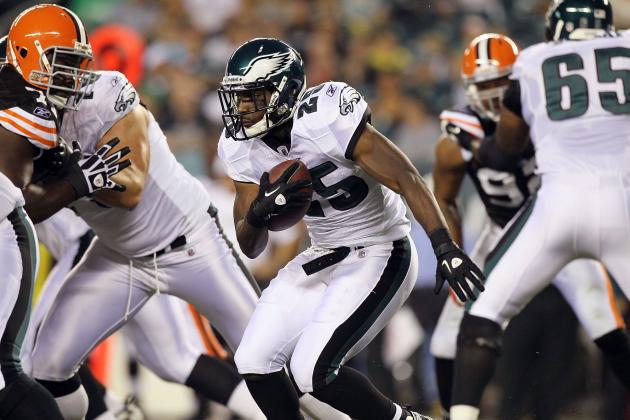 Jim McIsaac/Getty Images

It's just the preseason, and the Eagles certainly are not hoping to injure arguably their most potent offensive threat. But McCoy did not have a good game, as he was only given one carry and was dropped for minus-four yards.
On that play, McCoy took the handoff but was not able to evade a Browns defender who wrapped him up immediately for the loss.
The play had little consequence, as the Eagles still won the game, but it was not the best outing for McCoy and showed that he still has a bit of rust to shake off.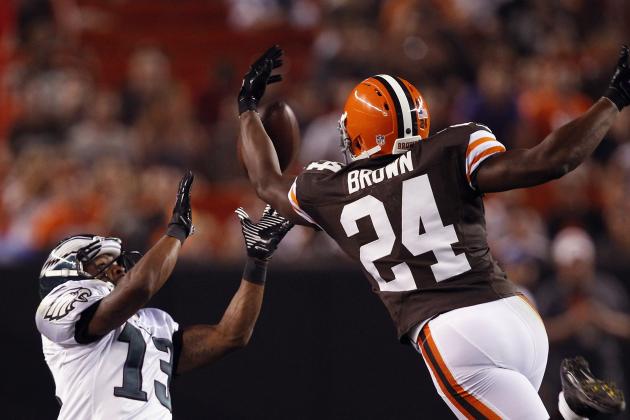 Matt Sullivan/Getty Images

Damaris Johnson continues to impress, both as a punt returner and as a receiver. He has an excellent ability to evade tacklers on special teams plays, and he made a spectacular catch off a deep pass from Foles.
Johnson will certainly have a roster spot after all of these incredible preseason performances, as he was often a favorite target of Foles. His ability to contribute on special teams is also a benefit, as the Eagles lacked a good returner in 2011.
In many ways, Johnson is a very similar player to DeSean Jackson, and he could continue to give the Eagles a deep threat should Jackson miss any time next season.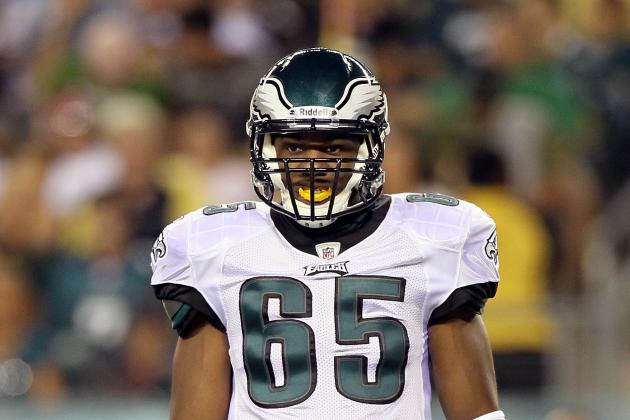 Jim McIsaac/Getty Images

While the O-line play has not been awful, it also has room for improvement. Most notably on the left side.
The left tackle position continues to be a weakness on the team, as Eagles quarterbacks were often pressured from their blindsides and were required to hasten their decision-making.
Luckily for the Eagles, there is still time before the season opener to straighten things out. It has become clear, however, that losing Jason Peters was a huge blow to an Eagles offense that was finally starting to click at the end of the 2011 season.
A suitable substitute can possibly be found, but it will be nearly impossible for the Eagles to replicate Peters' dominance at that position in the amount of time they have left.