Los Angeles Dodgers: Making Sense of Adrian Gonzalez, Carl Crawford Trade for LA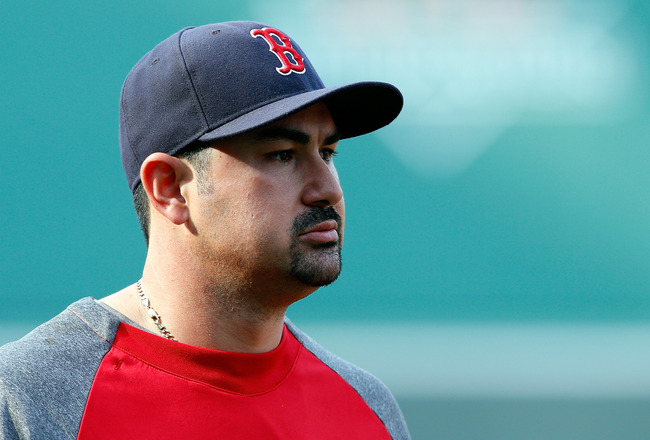 Jim Rogash/Getty Images
The Los Angeles Dodgers have reeled in Adrian Gonzalez, Carl Crawford and Josh Beckett from the Boston Red Sox, but what does it mean for Los Angeles?
In what should be the most expensive move in MLB history (The Dodgers will take on $250 million in salary), Magic Johnson and the Los Angeles Dodgers proved to be a match made in heaven for the lowly Boston Red Sox. While the move is undeniably thrilling for Los Angeles sports fans everywhere, it's also one that could use some context and explanation as we wait for the trade to become official. (UPDATE: The trade has been reported as official as Adrian Gonzalez, Josh Beckett and Nick Punto are currently in flight to Los Angeles.)
The #Dodgers trade with the #Red Sox is official.

— Dylan Hernandez (@dylanohernandez) August 25, 2012
My favorite thing about sportswriting is the ability to produce a sensible narrative story without the interference of the outside world. In a brilliant article on the New York Times blog last week, Nicholos Dawidoff wrote: "What Mr. Ford's sportswriter overlooked is that for really good writers, sports offer an opportunity to express all the pleasure and passion of life."
Try explaining revocable waivers/this Red Sox-Dodgers trade to your friend who doesn't like baseball. Baseball is so weird.

— Bill Barnwell (@billbarnwell) August 24, 2012
Allow me to walk you through what could be the biggest blockbuster in Los Angeles since The Expendables 2.
The regular Angeleno is sure to hear a lot about what's going on in the sports world in casual conversation over the next two weeks, so let's start from the beginning of the story for what has happened to Los Angeles. As school got out for kids across the city of Los Angeles, the sports world began to spiral out of control in the best way possible.
Summer of Los Angeles Sports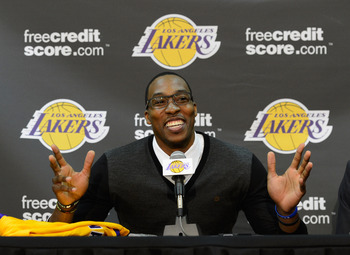 Kevork Djansezian/Getty Images
The 'Boys of Summer' sequel in Los Angeles sports seemed to have first started when the Los Angeles Kings went from being the No. 8 seed in the NHL playoffs to winning their first ever Stanley Cup in an improbable victory over the New Jersey Devils.
With the first NHL Championship parade in Los Angeles, sports momentum began to heat up in the city. But this was only the beginning.
After an early exit from the playoffs, the Los Angeles Lakers then turned a disappointing season into one of the Ultimate Dream Team comparable to that of LeBron James and the Miami Heat.
Without having to trade their star big man Pau Gasol, the Lakers were able to turn questionable star Andrew Bynum and assorted other small names into six-time All Star and three-time Defensive Player of the Year and superstar Dwight Howard as well as two-time NBA MVP and eight-time NBA All Star Steve Nash.
With fourteen-time All Star and five-time NBA Champion Kobe Bryant, this turned their starting lineup one of the most of all-time.
Even USC football was reeling in Los Angeles. Star QB Matt Barkley opted to return for his senior season after USC served their one-year bowl ban, and Penn State star running back Silas Redd opted to transfer to USC after the Penn State sanctions were announced. USC is now ranked No. 1 in the nation in the AP College Football Preseason Poll.
Los Angeles sports were at an apex much like the one that the Boston market received when the Red Sox won their second title of the decade in 2008.
Even during the Olympics, Los Angeles athletes shined. The Los Angeles Weekly reports that athletes from Los Angeles took home four times as many Olympic medals as any other American city in the nation.
By the time that the MLB Trade Deadline was nearing, the MLB sports world was on fire.
How the Dodgers Gained New Ownership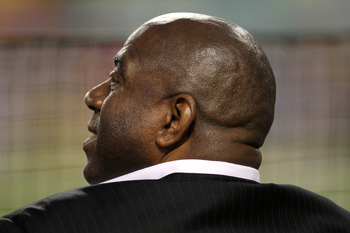 Stephen Dunn/Getty Images
The team in Los Angeles that many still had questions about were the beloved Los Angeles Dodgers.
Los Angeles has always been known as a baseball city, with Vin Scully at the forefront as the voice and identity of the Dodgers franchise.
While the Dodgers were coming off an embarrassing 2011 season (82-79, 3rd in NL West) in which owner Frank McCourt declared bankruptcy and was forced to sell the team, the new ownership of Stan Kasten and minority owner Magic Johnson seemed to have rejuvenated interest in the team.
At the time, Forbes had valued the Dodgers at $1.4 billion, but the deal exceeded $2 billion and became the most expensive sports sale in history. From the moment that the transaction was completed on May 1st it had become clear that the "new Dodgers" were unafraid to spend money.
Magic Johnson gave the Los Angeles Dodgers a familiar face and a new energy. The former Los Angeles Lakers star was bound to put Los Angeles back on the map as a premier city for baseball in the 21st century.
Baseball executive Stan Kasten gave the Dodgers a brilliant mind who could pair well with Dodgers GM Ned Colletti.
Regardless, no one could have predicted what has since transpired in Los Angeles at Chavez Ravine.
Hanley Ramirez, Shane Victorino Arrive in Los Angeles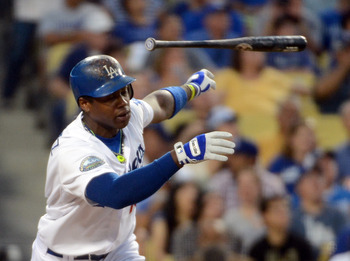 Harry How/Getty Images
Immediately, the 2012 Los Angeles Dodgers came out swinging.
With sixteen wins, they had their most successful April since 1984. However, the months of June and May proved to be poor for the club after suffering injury after injury.
At one point in June, the Dodgers hadn't scored a run in 33 innings. With every other major sports team in Los Angeles seeing incredible success and positive news, the lowly Dodgers were humiliated. The Dodgers looked like a minor league team.
However, with the return of stars Matt Kemp and Andre Ethier to begin the second half of the season, things began to look up.
Soon, the success was solidified with a rejuvenated energy after the arrival of Marlins star Hanley Ramirez in a trade on July 25th that first showed the new ownership's willingness to pull the trigger on a blockbuster deal.
With the next week, the Dodgers had also acquired Phillies outfielder Shane Victorino and pitcher Joe Blanton. They also made a valiant effort at Phillies pitching star Cliff Lee.
With the new players playing alongside Matt Kemp and Andre Ethier, the team looked to be in great shape until the team blew three straight losses to the Giants for their first Giants sweep at Dodgers Stadium since 2007. This, of course, came right after the Giants received news that their star Melky Cabrera would miss the remainder of the season due to testing positive for increased testosterone and PEDs.
Adrian Gonzalez Deal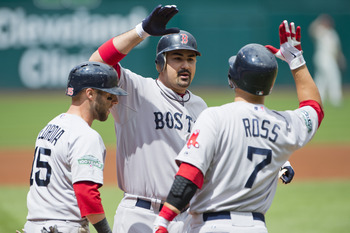 Jason Miller/Getty Images
Now here's where the deal gets tricky: the climax of the Hollywood blockbuster brought about in Los Angeles.
The Dodgers management quickly realized that they were a perfect suitor for the Boston Red Sox, who were looking to unload many of their more extreme salaries after one of the most disappointing seasons in Boston sports history.
After spending Yankee-like money on Adrian Gonzalez (7-year, $154-million, signed in 2011), Carl Crawford (7-year, $142-million, signed in 2010), and Josh Beckett (4-year, $68-million, signed in 2010), the Red Sox knew they needed to blow up the ship or the future of their franchise would be in jeopardy.
With an atrocious record (59-66, 13.5 GB of the New York Yankees), their salaries were only preventing them from improving in the future. It was the time to unload some talent.
Recall the fact that the Giants swept the Dodgers and you may be aware that the team with the worse record gets first claim on a player once he is put on waivers. Usually, a rival team would step in to block a division rival from acquiring a top player from waivers. Unfortunately for the Giants, they were unable to do that because the Dodgers had a priority bid for the Red Sox players. Thank you for the sweep, San Francisco!
The Los Angeles Dodgers would also owe another thank you to Carlos Lee, who recently vetoed a deal that would send him to Los Angeles because he didn't like the market and they were on his no-trade list. Had Lee accepted the deal, there would have been no roster room to make this deal go through for Los Angeles.
For whatever reason, the cosmic forces of the universe wanted the Mexican-born Gonzalez in Los Angeles.
The Dodgers initially claimed Adrian Gonzalez (.300, .469 slugging percentage, 15 HRs) with hopes to improve his scenery and put him in a different market. He would also be a huge improvement over James Loney (.254, .344 slugging, 4 HR's) at first base.
The Red Sox, who felt that the deal would not be enough to help their finances, also wanted to throw in stars Carl Crawford (who just had Tommy John surgery and could miss time next season) and Josh Beckett (5-11, 5.23 ERA and who many believe to be over the hill) as well as Nick Punto. The deal was first reported by ESPN Boston Writer Gordon Eddes.
"Hopefully this deal will go through today," said Red Sox chairman Tom Werner on Saturday morning. "If it falls into place, the deal sheds us from tens of millions of dollars of long-term commitments. It gets us great prospects who will improve our major league roster as soon as next year. It brings us a player in James Loney who was 'untouchable' a couple of years ago. It allows us to start over with free agents. We want to win for our fans and we now have huge financial flexibility to improve the team."
The Dodgers would send RHP Ruby De La Rosa, 1B James Loney, OF Jerry Sands, and infielder Ivan De Jesus as well as a player to be named later (expected to be Allen Webster). To help the deal goal through, the Red Sox are believed to be sending cash as well.
As Los Angeles Times writer Bill Shaikin observed: "Total remaining salary for Gonzalez, Crawford, Beckett, Punto = $271 million. Amount McCourt paid to buy #Dodgers = $321 million. New day."
A new day indeed for Los Angeles sports.
2013 Projected Starting Lineup (with Carl Crawford)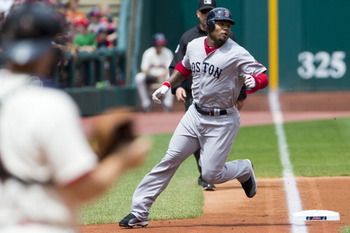 Jason Miller/Getty Images
At 3:54 PM PST, Los Angeles Times Dodgers beat writer Dylan Hernandez reported that James Loney was scratched from the August 24th lineup. Within ten minutes, Adrian Gonzalez was scratched from the lineup as well.
With the new lineup, the Dodgers would have the highest payroll in the MLB surpassing the New York Yankees.
2013 PROJECTED STARTING LINEUP (w/ healthy Carl Crawford via Bleacher Report writer Seth Victor)
SS Dee Gordon
3B Hanley Ramirez
1B Adrian Gonzalez
CF Matt Kemp
RF Andre Ethier
2B Mark Ellis
LF Carl Crawford
C A.J. Ellis
P Clayton Kershaw
My Reaction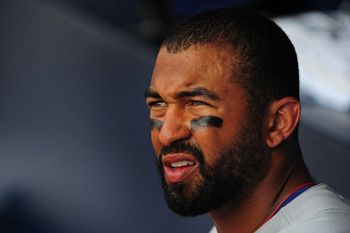 Scott Cunningham/Getty Images
The city of Los Angeles is reeling and it's beautiful to be a part of the emotional parade.
Having a team as relevant as what the 2012 and 2013 Los Angeles Dodgers have just become in a city already bursting with exceptional sports stories is an undeniably wonderful feeling. I don't care about the finances: my bigger concern is the prospects given up considering there's no salary cap in baseball.
Despite all my resentment for the New York Yankees, I have with absolute confidence no concern as to how the Dodgers are handing their business. Their goal is to bring baseball back to Los Angeles. With such an All-Star lineup, that's exactly what they're doing.
Baseball is a beautiful sport when executed correctly. Frank McCourt was not executing the ownership properly. With Matt Kemp, Andre Ethier, Adrian Gonzalez and Carl Crawford, there's undoubtedly a dynasty brewing on the offensive side of the ball in Los Angeles and no one can question that.
It's a new day for Los Angeles Dodgers baseball, and a summer that will undoubtedly be remembered by all Los Angeles sports fans.
Bryan Kalbrosky is a Featured Columnist on Bleacher Report. The Los Angeles based writer primarily covers the New York Mets and the Oregon Ducks, but has grown up around Southern California sports. He also writes for the Trends N Topics Team at Bleacher Report and is always interested in breaking sports stories. Be sure to follow him on Twitter to read more of his thoughts, opinions and stories.
Keep Reading

Los Angeles Dodgers: Like this team?