Falcons vs. Dolphins: Miami's Biggest Winners & Losers from Preseason Week 3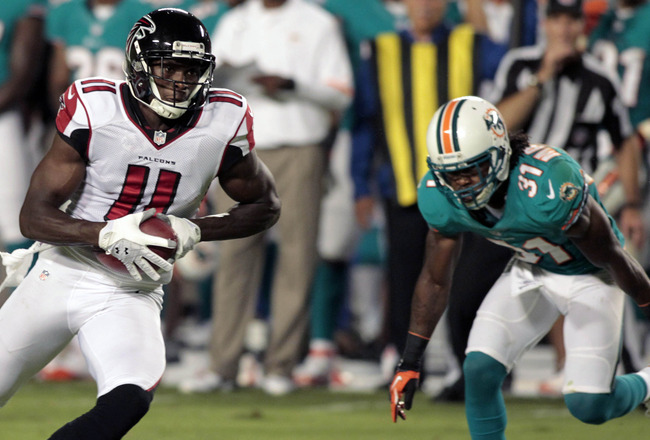 Robert Mayer-US PRESSWIRE
As driving rains and heavy winds settled over Sun Life Stadium in the fourth quarter of the Miami Dolphins' 6-23 loss to the Atlanta Falcons, the weather quickly became reflective of the team's performance.
It was sloppy, it was unpleasant and it was ugly.
Miami's wide receivers, tight ends and running backs embarrassed themselves, dropping at least seven passes. Ryan Tannehill did all he could to move the ball, but his receivers didn't do their part.
After tonight, it's time to hit the panic button on this wide receiver corps.
Surrounding Tannehill with this group could be detrimental to his growth, and this team has no chance of being competitive with it, either.
This team's outlook is growing grimmer by the day. Jeff Ireland has to start inquiring about wide receivers around the league. At this point, anybody will be an upgrade.
Winner: Davone Bess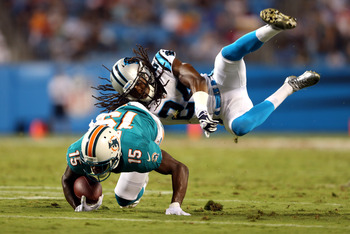 Streeter Lecka/Getty Images
Not only is Davone Bess far and away Miami's best wide receiver, he also looks like he's elevating his game to another level.
Tannehill and Bess were clearly in sync, connecting four times on six targets for 59 yards. The two connected on a 3rd-and-10, and then again on the following play with a gorgeous deep ball that went for 25 yards. Later in the game, they connected for 17-yards on a 3rd-and-4.
Maybe Bess looked so good because everybody else looked so bad. Either way, he's going to give Tannehill a safety blanket and a legitimate weapon.
If the Dolphins were to trade for, say, James Jones—who's the natural subject of trade talk because of Green Bay's surplus of wideouts and his experience playing under Joe Philbin—then things would improve quickly. With Bess, Jones and a healthy Brian Hartline, the Dolphins would have a semi-formidable group.
That's just one hypothetical example.
Whoever it is they might target, the Dolphins should start looking into young wide receivers they can get for a middle-round pick.
Loser: Ryan Tannehill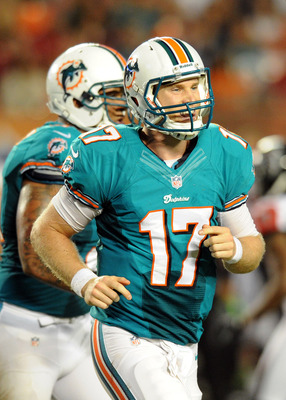 Steve Mitchell-US PRESSWIRE
Relax.
It's not what you think.
Ryan Tannehill isn't a loser because he played poorly on Friday night. Because he didn't. His numbers (11-of-25, 112 yards, one interception) suggest he did, but after his wide receivers dropped four passes, there wasn't much more he could do.
Anthony Fasano dropped three passes, including one in the end zone that hit literally hit him in the chest. Granted, Tannehill lasered it into a tight window, Fasano still had a chance to reel it in and didn't.
Tannehill looked beyond his years running the offense and he fared rather well considering the circumstances. Of course, he still made his share of rookie mistakes, most notably staring down Davone Bess allowing Falcons linebacker Sean Witherspoon to easily deflect the pass and force an interception.
Instead, Tannehill is a loser because he's stuck playing with this wide receiver corps. He looked completely out of sync with starter Legedu Naanee, who caught one pass on five targets. There's only reliable wideout on Miami's roster right now, and it's Davone Bess. And that's not going to cut it.
If the Dolphins don't start investigating other options at wide receiver—or one of these wide receivers steps up soon—then they're putting Tannehill in the position to fail in 2012.
Winner: Daniel Thomas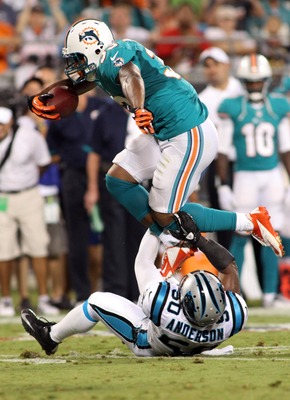 Jeremy Brevard-US PRESSWIRE
Daniel Thomas has flown under the radar all summer long, and he finally resurfaced on Friday night.
Thomas led the team in rushing with 29 yards on six carries. And, for the second straight week, he was on the field for a scoring drive with the first-team offense. He showcased the blend of power and athleticism that made him a workhorse at Kansas State.
The offense needs a back who can pound the ball in between the tackles and convert short-yardage carries. Reggie Bush may have played in 15 games last season, but his history suggests that won't happen again.
Three weeks into the preseason, it looks like Thomas can shoulder both responsibilities.
Remember, Jeff Ireland traded up for Thomas, so he clearly sees something special in him. There's no doubt Thomas has the potential to be a dynamic, multi-purpose back. Maybe he'll fulfill the expectations we had for him last year, this year.
Loser: Legedu Naanee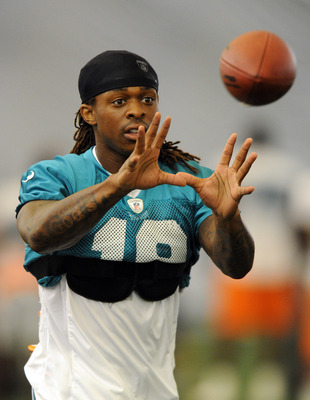 Steve Mitchell-US PRESSWIRE
Legedu Naanee failed to register a reception in Miami's first two preseason games. Granted, he only received two targets, that's an inexcusable lack of production for a starting wide receiver.
With pressure mounting on Naanee to produce, the Dolphins got him involved early and often on Friday night.
Let's just say things got ugly.
Ryan Tannehill targeted Naanee five times, and he dropped three of the passes that came his way. He's easily the biggest loser from this game. Keep in mind it's only the preseason, but how can Joe Philbin and Jeff Ireland justify starting him right now?
If the Dolphins want to be competitive this season, then they need to start exploring other options at wide receiver.
Winner: Gary Guyton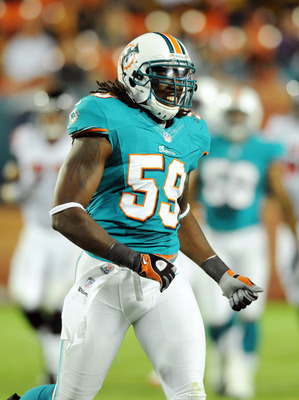 Steve Mitchell-US PRESSWIRE
Gary Guyton played so poorly in Miami's first two preseason games that his job security came into question. The Dolphins signed him a few short months ago, but was at the root of the defense's terrible performances against Tampa Bay and Carolina.
On Friday night, Guyton finally righted the ship.
He recorded three tackles, maintained great containment against the run, and didn't get burned in coverage—which has been an issue for him dating back to last season.
The Dolphins desperately need Guyton to step up given their lack of depth at linebacker. Perhaps more importantly, they need a linebacker who can help in pass coverage. Guyton still has plenty to prove, but it's very comforting to see him play well.
Loser: Anthony Fasano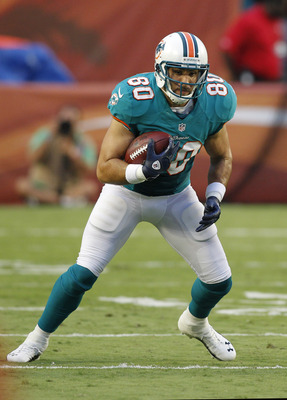 Robert Mayer-US PRESSWIRE
Anthony Fasano is by no means a receiving threat, but he's been a very consistent and reliable target for the Dolphins since he arrived in 2008.
On Friday night he was anything but reliable, however. He dropped three passes—including one in the end zone that hit him in the chest—which is just uncharacteristic and puzzling.
Fasano only dropped five passes in 2011, so there's no reason to hit the panic button. But, it's worrisome nonetheless. There's never an excuse for a player to drop multiple passes in a game, let alone three.
Ryan Tannehill should be developing rapports with his weapons right now, not losing faith in them. Fasano can be a great safety blanket for Tannehill in 2012, and maybe Friday night was just "one of those games." Whatever the case may be, Fasano better step up.
Winner: John Jerry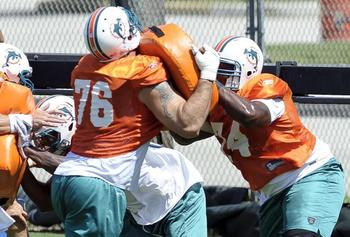 Photo via Steve Mitchell - US PRESS
The Dolphins are giving John Jerry one last chance to prove he's not a massive—literally and figuratively—draft bust, but instead a top-flight offensive guard.
So far, he's responding to the challenge. He got his first start on Friday night and played surprisingly well, which significantly boosts his chance of not only making the 53-man roster, but starting at right guard.
Jerry started three games toward the end of last season, and he played well enough to enter minicamp as the starting guard. However, he showed up to camp overweight again and slowly descended down the depth chart.
We've seen Jerry play well in spurts, but he has to prove he can hold down a starting role into the regular season.
Maybe, just maybe, he's realizing his potential now.
Loser: Marcus Thigpen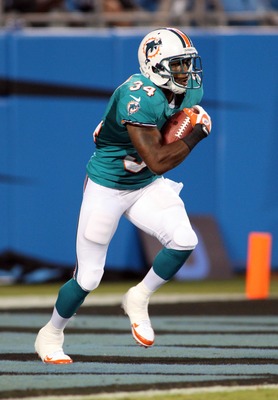 Jeremy Brevard-US PRESSWIRE
Marcus Thigpen generated momentum after last week's game against Carolina, but he failed to follow it up against Atlanta.
In fact, he had a pretty rough night.
The Dolphins gave him an audition for the return job and he botched it. He returned four kickoffs for just 75 yards and one punt for eight yards.
In the third quarter, Thigpen nearly committed a horribly embarrassing error. He fielded a kickoff on the one-yard line—with one of his feet out of bounds. Fortunately, Joe Philbin won a challenge and the replacement refs (emphasis on replacement) ruled that he fielded the ball just before his left foot stepped out of bounds.
This is never something a coach should have to waste a challenge on. Even though the play was overturned, Thigpen is now on thin ice. He was gaining steam as a candidate for a spot on the 53-man roster this week, but after tonight, the practice squad might be a more realistic destination.
Winner: Nolan Carroll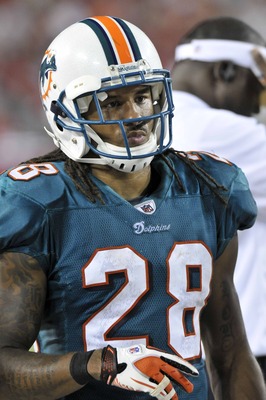 Fernando Medina-US PRESSWIRE
One of the Dolphins' most underlying concerns this offseason is depth at cornerback. Sure, Vontae Davis, Sean Smith and Richard Marshall are a respectable trio of starters, but losing one of them could be crippling.
Replacing any of those starters with Nolan Carroll will significantly downgrade the defense—or will it?
Carroll stepped in for Vontae Davis with the first-team defense for a few series, and he shined against Matt Ryan and the Falcons. He stayed with Julio Jones on multiple plays and defended him beautifully on a deep ball.
He also contributed a pair of tackles and a pass deflection.
Placing Carroll into the starting lineup is still a scary thought, but it's a little bit less discomforting after Friday night.
Loser: Richard Marshall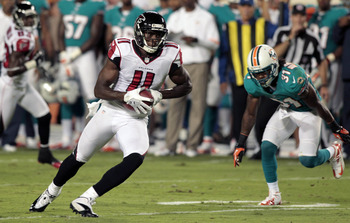 Robert Mayer-US PRESSWIRE
The Dolphins didn't surrender a touchdown to Atlanta's first-team offense, but that is no thanks to Richard Marshall.
Matt Ryan targeted Marshall all night, completing at least four passes—including a third-down conversion, 18-yard pass and 49-yard pass—to wide receivers matched up with him.
On the 49-yard pass, Marshall had Julio Jones covered but lost sight of the ball, allowing Jones to break and catch it uncontested.
This is Marshall's second consecutive disappointing game. He supplanted Vontae Davis on the first-team defense three weeks ago, but he could face a demotion after Friday night's performance. Davis played well with both the first and second-team defenses, furthering his chances of leaping back onto the first team.
Come Week 1, Marshall should be back in the nickelback role with Davis on the boundary.
Keep Reading

Miami Dolphins: Like this team?