NHL Free Agency: With September 15th in His Sights, Where Will Shane Doan Play?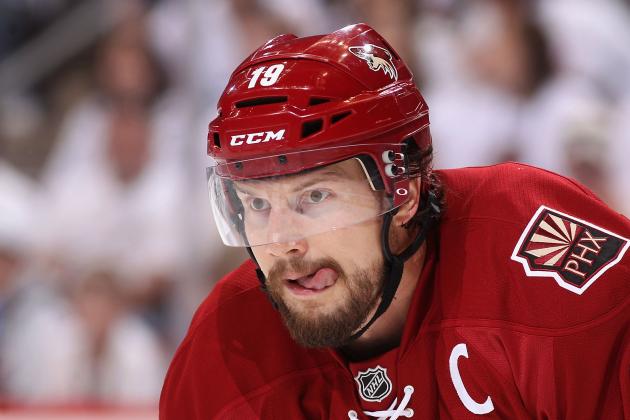 Christian Petersen/Getty Images

Shane Doan is one of the few members of the NHL loyalty club. With money coming into play more than it ever has before, players are testing the free-agent market like it's nobody's business. However, like everything in life, there are always the exceptions to the rule.
In this case, Doan, along with others such as recent retiree Nicklas Lidstrom, are the exceptions. They have stayed true to their fans, ownership and teammates, never leaving the team that granted them the opportunity to play in the NHL by drafting them.
Doan is currently an unrestricted free agent, but his intentions are to remain in Phoenix, the organization that selected him seventh overall in the 1995 NHL draft. The only problem is that the ownership situation in Phoenix is unsettling and has yet to be resolved. Prospective owner Greg Jamison is still trying to acquire the funds necessary to take over the organization and keep them in Phoenix, but time is running out.
Doan's agent, Terry Bross, recently came out and stated that his client will sign with an NHL team by September 15th.
Shane is going to sign a contract before the CBA expires on the 15th. Ownership has to be done before the 15th, otherwise we're signing somewhere because we don't know what the new CBA is going to look like, and I don't know if it's going to limit any scope of a contract, so we want to make sure we sign before then.
With that in mind, let's take a look at Doan's top options and where I believe he will eventually sign.
Begin Slideshow

»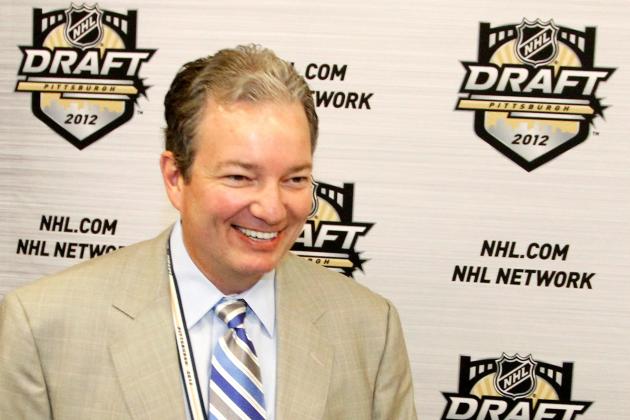 Justin K. Aller/Getty Images
Pittsburgh Penguins general manager Ray Shero at the 2012 NHL Draft in Pittsburgh.
While the Pittsburgh Penguins may have struck gold in drafting Sidney Crosby and Evgeni Malkin, Ray Shero knows a general manager's job is never done. The Penguins have been among the league's elite teams since the 2004-2005 lockout, but they have tailed off a bit as they've had to adjust to hockey without Crosby while he was nursing his injuries.
The Penguins are refueling for next season with a healthy Crosby and the reigning Hart trophy winner, awarded to the league's MVP, Evgeni Malkin. With a supporting forward cast led by James Neal, and a defensive corps led by Brooks Orpik and Kris Letang, Pittsburgh is a very attractive destination for Doan, who has yet to win a Stanley Cup in his 16 seasons in the NHL.
With just under $10 million in cap space, money won't be an issue in signing Doan. Look for Pittsburgh to be a strong player in the Doan sweepstakes as the clock starts ticking toward September 15th.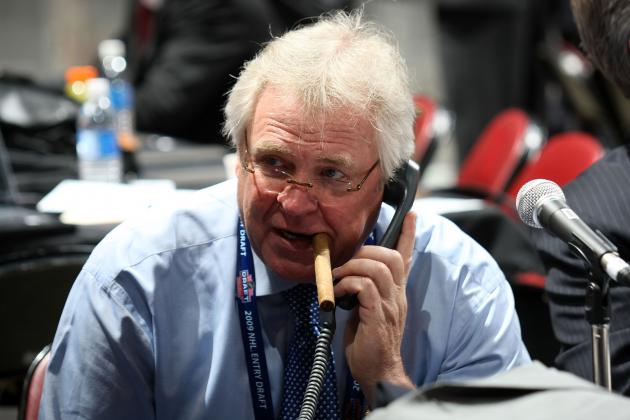 Bruce Bennett/Getty Images
Rangers general manager Glen Sather busy at work.
Glen Sather loves free agents. He practically set the standard for overpaying veteran players, but this is the era of the new and improved Sather.
Sather, along with the help of his assistants, has rebuilt the Rangers through the draft instead of free agency. The Rangers' core is made up of players such as Ryan Callahan, Derek Stepan, Chris Kreider, Carl Hagelin, Marc Staal, Dan Girardi, Michael Del Zotto and Henrik Lundqvist, all of whom were drafted by the organization.
Along with all of the homegrown talent, Sather has picked his spots in free agency, adding Marian Gaborik and Brad Richards to the group. If there's anything Sather is good at, it's making trades, and earlier this offseason, he acquired Rick Nash, the franchise player of the Columbus Blue Jackets. The Rangers are picked by many, along with the Penguins, as the favorites in the Eastern Conference next season.
The Rangers are a very enticing destination for Doan, as he'd have the opportunity to chase after the Stanley Cup in New York City, a city that is itching for Madison Square Garden to be rocking in June.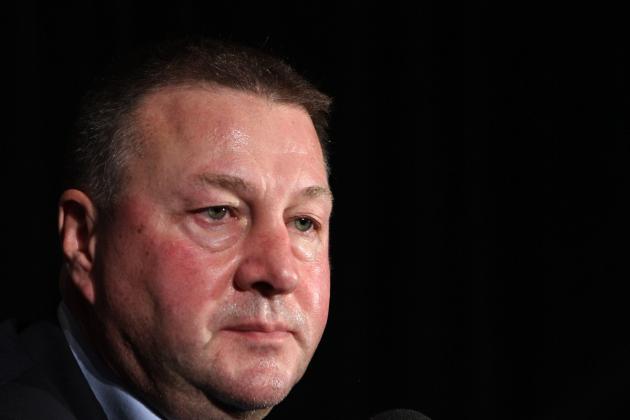 Bruce Bennett/Getty Images
Mike Gillis, the general manager of the Vancouver Canucks.
The Vancouver Canucks have been among the leaders in the Western Conference for the last four seasons, winning the Northwest Division in all four. Mike Gillis has built a Stanley Cup contender, although the team has come up short, as they've been among the favorites to be league champions for the last couple of seasons.
Roberto Luongo has failed to get the job done in Vancouver, and many fans want him gone. He has yet to be traded, but it is almost certain that he will be on a new team by the start of next season after going public on the radio earlier this summer, admitting that it is "time to move on." That would leave Cory Schneider as the guy in net, which I'm sure many Canuck fans are looking forward to.
On an off-the-ice note, Doan's wife, Andrea, is from Kamloops, British Columbia, just over 200 miles away from Vancouver. His wife could have a say in his final decision, and Vancouver may just be her first-choice destination.
Vancouver has a lot in their favor, so don't be surprised if the Canucks land the veteran winger.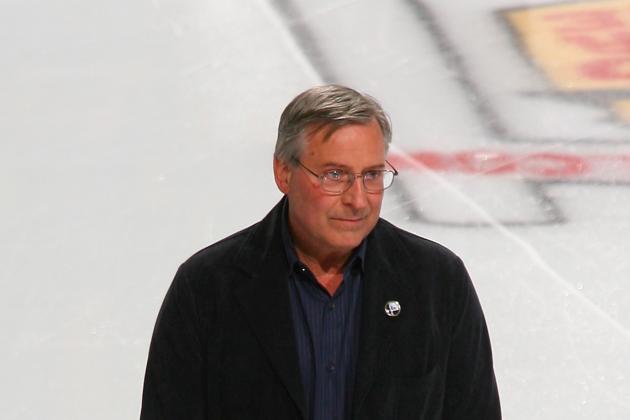 Rick Stewart/Getty Images
Terry Pegula, owner of the Buffalo Sabres.
The Buffalo Sabres are a very well-funded team. That is because of multi-billionaire owner Terry Pegula, who purchased the Sabres during the 2010-2011 season.
Pegula donated $88 million to Penn State University to build an ice-hockey arena and develop a hockey program at the school. Money is no issue for Mr. Pegula. It is that exact reason why the Sabres are a favorite to land the 35-year-old Doan.
Reports leaked a few weeks ago that a mystery team in the Eastern Conference had offered Doan a four-year contract worth $30 million. It has now been revealed that the Sabres are that team. Buffalo managed to creep into the playoffs with a late-season push two years ago, but their luck couldn't be repeated last season, as they missed out on the playoffs last year, finishing in ninth place in the East.
The Sabres are a competitive team and will challenge to make the playoffs next season. While they aren't as talented as teams such as Pittsburgh, New York and Vancouver, the money they're offering may be too much for Doan to turn down.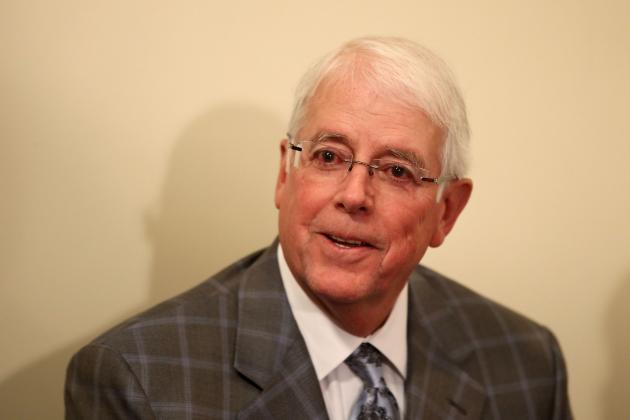 Christian Petersen/Getty Images
Greg Jamison, the prospective owner of the Phoenix Coyotes.
Shane Doan has been a Phoenix Coyote his whole career. He doesn't want to leave, either. Greg Jamison was given an ultimatum by Doan to get an ownership deal done, but Doan just couldn't leave after Jamison failed to get anything done.
Is it just a coincidence that Doan has had a contract on the table worth $30 million at his requested four years from Buffalo and is still in Phoenix? Does it just so happen to be that despite looking at prospective suitors' rosters, Doan is still in Phoenix? The answer to both of those questions is simply no. He wants to be a Coyote for life.
Phoenix made it to the Western Conference finals last season, and Doan still has faith that the team can be as competitive as they were last season. He's as loyal as they come and it'll take everything to get him out of Arizona. However, if Jamison can't get a deal done by September 15th, it seems that Doan will be elsewhere.
So, where will Mr. Doan end up?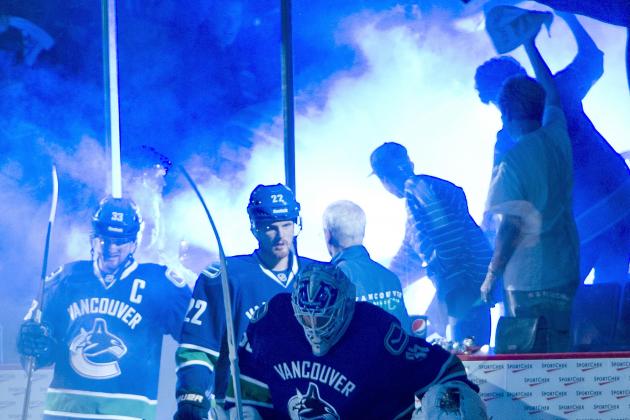 Rich Lam/Getty Images

At the end of the day, I just don't believe that the Coyotes' ownership situation will be settled by September 15th. Doan will have many options to choose from, but in the end he'll choose Vancouver.
While money is nice, Buffalo doesn't have enough of an appeal to sway Doan away from Phoenix. The Rangers and Penguins both have elite talent on their rosters and will contend for the Stanley Cup next year, but a cross-country move may not be at the top of Doan's to-do-list.
So, Vancouver it is. Doan will be given the opportunity to contend for Lord Stanley's Cup and stay in the Western Conference altogether. Along with that, his wife will be happy moving back to Canada, only about 200 miles away from her hometown. I really do believe that Doan is destined to be a Canuck, and it will only take about another three weeks to make it happen.
It will be hard for Doan to move on from the Coyotes, but if the ownership situation doesn't clear up, it must be done.