Atlanta Falcons vs. Miami Dolphins: Preseason Week 3 Live Blog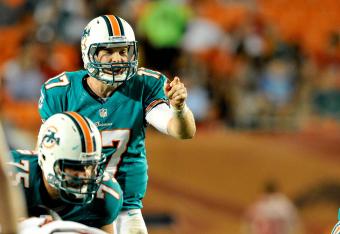 Brad Barr-US PRESSWIRE
The Miami Dolphins dropped their third consecutive preseason game tonight, losing to the Atlanta Falcons by a score of 6-23.
Although the Dolphins looked good out of the gate, they stumbled the rest of the way, and this was easily the ugliest game they've played thus far.
Combined, Miami's wide receivers, tight ends and running backs dropped at least six or seven passes, casting huge doubt about the current state of this offense. After tonight's debacle, the Dolphins have to start investigating their options at wide receiver, because this current group isn't cutting it.
On a positive note, the first-team defense didn't yield a touchdown to Atlanta's first-team offense, which is loaded with weapons.
Overall, this was an extraordinarily concerning and depressing performance.
Luckily, it's still only the preseason.
-----------------------------------------------------------------------
The Dolphins trail the Falcons 3-9 at the conclusion of the half.
Overall, the offense looked underwhelming set aside their one and only scoring drive. Ryan Tannehill completed 11 of 25 passes for 112 yards and an interception; however, Miami's wideouts dropped at least four passes. Had the culprits—Anthony Fasano and Legedu Naanee—caught those passes, then the Dolphins could have easily tacked on another score.
The defense looks significantly better than it did against Tampa Bay and Carolina. Although there were a few lapses—most notably a 49-yard reception by Julio Jones—the Falcons mustered only 29 rushing yards on 11 carries. The Dolphins stalled Matt Ryan & Co. three times to force field goals, and surrendered only nine points to one of the league's more explosive offenses.
-----------------------------------------------------------------------
Ryan Tannehill takes center stage tonight as the Miami Dolphins host the Atlanta Falcons in Week 3 of the preseason.
The eighth overall pick of the 2012 NFL draft is slated to make his first NFL start, which inspires considerable excitement—and a whole lot of anxiety. Hordes of scouts and analysts pinned Tannehill as a developmental QB who need to spend at least one year on the bench. Even Mike Mayock, arguably the most trusted draft analyst in the business, said this about Tannehill:
"[Tannehill is] at least a year away from being a functional NFL quarterback."
Yikes.
Nevertheless, he has earned the starting job this offseason and we'll see how he responds to the pressure tonight.
On the other side of the ball, it'll be interesting to see how much damage the Falcons' loaded offense inflicts on the Dolphins' porous defense.
Am I being too cynical tonight?
We're about to find out.
Well, that's all she wrote, folks.
The Dolphins lose to the Atlanta Falcons 6-23 in one of the uglier games you'll ever see this team play.
Okay, maybe it wasn't that bad, but it's hard to envision the Phins winning more than a handful of games in 2012 at this rate.
I think I'm subconsciously hitting the panic button.
This could be a long season.
After tonight's game, Steve Slaton and Jamaal Westerman made big strides in their fights for roster spots. On the other hand, Marcus Thigpen, Jonathan Wade and Pat Devlin's stocks are down, and I'm not sure any of them will make the 53-man roster at this point.
I think it's safe to say this weather is indicative of the Dolphins' performance tonight.
Sloppy.
<blockquote class="twitter-tweet tw-align-center">
Nice night in Miami.
— Peter King (@SI_PeterKing) August 25, 2012
Dolphins broadcast just went out. Must be the weather. There's some serious rain and wind here. I'm surprised they're still playing, to be honest.
Amen.
<blockquote class="twitter-tweet tw-align-center">
To the 200 fans sticking it out in this rain: You are crazy
— Ben Volin (@BenVolinPBP) August 25, 2012
Massive storm coming through south Florida right now. Thunder is literally shaking my house right now. Driving rain and wind at Sun Life Stadium as well. At this rate, I'd be surprised if they finished the game.
Given how horrendously the Dolphins wide receivers played tonight, I wonder if deep down, Joe Philbin is second guessing his decision to name Ryan Tannehill the starter.
He's throwing Tannehill into a no-win situation at this stage.
His wide receivers can't catch or get separation, and the right side of the line is still suspect.
Dolphins will be signing Edward Scissorhands tomorrow to play some wide receiver. Should be an improvement.

— Chris Kouffman (@ckparrot) August 25, 2012
Jonathan Wade just surrendered his second touchdown of the night, this one a 39 yard connection from third-string quarterback Dominique Davis to Tim Toone.
This game might be the end of the line for Wade.
Oh. My. Goodness.
Another drop.
This time it's Jeff Fuller.
Matt Moore is throwing the ball well tonight, but Miami's wide receivers are making him look nondescript.
Falcons rookie kicker Eric Folk hooks a field to the left, keeping the deficit at 10 points.
Matt Moore and the second-team offense have a chance to salvage something here. The Dolphins mounted comebacks against the Bucs and Panthers.
Let's see if they can do it again.
At the end of the third quarter, the Dolphins still trail the Falcons 6-16.
This night is steadily culminated in embarrassment for the Phins.
It seems like a trend is emerging here, no?
Another dropped pass.
This one goes to Marcus Thigpen.
After nearly pinning the Dolphins down at their own one-yard line and dropped that pass, Thigpen's chances of making the 53-man roster are dwindling. And, Steve Slaton's respectable performance doesn't help his cause either.
At this rate, Thigpen is looking like a practice squad player.
Twitter is sounding off on the Dolphins' wide receiver corps right now:
<blockquote class="twitter-tweet tw-align-center">
Someone call Elias Sports Bureau and see what the record for drops in a preseason game is. Dolphins up to seven in the 3rd qtr.
— Dave Hyde (@davehydesports) August 25, 2012
<blockquote class="twitter-tweet tw-align-center">
Remember all the talk from #Dolphins HC Joe Philbin about not needing quality WRs to run a West Coast O? I didn't buy it then and don't now.
— James Walker (@JamesWalkerESPN) August 25, 2012
Dan Carpenter connects on a beautiful 53-yard strike, cutting the deficit to 11.
The Dolphins now trail the Falcons 6-16.
Good challenge by Joe Philbin.
At least, the replacement referees think so.
The Dolphins now start at the 40-yard line instead of the one, and Marcus Thigpen can breathe a sigh of relief.
Marcus Thigpen just fielded a kickoff at the one-yard line...with one foot out of bounds.
That's a pee-wee mistake.
Matt Moore now enters the game, and he'll try to march the Phins on a 99-yard scoring drive. Although that was a dreadful error by Thigpen, this will give the offense an interesting and daunting test.
Missed tackles are a recurring theme this preseason, and the second-team defense is really struggling with them right now.
On third-and-seven, Jonathan Freeny and Jimmy Wilson both had a chance to sack Matt Ryan but whiffed. Then, Ryan dumped a pass off to Jacquizz Rodgers, who Jonathan Wade failed to take down in the open field.
Speaking of Jonathan Wade, he's fighting for the No. 5 cornerback job and this drive won't help his cause. After missing that tackle, he gave up a touchdown to Roddy White, who "Moss'd" the 5'11" corner.
The Dolphins will scour the open market for another cornerback when teams cut their rosters down in the coming weeks.
<blockquote class="twitter-tweet tw-align-center">
Not sure if you guys could see this at home, but on the throw to Gates, Tannehill missed a WIDE OPEN Moore on a deep route. Easy 93 yard TD
— Ben Volin (@BenVolinPBP) August 25, 2012
There's a Clyde Gates sighting.
Gates couldn't get his feet down inbounds, but that's a very impressive catch nonetheless. That's not nearly enough to garner a shot at a roster spot, however. Gates needs to have a huge second half to even warrant consideration.
He's in danger of losing his job when the Dolphins trim their roster down to 75.
Nolan Carroll is getting an extended look tonight and he's holding his own. Cornerback depth is a huge area of concern for the Phins, but most of that anxiety will subside if Carroll can elevate his game. Now entering his third season, it's time for him to emerge as a serviceable player. Keep an eye on him for the remainder of the night.
Anthony Fasano drops his third pass of the game. What is going on?
Meanwhile, Davone Bess catches everything that comes his way. Tannehill will lean on him heavily in the regular season.
The Dolphins have a chance to showcase their two-minute offense here. Ryan Tannehill has sputtered a bit since he marched the team down to Atlanta's four yard line, but he has chance to generate momentum going into the half.
Wow. Reshad Jones and Richard Marshall both fail to locate the ball and attack it at its highest point, allowing Julio Jones to reel in a 49-yard reception.
Like I said earlier, Matt Ryan is picking on Marshall.
Also, Jones still isn't living up to the hype he generated in minicamp. Highly disappointing so far.
Couldn't agree more:
As @jasoncoleyahoo suggests to me, Dolphins should try to trade for GB WR James Jones.

— Armando Salguero (@ArmandoSalguero) August 25, 2012
This article is
What is the duplicate article?
Why is this article offensive?
Where is this article plagiarized from?
Why is this article poorly edited?

Miami Dolphins: Like this team?