1 Custom Prop Bet for Every Week 1 College Football Game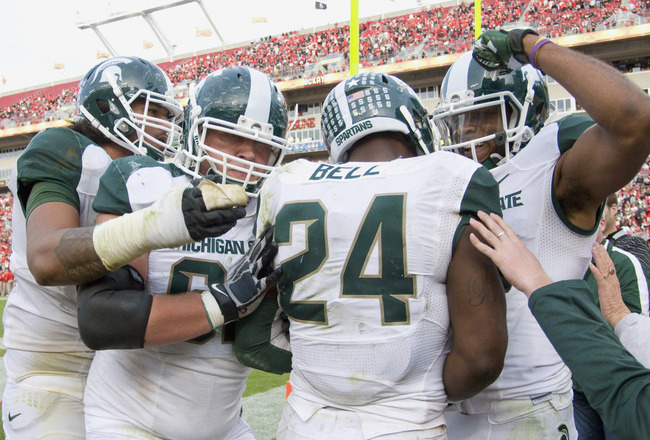 Jeff Griffith-US PRESSWIRE
The 144th college football season is less than 24 hours away from starting, and all the die-hard fans could not be any happier.
This is indeed the best time of the whole year. The tailgating, and more importantly the real fun, can all begin.
The bands, the fans, coaches, mascots, conference realignments and players are all back for more. Taking a look at some of those players, here are your top customized prop bets for every single opening weekend game.
The 2012 college football season is here. Fasten your seat belts as it should be one hell of a ride.
Note: These are customized prop bets from yours truly
South Carolina at Vanderbilt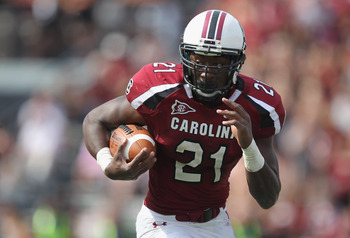 Streeter Lecka/Getty Images
Marcus Lattimore Rushing Yards: 125.5 (Over or Under)
The Commodores were a solid SEC defense last season, and despite the loss of Tim Fugger up front, the depth is at an all-time high.
James Franklin has to be proud, but they are nowhere near where they want to be, even though they only allowed 130 yards per game last season (36th).
Marcus Lattimore will be watched by millions as the season gets underway Thursday night, but Vandy will be ready to rock and roll.
Danny V's Pick: Under
Central Florida at Akron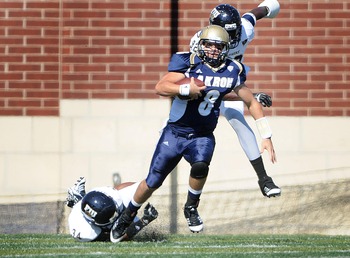 Eric P. Mull-US PRESSWIRE
Points Scored for Akron: 14.5 (Over or Under)
Terry Bowden makes his season debut for the Zips, but they enter the game big 'dogs against Central Florida.
Storm Johnson could be running wild in this matchup, but Akron needs to put a fight up in this opener. The MAC doesn't get a chance to take on too many solid non-BCS programs outside their own conference, but this is an opportunity to change the perception.
The only problem is that Zippy and the boys averaged 14.17 PPG last season, which ranked 118th in the country.
Danny V's Pick: Under
Massachusetts at Connecticut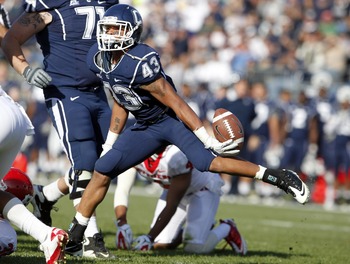 David Butler II-US PRESSWIRE
Lyle McCombs Touchdowns 1.5 Touchdowns (Over or Under)
Lyle McCombs is quite the sophomore running back. He put on a clinic during his freshman campaign, finishing No. 29 in the nation in rushing yards per game (95.92).
The Minutmen are the new kids on the block of the FBS, and they will have a tough time slowing down this Big East star.
Danny V's Pick: Over
Sacramento State at New Mexico State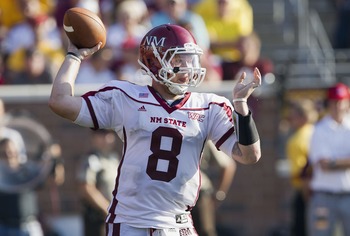 Jesse Johnson-US PRESSWIRE
Andrew Manley Total Yards: 300 (Over or Under)
Many of you complained about these lower-tier FBS against FCS matchups, but this is opening weekend so just take a chill pill and enjoy the season kicking off.
Plus, if teams like the Aggies cannot win now, they may never find a victory this season. Quarterback Andrew Manley comes into this game as the leader of New Mexico State, but how many total yards will he pick up?
Danny V's Pick: Under
Texas A&M vs. Louisiana Tech (Shreveport, LA)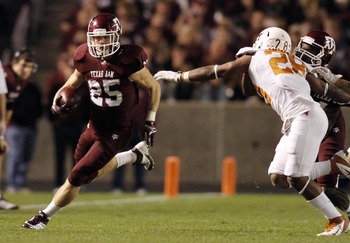 Brett Davis-US PRESSWIRE
Ryan Swope: 150.5 Yards Receiving (Over or Under)
Ryan Swope often put on a clinic for the Aggies against Big 12 foes last season, and while it will be tougher going up against SEC competition, the Bulldogs pass defense is not exactly flawless.
Tech ranked 91st last season (249 YPG) against the pass, which should allow the Aggies to gain some confidence heading into their gauntlet slate.
Danny V's Pick: Over
Note: This game has been rescheduled to October 13th
UCLA at Rice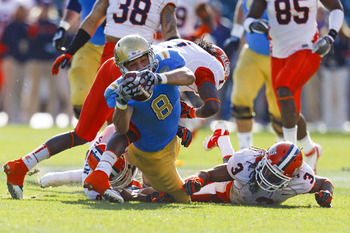 Jason O. Watson-US PRESSWIRE
Bruin Passing Touchdowns: 2.5 (Over or Under)
Brett Hundley is starting for the Bruins with the quarterback guru known as Leo Mazzone helping him along the way.
UCLA has been atrocious, offensively speaking, and after a 6-8 season, Jim Mora is hopeful for a winning season right off the bat.
Joseph Fauria is a star tight end for UCLA and he alone should help the passing attack against an Owls secondary that ranked 112th in the country (278 YPG).
Will they reach paydirt via the air more than two times though?
Danny V' Pick: Under
Northern Arizona at Arizona State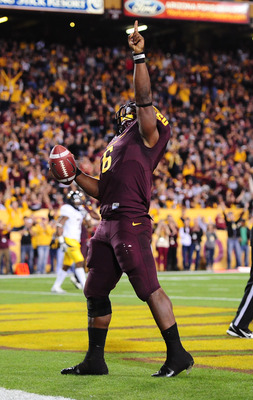 Mark J. Rebilas-US PRESSWIRE
Cameron Marshall Total Yards: 150.5 (Over or Under)
The Sun Devils star back averaged just over 100 yards of offense per game last season, and Todd Graham may need a tad more if they expect to go bowling in 2012.
They were filled with disappointment last season under Dennis Erickson and luckily they can take it easy with Northern Arizona not providing too much of an issue.
Danny V's Pick: Over
Washington State at Brigham Young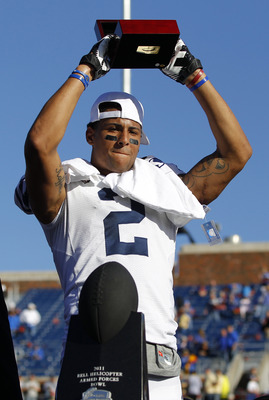 Jim Cowsert-US PRESSWIRE
Combined Passing Yards: 550.5 (Over or Under)
This will be one of the more exciting games of the entire weekend!
BYU and Washington State may combine for 70 points in this game, and those quarterbacks should be throwing at will.
Both defenses have had issues, albeit the Cougars are more than respectable. Mike Leach is back—and thank god, because college football has missed the pirate, fun-loving character that is well-known for his passing offenses.
WSU's Jeff Tuel was maligned with injuries last season (calf, clavicle), but he has still thrown for over 3,800 passing yards in his career.
BYU's Riley Nelson is not too shabby either for a lefty, but the reason why both of these quarterbacks rank in the top 20 for passing yards per game is due to their All-American caliber wide receivers.
Cody Hoffman has hauled in 6 TD in the postseason thus far in his career (17 career), and Wazzu's Marquess Wilson has hauled in 137 passes for 2,394 yards and 18 career TDs.
Point blank, there will be a a boatload of excitement in this one thanks to a pair of stat-stuffing offensive machines.
Danny V's Pick: Over
Minnesota at UNLV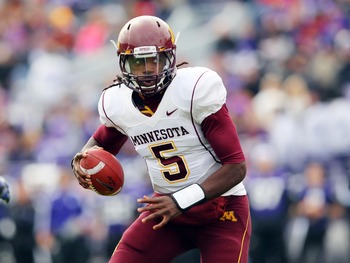 Dennis Wierzbicki-US PRESSWIRE
MarQueis Gray Touchdowns: 1.5 (Over or Under)
The Minnesota Golden Gophers struggled miserably in Big Ten play last season, and MarQueis Gray certainly needs some help around him.
All of the productive signal-callers in the FCS have productive performers around them, but not for Gray. So, having to do it all on his own, many are expecting a monster season from the dual-threat that ranked 62nd in total offense in 2011.
He may have only had 14 combined touchdowns last season, but those numbers should double in 2012.
Danny V's Pick: Over
Northern Colorado at Utah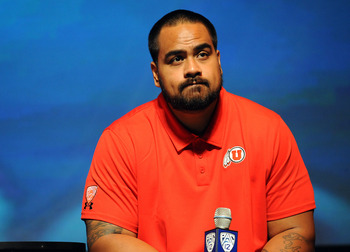 Jayne Kamin-Oncea-US PRESSWIRE
Utah Sacks: 4.5 (Over or Under)
Last season Utah went through some growing pains in the Pac-12, since it was their first attempt at challenging the big boys on a full-time basis, but overall they left a bit on the table.
Everybody is back on defense from a front four that registered 30 sacks during the 2011 season, and the hogmollies will only get better this season.
Star Lotulelei is the top defensive tackle in the country, and there are several other names on The Utes' D that America will remember in time (Dave & Joe Kruger, Nate Fakahafua, Niasi Leota).
Danny V's Pick: Over
Villanova at Temple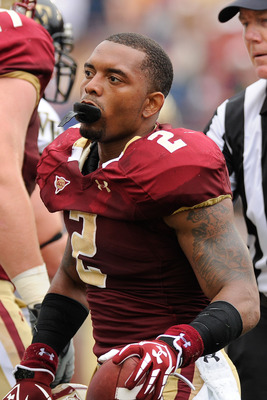 Bob DeChiara-US PRESSWIRE
Touches for Montel Harris: 15.5 (Over or Under)
Matt Brown was expected to become the starting running back after Bernard Pierce left school early for the NFL (Ravens).
How quick can things change in a sport that is known for its fluidity? Boston College dismissed their all-time leading rusher in Montel Harris.
He has since transferred to Temple and will be getting a ton of carries. He is a workhorse despite some nagging injuries in recent memory (ankle).
Danny V's Pick: Over
Eastern Michigan at Ball State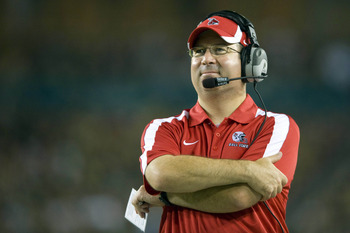 Jeff Griffith-US PRESSWIRE
Points Scored: 56.5 (Over or Under)
The MAC is known for their scoring, but not many are aware of what exactly these two bring to the table.
Alex Gillett had a solid season for Eastern Michigan last year as the team went 6-6, and the same can be said for Ball State.
The Cardinals went 6-6 and QB Keith Wenning played well for head coach Pete Lembo, but these two struggled miserably to slow down opposing offenses. Expect more of the same in this season opener, as the offenses will soon earn some recognition as well.
Danny V's Pick: Over
San Jose State at Stanford
Jayne Kamin-Oncea-US PRESSWIRE
Stanford Rushing Yards: 275.5 (Over or Under)
Stanford has a physical mentality of obliterating every team at the line of scrimmage.
Their rushing attack has been impossible to slow down with Stepfan Taylor gashing teams left, right and straight up the middle.
The poor Spartans were 106th in rushing defense, and they will not be able to hold Stanford under 200 yards. Will the Cardinal be able to get nearly 300 yards though?
Danny V's Pick: Over
Notre Dame vs. Navy (Dublin)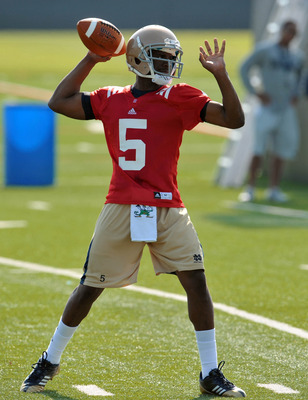 Matt Cashore-US PRESSWIRE
Everett Golson Total Yards: 250.5 (Over or Under)
The redshirt freshman quarterback from South Carolina has drew some comparisons to Tony Rice because of their hometown and first opponents, but this Golden-Domer is looking to take it one step at a time for one of the more popular programs in the country (regardless of sport).
However, the athleticism and quickness he has for a Notre Dame quarterback has not been seen in a while. Having a stud back like Cierre Wood certainly would help if he could play, but he has since been suspended for the first two games due to violating team rules.
Tyler Eifert may be an All-American, but quarterback Everett Golson is capable of putting this team on his back.
Many fans have high expectations for all opening day quarterbacks, but the talent this freshman possesses certainly has South Bend thinking BCS in the immediate future. We all know the schedule is brutal, but production from the youngster could go a long way.
Danny V's Pick: Over
Miami-Ohio at Ohio State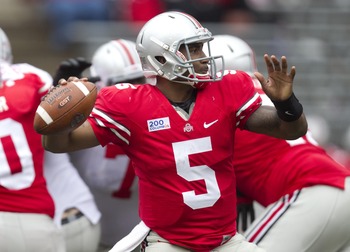 Greg Bartram-US PRESSWIRE
Braxton Miller Rushing Touchdowns: 0.5 (Over or Under)
Braxton Miller totaled 20 touchdowns last season, running for seven.
The Buckeyes are loaded with a ton of receivers and a few decent backs even without Jordan Hall, but Miller should find paydirt at least once against The Redhawks.
Danny V's Pick: Over
Northwestern at Syracuse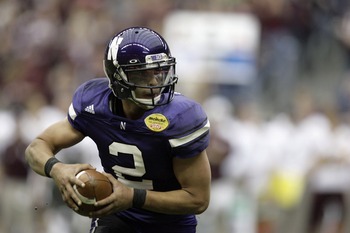 Brett Davis-US PRESSWIRE
More Total Yards: Ryan Nassib or Kain Colter?
Dan Persa did everything for the Wildcats when he was on the field, but that was the main issue with this team.
His Achilles injury never fully healed and he was not the same last season, so Kain Colter filled in admirably whenever he was needed.
The kid was a flat out stud for the 'Cats as they used him as a receiver, running back and quarterback. Now he has to take over as the leader under center, and he should excel for Pat Fitzgerald in the season opener.
Danny V's Pick: Colter
Ohio at Penn State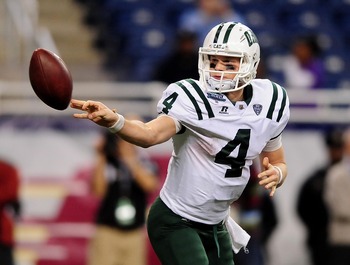 Andrew Weber-US PRESSWIRE
Tyler Tettleton Total Offensive Yards: 255.5 (Over or Under)
Matt McGloin is losing his top running back, wide receiver and a few lineman, which will make life difficult this season.
However, the Bobcats are still a MAC team and Penn State is favored, albeit all of their recent struggles on and off the field.
On the other side of the ball, Tyler Tettletown is the guy that the solid Nittany Lions defense will key on. PSU cannot allow him to take over this game, but that may be tough if their offense cannot pull its own weight.
Danny V's Pick: Over
Western Michigan at Illinois
Andrew Weber-US PRESSWIRE
Combined Total Yards by Alex Carder & Nathan Scheelhaase: 599.5 (Over or Under)
Alex Carder has to be considered one of the more under-appreciated players in the country, as he averaged 345 yards per game last season (fifth).
Carder did have an All-American receiver in Jordan White, but the numbers should once again be there for a Bill Cubit squad that is still attempting their first ever bowl victory.
Nathan Scheelhaase is legit for the Illini. He is a quick quarterback that is still developing as a passer without A.J. Jenkins. The Broncos defense was 99th last season, allowing 434 yards per game, so we should anticipate some fireworks.
Danny V's Pick: Over
Appalachian State at East Carolina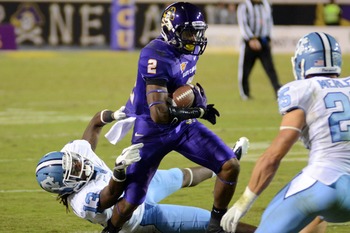 Rob Kinnan-US PRESSWIRE
Receptions for Justin Hardy: 6.5 (Over or Under)
Despite being only a freshman last season, Justin Hardy hauled in 64 passes for 658 yards and 6 Touchdowns.
The Pirates have been known to chuck it around a few times, and Hardy is set to avoid that sophomore slump that so many fall into.
Danny V's Pick: Over
Buffalo at Georgia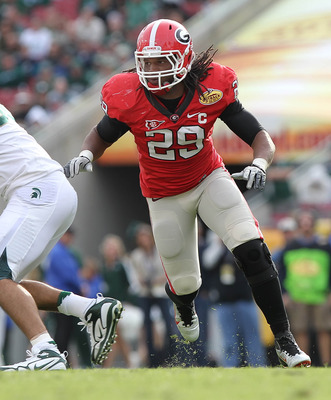 Kim Klement-US PRESSWIRE
Points Given up by Georgia's Defense: 7.5 (Over or Under)
The Bulldogs defense has the potential to be the best in not only the SEC, but also the country. Jarvis Jones is a freak off the edge that scares just about every offensive coordinator in the country, and he has guys around him that will eventually be playing on Sunday's.
The athletes are there and despite some early suspensions, the depth is legit and the hungry 'Dawgs should tee off on the Bulls.
Danny V's Pick: Under
Elon at North Carolina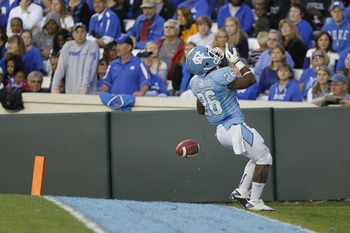 US PRESSWIRE
Rushing Yards by Bernard: 129.5 (Over or Under)
The biggest question in this prop bet for the Tar Heels is whether or not Giovani Bernard even sees the field that much.
This is the first game under Larry Fedora, and they have a critical ACC game on the road in Winston-Salem next week followed by a trip to Papa John's Stadium against a very solid Louisville squad.
It will not an easy road for the Heels, but the ACC play is not brutal with both Florida State and Clemson off the slate. Look for Giovani Bernard to be the horse to carry this team a far ways despite not being eligible to play in the ACC title game (or get a bowl berth).
Danny V's Pick: Under
Richmond at Virginia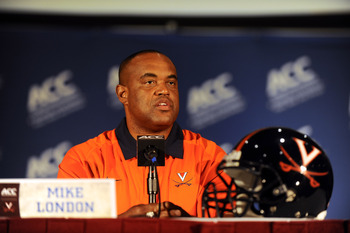 Sam Sharpe-US PRESSWIRE
Total Yardage by Perry Jones: 139.5 (Over or Under)
Perry Jones at times last season single-handedly carried this offense, as he was the leading rusher and receiver.
Totaling 1,400 yards and 8 TDs may not seem like huge numbers, but the Wahoos needed every single one of those yards to finish with their fabulous record of 8-5.
Will they be able to match their success with a solid 2012 campaign? Or was it more of a fluke?
Perry Jones has a large say as they actually host Penn State in week two, but it all starts against those Spiders in the opener.
Danny V's Pick: Over
Iowa vs. Northern Illinois (Chicago)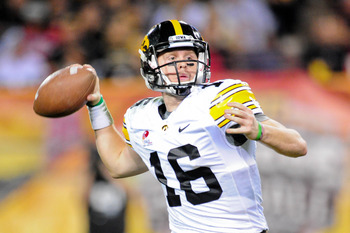 Matt Kartozian-US PRESSWIRE
James Vandenberg Yards Thrown: 275.5 (Over or Under)
The Hawkeyes have been cursed over the last few seasons with their running backs, and while expectations often play a part, nothing can be said other than bad luck lately.
Luck is on their side at quarterback, as James Vandenberg is arguably the best pure passer in the conference and he has a few viable options in C.J. Fiedorowicz and Keenan Davis.
Plus, the Huskies secondary ranked just 89th last season, and Iowa has improved by leaps-and-bounds in their passing attack despite the lack of a true stud in the backfield.
Danny V's Pick: Over
Miami FL at Boston College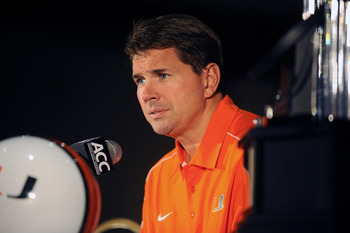 Sam Sharpe-US PRESSWIRE
Total Points Combined: 45 (Over or Under)
These two offenses were tough to watch last season, but the "experts" are anticipating plenty of points in this one to make you watch.
Some thought Ryan Williams was going to give Stephon Morris a solid push for the starting gig, but Morris is the guy. He will need to perform well with so many youngsters around him.
Boston College is no longer reliant on Montell Harris after his dismissal, so others better be ready for the spotlight.
Danny V's Pick: Under
Bowling Green at Florida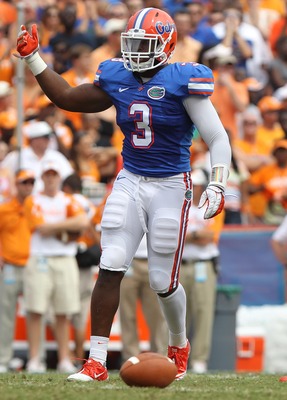 Kim Klement-US PRESSWIRE
Bowling Green Points Scored: 13.5 (Over or Under)
Coming off a tremendous season defensively, the Gators are chomping at the bit to prove their 7-6 season was a fluke.
The offense needs to improve, but Florida is all about defense and special teams these days. Against Bowling Green, they may not allow a whole lot of yards or points.
In fact, the Gators are capable of pitching a shutout despite the fact that the Falcons were in the middle of the pack across America last season (63rd, 26.5 PPG).
Danny V's Pick: Over
Eastern Kentucky at Purdue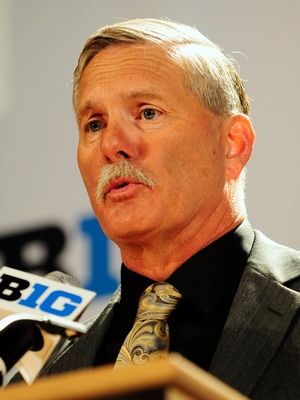 Reid Compton-US PRESSWIRE
Purdue Rushing Yards: 275 (Over or Under)
Boiler Up!
Purdue is coming off a fine bowl victory over Western Michigan, and their bevy of backs will help chew some clock. However, the yards will be there for the taking against FCS opponent Eastern Kentucky.
Akeem Shavers, Akeem Hunt and Ralph Bolden will all be having a party in this matchup, so expect Purdue to win in a blowout thanks to their ground game.
Danny V's Pick: Over
Northern Iowa at Wisconsin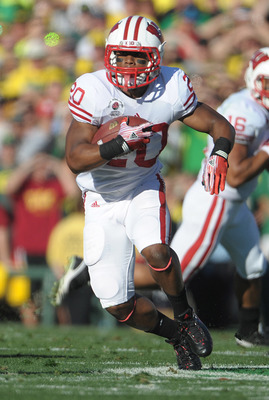 Kirby Lee-US PRESSWIRE
Rushing Touchdowns by Badgers: 5.5 (Over or Under)
Montee Ball is coming off the season of all seasons, as he totaled 38 TDs, which tied Barry Sanders for the all-time record in an FBS season.
After Ball, the team has James White and Melvin Gordon who will likely see significant action in the second half, as he Badgers will be winning by four or five touchdowns as the game wears on.
Thanks to this NFL-sized offensive line, bank on Wisconsin to pile up the points with arguably the best ground game in the country in recent years.
Danny V's Pick: Over
Southern Miss at Nebraska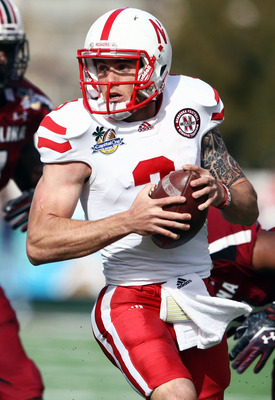 Douglas Jones-US PRESSWIRE
Interceptions Thrown by Taylor Martinez: 0.5 (Over or Under)
Taylor Martinez gets criticized for his throwing mechanics, and 15 career picks is not that great since the Huskers are still a running team with Rex Burkhead carrying the offense.
Martinez is quite the dual-threat though, and an improved group of receivers should help him against one of the finer non-BCS defenses in the country.
I have labeled the Huskers as last year's Michigan, and an improved passing game could go a long way.
Danny V's Pick: Under
Tulsa at Iowa State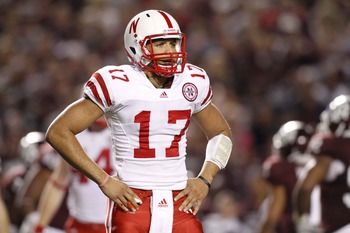 Brett Davis-US PRESSWIRE
Total Yards by Cody Green: 255.5 (Over or Under)
Tulsa is a dangerous opponent in the opener for Iowa State, mainly because of former Nebraska backup quarterback Cody Green.
Green can scramble with the best of them, and despite the Cyclones possessing two of the elite linebackers in the Big 12 (Jake Knott, A.J. Klein), Tulsa has too many weapons at the moment.
Danny V's Pick: Over
Missouri State at Kansas State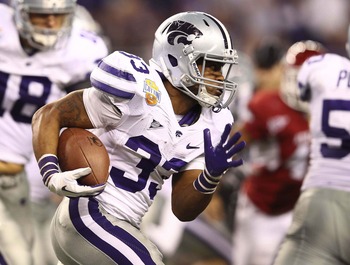 Kevin Jairaj-US PRESSWIRE
John Hubert Touchdowns: 1.5 (Over or Under)
Collin Klein is a stud, but John Hubert is not too shabby either. Look for the Wildcats to run the score up in the first half with Hubert reaping the benefits.
Danny V's Pick: Over
Colorado vs. Colorado State (Denver)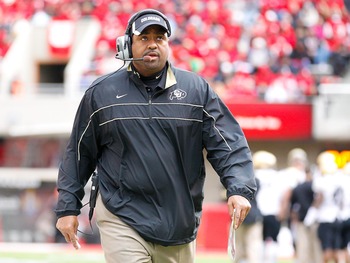 Russ Isabella-US PRESSWIRE
Colorado Points Scored: 23.5
However, Jon Embree has an excellent chance to change all of that, thanks to perhaps a miracle return of wide receiver Paul Richardson.
Whether or not Richardson becomes a serious threat like he has been in the past, Colorado has a much easier schedule than last season, and its offense looks to be much more physical and athletic than it was one season ago.
Danny V's Pick: Over
Florida International at Duke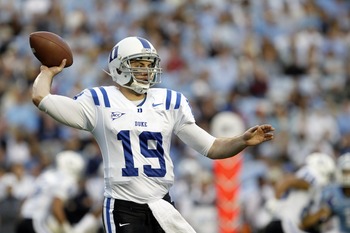 US PRESSWIRE
Receptions by Conner Vernon: 7.5
Conner Vernon became the first ACC player to haul in 70 receptions in multiple seasons, and this Dukie is far from done.
Sean Renfree is returning at quarterback, and the Blue Devils' passing game should be good again, so look for Vernon to be the main target for a third consecutive season in Durham.
Danny V's Pick: Over
Murray State at Florida State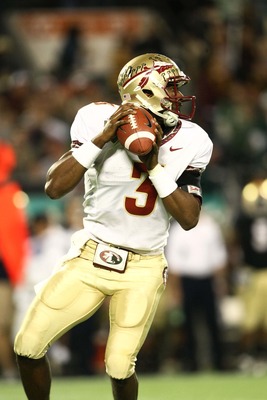 Douglas Jones-US PRESSWIRE
Points Allowed by FSU: 6.5: Over or Under
The Seminoles defense is arguably the best in the country and it shall be interesting to see if the Racers can put up some points on the scoreboard.
If the young 'Noles can ball it out in the second half, look for a shutout or dang near close to it.
Danny V's Pick: Under
Southeastern Louisiana at Missouri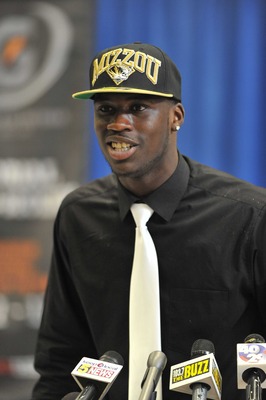 Denny Medley-US PRESSWIRE
Receptions for Dorial Green-Beckham: 5.5 (Over or Under)
The freshman phenom is ready to start the 2012 season on a high note, and Dorial Green-Beckham should be hauling in several passes against this FCS opponent.
Danny V's Pick: Over
North Texas at LSU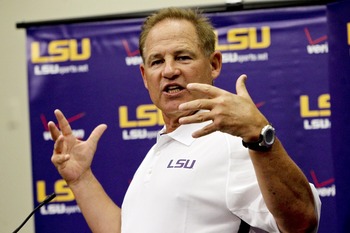 Derick E. Hingle-US PRESSWIRE
Points Allowed by LSU: 7.5 Over or Under
Luckily, all should be right in Baton Rouge, thanks to having arguably the best defense in the country. Their offense should be improved as well with quarterback Zach Mettenberger (UGA transfer).
The athleticism up front on defense really stands out, as it can harass any team in the country, and poor North Texas will be taking a beatdown in this season opener.
Watch Les run the rock 40 times for over 300 yards in this game; the team may not even have to throw the ball more than a dozen times with the starters. Lastly, the North Texas offense will have a real struggle putting up any points.
Danny V's Pick: Under
Jacksonville State at Arkansas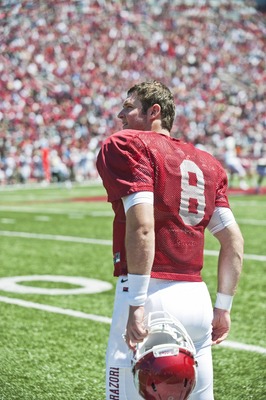 US PRESSWIRE
Tyler Wilson Touchdowns In First Half: 2.5
The Razorbacks love to thread the needle, but several new names will need to step up and fill the void that is left with Joe Adams, Greg Childs and Jarius Wright all gone.
Chris Gragg and Cobi Hamilton are studs, and don't forget about Knile Davis coming back after missing all of the 2011 season.
The biggest question of this first half contest will be how many times Davis finds the end zone. He could cost Tyler Wilson a few touchdowns that we are accustomed to seeing.
Either way, expect half a hundred points when things are all said and done thanks to the best quarterback in the country save Matt Barkley.
Danny V's Pick: Over
Jackson State at Mississippi State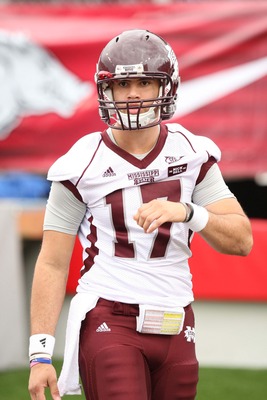 Nelson Chenault-US PRESSWIRE
Points Scored By Bulldogs: 46 (Over or Under)
Chris Relf is gone and one season ago most would assume that it would be tough for this squad to remain relevant.
However, Tyler Russell was the better quarterback a season ago and he should get this offensive unit back to relevancy in the SEC.
Danny V's Pick: Over
Central Arkansas at Ole Miss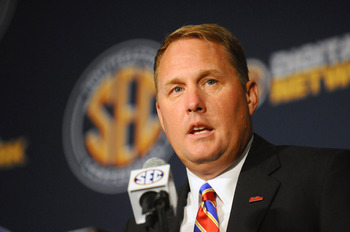 Kelly Lambert
Ole Miss Rushing Yards: 175 (Over or Under)
The Rebels will be intriguing to watch since they have some solid talent for one of your basement teams in the SEC.
Houston Nutt is long gone, and Hugh Freeze now looks to cement a winning atmosphere in Oxford. Jeff Scott has some solid, talented backs behind him, and they should do just fine in the opener before the juggernauts on their slate start to await them.
Danny V's Pick: Over
Hawaii at Southern California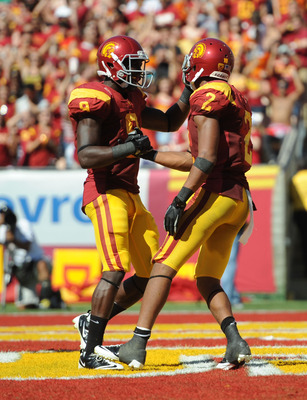 Kelvin Kuo-US PRESSWIRE
Touchdowns by Lee & Woods: 3.5 (Over or Under)
One of your top preseason favorites, USC will have the offense to make nearly any defense look bad. Matt Barkley, Marquise Lee, Robert Woods and Curtis McNeal are a deadly list of weapons that will make their mark in the 2012 season
However, Lee and Woods are two of the best in the country at their position, so look for USC to give them a bevy of opportunities to succeed early on in this one.
Danny V's Pick: Over
Indiana State at Indiana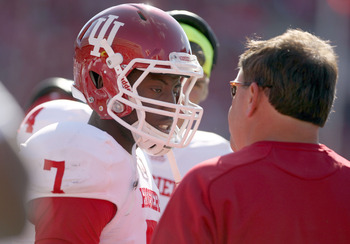 Mary Langenfeld-US PRESSWIRE
Margin of Victory for Indiana: 23.5 (Over or Under)
The Hoosiers are looking to have a bounce-back season and then some with Kevin Wilson at the helm.
Coming off a tough 1-11 season is never fun for the faithful around the program, and the Hoosiers are not catching many breaks with their conference slate.
However, Indiana will win at least a few games this season, and they should not have too much of a problem in this opener.
Danny V's Pick: Under
Rutgers at Tulane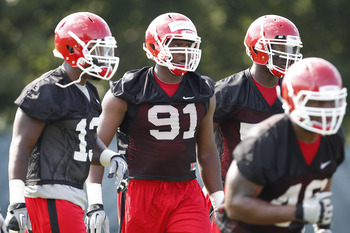 The Star-Ledger-US PRESSWIRE
Points Allowed by Rutgers: 14.5 (Over or Under)
Rutgers is looking forward to another successful season as Kyle Flood takes over for Greg Schiano. The Big East is obviously completely changing with Boise State, San Diego State, SMU, Central Florida and Houston all joining in 2013.
However, the Scarlet Knights have one of the better defense heading into their conference this season and they will tee off on Tulane.
Danny V's Pick: Under
Oklahoma at UTEP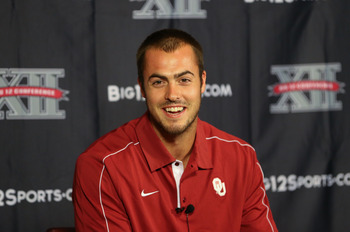 Kevin Jairaj-US PRESSWIRE
Total Touchdowns by Blake Bell: 1.5 (Over or Under)
Drew Allen and Blake Bell will see significant action, and they will look to establish a more physical running game to set a tone before they begin Big 12 play.
The "Belldozer" is a touchdown machine and we might just see him have a feast in this matchup against the Miners.
Danny V's Pick: Over
Arkansas State at Oregon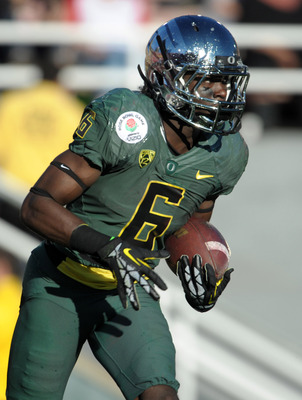 Kirby Lee-US PRESSWIRE
Rushing TDs by Oregon: 5.5 (Over or Under)
I hope you enjoy a ton of points because these two teams should go for well over 50 points in this game. The Ducks themselves may hang a 50-burger with all of their speed on the field.
The running backs that Oregon have are absurd, and there is a great chance that the backups see significant time in this one.
LaMichael James may be gone, but Kenjon Barner and De'Anthony Thomas are two track stars that will have a few reservations for six in this one.
Danny V's Pick: Over
Toledo at Arizona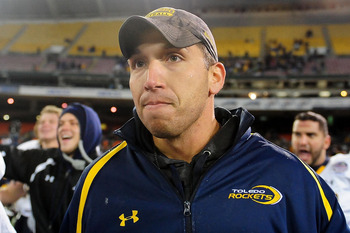 Andrew Weber-US PRESSWIRE
Total Points Scored in Second Half: 28.5 (Over or Under)
Toledo and Arizona will provide a ton of fireworks in the season opener, and we should be excited a tad for this one as well.
Similar to BYU and Washington State, the defenses are fairly suspect and the offenses enjoy nothing more than running up and down the field against lesser talented defenses.
Danny V's Pick: Over
San Diego State at Washington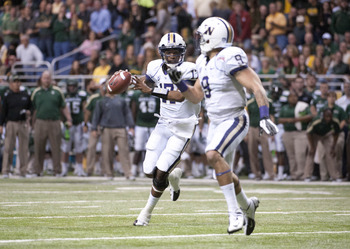 Brendan Maloney-US PRESSWIRE
Total TDs by Keith Price: 3.5 (Over or Under)
Keith Price dazzled us in the Alamo Bowl against a Baylor defense that a few high school squads seemingly could have put some points against, but the bottom line is the talent is there, offensively speaking, for the Huskies.
Austin Seferian-Jenkins is one of the elite tight ends in the country and it only helps that Price is putting the ball on the money at all times. Throw in his dual-threat ability, and KP17 is a deadly weapon for any defense to go up against.
Danny V's Pick: Over
Kentucky at Louisville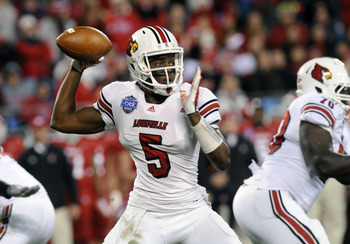 Sam Sharpe-US PRESSWIRE
Teddy Bridgewater total yardage: 255.5 (Over or Under)
Charlie Strong will be digging the development of Teddy Bridgewater, because he looks to be on the verge of becoming the top performer in the Big East.
This offense struggled miserably without him before he was officially starting, and since Brian Brohm left, the offense has not been relevant.
All of this will change this year with Bridgewater entering his second season.
Danny V's Pick: Over
SMU at Baylor
Kevin Jairaj-US PRESSWIRE
Points Allowed by Baylor: 28.5 (Over or Under)
Terrance Williams, Lanear Sampson and Tevin Reese are quite the trio of stars spread out wide for new starting quarterback Nick Florence, but that does not help out the defense. The Bears were gashed all season long, allowing 37 points per game (113th) and 489 yards per game (116th).
The SMU offense is going to be much improved this season with Zach Line and Darius Johnson back. The addition of Garrett Gilbert at quarterback should turn this one into a shootout as well.
Danny V's Pick: Over
Liberty at Wake Forest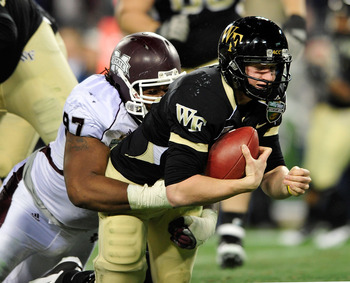 Grant Halverson/Getty Images
Total Yardage by Tanner Price: 300.5 (Over or Under)
Will Tanner Price be able to total over 300 yards of offense against FCS opponent Liberty?
The biggest question is will Price even be playing in the fourth quarter, let alone deep into the third?
Looking at the first half alone, Price should be able to slice and dice up this defense for a monster season opening victory.
Danny V's Pick: Over
Nicholls State at Oregon State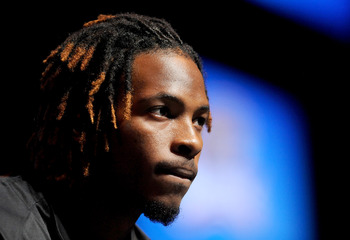 Jayne Kamin-Oncea-US PRESSWIRE
Receptions for Wheaton: 5.5 (Over or Under)
Markus Wheaton is the top target for the Oregon State Beavers, and he may be their only hope to put together a bowl caliber season, since playmakers are no longer relevant in the Pac-12.
Every team has been improving these days, save the Beavers.
Danny V's Pick: Over
Towson at Kent State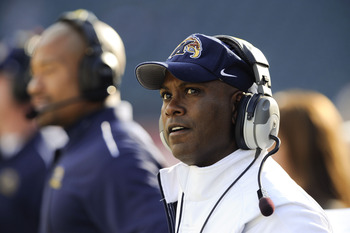 Howard Smith-US PRESSWIRE
Points Scored by Golden Flashes: 24.5 (Over or Under)
The Golden Flashes have a few solid defensive studs in Roosevelt Nix, C.J. Malauulu and Luke Batton, but against Towson it should not be impossible to come away with three offensive touchdowns and a pair of field goals.
Running back Trayion Durham is the key producer to break out against FCS opponent Towson, especially since Kent State hardly breaks out on offense to begin with (scored 28 or more just three times last year).
Danny V's Pick: Over
Northwestern State at Texas Tech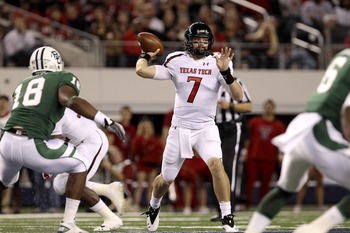 Kevin Jairaj-US PRESSWIRE
Passing Yards by Doege: 325.5 (Over or Under)
Seth Doege has a bevy of receivers to spread the wealth to in this matchup between the FBS and FCS.
Look for a ton of everything in this game: first downs, yards and plenty of points. Doege is the type of quarterback that was far too inconsistent last season, but he is fully capable of putting it all together. It starts in this opener.
Danny V's Pick: Over
Savannah State at Oklahoma State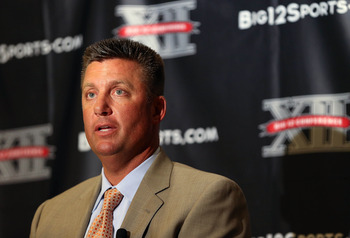 Kevin Jairaj-US PRESSWIRE
Pokes Total Yards: 500 Yards (Over or Under)
The Pokes offense under Todd Monken and Mike Gundy has been spectacular with its ability to steadily increase its offensive production.
Oklahoma State has simply been remarkable to witness, but its defense has quietly been better as well, giving the offense solid field position and plenty of opportunities. Look for QB Wes Lunt to fit right in as a true freshman.
Certainly it doesn't hurt to have Joseph Randle pick up right where he left off last season (1,400-plus total yards, 26 TD), and he will do just that.
Danny V's Pick: Over
South Dakota State at Kansas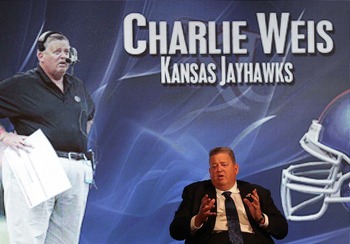 Kevin Jairaj-US PRESSWIRE
Touchdowns by KU: 3.5 (Over or Under)
Former Golden-Domer Mike Ragone played under Charlie Weis as one of their tight ends, but he may lead the Jayhawks in receptions and touchdowns this season.
James Sims is their most talented player, but he has been suspended for the first three games. Kansas will still be running the ball quite a bit, although Ragone is the true threat once the team get towards the red zone.
Danny V's Pick: Under
Southern at New Mexico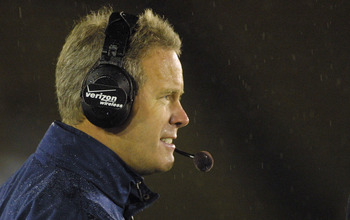 Scott Halleran/Getty Images
Lobo Total Points: 24.5 (Over or Under)
The Lobos will attempt to end their brutal streak of going 1-11 (last three seasons) with Bob Davie in charge. The receivers are not the most talented players in the country, but they are solid players that can beat you deep.
Lamaar Thomas can put on the afterburners, as can Ty Kirk, and these two players will be the ones that everybody heavily relies on this season for the Lobos.
Danny V's Pick: Over
Texas State at Houston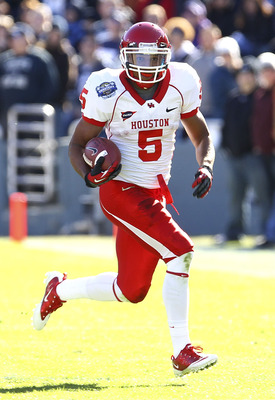 Kevin Jairaj-US PRESSWIRE
Charles Sims Total Yardage: 150 (Over or Under)
Charles Sims is a stud back that had nine touchdowns last season, and though it was with Kevin Sumlin, Case Keenum, Patrick Edwards, Tyron Carrier and Justin Johnson, Sims will still be respectable in 2012.
Plus, going against one of the four new FBS squads will make life easier, since the Bobcats are still easing into life as the new kids on the block.
Danny V's Pick: Over
Troy at UAB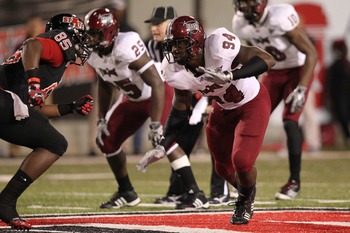 Nelson Chenault-US PRESSWIRE
Eric Thomas Receiving Yards: 99.5 (Over or Under)
The Trojans come into this game as slight favorites over the Blazers, and Eric Thomas might just be the difference-maker in this battle between the Sun Belt and C-USA.
Thomas hauled in nine touchdowns a season ago and was actually named to the All-Sun Belt Second Team as just a sophomore.
Danny V's Pick: Over
UT Chattanooga at South Florida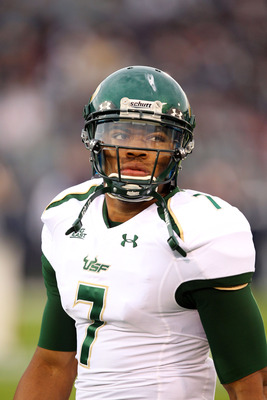 Danny Wild-US PRESSWIRE
Touchdowns by Daniels: 3.5
One of the Big East favorites would love to start off the season with a blowout victory, and let us not forget they have Nevada, Miami FL and Florida State all on the non-conference slate.
B.J. Daniels has a ton of talent that he has not quite been able to live up to, but his senior season looks to be a strong one, as he should finally take that next step.
Danny V's Pick: Over
UT Martin at Memphis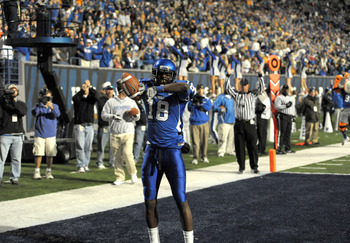 Jim Brown-US PRESSWIRE
Touchdowns by Memphis: 3.5 (Over or Under)
The Tigers may be considered one of your worst programs in the FBS over the last two seasons (3-21), but things have to turn around eventually, right?
Only 14 starters overall return, but the talented Marcus Rucker should be one of the few Tigers to thrive this season on offense (116th in total offense, 115th in scoring), and it all starts in this season opener.
Danny V's Pick: Under
Weber State at Fresno State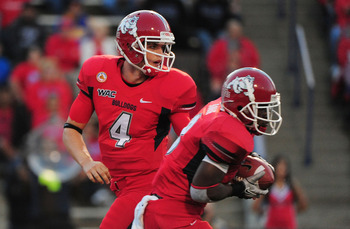 Kyle Terada-US PRESSWIRE
Total Yardage by Carr: 275.5 (Over or Under)
Robbie Rouse is one fine back to look forward to with his ability to dash past opposing defensive backs, but Derek Carr is the catalyst of this offense.
Carr combined for 29 TDs last season with nine interceptions, and the brother of David (former Fresno star, first pick in '02 NFL draft) sure has the looks of becoming an NFL signal-caller in the future (he's just a junior).
Danny V's Pick: Over
William & Mary at Maryland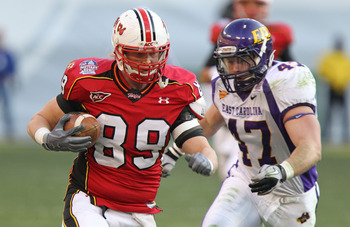 Mitch Stringer-US PRESSWIRE
Receptions for Furstenburg: 6.5 (Over or Under)
How many games will the Terps win after losing their starting quarterback C.J. Brown for the entire season with a torn ACL?
After those first three games, it might be tough to witness many victories this season, if any, for Randy Edsall. Surely he will draw the hot seat if they fail to pick up any ACC victories, but at least they can rely on Matt Furstenburg to carry them early on in the season.
A solid ACC tight end, we should anticipate a few TDs and several receptions despite the fact that he has lost his starting quarterback.
Danny V's Pick: Over
Wyoming at Texas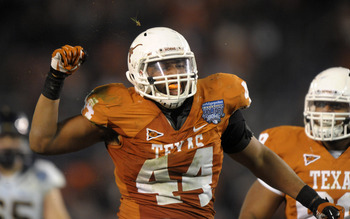 Kirby Lee-US PRESSWIRE
Texas Points Allowed: 10.5 (Over or Under)
The Longhorns defense is primed and ready for the season to get going, and it will be interesting to see if they can live up to their full potential.
This will be the first of many games for the Texas defense to flex its muscle, as many are just wondering if the Cowboys can score a touchdown.
Danny V's Pick: Under
Youngstown State at Pittsburgh
Charles LeClaire-US PRESSWIRE
Rushing Yards by Pitt: 225 (Over or Under)
Ray Graham will "likely" not be playing in this opener, but the Panthers still have enough options to get a comfortable victory over the Penguins.
Isaac Bennett and Rushel Shell should get their chances in the backfield, which will open the passing game for Mike Shanahan, Cameron Saddler and Devin Street.
Danny V's Pick: Under
Marshall at West Virginia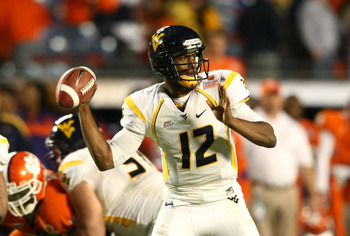 Douglas Jones-US PRESSWIRE
Geno Smith Passing Yards: 335 (Over or Under)
Everybody better be ready for the Mountaineers offense to take the national stage because they have the pieces in place to have a monster season in the Big 12.
Stedman Bailey, Ivan McCartney and Tavon Austin are one of the finest trios in America, and Geno Smith will be finding them often and early all year long.
Danny V's Pick: Over
Austin Peay at Western Kentucky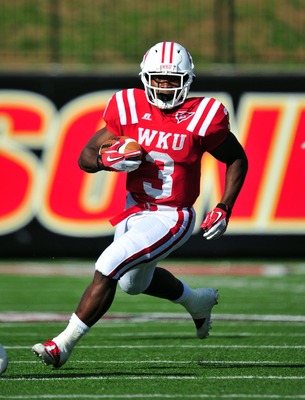 Don McPeak-US PRESSWIRE
Receptions by Jack Doyle: 5.5 (Over or Under)
Western Kentucky has a second-team All-Sun Belt tight end (Jack Doyle) that did not reach pay dirt a whole lot last season with running back Bobby Rainey getting most of the looks. However, the solid pass-catching tight end should have a solid 2012 season.
Going up against Austin Peay should not be too much of a challenge, so look for the Hilltoppers and Doyle to get off to a good start here.
Danny V's Pick: Over
Lamar at Louisiana Lafayette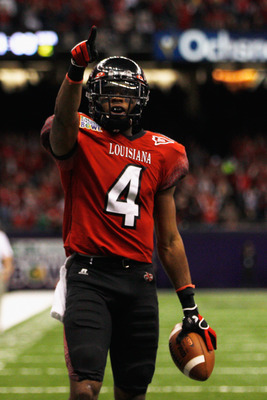 Chris Graythen/Getty Images
Total TDs for Lawson: 1.5 (Over or Under)
I wish I could choose both players for this prop bet, but wide receiver Javone Lawson should have zero issues hauling in passes from Blaine Gautier.
Lawson is the pick riding a ton of momentum after he hauled in nine catches for 193 yards and two touchdowns in their amazing New Orleans Bowl victory. Poor FCS opponent Lamar won't know what hit them in this matchup.
Danny V's Pick: Over
Southern Utah at Utah State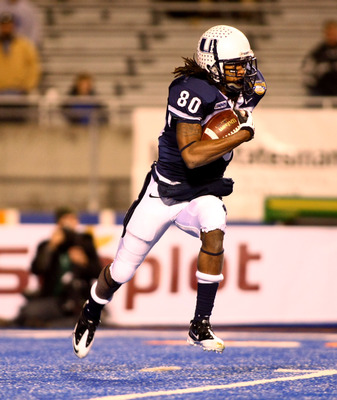 Brian Losness-US PRESSWIRE
Points Allowed by Aggies: 14.5 (Over or Under)
The Aggies are losing a ton of playmakers on both sides of the ball, but thank goodness they have an FCS opponent in the opener.
Running back Kerwynn Williams was one of their studs from a season ago (542 yards, three TDs), and we can pretty much bank on him showing up in the opener.
Danny V's Pick: Under
Nevada at California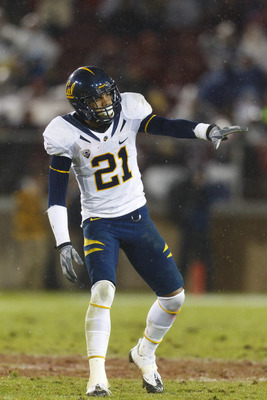 Jason O. Watson-US PRESSWIRE
Receptions for Keenan Allen: 7.5 (Over or Under)
One of the elite wide receivers in college football will be tough to tackle, let alone cover, in the open field. Once he gets downfield, his speed does the rest, as Keenan Allen has the capability of taking any reception to the house.
Nevada has been respectable on defense through the years, but it has rarely had to worry about a talent such as Allen of the Bears.
Danny V's Pick: Over
Southeast Missouri State at Central Michigan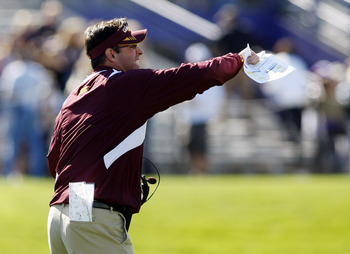 Jerry Lai-US PRESSWIRE
Receptions for Davis: 6.5 (Over or Under)
A stud back in his high school days, Titus Davis sure has lived up to the expectations and then some for Dan Enos (Davis hauled in 40 catches for 751 yards and eight touchdowns as a true frosh).
The Chips are clearly a dark horse with Western Michigan, Toledo and defending champion Northern Illinois all in the West Division of the MAC.
However, the pass-catch combo of Ryan Radcliff and Davis should be one of the more complete ones among the non-AQs in 2012.
Danny V's Pick: Over
Wagner at Florida Atlantic
Brett Davis-US PRESSWIRE
Points Scored by Owls: 3.5 (Over or Under)
The Owls' Marcus Cunningham is a solid receiver who averaged 14.3 YPC during his freshman season.
With Carl Pelini now in charge, most anticipate them to run it a whole lot, but they just lost their star running back to the Washington Redskins (Alfred Morris). Despite how much they will likely struggle this season, they have some improved guys on the outside get past that miserable 1-11 2011 season.
Danny V's Pick: Under
McNeese State at Middle Tennessee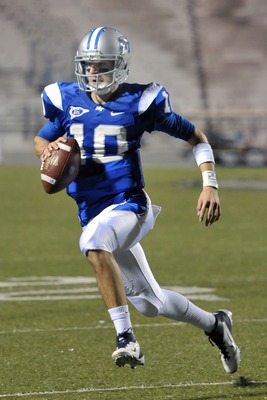 Jim Brown-US PRESSWIRE
TD Passes by Logan Kilgore: 2.5 (Over or Under)
Logan Kilgore may only be the quarterback of the team, but he is arguably its most important player since the Blue Raiders have been struggling to find any consistent offense recently.
Ranking 95th in scoring from a season ago is never any fun, and the hope is Kilgore can help save the job of Rick Stockstill, who is entering his seventh season in Murfreesboro with a record of 35-40.
Danny V's Pick: Over
Eastern Washington at Idaho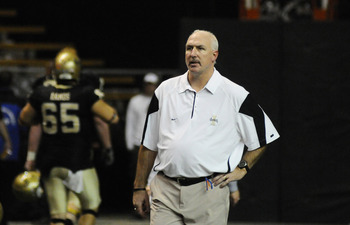 James Snook-US PRESSWIRE
Total TDs by Blackman: 2.5 (Over or Under)
Former Husky and Monarch Dominique Blackman is quite the beast (6'5", 274 pounds), and the Vandals have not had too many superstars on the scales very often.
Blackman was just named the starting quarterback on Monday, and this kid should surprise a few in Idaho's opener against one of the elite programs in the FCS.
Danny V's Pick: Under
Idaho State at Air Force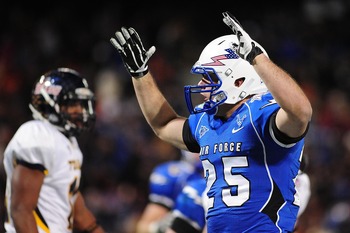 Andrew Weber-US PRESSWIRE
TD Runs by Mike DeWitt: 1.5 (Over or Under)
Fullback Mike DeWitt is the guy to look out for in this contest. After missing the entire 2010 season with a knee injury, he played the entire 2011 season without losing one yard on any carries.
He ran for 12 TDs last season, and there is an excellent chance one of the better fullbacks outside the BCS gets in the end zone more than once in this one.
Danny V's Pick: Over
UTSA at South Alabama
Doug Benc/Getty Images
Touches for Demetre Baker: 18.5 (Over or Under)
Yes, Demetre Baker is the former Bulldogs running back who was dismissed after seeing the field a decent amount (491 yards).
Baker offers the perfect start (solid talent) to the FBS season for South Alabama's Joey Jones. Both the Jaguars and Larry Coker's Roadrunners will take the stage for college football on opening night (Aug. 30).
Danny V's Pick: Over
North Carolina State vs. Tennessee (Atlanta)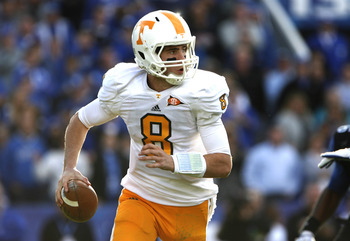 Mark Zerof-US PRESSWIRE
TD Passes by Tyler Bray: 2.5 (Over or Under)
Tyler Bray and Mike Glennon will be slinging it all over Atlanta's Georgia Dome in what could be a fairly high-scoring affair between two BCS dark horses.
North Carolina State is coming off a solid campaign in which it went 8-5, but Tennessee ended up going 5-7 to miss the postseason for just the second time since 1989.
Derek Dooley could really use a victory in the season opener, or else he may be feeling too much pressure before the SEC season even gets under way.
Despite the dismissal of Da'Rick Rogers (Tennessee Tech), look for Justin Hunter and Cordarrelle Patterson (top JUCO recruit) to be quite the handful for David Amerson, CJ Wilson and Earl Wolff.
Danny V's Pick: Over
Georgia Tech at Virginia Tech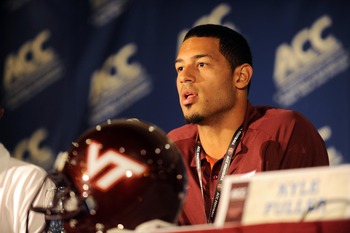 Sam Sharpe-US PRESSWIRE
Total TD for Logan Thomas: 2.5 (Over or Under)
Logan Thomas heads into the 2012 season as one of the true dark horses for the Heisman and that is because of his size and athleticism.
The Hokies will be a tough out in the ACC once again, and hosting the Yellow Jackets should allow the nation to witness one of the better players in America.
Danny V's Pick: Over
Clemson vs. Auburn (Atlanta)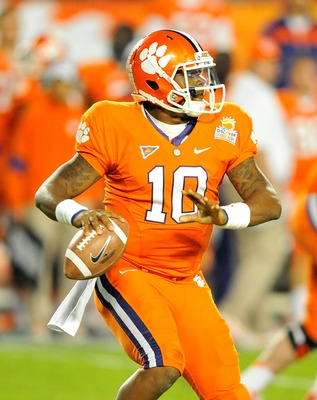 Brad Barr-US PRESSWIRE
AU Sacks on Boyd: 3.5 (Over or Under)
One of the top games of the opening weekend in college football has several different matchups to look forward to.
Tajh Boyd should not struggle too much with running back Andre Ellington back healthy and a slew of other playmakers around him. However, Auburn's defensive line is as deep and talented as any in the country.
They took a beating last season, as that same defense allowed 624 yards and Boyd torched AU's secondary for 386 yards and four touchdowns.
Redemption, among many other things, will be on the minds of Gene Chizik's Tigers, and if they take care of the ball, they should be able to land a few haymakers early and often.
Expect the Clemson offensive line to get pushed around just enough in the fourth quarter to allow Auburn's defense to come away with a key turnover, thanks to new defensive coordinator Brian VanGorder likely throwing everything but the kitchen sink at Boyd.
Danny V's Pick: Over
Boise State at Michigan State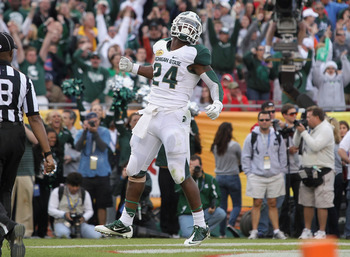 Kim Klement-US PRESSWIRE
Total TD by Bell: 1.5 (Over or Under)
Mark Dantonio and his Spartans will be licking their chops when Chris Petersen's Broncos arrive in East Lansing for a nationally televised heavyweight battle between two ranked squads.
Both defenses should be stellar, and we know the Spartans will be packing the punch with four of their Bednarik candidates (Denicos Allen, Max Bullough, William Gholston, Johnny Adams).
Still, Petersen has gone 9-1 against the BCS in his career, and his staggering 73-6 record through six seasons cannot be matched by anyone. Heading into the postseason or season openers, Petersen is unbeatable.
However, this MSU squad will be arguably the most talented and athletic team Boise will have ever seen (in the Peterson era). Look for Le'Veon Bell to be the difference maker in this one (albeit Petersen is absurd when given time to prepare).
Danny V's Pick: Over
Alabama vs. Michigan (Arlington)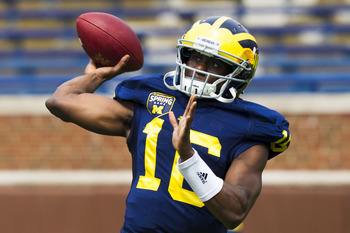 Rick Osentoski-US PRESSWIRE
Total Yards by Denard: 250.5 (Over or Under)
The biggest game of the first weekend of the 2012 college football season will be between the Alabama Crimson Tide and Michigan Wolverines
Everybody is eyeing Denard Robinson against that Crimson Tide defense (although I actually am fascinated with the Bama O v. the UM D).
Will "Shoelace" be able to carve the defending champions up?
With running back Fitzgerald Toussaint likely not playing in this opener (and no Roundtree potentially), bank on Nick Saban loading up the box to slow down Robinson.
There will be a ton of different looks that Michigan's superstar will face.
Plus, with the incredible depth the Tide still possess it might be tough to expect a monster season opening performance from the Maize and Blue's signal-caller.
Danny V's Pick: Under
Keep Reading