Texas Football: 10 Important Storylines to Watch Develop Throughout 2012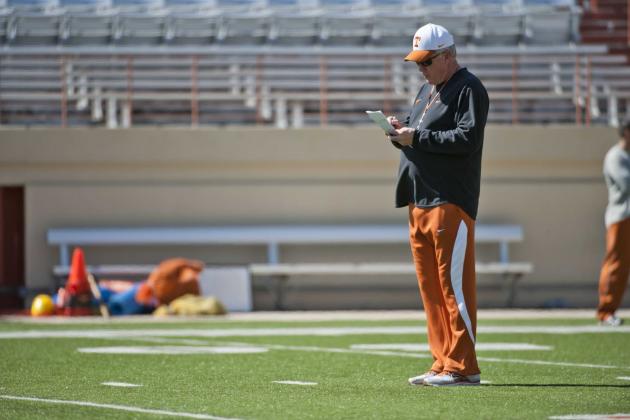 Brendan Maloney-US PRESSWIRE

The season kickoff against Wyoming is just days away for the Texas Longhorns, and it signals a start of several storylines to follow over the course of the 2012 season.
In what will be the second year for a program in search of wholesale changes, there is plenty to discover about this transformed Texas team.
How good is the defense, what is the deal at quarterback, how many running backs will tote the rock? All are valid questions that can determine success for the Longhorns, but what else lies below the surface for Mack Brown's team as it attempts to build off of its 8-5 campaign in 2011?
Here are 10 important stories to watch develop in 2012.
Begin Slideshow

»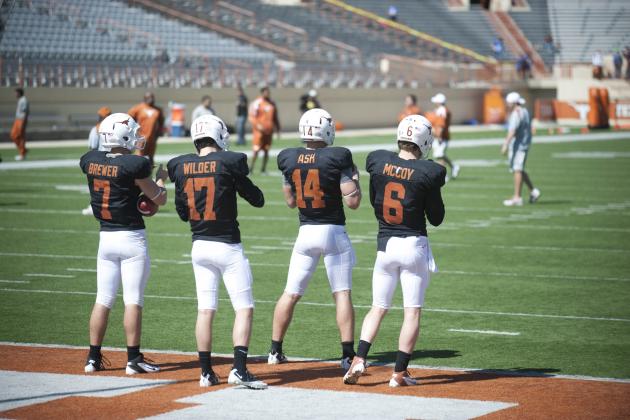 Brendan Maloney-US PRESSWIRE

Sophomore David Ash recently was named the starting quarterback, but even though the title comes sans "or," the coaches have made it clear that Case McCoy will be used early on before conference play.
Much of Texas' offensive fortunes sit in the hands of the quarterback. With a running game that looks to rank among the country's best, any balance created with a passing game is extra life to play with for a unit looking to establish rhythm early.
Will Ash be the game manager the Longhorns need to slowly build confidence and momentum? How much progress has he truly made through the air? Can he minimize mistakes and let the defense do its job? Will he maintain his job as the starter or will he erode and leave the duties to the junior McCoy?
All of these questions need to be answered sooner rather than later, as just three games separate the Longhorns' first Big 12 clash of the season against Oklahoma State.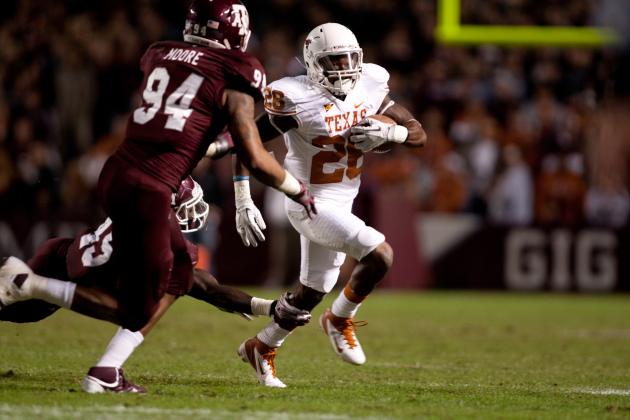 Darren Carroll/Getty Images

Malcolm Brown, Joe Bergeron, Johnathan Gray, Daje Johnson, D.J. Monroe and Jeremy Hills.
A running back corps that goes six-deep is a luxury that the majority of teams do not have. A corps that goes six-deep with this much talent is something that only the Longhorns have.
Brown and Bergeron return in 2012 fully healthy and capable of carrying the ground load together. But coupled with the bruising backs come the speedsters in the senior Monroe and freshmen Gray and Johnson.
Most saw a glimpse of what Brown and Bergeron could do last season, but with both hampered by injuries, perhaps that was only a fraction of their true talent.
Monroe and Johnson are electric with the ball in their hands and the duo will have plenty of looks between them to create explosive plays.
Gray, meanwhile, is just the Gatorade Male Athlete of the Year and represents a wonderful compliment of quickness and speed to match the power and rumble from Brown and Bergeron.
It could be a case of whichever player is hottest getting the most touches and with this depth, Texas has to be happy.
Not a single back will have that impressive season that warrants Doak Walker conversation, but as a committee, there may not be a better corps of tailbacks in the country.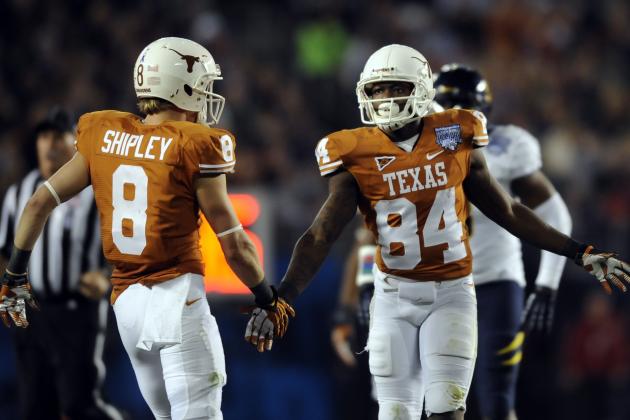 Christopher Hanewinckel-US PRESS

The passing game is a two-way street for the Longhorns.
While David Ash has to showcase his improvements this season, the receivers will have to match him in their performances.
Sophomore standout Jaxon Shipley makes the routine look easy and is the go-to option for a reception at any time.
Junior Mike Davis apparently has shaken off his bad influence coming from his roommate a season ago and has made the transition back to the playmaker that Texas recruited. Consistency has always been his Achilles' heel, so there will be pressure on Davis to perform in a year where the Longhorns could use the production.
Behind these two lay quite a bit of uncertainty. There are talented options, yes, but proven experience is hard to come by in a group that includes John Harris, Bryant Jackson, Cayleb Jones, Marcus Johnson, Kendall Sanders and perhaps even D.J. Monroe.
Many fans probably are not sold after Shipley and Davis, and if this perception is reality, there are vacancies to be had at receiver.
Tight end, a staple of the Harsin-Applewhite system, is sketchy at best. The best blockers cannot catch and the best catchers cannot block. Will the Longhorns have to tip their hand during certain looks or will a solid option emerge from either talent pool?
There is progress to be made in the passing game for the Longhorns, and if they are to successfully make a push for a BCS appearance, the aerial threats have to produce.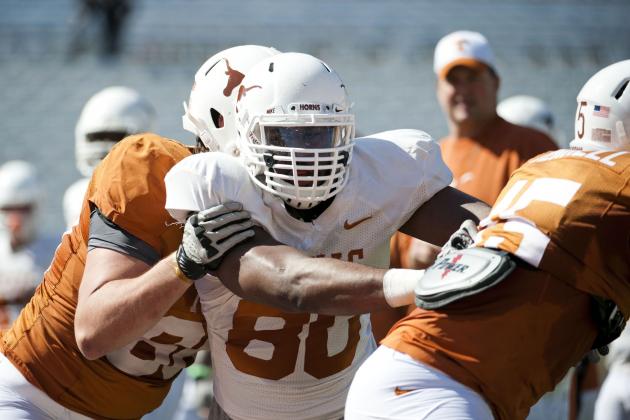 Brendan Maloney-US PRESSWIRE

In Year 2 of Manny Diaz's multi-look defense, consider this a sort of match made in heaven.
The Longhorns have addressed its concerns on defense, and the result has the look of a team that could easily be in the conversation as the nation's best.
There are the inconsistencies and concerns that have reportedly been handled, but linebacker and defensive tackle will have to be two positions that quell the haters.
A deep rotation of five defensive tackles will give distinct looks of power, speed, agility and fresh bodies that play well into Texas' hand. A stout run-blocking front will only compound the Longhorns' ability to defend up the field.
The linebackers lost Emmanuel Acho and Kennan Robinson, but when replaced by one of the hottest players for the Longhorns in Steve Edmond and a fiery athlete in Demarco Cobbs, it is no lie to say that Texas could be better off this season in the middle.
Texas has two NFL-type defensive ends that are All-American caliber in Jeffcoat and Okafor, as those two will hold a standard this season.
In the defensive backfield, is there any reason to bet against Duane Akina's perma-stacked talent pool?
Carrington Byndom and Quandre Diggs lead the charge at cornerback, as both surely will contend for All-Conference honors. Backed up at safety by Adrian Phillips, a junior just coming into his own, and All-American candidate in Kenny Vaccaro, there is speed, quality and experience all over.
Texas' depth will be put to the test against the quick-tempo offenses in the Big 12, but some may be surprised at the minimal drop off in talent the Longhorns will roll out on their two-deep.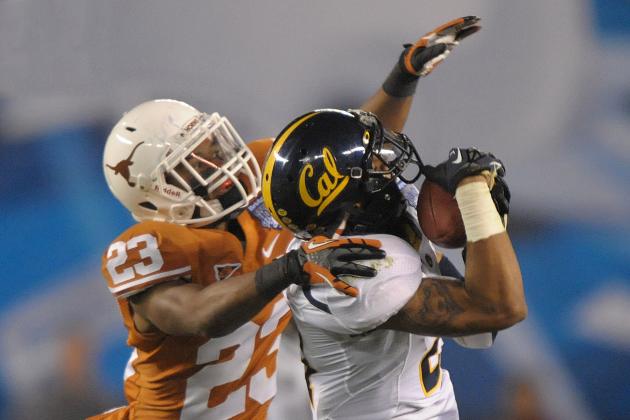 Kirby Lee-US PRESSWIRE

There are probably only three or four true All-American candidates on the Longhorns this season, with a possible darkhorse creeping behind.
Defensive ends Alex Okafor and Jackson Jeffcoat put in solid campaigns in 2011, setting up for a 2012 season that could have both explode for huge years.
Safety Kenny Vaccaro is already on the NFL radar as one of the top safeties coming into the league next season, and he is simply a player that offenses have to have on lock at all times. A one-man wrecking crew, Vaccaro has made the transition from big potential to leader.
Cornerback Carrington Byndom could be a leading candidate to snatch an All-American selection late in the season. A defender that just does his work quietly with little flash coming with it, Byndom could be given higher praise for playing a league that boasts some of the country's most prolific passing offenses.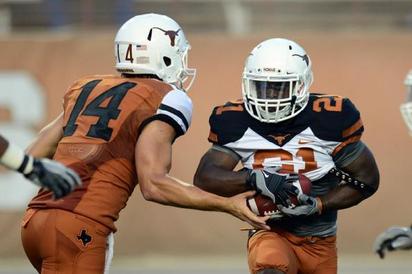 texassports.com
Freshmen to watch: RB Johnathan Gray, RB Daje Johnson, WR Marcus Johnson, WR Kendall Sanders, WR Cayleb Jones, DT Malcom Brown, LB Peter Jinkens, LB Dalton Santos, DE Shiro Davis, K Alex King.
Offense first, the Longhorns received quite a bump in potential with the introductions of Gray and Johnson to the fold. Both speedsters bring a quickness and explosiveness to the game that incumbents Malcolm Brown and Joe Bergeron do not have in those same bunches.
The two latter are the unquestioned starters at running back, but the two former will definitely have their own opportunities to shine in an offense that looks to use tons of looks and formations.
With the receiver position so destitute of talent since Jordan Shipley graduated, the Longhorns are thin with experience, but oozing with talent.
There is no expectation for the three to hit the season running, but in limited formations, Johnson, Sanders and Jones will too have their own touches to showcase their athleticism. It may not be in bunches, but it will provide enough spotlight to tuck away for future reference.
Defensively, there is less room for freshmen to make their presences felt. In a unit that may be 17 or more deep in sufficient experience and talent, Texas has just a few openings in its rotation.
Brown is a powerful, up-the-gut kind of presence with athleticism that has earned him a spot in a defensive tackle rotation that will probably go five deep.
Linebackers Santos and Jinkens are workhorses who seemingly have grasped the defensive schemes enough to earn places on the two-deep. The Longhorns should be filtered down to their nickel front, lessening the chances of playing time, but expect these two to grace the field with the future in mind.
Davis comes into the program during a fruitful time at defensive end. Behind two future NFL players in Jackson Jeffcoat and Alex Okafor, and two more highly-touted options in Cedric Reed and Reggie Wilson, the former LSU commit Davis may only have a few plays to flash.
Finally at kicker, Jordan could have just as many eyes on him as the rest of them. At a position where the Longhorns have been very fortunate with in the past, there is now huge uncertainty with inexperience. Keep an eye out for any mishaps.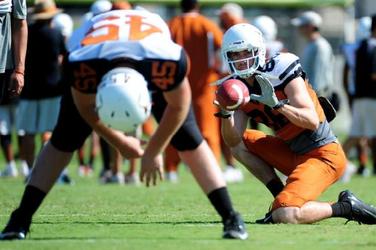 texassports.com
The Longhorns have had the luxury of relatively high comfort in their special teams over the last decade or so, with the likes of Dusty Mangum, Ryan Bailey, Hunter Lawrence and Justin Tucker coming through the Forty Acres.
On the coverage side, Texas had been one of the best teams in disrupting punts and blocking kicks, but it has seen its production drop significantly in recent years.
Entering spring camp, the Longhorns had few options to work with in the kicking game. With Tucker making the jump to the NFL, and eventually the Baltimore Ravens, the Longhorns lost their do-it-all guy on punts and kicks.
With vacancies at each position, Texas could not have been more open to receiving a couple of transfers during the offseason.
Duke transfer and senior punter Alex King will begin the season as the starter, while fellow transfer from Penn State Anthony Fera will have to wait for his chance while he nurses a groin injury. Listed as the starting place-kicker is freshman Nick Jordan.
As for kickoff and punt coverage, the Longhorns are again in a position to be successful with the type of athletes the coaches have circulated into the program. Now, it is all about execution.
The whole unit will be under the microscope as there are plenty of questions to be addressed here.
texassports.com
While many programs embrace the JUCO philosophy that seeks out to those ranks to use as quick fixes and pick-me-ups to their respective weaknesses, Mack Brown and the Longhorns have stayed far away from that approach.
That is, until this season.
Texas brought in two JUCO players in junior offensive tackle Donald Hopkins and junior defensive tackle Brandon Moore. The newcomers serve as fill-ins for two positions of concern for the Longhorns, and the early reports point to quick dividends for Texas.
It is an experiment that has become well-document since the Longhorns first took glances at these two players, and the evaluation will certainly be ongoing as Texas may look again to the JUCO ranks in future recruitments.
Jody Gomez-US PRESSWIRE

The Longhorns will usher in a new era of Texas linebackers.
With Emmanuel Acho and Kennan Robinson having vacated their positions in the program, Jordan Hicks, Steve Edmond and Demarco Cobbs enter the fold as the new wave of linebackers.
While the two latter players lack the experience that would quell most concerns, they are also gifted with athleticism, size and speed, and both Edmond and Cobbs use their tools in distinctive ways.
Edmond is a run-stopper the Longhorns have not had in years, but he can also drop in coverage using his long arms and good hands to disrupt the passing lanes.
Cobbs is an athletic freak who will use his speed and motor to create havoc around the edges while Edmond plugs the middle.
Hicks returns as the most experienced linebacker in the program. The former Ohio standout inherits a leadership position that may require him to push the envelope a little harder on a corps of young backers.
Many labeled the position as a concern heading into the season. With the loss of two productive seniors, it is only natural to assume a drop in production and experience. Texas sees its experience decrease, but it is the former that could actually increase with better athleticism on the field.
How the middle of the Texas defense plays will have a huge impact on how well the entire unit plays as a whole and will be a position of great interest as the season comes on.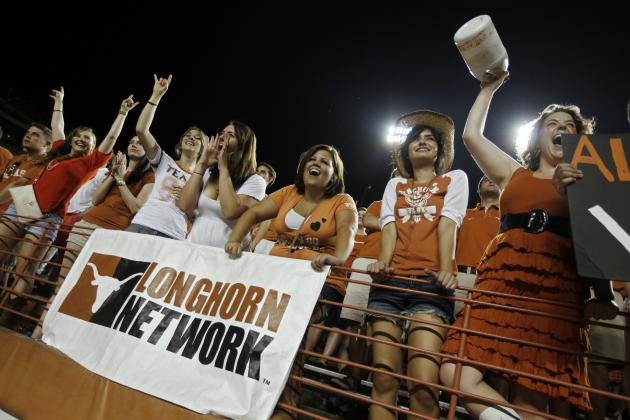 Erich Schlegel/Getty Images

In its second year of broadcasting, Texas' Longhorn Network is well into its production and delivery of everything Longhorns.
Yet despite the promised riches from the network, many of the Texas faithful are unable to view its broadcast, putting a blackout of sorts onto the Austin market.
The Longhorns play two games this season on LHN, their opener against Wyoming on Saturday and their second against New Mexico next weekend. Since only a handful of providers carry LHN, its availability to most in Austin is limited.
It isn't likely that deals will be struck with the major providers like Time Warner and DirecTV in time to open viewing for larger audiences, but any progress this season will definitely be of interest.