UFC 152: You Do Realize Vitor Belfort Is a Middleweight, Right?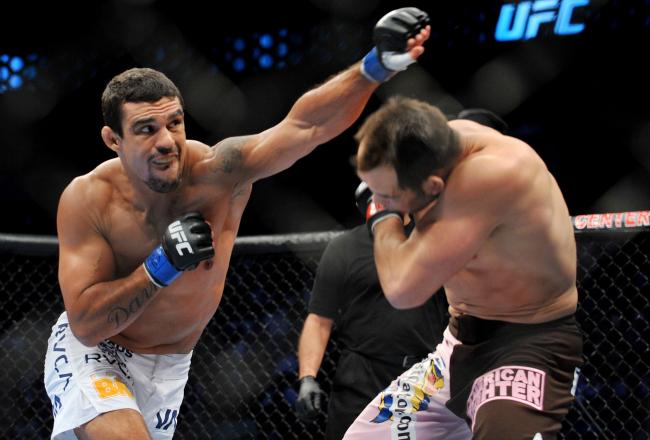 Jon Kopaloff/Getty Images
Out of the UFC 151 catastrophe comes UFC 152: Jones vs. Belfort.
While the situation remains unfortunate and fans are unlikely to forget how Jon Jones has handled things, we can all rest easy now that the UFC light heavyweight title will be contested later this September by two of the best 205-pound fighters on the planet.
Scratch that.
The light heavyweight title will be contested by Jon Jones, one of the biggest 205-pounders there is, and Vitor Belfort, a middleweight.
Now I understand that the UFC found themselves in a bit of a pickle over the whole UFC 151 transitioning into UFC 152 thing, but really? Vitor Belfort?
I don't mean to knock Belfort; he is an excellent fighter deserving of a crack at UFC gold—just on THIS UFC gold.
Why? Because he is a middleweight, and certainly there is someone fighting at 205 that could have taken the opportunity.
Before I continue, I will admit ignorance of how the UFC landed on Belfort. Maybe they exhausted all their options at 205, all viable candidates turning down the match.
But still, why not Chael Sonnen? Though a former middleweight himself, he now resides in the light heavyweight division and we know he's a willing party.
Why not Mauricio Rua, who just lost out on a title shot to Lyoto Machida earlier this month. Why not Alexander Gustafsson, Rua's opponent, who would offer Jones a new challenge and has been on the shelf since April?
Machida reportedly turned down the fight, which explains why he isn't getting the chance, but why pluck a middleweight contender straight out of that division's muddled title picture before these others?
Even Rashad Evans, who I'm sure wouldn't mind another crack at Jones, would make more sense. Maybe even Phil Davis would.
Now, I expect some arguments centered around the fact that Jones has already fought some of the guys I have named, and that no one wants to see a rematch at UFC 152, and that's fine. I also anticipate rebuttals against a guy like Davis being chosen over a guy like Belfort, and that's fine too.
But in the end, matching Jones against Belfort is unreasonable. This is a massive 205er and an average-sized 185er. And yes I know, Belfort has previously fought at 205 and catchweights between middleweight and light heavyweight, but he is still not all that large at 185.
Perhaps the promotion thought the Belfort option the least of three evils—an out of division fighter, a recycled contender or an opponent deemed undeserving—but this match misses the mark in my book. It discredits the light heavyweight division, removes a top contender from 185 and puts Jones in a fight that will do nothing for his legacy (which is apparently quite important to him).
At least the rest of UFC 152 looks pretty strong now, so it isn't all bad.
This article is
What is the duplicate article?
Why is this article offensive?
Where is this article plagiarized from?
Why is this article poorly edited?