UGA Football 2012: 5 Reasons the Georgia Bulldogs' Offense Is Set to Explode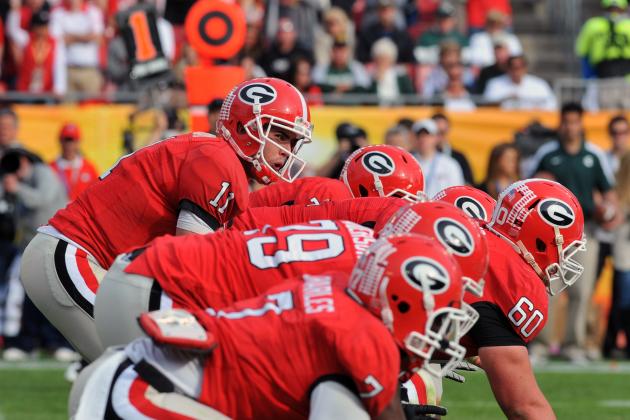 Al Messerschmidt/Getty Images

The Georgia Bulldogs are primed to have a breakout year offensively in 2012. The Dawgs have consistently had good—some years even great—offenses in the Mark Richt era. There's really no denying that.
Some players, like David Greene and Terrance Edwards, had the best years of their football careers in a UGA uniform. Others, like Matthew Stafford, A.J. Green and Knowshon Moreno shined at Georgia and are on their way to NFL stardom.
But as good as those offenses were, this 2012 squad may just have the potential to be Richt's best Georgia offense to date. Yes, some might say I'm crazy, but let's look at five reasons why this UGA offense could come together and put up the best numbers Georgia has seen in quite some time.
Begin Slideshow

»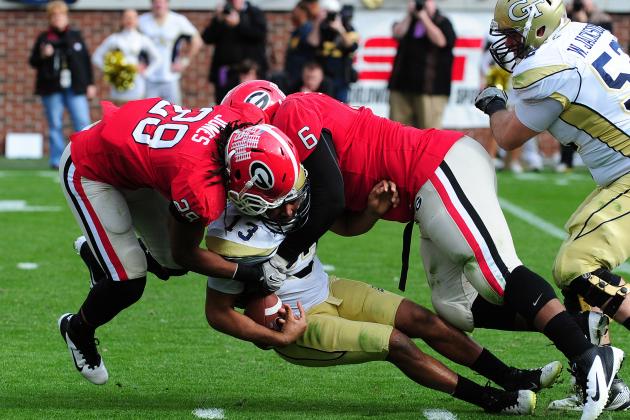 Scott Cunningham/Getty Images

Just how good the Georgia defense was last season, and will be again in 2012, has been well documented so the talent of the on that side of the ball doesn't merit much mentioning here. It's sufficed to say that the Bulldogs return nine starters from a defense that was ranked in the top five nationally in 2011.
What does merit mentioning is, with that caliber of defense, Georgia is going to keep opposing offenses off the field, giving the Bulldogs offense even more chances.
Last year, Georgia led the SEC in time of possession, averaging nearly 34 minutes per game. With seasoned starters returning into defensive coordinator Todd Grantham's third year in the 3-4 scheme, look for Georgia to hold the ball even more and consistently get good starting field position.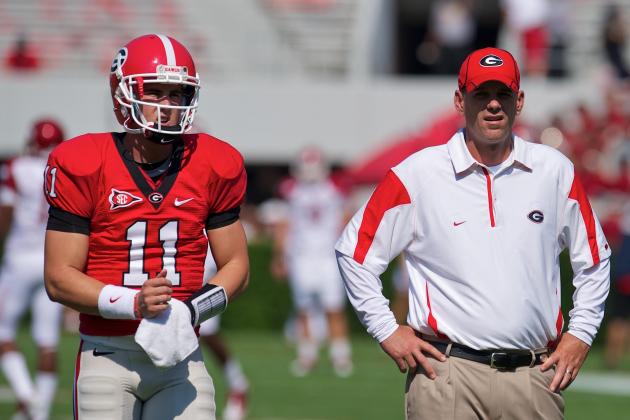 Dale Zanine-US PRESSWIRE

Wait! Don't stop reading! I know Bobo hasn't been the most popular guy in the Bulldog Nation since taking over play calling duties in 2007, but hear me out.
First of all, a big reason Georgia has the talent pool it does is due to Bobo's skill at recruiting. Bobo was named one of the top 25 recruiters in the nation by ESPN and Rivals in 2011 and played a major part in the lauded class of 2011, dubbed "The Dream Team."
Bobo is also one of the best in the nation at developing quarterbacks. The major strides made by Aaron Murray between his freshman and sophomore years can be largely credited to Bobo.
But what about Bobo as an offensive coordinator and play-caller? By the numbers, the much-maligned OC has actually held his own at Georgia. Since 2007, the Georgia offense has averaged 31.4 points per game, not too shabby in a league that prides itself on defense.
Yes, Bobo did have Matthew Stafford at his disposal in 2007 and 2008, but he also made the offense work with Joe Cox in 2009 and a redshirt freshman Murray in 2010. Similarly, while Georgia did have Knowshon Moreno in 2007 and 2008, Bobo has been without a 1,000-yard rusher since.
This will also be the second year that Bobo will be at the helm of a no-huddle offense. There's a learning curve in any change, and expect the play-calling to improve this season, especially as Bobo's confidence in Murray's decision-making grows.
In 2012, with a seasoned Murray, and five years of play-calling under his belt, Mike Bobo should silence some of his many critics, as much as that's possible for an offensive coordinator. After all, you often hear OCs blamed for a loss, but rarely credited with a win.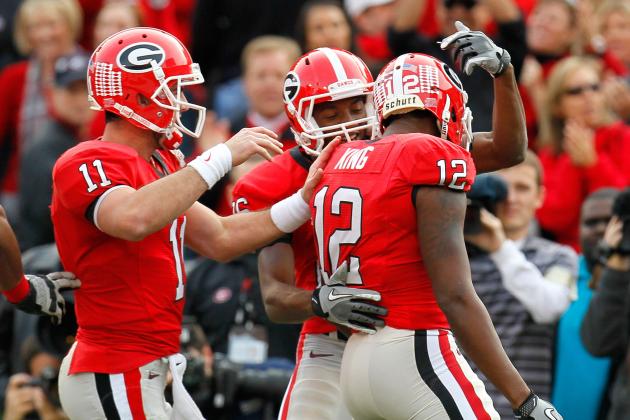 Kevin C. Cox/Getty Images

Since the departure of A.J. Green in 2010, Georgia has been without a big-name receiver. But that certainly didn't slow down Aaron Murray in 2011, as he threw for over 3,100 yards and 35 touchdowns.
This season Murray returns five wide receivers that had multiple touchdown catches in 2011 in Tavarres King, Malcolm Mitchell, Michael Bennett, Marlon Brown and Chris Conley.
King was the leading receiver for the Bulldogs in 2011 with 677 yards and eight touchdowns, but Brown has had an excellent offseason and comes into his senior year 100 percent healthy for the first time in his career. Expect big numbers from both in 2012.
Though Malcolm Mitchell, the freshman phenom from a year ago, has moved to cornerback to fill in for suspended secondary players for the first two games, Mark Richt has been adamant that he will see reps on offense this season as well.
With Murray's ability to spread the ball around and great downfield vision, defenses won't be able to key on any one man and the Bulldogs QB will have plenty of opportunities to find open receivers.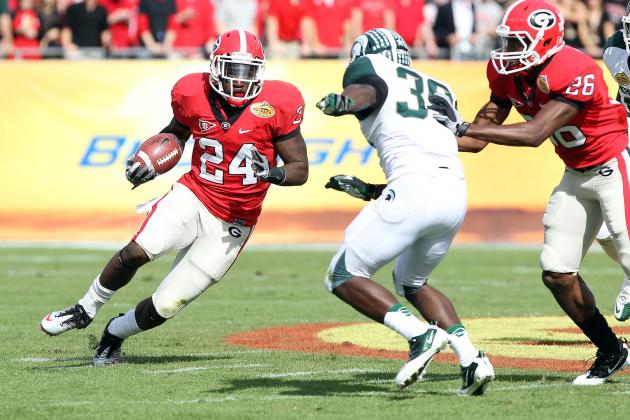 Kim Klement-US PRESSWIRE

Despite 2011's leading rusher, Isaiah Crowell, being kicked off the team due to felony weapons charges during the offseason, Georgia appears to be loaded, if not necessarily tested, at running back in 2012.
Veterans Ken Malcome and Richard Samuel anchor the backfield, but incoming true freshmen Todd Gurley and Keith Marshall should both see significant playing time as well.
Malcome has had a somewhat lackluster career at UGA so far, but has coaches raving after a great spring and some very impressive performances in fall scrimmages. Richt announced Malcome as the probable starter for the season opener versus Buffalo after Wednesday's scrimmage (via ESPN).
Samuel, the consummate team player who has shifted positions several times in his career at Georgia, looks to be the power, short-yardage specialist for the Dawgs this season.
Look for Gurley and Marshall to play more and more as the season progresses and they get more comfortable with the offense. The two freshmen have complementary skills, Gurley the power back, Marshall the ankle breaker, and both with tremendous speed.
All of the depth in the backfield will push these backs to constantly challenge each other and excel as they compete for playing time. One thing is for sure, expect whoever is out there at any given time to make the most of it and shine. And if not, there's always a body waiting behind them to step in.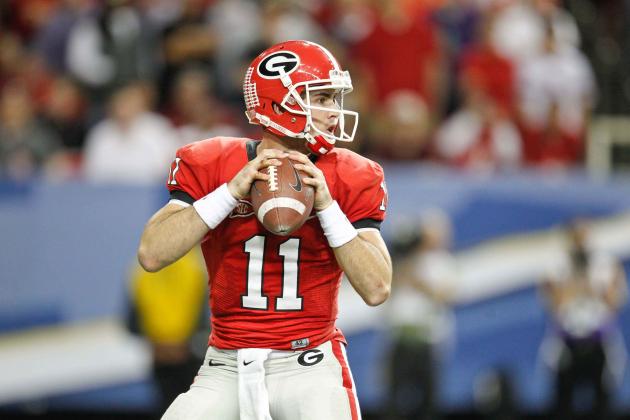 Derick E. Hingle-US PRESSWIRE

Murray comes into the 2012 season considered one of the best quarterbacks in the country and a potential Heisman candidate. Murray has shown off his talent in his first two years as UGA's starting quarterback, but look for him to take his game to a whole new level in 2012.
Murray's dedication to winning also became apparent in the offseason as he spent a lot of time building chemistry with his returning receiving corps.
There is no denying Murray's inherent ability; he already owns Georgia's record for passing touchdowns in a season with 35 in 2011. But what's not so well known is his dedication to the mental side of football. This more than anything will propel Murray to new heights in his junior season.
Almost obsessive about watching film, Murray has a firm grasp of the offense and will be the unquestioned leader of Georgia's offense this season. Of course, coaches and fans would expect nothing less from a third-year starting QB.
ESPN's DawgNation quotes Richt as saying, "He has enough of an understanding of our offensive system and the defenses that we play and he's a student of the game, where if he sees something and he knows that this is the very best play against this look, he can go to it in a heartbeat."
Finally, Murray's dedication to winning championships and his attitude coming into the season is what bodes so well for Georgia's offense. He said via David Ching of DawgNation:
I want to lead this team to win championships. I say this every year, that I want to do well statistically to put this team in the best situation every game to score touchdowns and put points on the board.
But at the end of the day I just want to win games. I want to lead this team to the SEC championship, I want to lead this team to a national championship, and I think if I do that, that's the type of elite quarterback I want to be.
Mr. Murray, the Bulldog Nation wants what you want. Now, please bring us home that national championship.