USC Football: 5 Trojans Who Will Finally Live Up to Their Hype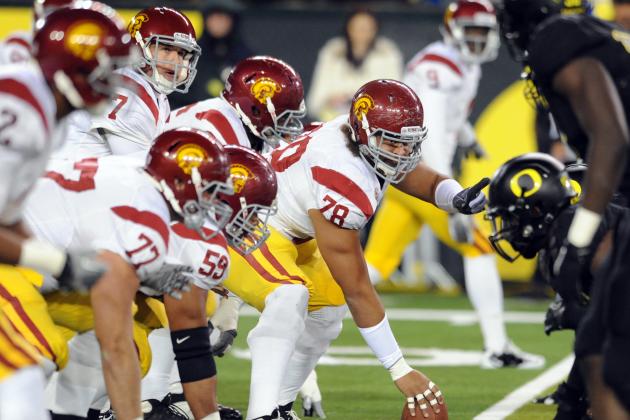 Steve Dykes/Getty Images

After two years of NCAA sanctions, the college football light is shining down on the USC Trojans. Although quarterback and Heisman-favorite Matt Barkley has taken center stage, the rest of the Trojans are stepping up from supporting to lead roles under the pressure of the preseason No. 1 rankings.
While some of these players are incoming freshman looking to build upon their high school careers and prove their recruiting rankings, others are returning Trojans who are looking to forget the past and move on. So, let's take a look at the top five Trojans who will finally live up to their hype.
Begin Slideshow

»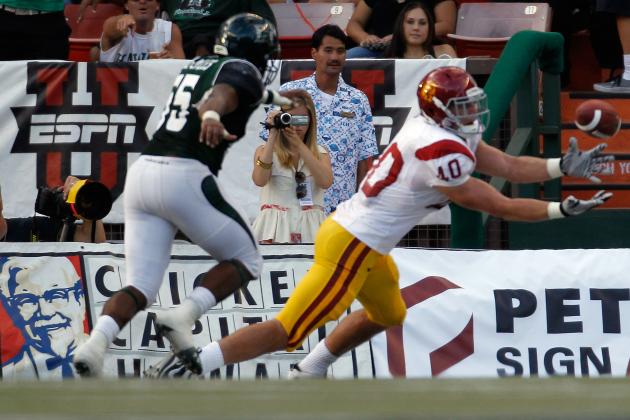 Kent Nishimura/Getty Images

Once a 5-star recruit, De'Von Flournoy has yet to make a reception for the Trojans after two years of play, but the redshirt junior is finally making his way into the receiving rotation after an impressive offseason.
In the spring game, Flournoy was the leading receiver with seven receptions for 69 yards, and his quickness off the line has only improved since heading into fall camp.
Although the USC Trojans have one of the best receiving combinations in the country with Robert Woods and Marqise Lee, it's nice to know that with their unfortunate luck with injuries the Trojans have some great depth at receiver.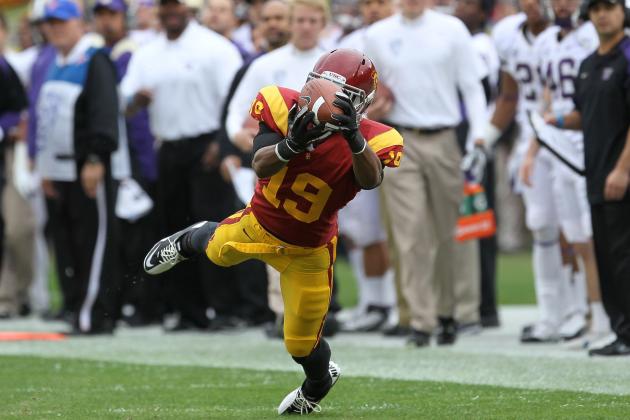 Stephen Dunn/Getty Images

Once a 4-star recruit from Florida, Nelson Agholor has made a big leap from high school to college, not only because he will face a higher degree of competition, but also because he has finally settled in one spot.
Coming to the West Coast, Agholor had the ability to play both receiver and safety, but with one of the best receiving combinations in the country with Robert Woods and Marqise Lee as mentors, it was probably for the best that he stepped away from secondary.
Although he may not have the ideal WR size at 6'1'' and 185 lbs., Agholor's hands and closing speed will make him a great scoring threat for the Trojans.
In the Trojans' second intrasquad scrimmage, Agholor held his own against players like Woods with three receptions for 33 yards, and while he may not get much starting time this season, he will definitely prove himself to be the next best Trojans receiver.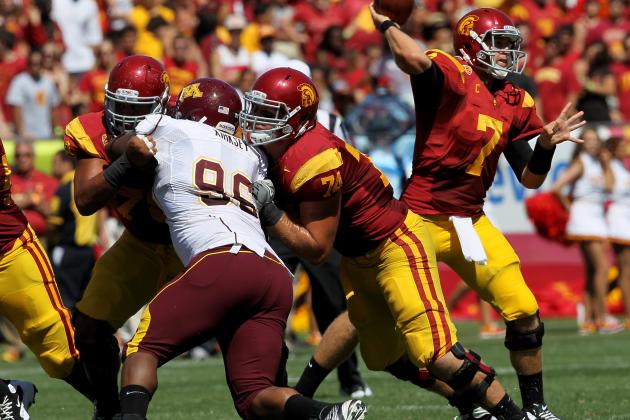 Stephen Dunn/Getty Images

With the loss of Matt Kalil to the NFL draft last season, the Trojans had a need for a new left tackle. However, Aundrey Walker, the tackle who was expected to succeed Kalil, missed most of training camp due to a dislocated right shoulder.
While the more experienced blind side was healing, true freshman Max Tuerk stepped up in his place. Tuerk definitely has the power and strength to excel at left tackle, but with Walker finally on the field again, it looks like the freshman will have to wait to start later on this season.
Obviously there will be a lot of scrutiny about whoever gets the starting job, but with great performance so far at camp, Tuerk can be expected to exceed expectations as a consistent blind side for Matt Barkley.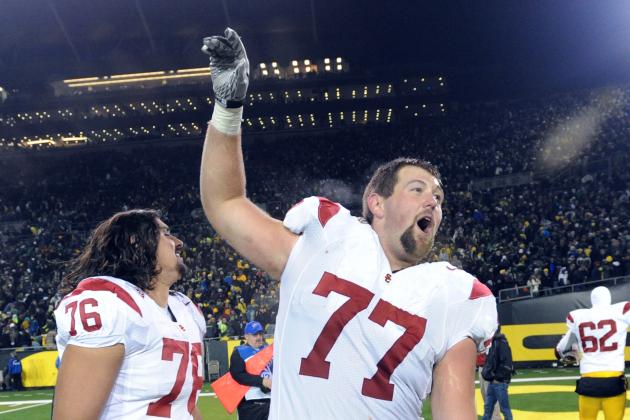 Steve Dykes/Getty Images

Offensive tackle Kevin Graf made a name for himself last season after winning the starting job, and racking up an impressive set of statistics and awards including the 2011 CollegeFootballNews.com Sophomore All-American honorable mention.
Despite the redshirt junior's great potential for more success, Graf has been plagued by shoulder injury after shoulder injury. In 2010, Graf had surgery to repair torn cartilage in his shoulder, and a year later he was forced to miss spring practice while recuperating from the same shoulder injury.
In 2012, Graf will return as starting offensive tackle, hoping to avoid re-injuring his shoulder while proving his ability to succeed on the O-line.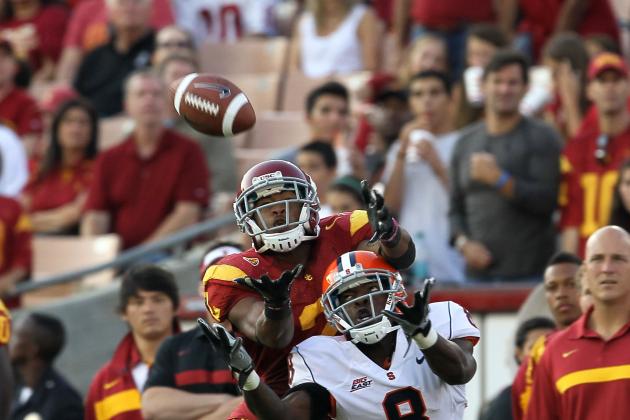 Stephen Dunn/Getty Images

Despite returning an experienced offense this season, the Trojans will be debuting a younger defense in 2012. Starting linebackers include redshirt sophomores Dion Bailer and Hayes Pullard who both had breakout seasons in 2011, and now true freshman Scott Starr will attempt to follow in their footsteps. Star has the ideal outside linebacker build at 6'3'' and 230 lbs., and his aggressiveness makes him an exceptional tackler.
Starr has already impressed the Trojans after helping the defense dominate USC's second intrasquad scrimmage with two interceptions, and it looks like he will only get better as he matures at USC. Starr is shedding his high school shell as he is starting to make more educated decisions on the field, and with that combination of strength and intelligence, Starr will undoubtedly make a name for himself this season.