Ohio State Basketball: 6 Bold Predictions for the Buckeyes' 2012-13 Season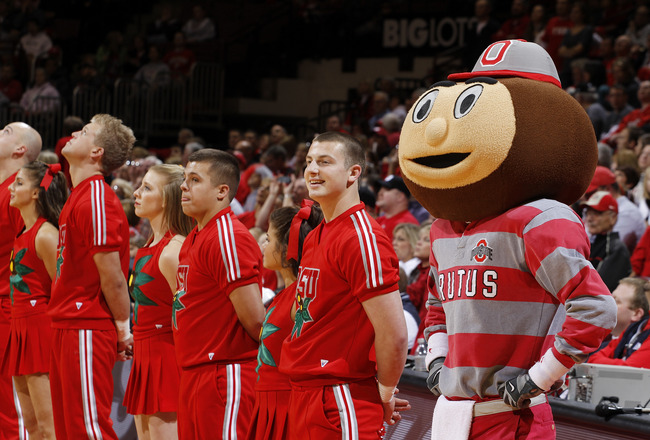 Joe Robbins/Getty Images
If you are a card-carrying member of Buckeye Nation, chances are your focus is primarily locked on September 1. After all, that's when Urban Meyer begins his first season as head coach of the Ohio State Buckeyes football program.
However, keep in mind that there is another team donning the scarlet and gray this year that should be fairly successful and is actually eligible to play in the postseason.
Before you know it, Thad Matta and the basketball team will be taking the floor and looking to make another run at the Final Four.
With that in mind, here are six bold predictions about the Buckeyes' 2012-13 season.
Undefeated Non-Conference Record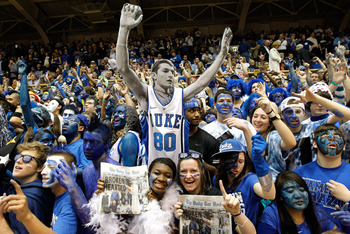 Streeter Lecka/Getty Images
There have been seasons in Ohio State basketball history (some recent ones as well) where winning every game on the non-conference schedule was not exactly an overwhelming task.
Well, 2012-13 will not be one of those years.
Sure, there will be games against the typical cupcakes that litter every major program's early slate, but there are plenty of marquee opponents that will be awaiting the Buckeyes. In fact, the challenge begins on day one with the Carrier Classic against Marquette aboard the USS Yorktown.
Other difficult games on the schedule include a Final Four rematch with Kansas, a tricky game against Long Beach State, a potential early battle with Washington and the daunting trip to Cameron Indoor Stadium.
In a nutshell, Long Beach won't be sneaking up on anyone this year, Washington (as with most of the Pac-12 outside of UCLA and maybe Arizona) doesn't have enough talent to keep up with a top-notch Big Ten team and Marquette lost its top two players and won't have enough experience or firepower that early.
That leaves Kansas and Duke.
Kansas beat Ohio State twice last season, but this one is in Columbus. The Bucks will have nothing but revenge on their minds, and a raucous crowd will lead them to victory.
On the other hand, Duke will be a road game, but, frankly speaking, I think the Blue Devils are a bit overrated. The team that lost to Lehigh in the NCAA tournament and to the Buckeyes by 22 points will be without its best player in Austin Rivers this year.
In a much closer battle, Aaron Craft and Deshaun Thomas will find a way to get it done once again versus the Devils.
Aaron Craft Wins Defensive Player of the Year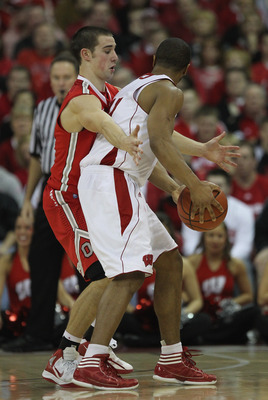 Jonathan Daniel/Getty Images
There are two factors that have to merge for a player to win an award such as the nation's Defensive Player of the Year.
The obvious one is that he has to be excellent on defense (I know, ground-breaking stuff). Aaron Craft fits this bill and then some.
Last year, he was second in the nation and first in the Big Ten in total steals, won Defensive Player of the Year in the Big Ten, harassed opponents better than any other player in the country and routinely slowed the other team's best guard.
The second factor is that the player has to garner enough national attention for his defense that he will be seriously considered for this award. Heading into this season, Craft can check this one off his list as well.
While he was a well-kept secret among the Buckeye faithful as a freshman coming off the bench, he burst onto the national consciousness last season. Sports Illustrated made a habit of spinning the dial on the Aaron Craft Turnometer, commentators raved about his defense during the NCAA tournament and his defensive ability was the first thing mentioned in almost any Craft-related article.
Craft has all the ingredients necessary to win this award, and I think he will this year.
Shannon Scott Steals Playing Time from Lenzelle Smith Jr.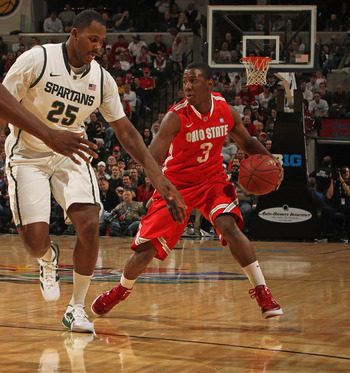 Jonathan Daniel/Getty Images
Shannon Scott was a highly regarded prospect coming out of high school and was basically recruited by Thad Matta instead of Columbus native Trey Burke.
While hindsight is 20/20 in that regard, Scott has the potential to be a major contributor in his sophomore campaign. After all, he wasn't named a McDonald's All-American for nothing.
Thad Matta experimented with an Aaron Craft and Shannon Scott backcourt at times last year, including critical stretches against Cincinnati in the Sweet 16.
My prediction that Scott will steal some playing time from Lenzelle Smith Jr. is not a knock on Smith in any way. In fact, I think Smith will make significant strides this year as he enters the realms of the upperclassmen.
My speculation is based on the possibilities that exist by playing both Craft and Scott together. Each is a point guard with formidable ball-handling skills, but it is the speed by which the Buckeyes could utilize with this combo that is so tantalizing.
A full-court press or a run-and-gun type of offense, even if just for a few minutes, could really help Matta speed up the tempo of a slow, grind-it-out Big Ten game late in the season.
Beat Indiana in Columbus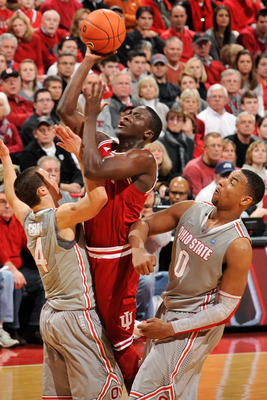 Jamie Sabau/Getty Images
Indiana and Ohio State have basically switched places from last year.
The Buckeyes were considered the preseason team to beat in the Big Ten in 2011-12, thanks in large part to the return of their sophomore big guy. This season, the Hoosiers retain the services of sophomore Cody Zeller and are definitely the conference favorites and may even be the national favorites.
As for the other half of the swap, Indiana was a dangerous challenger expected to end the year in the top four or five of the Big Ten last year. That is where the Buckeyes find themselves as the 2012-13 season approaches.
Just to finish the analogy, Assembly Hall was rocking when the No. 2-ranked scarlet and gray came to town on last New Year's Eve. Indiana knocked off the Bucks and got its second home victory over a top-two team in a month.
I think the Buckeyes will return the favor this year against a highly ranked Indiana team. Sure, the Hoosiers will probably win at home (perhaps easily), but the home crowd in Columbus will help Ohio State earn a split against arguably the nation's top team.
No Repeat Trip to the Final Four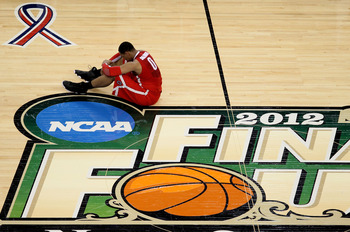 Ronald Martinez/Getty Images
Ohio State has the chance to be very good this season.
Aaron Craft, who has amazingly only been a starter for one season, is now a junior and ready to provide better on-court leadership and defense than anyone else in the nation. Additionally, Deshaun Thomas is also now an upperclassman and has the ability to score from anywhere on the court.
The trio of sophomores (Amir Williams, Sam Thompson and LaQuinton Ross) who played sparingly as freshmen should play larger and more productive roles this year, and Lenzelle Smith Jr. seemed to turn a corner in the NCAA tournament.
But, Ohio State simply lost too much to expect another trip to the Final Four. William Buford was an underrated four-year starter, and Jared Sullinger was a two-time All-American and one of the best players Thad Matta has ever coached.
That's not to suggest the Buckeyes won't have a great season and contend in the Big Ten. Unfortunately for Buckeye Nation, they just don't quite have enough to once again reach college basketball's grandest stage.
Of course, my sentiment could change come March depending on how the young players perform and the potential matchups in the bracket.
Sign a Highly Rated Recruiting Class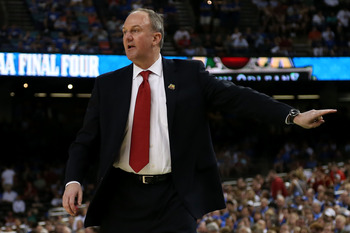 Chris Graythen/Getty Images
While the season won't end in the Final Four for Ohio State, there will still be a silver lining heading into the future.
Thad Matta is known as a formidable recruiter and has signed many top-10 rated classes in his eight seasons in Columbus. However, the class of 2012, due largely to the uncertainty about the number of available scholarships, included only one, relatively unheralded recruit.
Don't expect Matta to have two anemic recruiting classes in a row. He already has 4-star power forward Marc Loving under his wings for the 2013 class, and Scout lists the Buckeyes as a school of interest for nine other top-100 recruits.
Expect Matta to have Ohio State right back on track after landing a few other freshmen for next year. Throw in the fact that Craft, Smith and Thomas (if he returns) will be seniors in 2013-14, and Buckeye fans can expect another run to the Final Four sooner rather than later.
Keep Reading

Ohio State Basketball: Like this team?