5 Positives from Liverpool's Europa League Win Against Hearts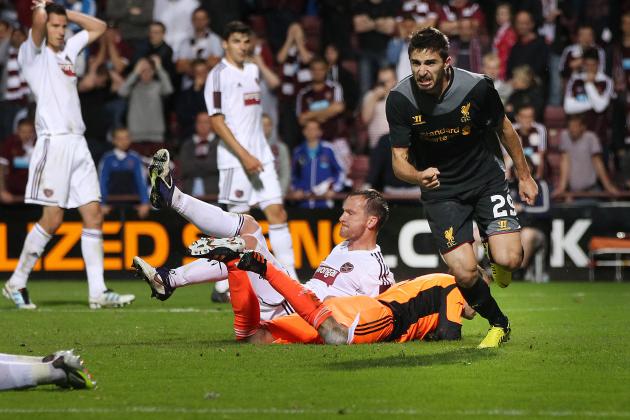 Ian MacNicol/Getty Images

It wasn't easy, but Liverpool picked up a 1-0 victory against Hearts in the Europa League playoff round.
The competition is a significant step down from the Champions League and may not be taken seriously by Liverpool, but an early exit would look horrible for the club.
Manager Brendan Rodgers opted for a much less experienced side today, and it showed as Liverpool weren't able to get much going in the first half.
Things started to pick up in the second half after the inclusions of Joe Allen and Stewart Downing.
Despite an Andy Webster own goal being the difference between a draw and an all-important away goal, there are some positives Rodgers and Liverpool supporters can take from this match.
Begin Slideshow

»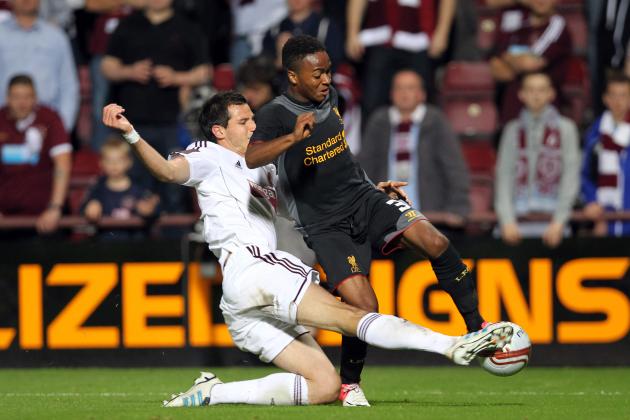 Ian MacNicol/Getty Images

Raheem Sterling put in a man of the match performance.
He looked like the player Liverpool thought they were buying in Stewart Downing last summer.
In the first half when they couldn't string passes together, Liverpool's strategy looked to be giving it to Sterling and just letting him run with the ball.
It worked as well, as he was a constant threat down the left and really the Reds' only attacking threat for the entire match.
He created his own shots and forced multiple corners by cutting into the box.
At this point in the season, Sterling is unlikely to crack the starting 11. With more performances like this, though, Brendan Rodgers will have no choice but to start him.
It will be interesting to see if Rodgers puts him on the team sheet for Sunday's match against Manchester City.
Even at this point, Sterling's speed and creativity could be a huge asset off the bench late in a match against tired defenders.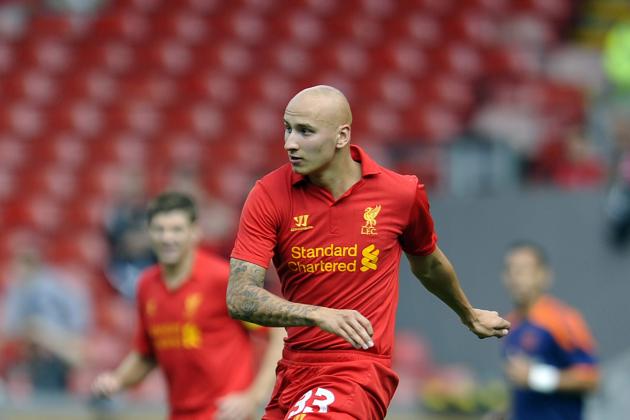 Clint Hughes/Getty Images

Jonjo Shelvey was given the start tonight in behind striker Fabio Borini.
It is the right position for him, but his duties didn't fit him well.
With Jay Spearing and Charlie Adam behind him, he looked to be sent out as the creative impetus in the attack.
Shelvey is a player much more suited for a kind of Steven Gerrard role, sitting behind a striker with the sole intention of attacking the goal.
Gerrard was at his best when Xabi Alonso was the deep-lying playmaker, and so it would be for the young English midfielder.
When Joe Allen came on for Jay Spearing, it allowed Shelvey to play in a position much more tailored for him.
It's a combination that could be very similar to Alonso/Gerrard. Allen could be the creator in the center of midfield, and Shelvey up ahead much closer to the opposition's box.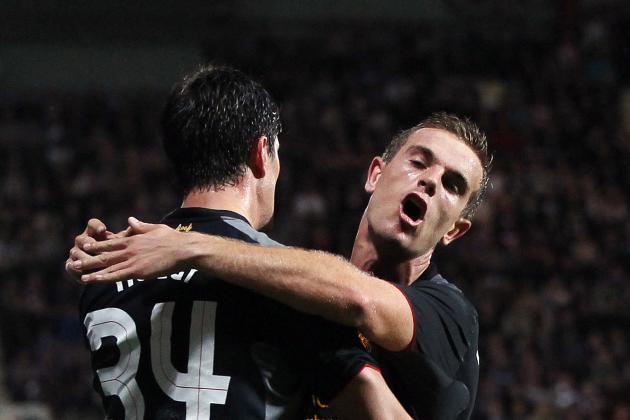 Ian MacNicol/Getty Images

In the 34th minute, Jordan Henderson unleashed a great cross in from the right to the feet of Fabio Borini. Representative of his entire match, Borini failed to make the most of it.
That ball showed what Henderson is capable of.
He was one of Liverpool's most criticized players last year, and rightfully so to a certain extent. His performances weren't very good, but manager Kenny Dalglish kept putting him in the lineup.
A major problem for Henderson was that he was constantly being moved around the pitch, and his best attributes weren't being exhibited.
Overall, Henderson had a very good match. He was spraying passes all over the place, but his teammates weren't doing much with them.
It was a nice pass from Henderson to Martin Kelly that set up Kelly's cross into the box for the only goal of the match.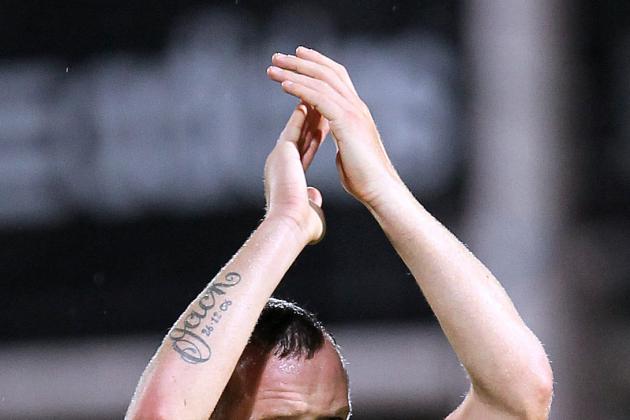 Ian MacNicol/Getty Images

Charlie Adam was another one of Kenny Dalglish's summer signings that endured the wrath of supporters.
The biggest knock on Adam was his seemingly constant need to knock the ball 40 yards up field for no apparent reason.
But make no mistake about it, Adam has a definite role to play in this Liverpool side.
He may not be good enough to crack the lineup in important league matches against the likes of Arsenal, Manchester United, Manchester City, Chelsea and Tottenham.
He put in a good performance against Hearts, with two long-range efforts on goal.
His ability to shoot with power with both feet can be crucial in a tough match against an unimpressive side like Hearts or a Stoke City and Wigan in the league where Liverpool fail to connect an attack together.
It's against the lower-table league teams and less important cup matches where Adam can shine.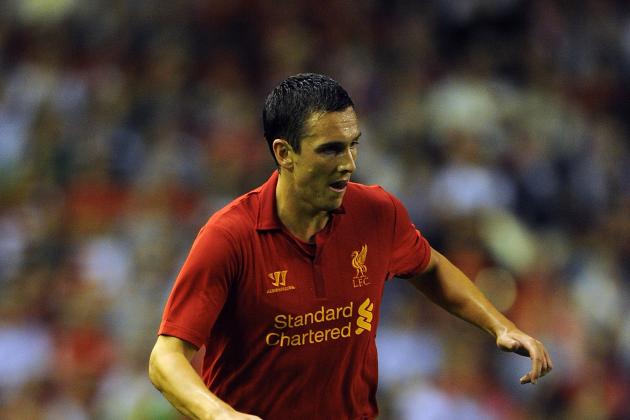 Chris Brunskill/Getty Images

Brendan Rodgers made a curious decision in the 62nd minute when he subbed Stewart Downing on for Jack Robinson.
It meant that Downing would play more of a left-back role.
In theory, it doesn't sound like a bad idea.
Now it's doubtful he'll be sent out there for any significant match. Downing would be skinned all day if he was faced off against a talented, speedy right-winger.
Plus, Liverpool already has a very capable left-back in Jose Enrique.
However, it's in matches like today's against Hearts that the plan would make the most sense.
With Europa League football, Liverpool could be playing a lot of games. Enrique is not going to be able to go the entire way without a rest.
Downing could spell Enrique in the less important fixtures. The risk in a mistake/bad performance from Downing costing Liverpool the match would be minimized. And should Downing cost the club a victory, the consequences wouldn't mean as much as in a critical league fixture.
It would also allow Rodgers to start Sterling on the left side more, of which the positives have already been given.