Chik-Fil-a Classic: 6 Reasons Tennessee Should Beat NC State Handily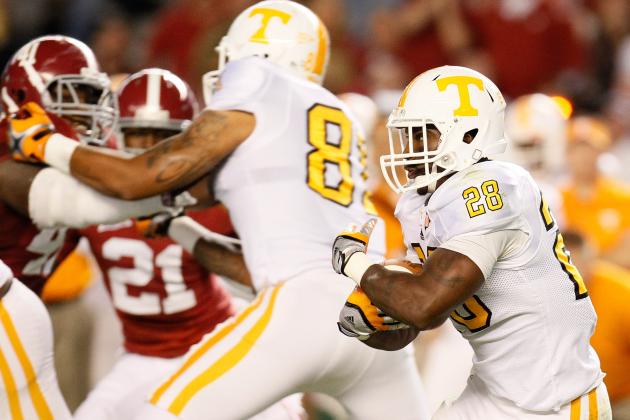 Kevin C. Cox/Getty Images

The time to take an in depth look at why Tennessee should win the Chick-fil-A Classic this year is upon us.
With the game only a few days away, it is time to show the significant differences in these two teams.
Football is a team game. No single player—Da'Rick Rogers included—can so completely change the dynamic of the team, either with his presence or absence, to make the team either inept or superior.
We have all seen articles and heard reports examining the attributes of NC State—and why the Vols need to be wary—along with the players they return this season.
In addition, there has been a lot of coverage of the on-going work with UT on the running game, as well as the installation of the new defensive schemes and who will work best playing where.
My own research on the individual aspects of both teams gives me a good overall view of where both are just a few days from kick off.
At this point, Tennessee looks to have made big strides in repairing their run game woes and getting that defense installed. On the other side, NC State is working hard to repair some big holes left by graduation as well as a couple that already existed.
The following pages will reveal the six reasons why the 2012 Vols should not only win this game but should do so handily.
Begin Slideshow

»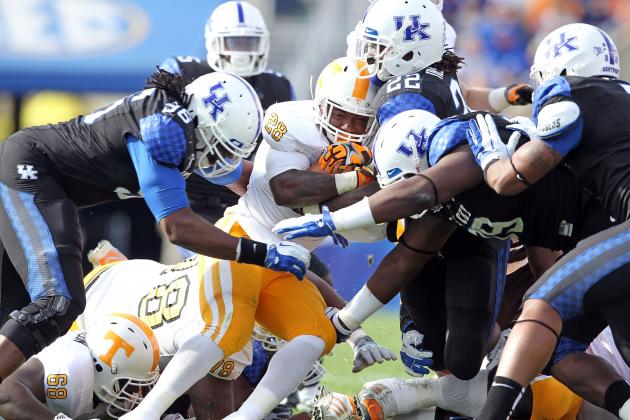 Andy Lyons/Getty Images
Tennessee at Kentucky, Nov. 2011
Kentucky was playing a wide receiver at quarterback. Tyler Bray and several UT star players didn't want to go to a lesser bowl. The Vols were out coached by the Kentucky staff. The Vols played unmotivated football.
It goes on and on and on. Some of it is factual but most isn't. The fact of the matter is Tennessee played one of those Murphy's Law games. You know, everything that could go wrong did—and at the worse possible time.
First down passes were dropped, fumbles were lost and interceptions thrown. Examples: The Vols lost one fumble inside the UK eight-yard line as they headed in for a score. Two passes were dropped that would either have been scores or would have led to scores.
The entire offensive output for Kentucky was only 217 yards—yet they won the game. In short, neither team played the game well. But, Tennessee turned the ball over three more times than Kentucky and that cost them an opportunity to win.
The loss to Kentucky ended the longest winning streak one team had over another—26 years—in modern college football. Not only that, it cost the Vols a shot at a winning season and a bowl game.
But the lost credibility to Derek Dooley as coach and to the team in their recovery cannot be measured. That game is the first thing anybody brings up when they talk about where Tennessee is now.
The players and the coaches are sick of hearing about the Kentucky game. They have been asked about it or have had to answer for it for over nine months.
The game against NC State will allow them to change the subject—a sore, tired and sickening memory—especially for the upperclassmen. Though little is said openly about the prospect, this team is especially excited about an opportunity to turn the page.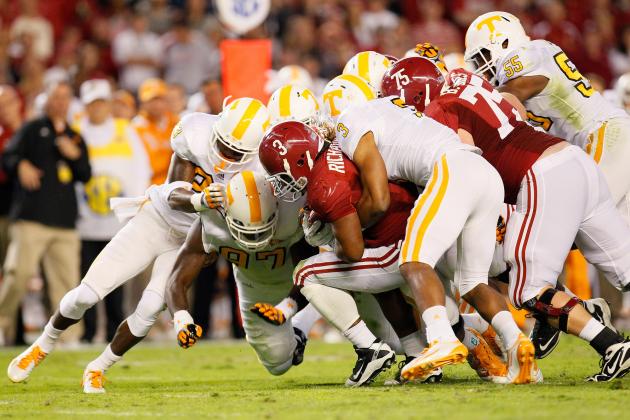 Kevin C. Cox/Getty Images

In one, four-week stretch last season, Tennessee played Georgia, LSU, Alabama and South Carolina. All finished the year ranked in the Top 10 and had a combined record of 47-8.
NC State's toughest four-week stretch was Florida State, North Carolina, Boston College and Clemson. Only one of these finished ranked in the Top 20 and they had a combined record of 30-22.
The most comprehensive measuring method of a team's strength of schedule is compiled by Phil Steele's Preseason Magazine. His 2012 edition, on page 327, ranked the 2011 toughest schedules.
Tennessee's schedule ranked No. 7 most difficult compared to NC State's No. 71 most difficult out of 124 total teams. So it is safe to say that the statistics the Vols generated were against much more difficult competition than the stats generated by NC State.
This is an important measuring device. But, by itself, it really doesn't mean much. That is why I listed it at the bottom of this list. Just keep it in mind as you read through the others.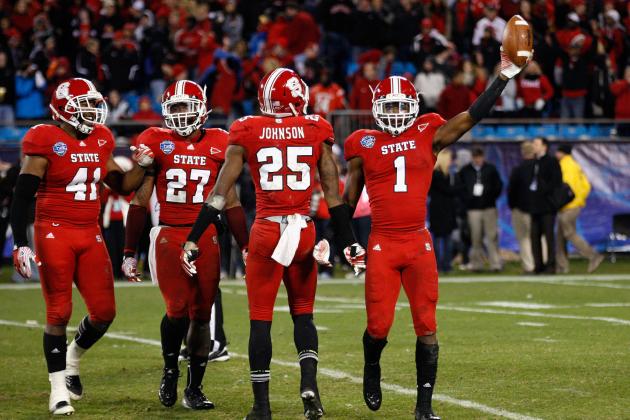 Streeter Lecka/Getty Images

Last season, the defensive backs for the N.C. State Wolfpack did a very good job intercepting passes. This is also the second year the unit returns completely intact, which is great for unit chemistry.
Junior David Amerson led the group with an NCAA record 13 interceptions. Some of his picks came at critical times and played a big part in getting or keeping a lead.
Still, this group averaged allowing teams to pass for 224 yards per game. In comparing that average with some of the teams UT regularly plays, here are the differences I noted:
In 2011, LSU averaged allowing opponents 171 yards per game, Alabama 111, Florida 167, Georgia 176, South Carolina 132 and even UT was better, allowing an average of 178 passing yards per game.
These numbers take a bit of wind from the sails of anyone touting N.C. State as the nation's best defensive backfield. The Vols defensive backfield actually did a better job statistically—and against better quality opponents—than the N.C. State defensive backfield in 2011.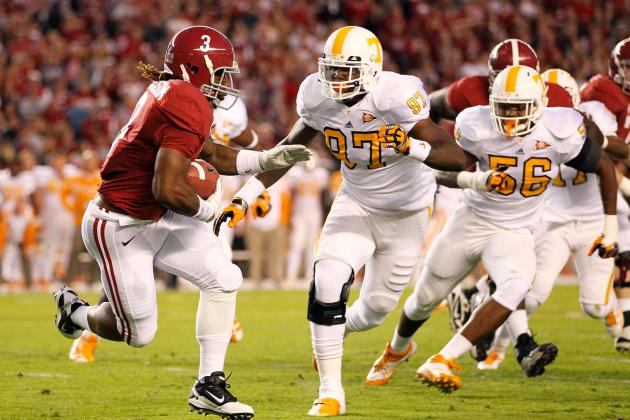 Kevin C. Cox/Getty Images

Tennessee had not started a true freshman as a linebacker since 1972. Last season, they started two. Curt Maggitt and A.J. Johnson were both freshmen, and both started and both played well.
Johnson qualified as a freshman first-team All American and Maggitt was freshman third-team All American last season. Both are sophomores and both are back this season. Joining them in the middle is senior Herman Lathers who missed 2011 with an injury. However, in 2010, he was fifth on the team with 75 tackles.
Add Lathers' experience to Johnson's 80 and Maggitt's 56 tackles last season and Tennessee has its most experienced—as well as most talented—linebacker unit in years.
Compare this to N.C. State's inexperienced group who lost their No. 1, 4, 7 and 9 tacklers last season. The group slated to start has only 57 total snaps from last season's unit.
This is the most suspect group on the N.C. State defense. It will likely be a liability in both the run and pass game at least until mid-season as they become a cohesive unit.
Jamie Squire/Getty Images

This season, Tennessee will open with the best defensive line they have fielded since before Chief left for LSU. That seems like a million years ago but this will only be the fourth season.
The defense of 2008 was the last one the Vols fielded that gave up less than 20 (16.7) points per game to opponents. Unfortunately, for Coach Fulmer and the Vols, that offense was the worst UT offense in many years.
Anyway, the defensive line this season has a good shot at limiting opponents to fewer than 4.0 per carry. If so, it will also be the best average per carry since the 2.8 average of the 2008 Vols. If the team approaches that 2.8 number, with the offense they have, they will be better than just good.
On the other side of the ball is what Coach Tom O'Brien calls his most experienced offensive line in his five years at N.C. State. I can't imagine that assessment filling UT coaches or players with dread when you look at the State running numbers.
Last season, they only averaged 105 yards per game running the ball. That is only 15 more yards than the pathetic UT numbers. Going back the full five seasons, the highest average rushing numbers are only 123 yards per game.
Not big numbers where we come from. Also, you have to consider these numbers were generated on ACC schedules.
The UT defensive line and linebackers should have good numbers in this game.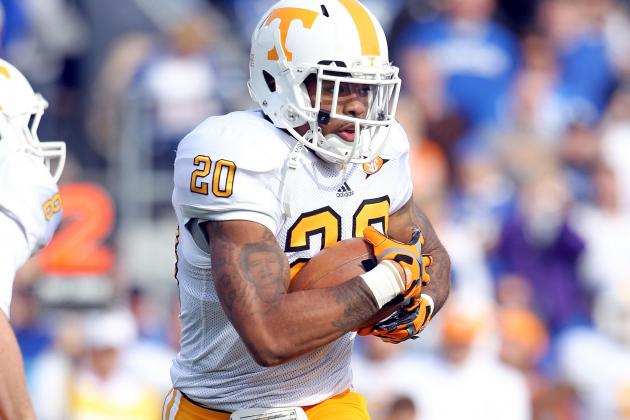 Andy Lyons/Getty Images
Rajion Neal
That's right! I said ground game!
What? You think Tennessee hired an NFL-caliber line coach and a running backs coach for looks?
They publicly made a commitment to get the run game fixed. You see guys pushing people around and making holes. You see mammoth "Tiny" Richardson out there, finally a starter. Do you really think these guys are going to rush for 90 a game in 2012?
Anything I say is certainly just a guess. So is anything anyone else says. So, here's my guess: Up from 90 yards a game average to 140 to 150 a game average, minimum.
They may be even better, but a 50 percent improvement is healthy. A respectable run game is all you need as this team has been constructed offensively to be a passing team. That may be a bit disappointing for us "pound the rock guys." But hey, if you own a new Ferrari in the garage, what are you doing putting around in a Pinto?
The combination of the ability to run the ball effectively and to pass even better will force N.C. State to play mainly zone coverage. They will have to consider their untried linebackers and keep them backed up as much as possible.
They may attempt to come with pressure in order to mask the issues at linebacker. If they do, UT will work the check downs and take what is there.
Tennessee will run at least enough to keep Carolina from laying back. When they move the safeties and/or corners up, UT will go over the top to the speedsters.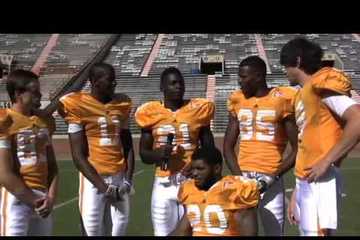 Compliments of mydraft.mockdraft.com
Even with the suspension of SEC receiving leader Da'Rick Rogers, Tennessee still possess one of the most potent quarterback/receiving combinations in college football this year.
Before the injuries began in 2011, the trio of Bray, Hunter and Rogers were off and running to have a huge year.
When Tennessee brought JUCO receiver Cordarrelle Patterson into the mix, I did wonder why the fuss for another receiver. Now that Rogers has been suspended, it all makes perfect sense.
This year, Bray and Hunter are back, along with some very important additions. Cordarrelle Patterson, a very talented JUCO transfer, adds more depth.
Justin Worley received game time during Bray's absence last season and that helped him to be ready. In addition, the younger guys coming up look like they have something to contribute this season.
N.C. State does possess a quality defensive backfield. They are athletic and capable and they will make some plays.
Still, the gaping hole in the linebacking corps is going to stretch this unit way too thin to cover Tennessee's talented receivers.
Also, to my reporter and writer brothers in arms: I say all is not lost for Tennessee with the suspension of Da'Rick Rogers. I think that Dooley and the other coaches have quietly prepared themselves and the team for this exact situation.
That said, I must also recognize the talent of Da'Rick Rogers. So, instead of the original score I had for this game, I have amended mine to represent the loss UT has taken.
Before the loss of Da'Rick Rogers: Tennessee 37—N.C. State 21
With the loss of Da'Rick Rogers: Tennessee 31—N.C. State 21
The reports of the demise of the Tennessee Volunteer football team you are hearing are greatly exaggerated.