North Carolina Basketball: 7 Bold Predictions for the Tar Heels' 2012-13 Season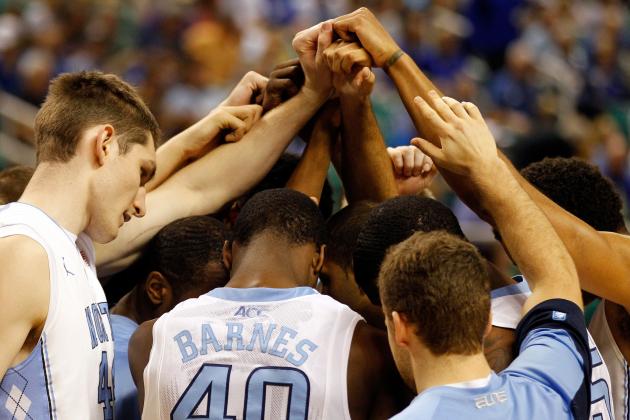 Streeter Lecka/Getty Images

College basketball programs across the country will not be allowed to meet for their first official practice until October, but that has not stopped fans and analysts from making early predictions about the 2012-2013 season.
And in the state of North Carolina, where college basketball is king, it is never too early to get the conversation started.
Begin Slideshow

»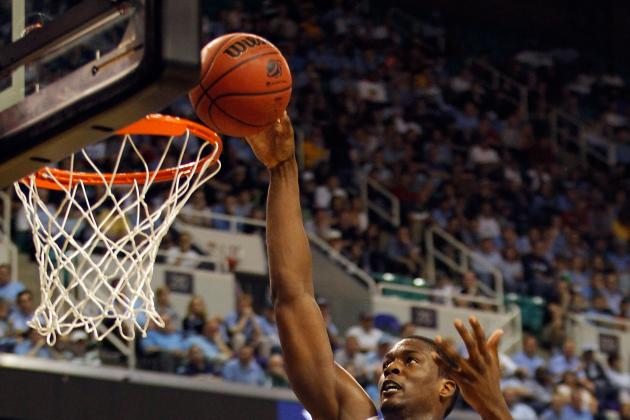 Streeter Lecka/Getty Images

Harrison Barnes was the Tar Heels' most effective offensive weapon last season, averaging 17.1 points per game.
His absence leaves a hole in the Heels' arsenal this season, but it is a hole that could be filled by a healthy Dexter Strickland and Leslie McDonald, two players expected to be major contributors a year ago before injuries forced them onto the bench.
Reggie Bullock is also poised to finally have his breakout year. His performance in the N.C. Pro-Am final, where he scored 28 points, including six three-pointers, has Tar Heel fans very excited to have a player who can consistently perform on the perimeter and hit the long ball, an area in which the Heels have struggled the last few seasons.
If these returners can live up to expectations, the Heels may be able to compensate for the loss of a player of Barnes' caliber.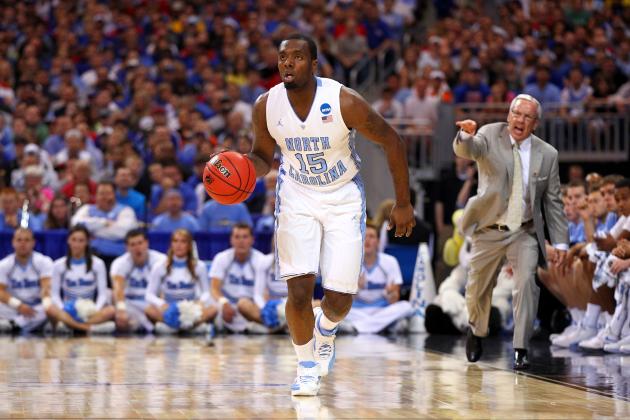 Dilip Vishwanat/Getty Images

Reggie Bullock was not the only player to excite fans this summer in the N.C. Pro-Am summer league.
P.J. Hairston had a massive game during a quarterfinal in which he scored 49 points and became an instant star for his massive slam dunk over Jerry Stackhouse of the Brooklyn Nets.
Hairston is 6'6", 220 lbs and able to push his way to the basket or hit shots from distance.
Once a few of his big-time dunks and critical long balls hit the highlight reel, he will be a big star on Tobacco Road.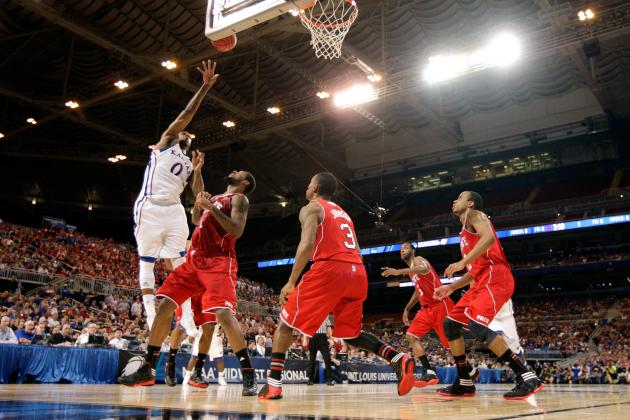 Andy Lyons/Getty Images

NC State has four returning starters that just came off a season where they reached the Sweet 16. They are the favorites at this point to win the ACC and make a deep run in the tournament come March.
Despite all their talent, they still lost to the Heels in both regular-season meetings last year and in the ACC tournament. Even when the Wolfpack looks like they have an advantage over UNC on paper, the Tar Heels still find a way to win.
Maybe the secret is Roy Williams. He is 25-1 against State since taking the helm at Chapel Hill.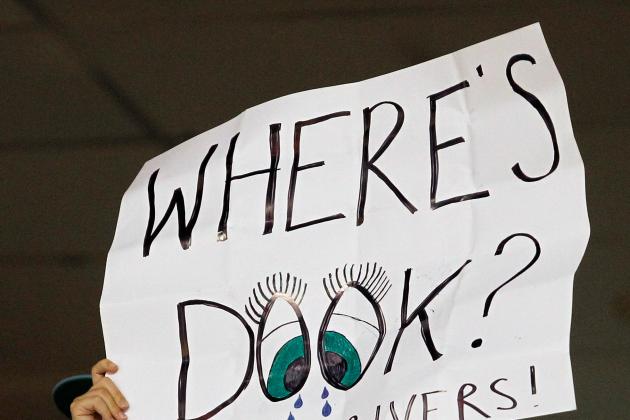 Streeter Lecka/Getty Images

UNC endured a heartbreaking loss in the Dean Smith Center last season at the hands of Duke, thanks to a three-pointer at the buzzer from Austin Rivers and Tyler Zeller's bad luck.
The second meeting in Durham was a decisive 88-70 victory over the Blue Devils.
If it were not for that last-second shot, the Tar Heels would have won both games.
Rivers entered the NBA draft this year, and Duke may have some players step up and be productive in his place (like UNC after losing Barnes).
But Tar Heels players had a better showing in the N.C.Pro-Am, and while that is just a summer league, it could be an indicator of what we will see on the court when the ACC regular season begins.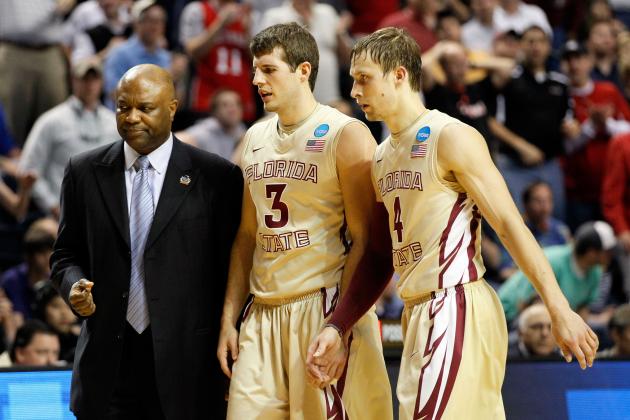 Kevin C. Cox/Getty Images

The Tar Heels only have two teams that can plausibly stand in their way during the ACC regular season: NC State and Duke, teams that the Tar Heels can beat.
The other threat is Florida State, which won the ACC tournament last year and has retained a lot of its talent but will miss Bernard James's 283 rebounds and Luke Loucks' 152 assists that helped it reach the Sweet 16 last year.
The Seminoles were a sleeper hit last year; they did not even make the Top 25 in the ESPN/USA Today preseason coaches' poll.
But after defeating the Tar Heels last year in the ACC tournament final, they are on coach Roy Williams' radar, and they won't have the same element of surprise.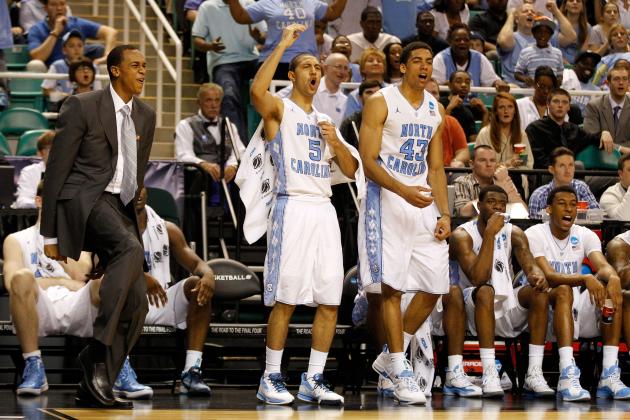 Streeter Lecka/Getty Images

The Tar Heels will not win the NCAA tournament this year. They do not have the strength of current favorites such as Indiana, Ohio State, UCLA or Kentucky.
They do have the ability to make at least a repeat appearance in this year's Elite Eight. If they win the ACC regular season, they'll be a top seed going into the tournament and will not have any trouble with the opponents they face until the Sweet 16.
Last year's tournament appearance was derailed by Kendall Marshall's injury before UNC's game against Kansas. If UNC can keep its players healthy throughout the tournament, it has the players to make a deep run.
But all of this depends on whether or not the Tar Heels will be able to enter the tournament at all.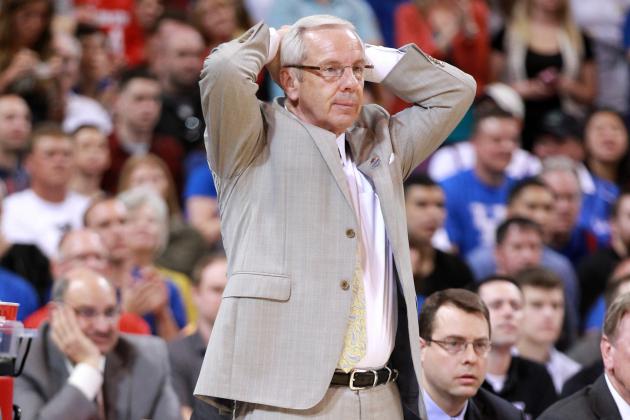 Andy Lyons/Getty Images

Julius Peppers' college transcript has sparked a media frenzy in North Carolina.
The scandal involves classes in African-American studies that were heavily favored by athletes at the university due to an alleged lack of academic rigor and lax attendance policies for football and basketball players.
The school is investigating athletes' transcripts as far back as 1998. Coach Roy Williams said in a radio interview last week that he is "bothered" by the scandal (per ESPN.com), and he told WRAL TV that he feels "extremely good" about his own program's innocence in the matter.
But this is the post-Paterno age, and feeling "extremely good" will not cut it with the national media or the public when it comes to college coaches turning a blind eye to infractions of any kind.
The NCAA is toothless when it comes to punishing programs unless the allegations gain a lot of traction in the press and the committee is forced to bow down to public pressure and conduct investigations and hand out sanctions.
Coach Williams is confident he has run a clean program since his arrival in 2003, but what about before he got there? If the NCAA steps in and finds wrongdoing in Chapel Hill, it could have far-reaching ramifications for both the football and basketball programs.
The NCAA will not hesitate to make an example out of a school with UNC's status. All major programs are on notice since the events at Penn State.
The worst-case scenario is that the NCAA will conduct an investigation, find academic misconduct and ban the Tar Heels from participating in this year's tournament altogether.