5 Things Floyd Mayweather Can Still Do to Elevate His Boxing Legacy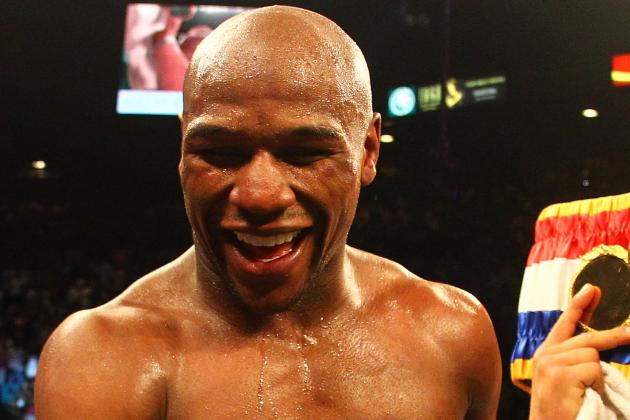 Al Bello/Getty Images

Floyd Mayweather Jr. is not only one of the greatest fighters of his era. He ranks with the great fighters of all time.
His 43-0 record is just part of his legacy (source:Boxrec.com). He is a fighter who was schooled in the basics of the game at a very early age by his father, Floyd Mayweather Sr. and his uncle, Roger Mayweather.
While his relationship with his father has been an issue for many years, he helped provide his son with the background to dominate in the boxing ring. His uncle has helped refine his technique.
On top of that, Floyd Mayweather is a remarkable athlete who has also worked hard at his craft. His ability and his background have helped make him a dominant champion.
However, no fighter is perfect and there are several areas that he can work on to improve.
Begin Slideshow

»
Floyd Mayweather is one of the most balanced athletes ever to enter a boxing ring. He has maximum confidence and he believes he can hit opponents with any punch at any time.
He also believes that his punches are dangerous enough to hurt his opponents or knock them out at any given moment. As a result, he tends to load up on his power punches and throw them one at a time. Mayweather could be even more dangerous if he threw more combinations.
In his May, 2012 victory over Miguel Cotto, Mayweather threw the majority of punches but he did not dominate with combinations (see 4:08 mark of this video).
Few boxers have ever had Floyd Mayweather's defensive skills. He is especially adept at avoiding or parrying head shots. It's quite rare that he gets hit with a clean shot to the face.
As a result, you have to go to the body. Zab Judah got in a few body shots from the outside and Jose Luis Castillo made contact with some interior body shots. You may not get in enough body shots to hurt Mayweather badly, but you can slow him down to a degree, according to Tim Starks of QueensberryRules.com.
He must work on this vulnerable area.
Watching Floyd Mayweather train seriously is a vision to behold.
When he sets his mind to it, Mayweather will make the speed bag sing, jump rope at warp speed, pound the heavy bag and spar with several opponents. Few boxers have his ability in training and it's probably similar to watching Sugar Ray Robinson prepare during his heyday.
However, Mayweather is so good that he does not always take all his training sessions seriously. While this is understandable, it could leave him vulnerable against the wrong opponent. While training for Miguel Cotto, HBO's 24-7 showed him talking on the phone while hitting the speed bag.
Sometimes it seems that Floyd Mayweather will get off to a slow start just because he wants to see what the other fighter has to offer.
That was the case when he fought speedy Zab Judah who was able to hit Mayweather with jabs early in the fight. Since Judah was able to get those punches in, he appeared to have confidence going into the middle rounds of the fight.
That's when Mayweather turned it on and started to show his undeniable defensive skills.
At some point, a slow start could cause real problems for Mayweather. He needs to get off to quicker starts.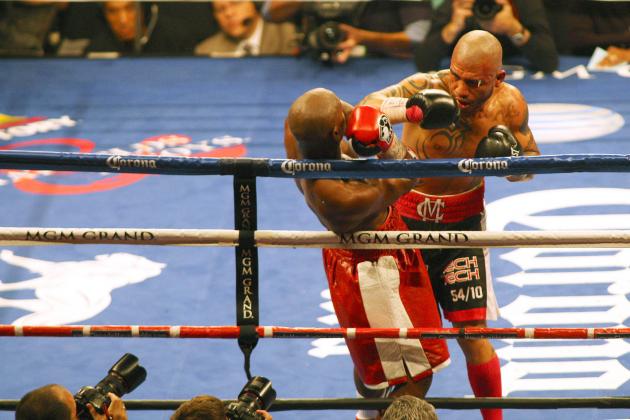 Jake Roth-US PRESSWIRE

Opposing fighters may be well-advised to push the action towards the ropes when they are in the ring with Floyd Mayweather.
It's not that you are going to hurt him badly or hit him with a series of punches, but your chances of connecting are much better when you have him on the ropes.
When Mayweather is allowed to maneuver in the middle of the ring, his quickness and defensive skills make it quite difficult to hit him. After all, he can move in any direction without encumbrances.
However, when he is on the ropes, he is limited in how he can move. He'll still get away, but you may be able to hit him a few times before he escapes.
Staying away from the ropes would make Mayweather an even better fighter. Jose Luis Castillo was able to do this to some extent and had some success.