Oklahoma State Football: Top 5 Defensive Players Cowboys Will Face in 2012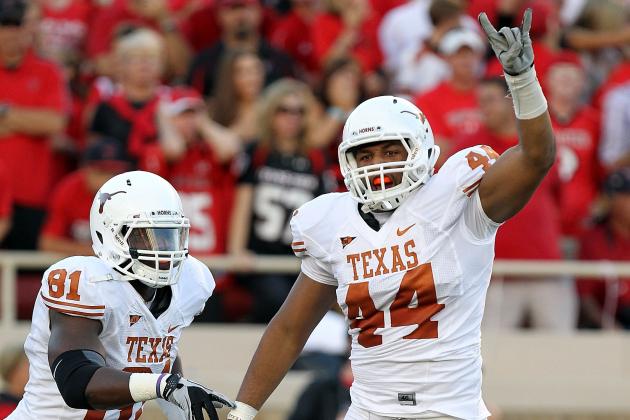 Ronald Martinez/Getty Images

The Big 12 is not known generally for its defense, but that does not mean there are not many elite defensive players in the conference and the Oklahoma State Cowboys will have to overcome many of them while navigating their 2012 schedule.
Ranking the Top 5 of these players is not an easy task. As I stated previously, defense is not at a premium in the Big 12, so it can be harder to pinpoint who the best defensive players are. That actually makes defense even more valuable in this conference, because a solid defense really is harder to find.
These players are ranked by two criteria: how good they are compared to the rest of the conference and how well they matchup with this year's Oklahoma State team. Certain players may not have made the list, not because they did not deserve to be here talent-wise, but because their position or makeup does not match up well against the Cowboys.
As you will see, a premium was put on players who were both extremely talented and played a position that would give Mike Gundy's team particular trouble. With that, let's begin.
Begin Slideshow

»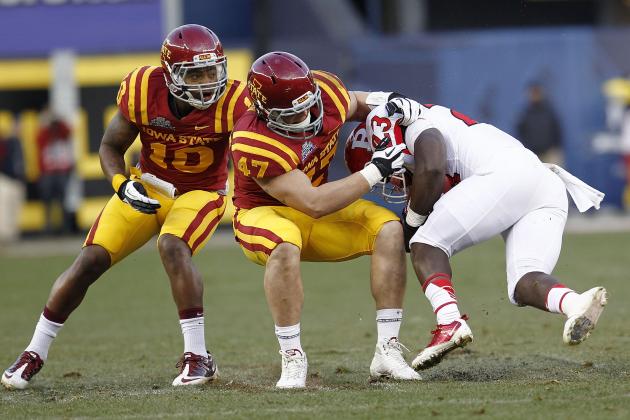 Jeff Zelevansky/Getty Images

A.J. Klein is among the Big 12's best defensive players, and he may be the best in the conference when it comes to the linebacker position. He is the leader of a defense that played well at times last season, and he accounted for 101 tackles during his junior campaign.
Why He Will Bother the Cowboys
Remember that team Oklahoma State had last season? It lost just one game, and that one game just happened to be to Klein's team. He recorded a season-high 14 tackles in that game and was in all the right spots at all the right times. I know the game was a bit fluky by some standards, but the Cowboys should be wary of this player. Excelling against a team does not mean that you will excel against them the next time around, but it certainly does not mean the opposite of that either.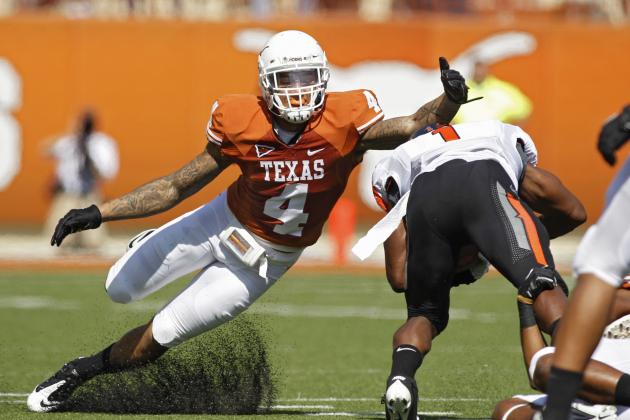 Erich Schlegel/Getty Images

Kenny Vaccaro is the best defensive back in the Big 12 this season. He had 82 tackles, eight tackles for loss, two sacks and two interceptions last season. Vaccaro is a big corner back (6'1", 218 pounds) who can really do it all for the Texas defense. He is a problem for every quarterback in the Big 12.
Why He Will Bother the Cowboys
And, he is an even bigger problem for a freshman quarterback. I am not doubting Wes Lunt's abilities in the slightest, but we all know how hard playing quarterback is for anyone, let alone a true freshman. With the impressive Texas defensive front bearing down on him, Lunt may have a difficult time avoiding Vaccaro in the secondary.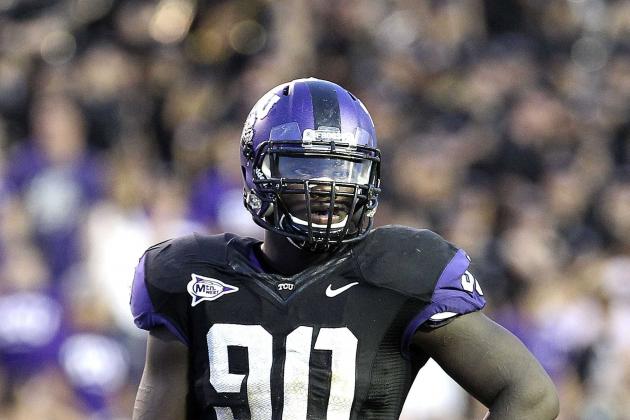 Kevin Jairaj-US PRESSWIRE

Stansly Maponga was the only TCU Horned Frog to be designated All-Big 12 First-Team status this preseason. He was a disruptive force in the Mountain West, to say the least. While he still has to prove it in the Big 12, I believe he will live up to his billing. He had 13.5 tackles for loss, nine sacks and five forced fumbles last season, which are good numbers in any conference.
Why He Will Bother the Cowboys
When you drop back to pass as much as is required in Oklahoma State's offensive system, the opposing defensive line is always a concern. Maponga will be the biggest concern for the Cowboys against TCU, and he must be neutralized if Wes Lunt has any hope of having a good game. Maponga is better against the pass than the run, which makes him matchup even better with the Cowboys offense.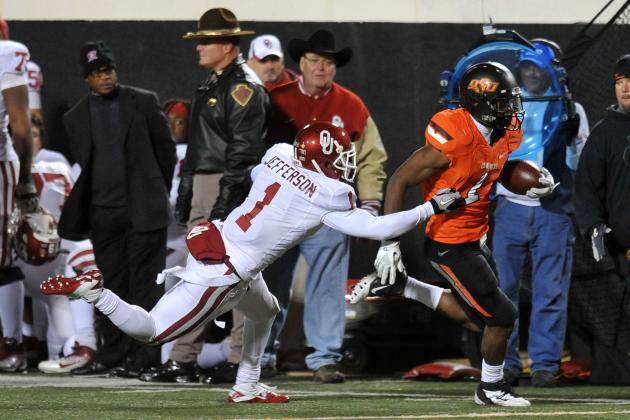 Mark D. Smith-US PRESSWIRE

Tony Jefferson is the most talented defensive player on the prohibitive favorite to win the Big 12. He can do a little bit of everything for the Oklahoma Sooners, but he will be particularly good this season as he moves back to his natural position at free safety. He accounted for 74 tackles, 7.5 tackles for loss, four interceptions and 4.5 sacks last season.
Why He Will Bother the Cowboys
There has been one word that seems to have come out of new/old Sooner defensive coordinator Mike Stoops' mouth a lot this offseason: redemption. The translation for that is revenge, and you can bet that Jefferson and his whole team will want it when the Cowboys travel to Norman over Thanksgiving weekend. Jefferson plays the run and pass well, so look out for him particularly in that game.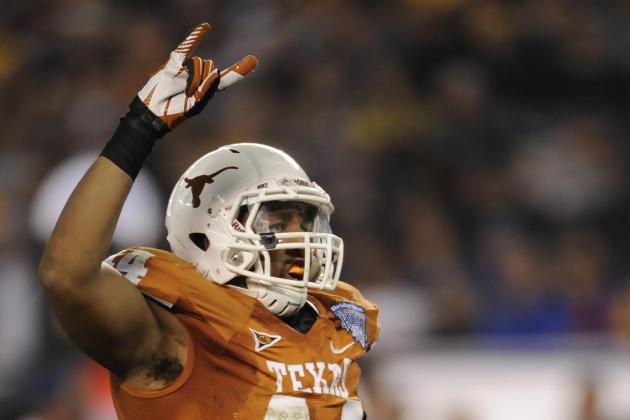 Christopher Hanewinckel-US PRESSWIRE

When Jackson Jeffcoat committed to Texas, he was the nation's No.1 high school recruit. He has lived up to that billing thus far. Jeffcoat is huge at 6'5" and 245 pounds and has better speed than you would expect from a guy his size. If he can stay healthy (which has been a problem for him in the past), he will be the best defensive player in the Big 12.
Why He Will Bother the Cowboys
Did you not just read everything I wrote up there? Well if you need more here it is: Jeffcoat is not a lone defensive monster. Not only does he have the support of another player on this list in Kenny Vaccaro, but he also shares the field with Alex Okafor and the most talented defense in the Big 12 by far. The problem with Jeffcoat is that you cannot key in on him because of the talent around him. Needless to say, the Texas game will not be an easy one for true freshman Wes Lunt or the Cowboys offense.