South Carolina Football 2012: 0-12 Through 12-0... Looking at All the Scenarios
Jeremy Brevard-US PRESSWIRE
Imagine if the Gamecocks went 12-0. They win every regular season game. Imagine the fervor for the team as they travel to Atlanta, probably ranked No. 1, in order to try to win their first SEC championship game.
Imagine how the fans would feel. The euphoria of it all after being so mediocre for so long.
Now... Imagine another 0-12 season.
Yeah, it's terrible. Here is what I see happening for each possible regular season outcome in 2012
0-12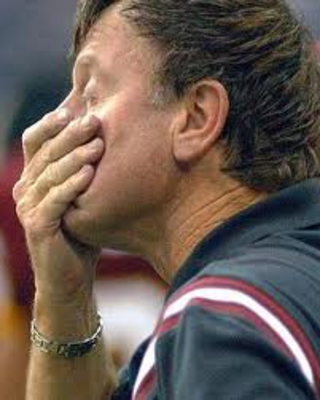 deadspin.com
Fire destroys Columbia. Williams-Brice becomes the new home of the Carolina Muskrats, a new arena team.
Steve Spurrier changes his name to Bryce McCallahan, and plays professional golf. Players wished they went to Penn State.
Connor Shaw decides to become a Man-Nun, and swears off football. Marcus Lattimore is standing in line first when the early NFL draft declaration date comes to pass. He can't wait to play for the worst team in the NFL (probably the Browns).
1-11, 2-10, 3-9, 4-8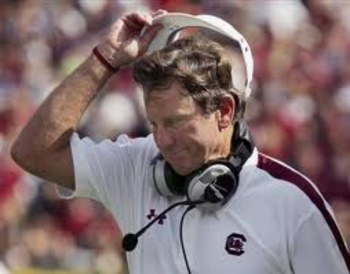 cockytalk.com
Pretty much all the same. Recruiting slows to a stop, Steve Spurrier retires from football, and the allure of the program disappears. The Gamecocks do not get their first choice as new head coach, and settle for a good but unproven head coach.
That wouldn't turn out so well. Marcus Lattimore decides to leave for the NFL, guaranteed.
Oh, and Hell freezes over.
5-7, 6-6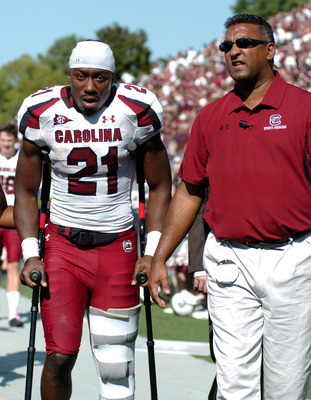 Chuck Cook-US PRESSWIRE
The Gamecocks probably suffer a ton of injuries. Connor Shaw, Marcus Lattimore, Victor Hampton and Jadeveon Clowney all try to rehab their season-ending injuries.
Coach Spurrier waits a long time to decide, but he stays with the program. He'll attribute the bad year (correctly) to crazy injuries.
The Gamecocks hit the recruiting trail harder and offer up an open competition for starting spots for true freshmen.
.... and also Hell freezes over.
7-5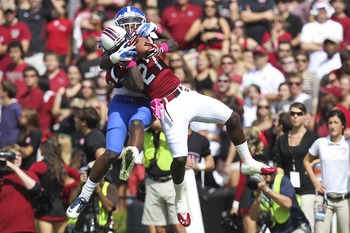 Daniel Shirey-US PRESSWIRE
To me, this is the worst case "realistic" scenario. I can't imaging anything lower than this, barring catastrophic injuries and Florida, Tennessee and Missouri suddenly becoming better than average (won't happen).
In this case, the defensive backfield never comes together, and a major injury to one of the Gamecocks' top players occurs. I could see the losses in that scenario being Georgia, Florida, LSU, Tennessee and Arkansas.
I'd say this has very little chance of occurring.
8-4
diylol.com
This would be considered a disappointment. At 8-4 the Gamecocks would still be a very good team, but with probable losses against Arkansas, Georgia, LSU and some other random SEC school (notice, I did not say ACC school). They would be well out of the SEC East race and possibly sitting at third or fourth.
This wouldn't sit well with Spurrier, who would consider 8-4 a down year with this level of talent. (Can you believe how far the program has come?)
It would only take a few bad breaks for the Gamecocks and possibly an injury or two. This could happen fully-loaded if the team doesn't play well. Once again, I don't think this will occur, but it could.
9-3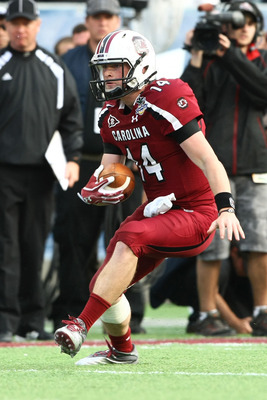 Douglas Jones-US PRESSWIRE
I am getting very close to making my final predictions for the Gamecocks' season, and I am torn between three finishes.
This is one of them.
9-3 would be a good year. Not great, but a good year. Marcus Lattimore would have to think long and hard about whether or not he wants to go to the NFL. The team in 2013 will be loaded and experienced, and he could really envision winning the Heisman or National Championship.
9-3 would probably keep the Gamecocks out of the SEC championship game. Losses to Georgia, LSU and Arkansas would be the most likely scenario, and Georgia would coast in. If the Gamecocks win their bowl game, 10-3 would mark the third season in a row that the Gamecocks' wins were in the double digits. That would be huge.
10-2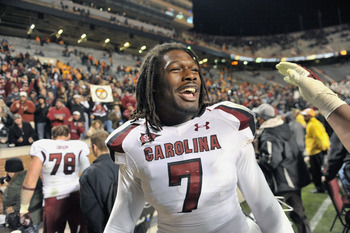 Jim Brown-US PRESSWIRE
10-2 would be a great year, but would still probably keep the Gamecocks out of the SEC Championship Game, unless Georgia slips. Just beating Georgia wouldn't be good enough, because the Bulldogs have an easy schedule.
The Gamecocks have their sights set higher. A season like last year's would be awesome, but would also leave a big "what if" feeling in most fans' hearts.
11-1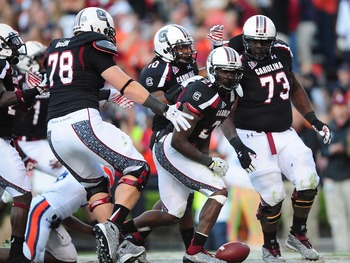 Andrew Weber-US PRESSWIRE
11-1 is the second of three records that I think South Carolina could have.
The one loss? LSU. I feel like the talent, coaching and desire is there. If the team stays relatively healthy, this could be it. The Gamecocks would definitely be in the SEC Championship game at 11-1 with the only loss being to LSU.
The team would come in confident and ready to fight. If the Gamecocks win the SEC with a 12-1 record, you can bank on the fact that they would make an appearance in the National Title game.
12-0
Streeter Lecka/Getty Images
The big one. The white whale. The goal.
Winning every game in the regular season would be a masterstroke. You know what? I think it could happen. The first few games should be South Carolina victories. If the Gamecocks can go into Baton Rouge and beat the Bayou Bengals, then it could propel them to this record.
They would then be the prohibitive favorites to not only win the SEC, but the National Title.
It could happen.
My Final Thoughts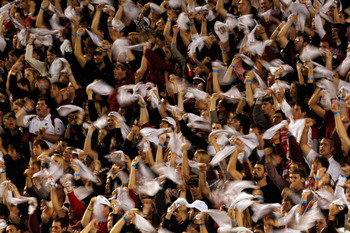 Streeter Lecka/Getty Images
I have to make my final prediction soon for the Gamecocks.
I'm torn between 9-3, 11-1 and 12-0.
Why not 10-2? Well, simple, really. I'm going with my gut instinct. I think if the Gamecocks lose two games, it would be to Georgia and LSU. If that happens, I think their confidence level plays into the season, and they let one more slip through.
That's why I am skipping 10-2.
I'll be making my final picks soon. I can't wait for this season to begin.
Keep Reading

South Carolina Football: Like this team?