All 25 Philadelphia Phillies' Biggest Regret of 2012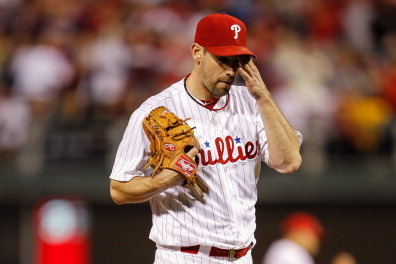 Brian Garfinkel/Getty Images

The Philadelphia Phillies' list of regrets for the 2012 season runs a mile long and narrowing it down to just one for each player was no simple task.
That's pretty much the regular season in a nut shell for this Phillies team. They came into the regular season as a favorite to win the National League East in spite of losing Ryan Howard and Chase Utley to the disabled list early.
But that's what name recognition will do for you. There were All-Stars up and down the roster. The pitching staff had three ace pitchers and a closer that's been to the All-Star Game. Two third of the outfield had been to the All-Star Game, but neither of those players survived the trade deadline.
The season just wound up being a big snowball and a steep hill for this club. A tiny snowball at the beginning of the season just kept picking up momentum and rolling down the hill until it couldn't be stopped.
Now, we're looking at one of the most disappointing teams in baseball with a list of regrets that are enough to depress even the most casual of fans.
But like I said—it's just been that kind of season for this Phillies team.
Begin Slideshow

»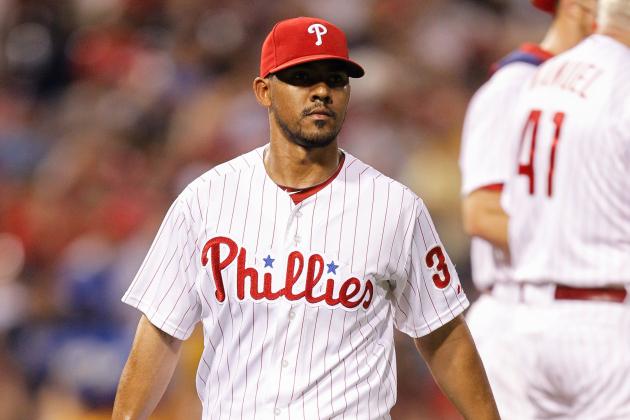 Brian Garfinkel/Getty Images

Regret: Giving up so many walks and home runs.
Obviously, this is a regret for any pitcher with this problem, but it is even more of an area of concern when you only get to pitch an inning a night, as is the case with Antonio Bastardo.
The Phillies really needed him to come into the season as the set-up man in the eighth inning in front of Jonathan Papelbon, but he's been on the same carousel as the rest of the club's struggling relievers.
If he wants to improve, he'll need to drop his walk and home run rates per nine innings—5.2 and 1.7, respectively, and both very high.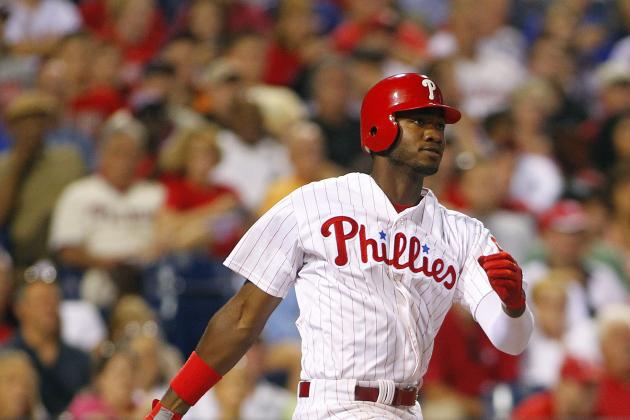 Rich Schultz/Getty Images

Regret: Not playing better in 2011.
Domonic Brown could have saved the Phillies a lot of headaches had he come into spring training in March of 2011 and really grabbed the right field job by the horns, but he was unable to do so.
Instead, the Phillies were forced to platoon him with Ben Francisco and their top prospect took a big step backwards.
Feeling as though they needed help offensively at the trade deadline, the Phillies acquired Hunter Pence and optioned Brown back to Triple-A. With Pence in right field, he needed a new position too. Thus, the left field experiment began.
It probably isn't fair to say so, but had Brown stepped up to the plate in 2011, Jonathan Singleton and Jarred Cosart may still be in the Phillies' system.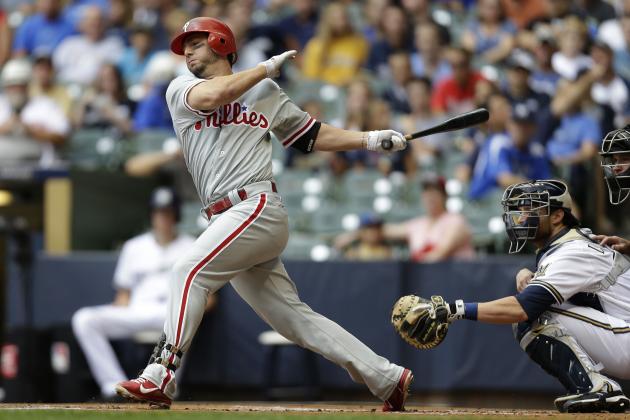 Mike McGinnis/Getty Images

Regret: None.
What has Kevin Frandsen done to regret this season? All the man does is hit.
The Phillies called him up when Placido Polanco hit the disabled list following Frandsen's torching of Triple-A pitching. He was right near the top of the International League in hits all season long.
A second baseman by trade, the Phillies gave Frandsen a shot at third and he has responded by playing at least average defense and just mashing the cover off of the baseball.
In 85 plate appearances, he's hitting .358 and has posted an OPS of .833.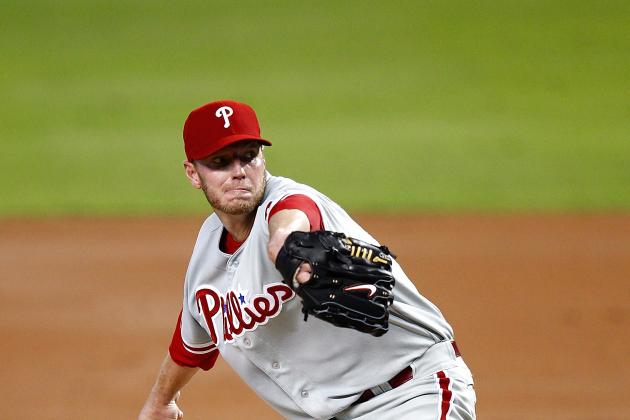 Sarah Glenn/Getty Images

Regret: Failing to stay healthy.
Sometimes, you can't control the things you will eventually regret, and you know that Roy Halladay is kicking himself for missing nearly two months with a strained right latissimus dorsi.
Halladay came into the season noticeably different. He was missing the usual zip on his cut fastball, which concerned some scouts, and he was pitching with a strange pitch selection. It was very unlike him.
Sure enough, he hit the disabled list soon thereafter.
Realistically, Halladay really hasn't been the same since. You have to wonder if he's still nursing some kind of injury or if Father Time is finally just catching up to him.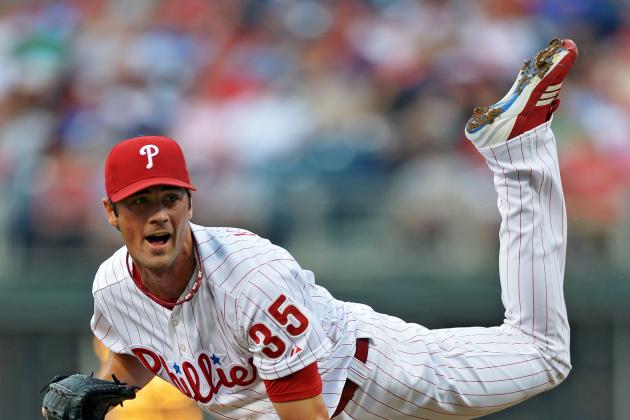 Drew Hallowell/Getty Images

Regret: Beaning Bryce Harper.
When you look at the numbers, there is really nothing for Cole Hamels to regret about this season.
He's been the best starting pitcher on this staff, posting a record of 14-6 to go along with a 2.94 ERA heading into Thursday's start against the Cincinnati Reds and is a legitimate Cy Young candidate.
If there's one thing he regrets about the season, it has to be intentionally hitting Washington Nationals' phenom Bryce Harper earlier in the season.
Whether it was his intention or not, hitting Harper made Hamels come across as a pitcher who is a little too big for his britches.
Just stick to pitching, Cole.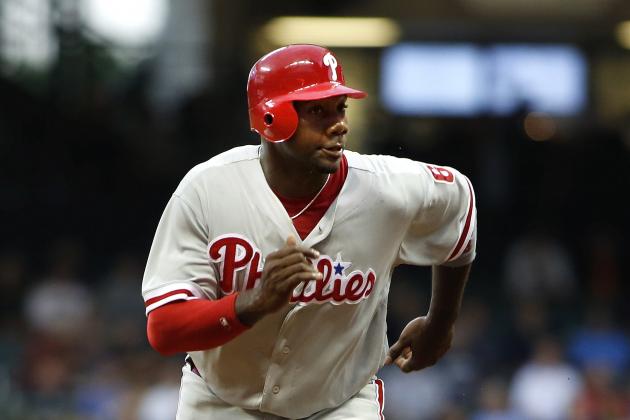 Mark Hirsch/Getty Images

Regret: Terrible plate discipline.
I'm not a professional athlete and I've never torn an Achilles tendon so I can't say with any real certainty, but coming back from that injury in the middle of one of the most disappointing seasons in franchise history has to have been tough on Ryan Howard.
The expectations were unfair, but Phillies fans clinging on to the slimmest of hopes that the return of Howard would propel them back into the postseason were disappointed with the return of their slugging first baseman.
It isn't hard to figure out why. Howard's approach has been terrible.
In 152 plate appearances since his return, Howard has struck out 55 times while walking just 13. While he has hit eight home runs, his approach needs to change quick if he wants to stop this decline.
Brian Garfinkel/Getty Images

Regret: None.
The Phillies probably didn't think much of Jeremy Horst when they acquired him from the Cincinnati Reds. It's nothing personal against Horst, but you just don't expect the return for a 34-year-old utility man (Wilson Valdez) to be very good.
Horst looked like organization depth. A solid left versus lefty option. That's not a terrible return in that trade. About what you'd expect, I'd suspect.
Well Horst has blown everyone's expectations right out of the water. In 17 innings, he has allowed just two earned runs, striking out 20 while walking seven.
Right now, he'd be ahead of Antonio Bastardo on my depth chart. I'm not kidding. He's been that good.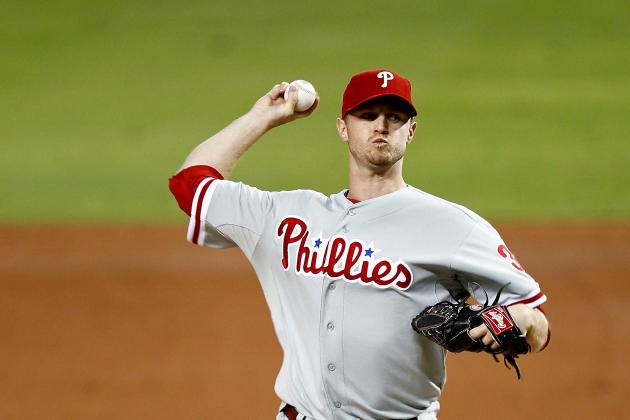 Sarah Glenn/Getty Images

Regret: Not figuring out whatever he's figured out sooner.
Kyle Kendrick tends to be the biggest whipping boy of Phillies fans when things aren't going very well, but with the way he is pitching right now, they're going to have to start looking for a new one soon.
The season totals are about what you'd expect out of Kendrick right now, but his last few starts have been excellent.
Since allowing six earned runs against the Atlanta Braves on August 8, Kendrick has made two starts—one against each of the Miami Marlins and Milwaukee Brewers—and posted a record of 2-0 with a 0.00 ERA in 15 innings.
Yes, you read that right.
What's been the difference for Kendrick? Well, you're going to have to use the eye test to get the real answer. The first thing he's done better is throw strikes. Kendrick has walked just one batter in the last two starts.
He's also using his pitches more selectively, throwing backdoor cutters and sinkers and utilizing a terrific changeup to keep hitters off balance.
I'm curious to see if he can make these changes stick.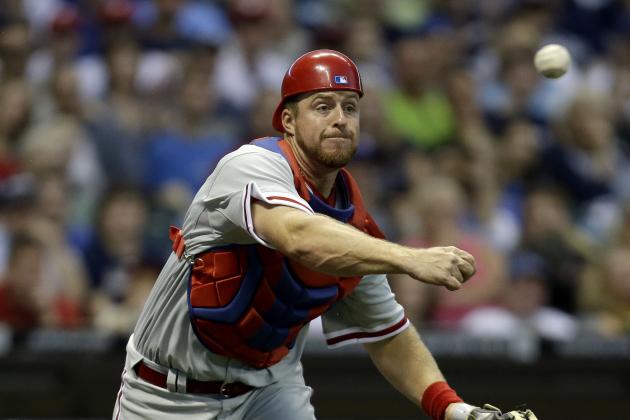 Mike McGinnis/Getty Images

Regret: Not being in the MLB sooner.
Erik Kratz took the Chris Coste path to Major League Baseball.
A career minor leaguer prior to the season, the Phillies brought Kratz back aboard as nothing more than catching depth, though some would make the argument that he should have been the Phillies' backup catcher from day one.
Anyway, Kratz got back to MLB by doing what's he's done with great frequency since he's been up here: Mash baseballs.
76 plate appearances is a small sample size, but it is hard to ignore Kratz's line over that stretch: .292 / .368 / .723, seven home runs, 16 RBI, eight walks to 14 strikeouts.
That's terrific for a guy who has spent the majority of his career in the minors. The Phillies will likely bring him back as the backup catcher next season, but with the way he has been hitting, it wouldn't be surprising to see them try and find him playing time at other positions.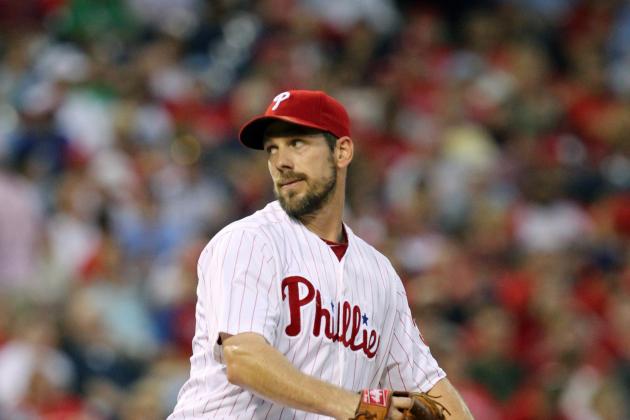 Hunter Martin/Getty Images

Regret: The arbitrary win statistic.
Cliff Lee has two wins. We know. They're paying him a lot of money and he should have a lot more than two wins. We get the picture.
But it's 2012 people. We're more advanced now. We have better statistics than something so arbitrary as wins and we shouldn't pigeonhole Lee into having a "historically bad season" because he has two wins.
So what. He's pitched better than that. The proof is in the pudding.
He's thrown 154.2 innings. He has posted a K/9 rate of 8.79 and a BB/9 rate of 1.45—both of which are better marks than his career average. Sure, his 3.78 ERA seems very high, but his xFIP mark of 3.13—which is more predicative than ERA—still makes him elite.
Hey, that's better than Cole Hamels' xFIP mark of 3.29, and he's a Cy Young candidate!
But don't let the truth stand in the way of a good (or bad, depending on your perspective) story.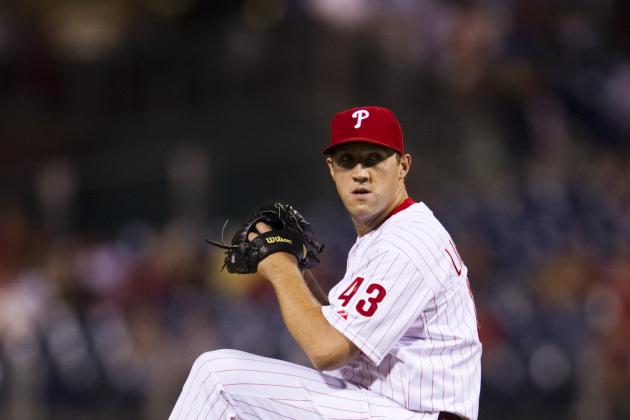 Howard Smith-US PRESSWIRE

Regret: Leaving his mojo in Los Angeles.
There is still a lot of time for Josh Lindblom to right the ship, but the Phillies thought that he was a lot better than he has shown since arriving in Philadelphia as part of the deal that sent Shane Victorino to Hollywood.
Lindblom, a 25-year-old right-handed reliever, was expected to become the Phillies' set-up man upon arrival, but he's tanked since getting here.
It's been just eight innings, but Lindblom has allowed seven earned runs while walking seven batters and striking out just eight.
Whatever was working for him in Los Angeles is still out there. He needs to find that mojo soon.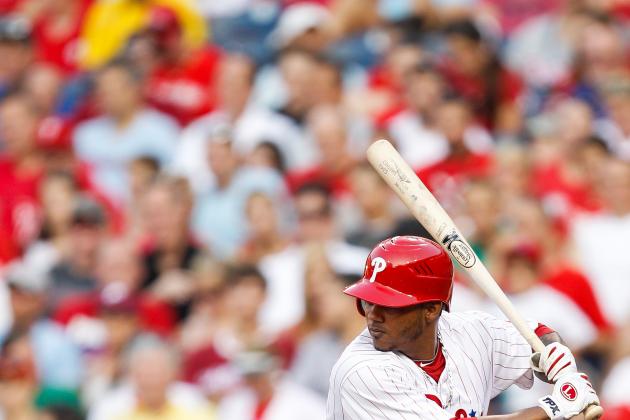 Brian Garfinkel/Getty Images

Regret: Everything.
It sounds harsh, but Michael Martinez really hasn't done anything well with the Phillies this season.
He has nine hits in 64 plate appearances, helping to create an ugly slash line of .153 / .206 / .254. Somehow, he's managed to hit two home runs. Someone check and see if his bat is corked!
Seriously though, I don't imagine Martinez has done anything that he is overly proud of this season. He's the last man off of the bench right now and the Phillies are using him primarily as a pinch-runner.
And not because he's fast, but because Ryan Howard is incredibly slow.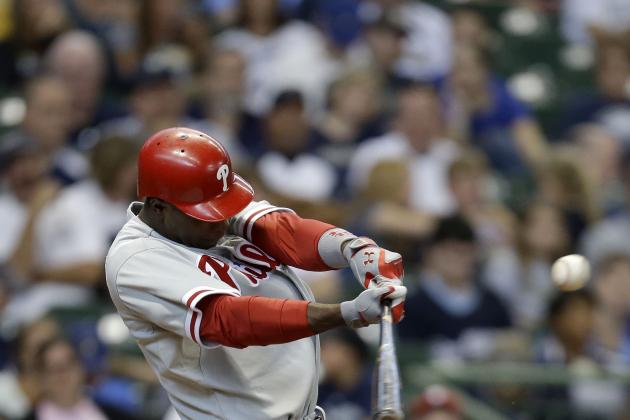 Mike McGinnis/Getty Images

Regret: Failing to prove that he cannot play everyday for a second consecutive season.
The Phillies are really giving John Mayberry Jr. every chance in the world to show them that he can be, at the very least, an average regular player, but it is time to accept that he just can't do it.
This goes back to last season when the Phillies gave him a chance to replace the struggling Raul Ibanez, who was in the final year of his three-year deal.
Mayberry showed that he could hit, but not with any consistency.
Despite that, the Phillies gave him a chance to win the left field job in spring training in 2012. They passed on free agent outfielders to splurge on more pitching and it hurt them big time.
Mayberry couldn't beat out the slap hitting Juan Pierre for the left field job and wound up getting a free pass because Ty Wigginton is a butcher at any defensive position and the Phillies needed a first baseman.
The experiment is over. Mayberry failed not once, but twice.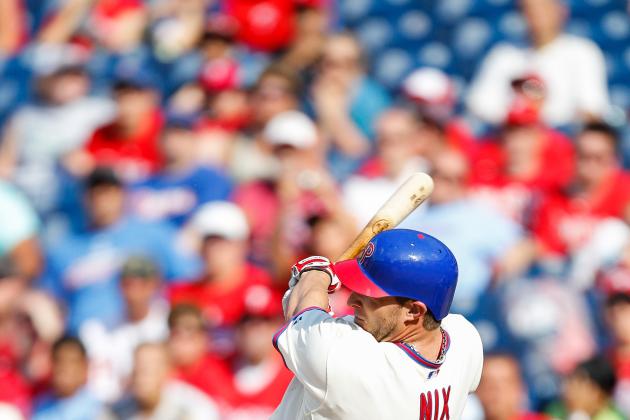 Brian Garfinkel/Getty Images

Regret: Missing so much time on the disabled list.
Laynce Nix was on fire at the plate right before he suffered a pretty severe calf strain and missed more than 50 games during the season.
That was a tough blow for the Phillies, who were still without Chase Utley and Ryan Howard at the time, but an even bigger blow for Nix on a more personal level.
Realistically, there was playing time out there just sitting there for the taking. Without Howard at first base, there was time there. There was time in the outfield with the left field job still being a revolving door of names.
Frankly, Nix missed his chance to become more of a regular player. Instead, he now finds himself in a crowded outfield of playing battling for jobs next season that includes Nate Schierholtz, Juan Pierre, Domonic Brown, John Mayberry Jr., and possibly others.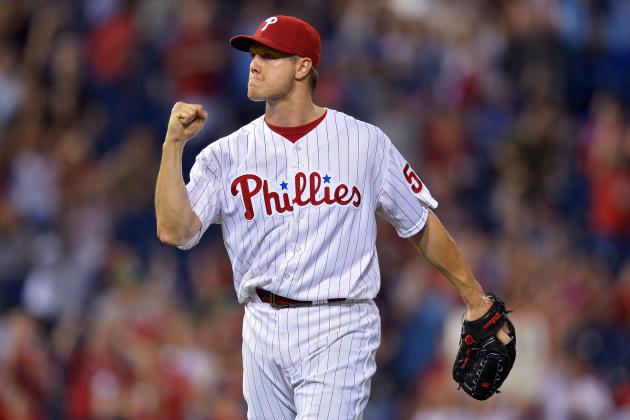 Drew Hallowell/Getty Images

Regret: Being used in non-save situations.
I'm almost positive this is just a coincidence, but Jonathan Papelbon's numbers in non-save opportunities are a little alarming anyway.
After he spent a good bit of time speaking on how he gets pumped up for save situations in his introductory press conference over the offseason, it is now apparent that getting pumped up in non-save situations is not as easy.
Papelbon has pitched 19.1 innings in that situation and has allowed nine earned runs, including four home runs. He's getting tuned up to an opponent's slash line of .256 / .326 / .474.
Obviously, you'd like your "elite" closer to be a bit more elite than that.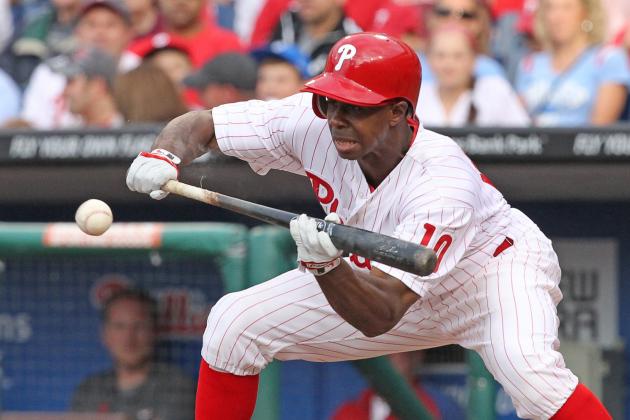 Hunter Martin/Getty Images

Regret: None.
Sure, you could nitpick on a few areas of Juan Pierre's game this season, but I'm not going to.
This is a guy that came into spring training with teams around the game basically haven given up on him. He had a down year with the Chicago White Sox in 2011 and couldn't even land a guaranteed deal coming into the new year.
So the Phillies gave him a spring invite and a chance to work his butt off, and he did. He beat out John Mayberry Jr. for the starting left field job and hasn't slowed down since, posting a line of .304 / .342 / .370 with 31 stolen bases.
The Phillies will take that kind of production on a minor league deal any day of the week.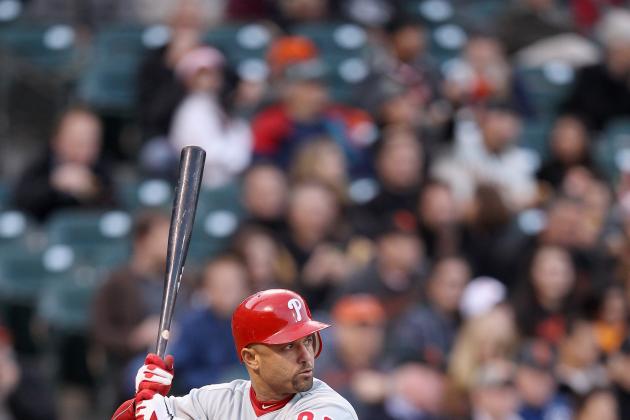 Ezra Shaw/Getty Images

Regret: Failing to prove that he's still an everyday player this season.
Placido Polanco came into this season with a lot of doubters looking on and he certainly hasn't done anything to prove them wrong.
The Phillies third baseman really needed to show the league that he can still play everyday, and that isn't limited to playing third base.
Instead, he's posted another campaign filled with question marks. He hasn't shown that he can stay on the field and healthy for an extended period of time, but more importantly, he hasn't shown that he can be productive, having posted a slash line of .258 / .304 / .329.
The Phillies are going to need a third baseman next season, but I'd be surprised if Polanco was the guy unless things went catastrophically wrong in their offseason planning.
Truthfully, I think they'd rather go with Kevin Frandsen right now.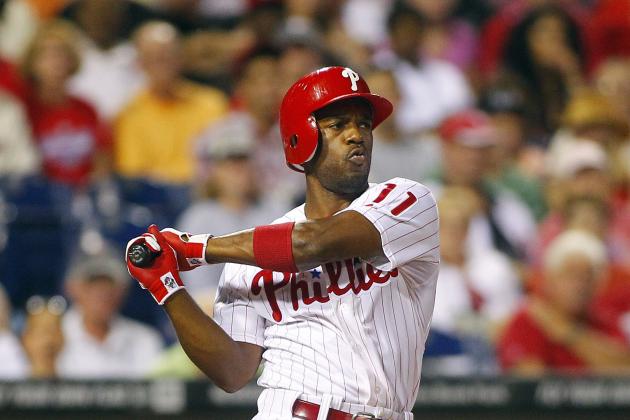 Rich Schultz/Getty Images

Regret: Being forced to hit lead-off for most of the season.
There's no two ways about it: Jimmy Rollins is not a lead-off hitter at this point in his career.
Players at the order are tasked with setting the pace of the entire lineup. They need to look at a lot of pitches and get on base to effectively utilize their speed, and Rollins has done neither of those things this year.
He's hitting .238 / .297 / .397 with 14 home runs.
If he's hitting eighth in the lineup, that's pretty good production from a shortstop who plays well above average defense.
As a lead-off hitter, that's not just something to regret. That's something to be ashamed of.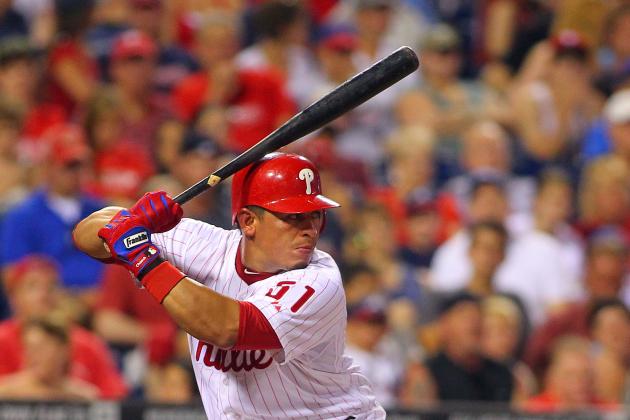 Rich Schultz/Getty Images

Regret: Suffering an injury in a career year.
I was going to put "none" on this slide for Carlos Ruiz so if you feel the same way, you're not going to get much of an argument out of me.
With that being said, as I said before, sometimes the things you regret are just out of your control and I think that Ruiz was agree to that. Ruiz is currently on the disabled list with plantar fasciitis and it couldn't have come at a worse time.
Ruiz was dab smack in the middle of a career year that saw him post a slash line of .335 / .399 / .559 with 14 home runs.
The Phillies talked about giving him some playing time at third base to keep him fresh before he went on the DL and that is something that I would have liked to have seen.
If Ruiz can swing the bat enough to play third base and Erik Kratz can swing the bat well enough to stick behind the plate, the Phillies may have been on to something.
Of course, that's a huge gamble too.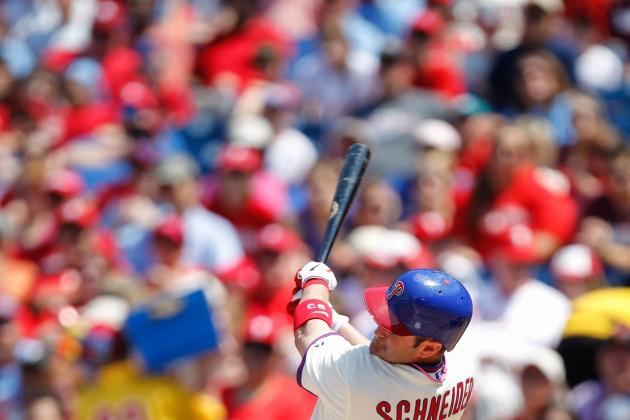 Brian Garfinkel/Getty Images

Regret: Erik Kratz.
Brian Schneider's biggest regret has to be Erik Kratz, right?
I mean, Schneider was back on a one-year deal this season so there was definitely no guarantee that he'd be back in 2013, but the chances of Schneider coming back for another season as the club's backup catcher seem to be evaporating even further every time that Kratz plays.
It's been a solid season for Schneider, who has hit .227 / .292 / .352 with a pair of home runs, but there are just better options for the backup catcher's position at this point.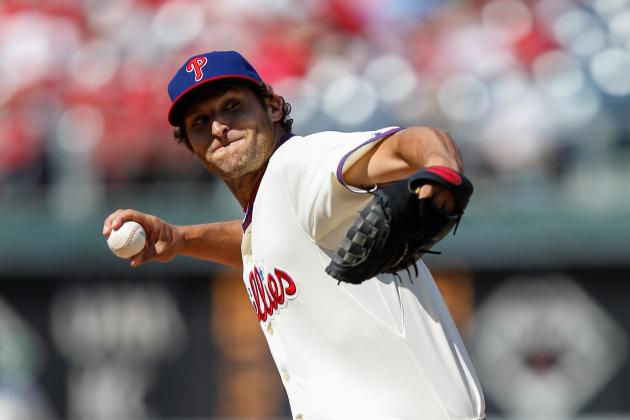 Brian Garfinkel/Getty Images

Regret: Lack of consistency.
Michael Schwimer went from being one of the worst relievers on this roster to the club's best right-handed option not named Jonathan Papelbon for a while, but he hasn't been able to make anything stick.
He just hasn't been consistent. Period.
Early in the season, Schwimer was bad enough to warrant a demotion to Triple-A. When he came back, he was much better. He was spotting his fastball and setting up his off-speed pitches nicely.
Schwimer is just going to have to adjust or fall by the wayside in MLB. He is walking too many batters and allowing too many base hits.
There should definitely be some concern around that .300 BABip and 4.41 xFIP. It means things aren't going to get any better.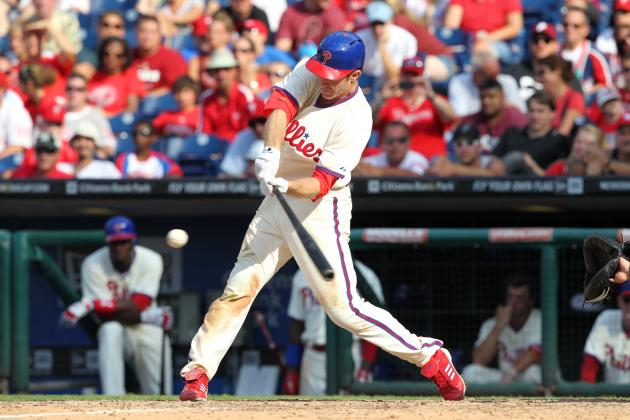 Hunter Martin/Getty Images

Regret: Not playing a full season.
Anyone with a passing knowledge of Chase Utley knows that he wants to be on the field for 162 and that isn't going to happen when he's dealing with a chronic knee condition. No one is going to fault him for that.
But I'm sure that Utley regrets not having a better grip on the condition of his knees in the offseason. While he may be in a "good place" now, he wasn't in spring training. He was forced into seeing a specialist in Arizona and missed the first two-plus months of the season.
Now that he's feeling better, however, we're seeing some glimpses of the old Chase Utley. You can see it in his slash line, which currently sits at .247 / .354 / .463 with eight home runs.
The batting average is down and I'm sure Utley is none too please about that, but the power numbers are good. He's also getting on base at a strong clip having walked 23 times and struck out just 25.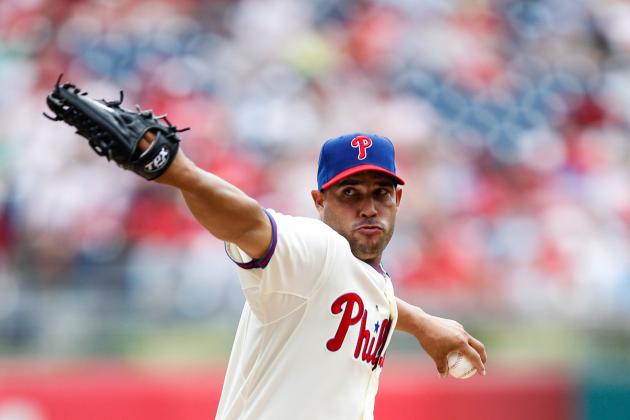 Brian Garfinkel/Getty Images

Regret: None.
Raul Valdes has done everything right for the Phillies this season.
Here is another guy that came into camp on nothing more than an invite and wound up having enough of an impact to stick with the Phillies' Triple-A affiliate and get the call-up soon thereafter.
Since then, Valdes has been a mainstay in the Phillies' bullpen, sans a brief demotion. He's posted a record of 2-2 with a 3.25 ERA. He's also posted a SO/BB ratio of 6.40.
You can't ask for much more out of a guy like Valdes.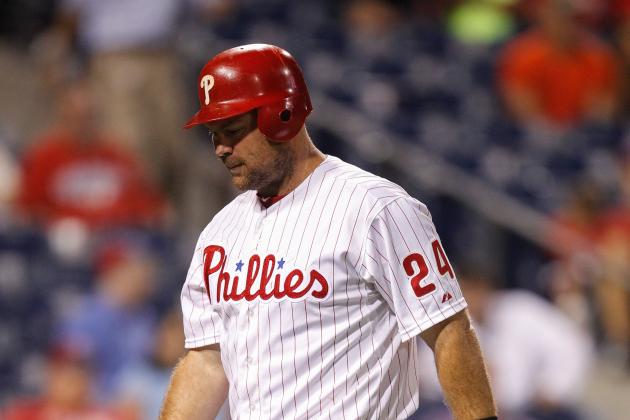 Brian Garfinkel/Getty Images

Regret: Being a butcher in the field and struggling against left-handed pitching.
The Phillies brought Ty Wigginton aboard over the offseason to do two things: Play multiple positions in the event that the Phillies need to give their regulars time off and hit left-handed pitching off of the bench.
He has done neither particularly well.
Wigginton has been a butcher in the field and that has tied Charlie Manuel's hands. He's really only been able to play him at first and third base, and third base is an adventure for Wigginton nowadays.
This comes off the heels of a season where he also played second base and the outfield. Yeah, right.
He's also supposed to be the club's top option off of the bench against left-handed pitching, and while his .780 OPS looks good, I assure you, all it does good is look. He's had some pretty terrible at-bats off of the bench and the Phillies expected more out of him.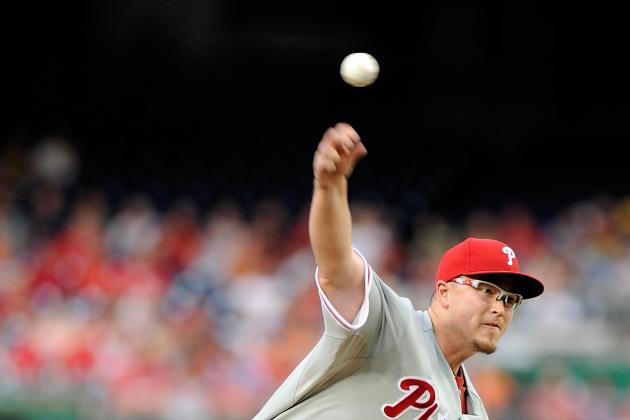 Greg Fiume/Getty Images

Regret: Having to pitch the entire season with bone chips in his right elbow.
Shut him down already!
Sure, both the Phillies and Vance Worley continue to say that the bone chips in his pitching elbow aren't affecting him, but I think we all know that they actually are.
Ask Cole Hamels what it's like to pitch with bone chips in your throwing elbow. Here's a video of him explaining how difficult it was.
It's time for the Phillies to be real here. The season is over. The recovery time for the elbow procedure to remove the bone chips is small for professional athletes, but why wait until the season is over?
The Phillies have two pitching prospects knocking on the door in Tyler Cloyd and Jonathan Pettibone, and shutting down Worley and moving to a six-man rotation would not only do Worley a world of good, but it would allow the Phillies to pitch guys like Roy Halladay and Cliff Lee more sporadically.
They'd also get a chance to assess all three of their in-house options for that fifth starter's role in 2013: Cloyd, Pettibone, and Kyle Kendrick.
Color me crazy, but I just don't see where keeping Worley in the rotation with bone chips in his elbow does anyone any good.