Washington Capitals: Power Ranking the Team's Top Prospects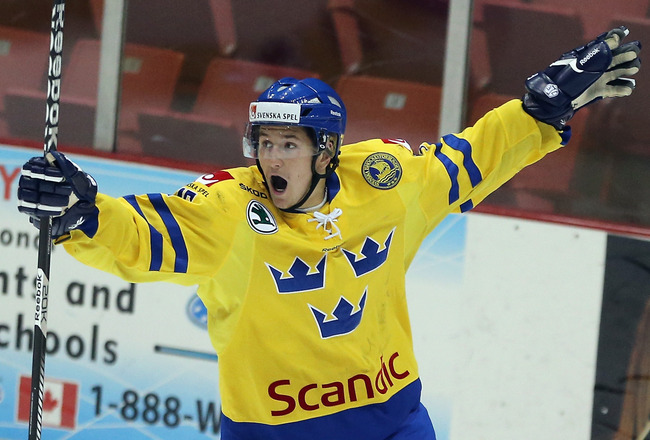 Bruce Bennett/Getty Images
Since George McPhee took over as general manager of the Washington Capitals, the team has consistently identified and acquired a number of high-end prospects, many of whom have gone on to starring roles in the NHL.
What's been even more impressive is that the team has been able to draft some of the best young players in the world, despite regularly drafting late in the first round as a result of solid regular-season performances.
Every team in the league had guys like Alex Ovechkin, Karl Alzner and Nicklas Backstrom ranked as top 10 picks, but it's the selections like Mike Green (29th overall in 2004), John Carlson (27th overall in 2008) and Marcus Johansson (24th overall in 2009) that separate average scouting staffs from exceptional ones.
Though the Caps aren't likely to have more than one or two rookies on the roster in 2012-13, the cupboard is far from bare as far as prospects go.
Here's a look at the Caps' top prospects heading into the 2012-13 season.
Philipp Grubauer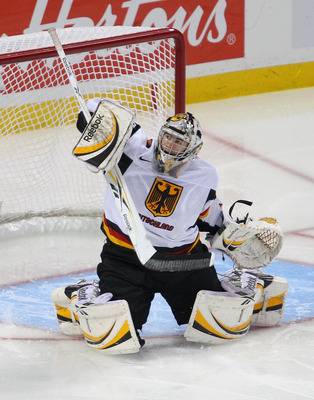 Rick Stewart/Getty Images
While the Capitals have yet to find their definitive goaltender of the future (though Braden Holtby appears to be in the process of changing that), the team has drafted a number of promising young netminders within the last seven years.
Semyon Varlamov, Michal Neuvirth and Holtby have all materialized into NHL-calibre goalies, and Philipp Grubauer, the Caps' fourth-round selection from 2010, may soon join that list.
After three solid seasons in the OHL, Grubauer made his professional debut with the South Carolina Stingrays of the ECHL in 2011-12.
With the Stingrays, Grubauer did not disappoint and appears poised to make the jump to the AHL this fall.
Patrick Wey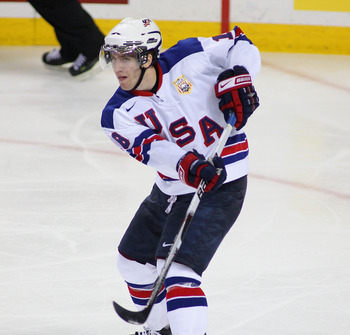 Rick Stewart/Getty Images
The Caps just may have uncovered a hidden gem in Patrick Wey, whom the team drafted with their fourth-round pick in 2009.
Wey, a big, strong defenseman entering his senior season at Boston College, hasn't put up big numbers during his first three years at BC, but that's not his game.
Though the 2011-12 season was a trying one for the 6'3" rearguard, Wey recovered from a nasty severed tendon to post three points in four NCAA tournament contests, helping the Eagles bring home yet another national title.
Wey won't be suiting up for the Caps anytime soon, but he's certainly a prospect worth keeping an eye on in the future.
Zach Hamill
Bruce Bennett/Getty Images
As the oldest player on this list by a good margin, 23-year-old Zach Hamill is a guy the Caps are hoping will turn out to be a late bloomer, which is why the team dealt Chris Bourque to the Boston Bruins in order to acquire his services.
It's easy to forget that just five years ago, Hamill was one of the hottest prospects in the game, as the Bruins took him with the eighth pick in the 2008 NHL draft.
Fast forward to the present, and Hamill, who was a prolific scorer in juniors (highlighted by a 93-point performance during his last full season in the WHL), is still searching for his scoring touch as a professional.
The Caps clearly see potential in the gifted playmaker, but it remains unclear whether or not Hamill is fast enough to be a difference-maker at the next level.
Caleb Herbert
Whenever a player is drafted directly out of a high school league, it's always interesting to see how they progress at the next level of play.
Caleb Herbert, Washington's fifth-round pick from 2010, made the jump from Minnesota high school hockey up to the USHL in 2010-11, and last season, he took the next step in his development by beginning his college career at the University of Minnesota-Duluth.
As a member of the Bulldogs, Herbert posted an impressive 33 points, leading all freshmen in scoring.
Herbert is definitely more of a long-term project than anyone else on this list, but if he continues to develop, he could earn the opportunity to make the jump to professional hockey after his sophomore season.
Chandler Stephenson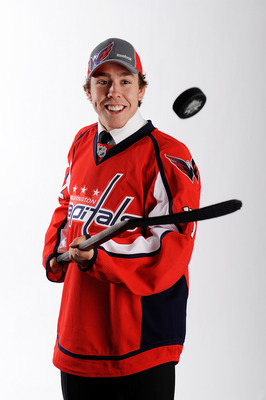 Jamie Sabau/Getty Images
Though much of the attention will be on the Caps' two first-round picks of the 2012 NHL draft, the team may have uncovered a valuable asset in the third round, when they took Chandler Stephenson of the Regina Pats with the 77th overall selection.
Stephenson, who in his second season of WHL hockey, posted 42 points in 55 games, and is a good two-way pivot with decent offensive abilities.
He'll return to the Pats for the 2012-13 season and if he can increase his offensive production in his third year of Major Junior, he'll begin next year either in the AHL or ECHL.
Stanislav Galiev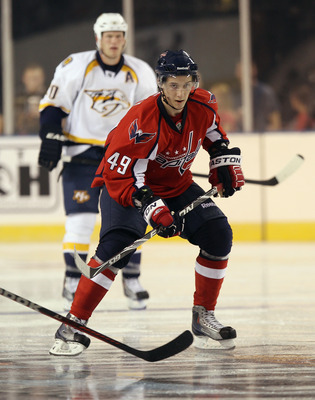 Bruce Bennett/Getty Images
During his time with the Saint John Sea Dogs of the QMJHL, Stanislav Galiev quietly put together three very impressive seasons as a member of the back-to-back league champions.
Though the Caps' third-round selection from 2010 was hampered by a wrist injury that limited him to just 20 games in 2011-12, Galiev appeared to be at full strength during the postseason, as the 20-year-old Russian scored 34 points in just 17 games.
A prolific scorer in juniors, Galiev notched at least 60 points in each of the two seasons prior to his injury-plagued 2011-12 campaign. Though he may need a year, Galiev has the size (6'1") and skill to be an offensive force with the Caps in the not-so-distant future.
Tom Wilson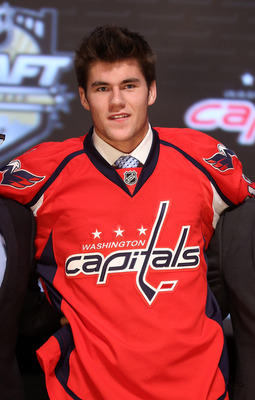 Bruce Bennett/Getty Images
With the team's second first-round selection in the 2012 NHL draft, the Capitals took power forward Tom Wilson of the Plymouth Whalers.
Wilson, who uses his big frame to create space for himself well, projects to be a second- or third-line winger, and his physical style of play helped him climb up scouts' lists in the months leading up to the June draft.
Though he notched just 27 points with Plymouth in 2011-12, the 6'4" bruiser of a winger tallied 13 points in 13 postseason contests and should be more of an offensive weapon for the Whalers in 2012-13.
He may take longer to develop than many of the other prospects taken in the first round of this year's draft, but Wilson could become a nuisance for opposing goaltenders and defensemen in two to three years.
Filip Forsberg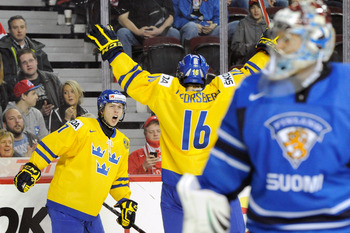 Richard Wolowicz/Getty Images
When the Caps' first selection in the 2012 NHL draft rolled around at No. 11, the team figured to have a decent shot at acquiring a future impact player. However, they couldn't have possibly imagined that they'd have the opportunity to draft Filip Forsberg at that point in the first round.
Forsberg, who had been projected as a potential top-five selection (Yahoo! Sports mock had him going at No. 2 to Columbus), is the type of high-end talent that Washington hasn't had the chance to select in years.
With 17 points in 43 games during his first full year at Leksand, and a World Juniors gold medal already in his trophy case, Forsberg has all the tools to be a star at the NHL level.
He'll be returning to Sweden this year, but after 2012-13, he could begin what should be a promising career with the Capitals.
Evgeny Kuznetsov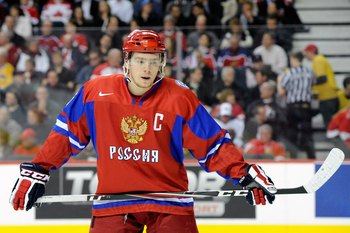 Richard Wolowicz/Getty Images
As The Hockey News' top-ranked prospect in the publication's annual Future Watch, Evgeny Kuznetsov is arguably the best player not currently suiting up in the NHL.
Kuznetsov, who led Russia to a gold medal at the 2011 World Juniors and last year posted an eye-popping 13 points in six games en route to tournament MVP honors, is an offensive dynamo who will be a top-six forward with Washington whenever he decides to leave Russia.
Unfortunately, after he signed a two-year deal to remain in the KHL this spring (per Yahoo! Sports), it appears that Kuznetsov will be unavailable to make the move until 2014-15.
Regardless of when he joins the Capitals, Kuznetsov is a near-lock at this point to be a star in the NHL.
Keep Reading

Washington Capitals: Like this team?