Packers vs. Bengals: Key Players, Things to Watch for with Green Bay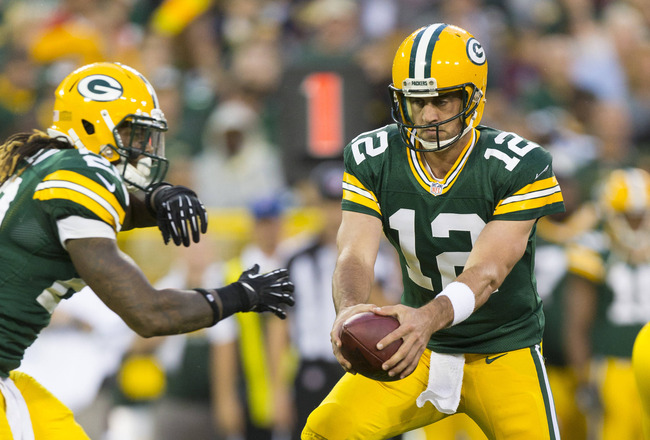 Alex Green and Aaron Rodgers
Jeff Hanisch-US PRESSWIRE
The Green Bay Packers travel to Cincinnati to take on the Bengals in Week 3 of the preseason on Thursday ready for a win.
After going 0-2 to start the preseason, the Packers are looking to get the bad taste of losing out their mouths in the exhibition game that the starters traditionally play the most.
For fans, that means seeing more of Aaron Rodgers, Clay Matthews and Charles Woodson than they'd typically see in a meaningless game.
Here's what to watch for...
The Starters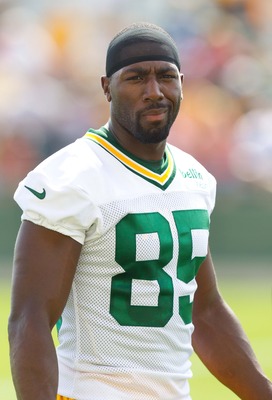 Greg Jennings
Jeff Hanisch-US PRESSWIRE
Under head coach Mike McCarthy it's been tradition that the starters play the most in the third preseason game before backing off for the fourth exhibition game in order to keep them healthy.
Even though preseason records don't matter, there's been an renewed emphasis on winning in Green Bay this week. The Packers don't want to get into a habit of losing.
Through the first two preseason games, the starters haven't played all that much, only a handful of series. That will change on Thursday, however.
"That's our goal," McCarthy told the media this week. "We want a full half of work, starters, as in the first group."
The Packers could use a good performance from the starters to build a little momentum, especially from quarterback Aaron Rodgers and the passing game. In the first two exhibition games, the Packers have averaged a pathetic 4.0 and 4.4 yards per pass.
Thursday also marks the return of wide receiver Greg Jennings and tight end Jermichael Finley to action after missing the first two games due to injury. It bears watching how long the coaching staff will want to leave them in the game and risk exposing them to further injury.
UPADATE: Finley announced via Twitter that he will not be playing in tonight's game to head back to Green Bay due to the birth of his second child.
Graham Harrell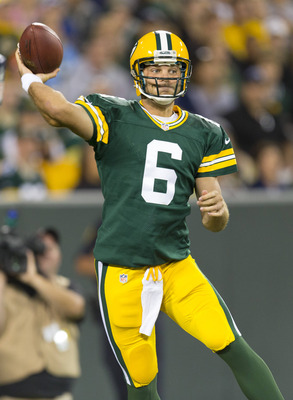 Graham Harrell
Jeff Hanisch-US PRESSWIRE
After last week's less-than-impressive performance from Graham Harrell, there's been intense scrutiny on the backup quarterback situation in Green Bay.
Harrell probably doesn't deserve much criticism for his two interceptions in last week's loss to the Browns (one when a receiver fell down and the other on a Hail Mary), but his 50 percent completion rate and 26.4 passer rating were still well below par.
There's still time for Harrell to redeem himself, but time is running out. If he has another outing or two like the first couple, the Packers will have to seriously consider acquiring a veteran backup to Aaron Rodgers this season.
There's some question whether Harrell deserves playing time with the first string against the Bengals. Not all of his woes can be blamed on playing behind a second-rate offensive line or by throwing to second-tier receivers, but Harrell would certainly benefit from seeing some action with the starters.
The Debut of Cedric Benson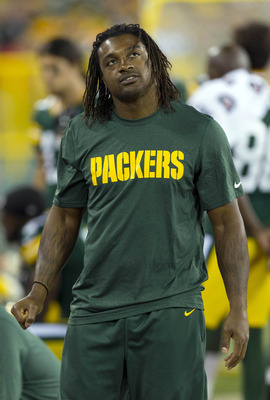 Cedric Benson
Jeff Hanisch-US PRESSWIRE
Not only will Thursday be Cedric Benson's debut in a Packers uniform, but it also will have the added intrigue of being against Benson's former team in the Bengals.
"Honestly, I'm trying to run for 100 yards before I get out of there," Benson told the media earlier this week. "That's exactly what I want to do."
Running for 100 yards in a preseason game when he's expected to split carries among other running backs might be a bit of a stretch, but there's nothing wrong in thinking that way.
Benson also said he's looking forward to making the proper protection, running good routes and reading the defense, all of which will be important in the Packers' pass heavy offense. If Benson is going to be a starter by Week 1 of the regular season, which isn't out of the question, there's a lot to learn in little time.
It's the first time Benson has been in a so-called "West Coast Offense," so it will take some time for him to get used to the Packers system. It will help that Benson has experience playing in a one-back system, a direction the Packers appear to be headed.
The Cornerback Competition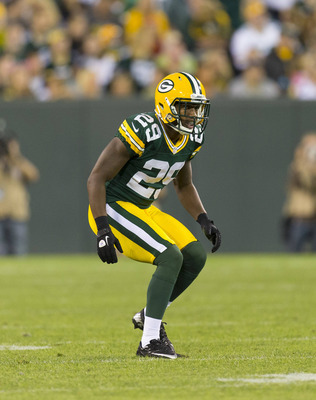 Casey Hayward
Jeff Hanisch-US PRESSWIRE
The Packers have come full circle at the cornerback position opposite Tramon Williams since the beginning of training camp.
On the very first day of practice, Jarrett Bush found himself working with the starters before giving way to Davon House shortly thereafter. House was looking to set himself up for a starter's job until a shoulder injury got in the way during the first preseason game.
In preseason Week 2, it was second-round draft choice Casey Hayward's turn to work with the first-team defense, and typical of any rookie, he had his ups and downs.
Heading into Thursday's game, it looks to be Bush working with the starters once again, but neither he nor anyone has been declared the winner in the cornerback competition.
Even Sam Shields, who has been a been a regular contributor over the past two seasons, can't be counted out of the running just yet.
Maybe no player will win the job outright, and the Packers will look to use each individual player based upon matchups and their own personal strengths and weaknesses, much like they did last season in the playoff game when Bush and Shields shared playing time against the Giants.
The Safety Competition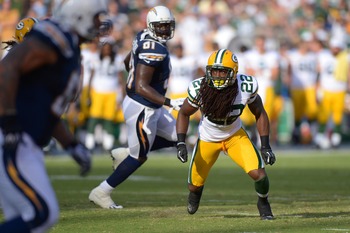 Jerron McMillian
Jake Roth-US PRESSWIRE
Just like cornerback, the battle for a starting position at safety remains unfulfilled as well, which makes the secondary as a whole one of the most unsettled areas on the team.
Charles Woodson will man the safety position opposite Morgan Burnett in the base 3-4 defense, but when Woodson lines up in the slot cornerback position in the sub packages, it's still unknown who will line up at safety.
M.D. Jennings got the bulk of the reps with the starters during the offseason and the early stages of training camp, but despite that advantage, he hasn't done enough to win over the coaching staff.
Rookie Jerron McMillian followed up a rough first preseason game with an excellent second one to insert himself squarely into the competition, but he's going to have to put together more remarkable performances to win the job.
This week during practice, Anthony Levine has been working with the first-string defense to make it a three-way battle, in which the victor has yet to be determined.
Tori Gurley and Diondre Borel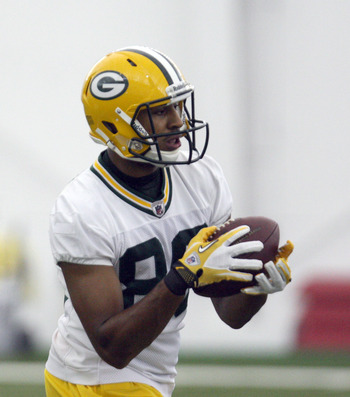 Diondre Borel
Mary Langenfeld-US PRESSWIRE
Throughout the offseason there was a lot of talk about Tori Gurley and Diondre Borel and how the Packers couldn't afford to let these up-and-coming, young receivers take their talents to another NFL team.
There was even a faction of Packers fans calling for the Packers to cut veteran Donald Driver so as to not stunt the growth of two young receivers who have the potential of contributing to the Packers for years to come. Others speculated that the Packers could keep up to seven wide receivers on their 53-man roster.
Fast forward to training camp, and neither has stepped up their game as much as people perhaps expected. Furthermore, each has missed a chunk of time with groin injuries.
Both have played in only one preseason game; Borel in the first and Gurley in the second. And the only catches either of them have made were three by Borel against the Chargers for a paltry 4.3 yards per reception.
Now healthy, the Bengals game is a chance for both of them to get back on track and make a push toward making the roster because the sand in the hourglass is running low for both of them.
The Underperforming Defensive Line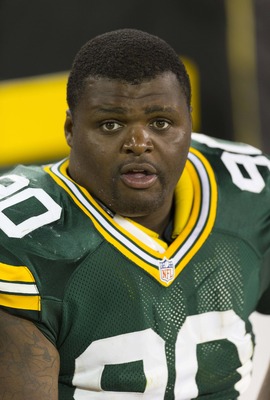 B.J. Raji
Jeff Hanisch-US PRESSWIRE
It could be argued that the Packers' defensive line last season was a liability. After losing Cullen Jenkins in free agency, the Packers never could replace his production.
B.J. Raji seemed to regress. Ryan Pickett was solid but has not been a pass-rush threat. The rest of the defensive linemen are barely worthy of mention.
In order to improve the position, the Packers went out and signed three defensive linemen in free agency: Anthony Hargrove, Daniel Muir and Phillip Merling. Then they double-downed by adding two more in the NFL draft with Jerel Worthy and Mike Daniels.
Improvement is expected, but there's been little to show that actual improvement is being made through two preseason games.
Not a single defensive lineman has a sack yet in exhibition play, and the run defense has been average at best. It's time for the defensive line to start playing up to expectation, and Thursday would be a great time with the starters getting lots of repetitions.
Reggie Wells at Left Tackle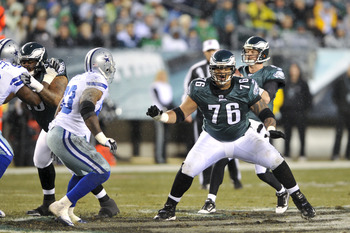 Reggie Wells
Howard Smith-US PRESSWIRE
The disaster that was Herb Taylor at left tackle in preseason Week 1 at San Diego is a memory that Packers fans would probably rather forget.
Thankfully for them, the return of Marshall Newhouse the following week against the Browns brought some stability to the offensive line and some better protection of Aaron Rodgers.
With Derek Sherrod expected to miss at least the first six weeks of the season on the PUP list, however, the backup left tackle situation is still a tenuous one. Rookie Andrew Datko can't yet be trusted, and the Packers would rather not go back to Taylor.
Enter Reggie Wells who was signed by the Packers as a free agent a little more than a week ago. He spent most of his first game in a Packers uniform against the Browns playing guard, but he should see more time at left tackle with the second-string offense on Thursday versus the Bengals.
Unless the Packers pick up another offensive lineman via waivers or another route, it's looking like Wells will be the backup swing tackle, at least until Sherrod returns, so it's imperative he can provide some security on the edge.
Rookies Playing Big Roles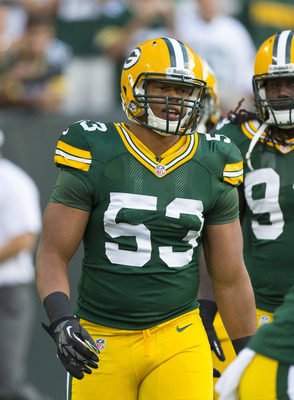 Nick Perry
Jeff Hanisch-US PRESSWIRE
The Packers would prefer that Nick Perry plays so well that he can be trusted to be a three-down player and rarely come off the field. There's a good chance that will happen, but Erik Walden is making a strong push for playing time.
To that end, Perry could use a strong finish to the exhibition season where he plays well in all phases of the game against both the run and pass. And it would be nice if he was joined by second-round draft choice Jerel Worthy.
Worthy made a splash in the Packers' intra-squad scrimmage when he had a tackle for a loss in the run game, but in preseason action, Worthy has been largely invisible. There's still time left to make a positive impression, and Worthy would be advised to make one soon or incur the wrath of critics.
In the secondary, both Casey Hayward and Jerron McMillian are fighting for starting gigs, making for a quartet of rookies that could play big roles on the Packers defense this season.
If the Packers defense is going to significantly improve over a year ago, a large part of that improvement is going to rest on the young players' shoulders.
Last Chance for Bubble Players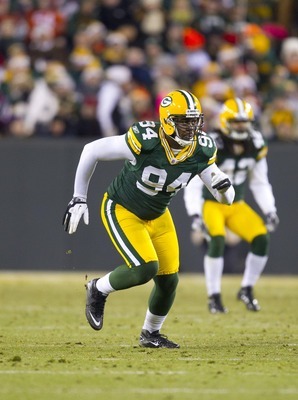 Jarius Wynn
Jeff Hanisch-US PRESSWIRE
The third preseason game is the last game before all NFL teams have to cut their rosters down to 75 players by Monday, Aug. 27.
With that deadline looming, it's imperative for the players on the roster bubble to have a good outing and avoid the dreaded pink slip. For some players, it's about making the 53-man roster or an invite onto the practice squad. For others, it's merely a chance to survive another week in hopes they can make an impression in the final preseason game.
Defensive lineman Jarius Wynn is clearly on the fence when it comes to making the Packers roster despite being part of the team for the past three seasons, and only a dominant performance on Thursday might save him from being axed.
Among undrafted rookies, the competition is fierce. For example, look at the wide receivers where Jarrett Boykin, Dale Moss and Curenski Gilleylen are engaged in an all-out battle to survive the longest.
There are no guarantees in the NFL, so the players furthest down the depth chart will be playing to literally extend their careers on Thursday.
Keep Reading

Green Bay Packers: Like this team?