The Strasburg Effect: How Should White Sox Handle Chris Sale's Workload?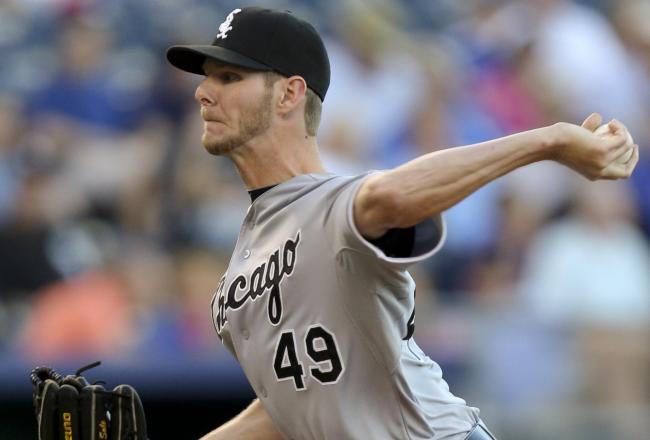 Chris Sale is fourth in the American League with a 2.72 ERA.
Ed Zurga/Getty Images
One of the hottest topics in baseball currently is Stephen Strasburg's innings limit, and the Washington Nationals plan to shut him down in September.
Driving the discussion is the Nationals' success this year. As of Aug. 22, Washington holds first place in the NL East with a lead that has grown to seven games. That creates the very real possibility of the Nats playing in the postseason and competing for a championship without their best starting pitcher.
The Chicago White Sox are also a first-place team, holding a two-game lead over the Detroit Tigers in the AL Central. While that obviously isn't as imposing a margin as the Nationals' NL East lead, the White Sox are looking like a strong contender for the postseason, whether through division title or wild-card playoff spot.
Additionally, the White Sox have a starting pitcher whose workload should be a concern. Prior to this season, Chris Sale had never pitched more than 71 innings in a major league season. He's already doubled that total this year, pitching 145.1 innings in 21 starts. That's more than he pitched between college, the minors and the big leagues in 2010, as well.
Yet there's no talk from Chicago general manager Kenny Williams of innings limits and September shutdowns when it comes to Sale. White Sox pitching coach Don Cooper told MLB.com's Scott Merkin on Aug. 11 that he wasn't even thinking about the possibility.
"If we need to skip a start, if we need to back them off a day, give them an extra day, we may do that," Cooper said to Merkin. "If we think we need to do something, we are going to do that. Right now, there's no thought of it."
The White Sox have stuck to that philosophy.
Sale skipped a turn in the rotation in early July, getting extra rest before the All-Star break. The team also expanded to a six-man starting rotation earlier in August, providing an additional day of rest for Sale and Jose Quintana. Off-days on the schedule have also provided extra time for Sale to recover.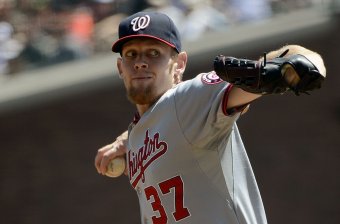 Unlike Stephen Strasburg, Chris Sale isn't coming off major elbow surgery.
Thearon W. Henderson/Getty Images
Such efforts have been more than the Nationals have done to extend Strasburg's season into September (and October) while still maintaining his innings limit.
Nationals general manager Mike Rizzo has insisted that the team wouldn't manipulate Strasburg's rotation, emphasizing the need for him to stick to a regular schedule.
Of course, there's a major difference between Strasburg and Sale, which accounts for the contrasting approaches.
Strasburg is pitching his first full season since having Tommy John surgery. The Nationals don't want to overextend his reconstructed elbow while also making sure that Strasburg builds the strength and stamina required for a full-season workload.
Sale hasn't suffered a significant injury to his pitching arm. He also pitched 80 fewer innings than Strasburg did between college and the minor leagues, according to The Baseball Cube. (Here are Strasburg's career totals compared with Sale's.)
There's always a concern about working a young arm too hard before it's acclimated to a major league workload; the White Sox might feel that there's a bit less mileage on Sale's arm and that they can afford to push him a bit.
However, Sale's unusual pitching motion—as demonstrated by this article from The Hardball Times—would appear to place more stress on his elbow. The White Sox basically acknowledged that when briefly deciding to pitch him in relief.
But the team apparently decided that his mechanics were better suited to a starter's five-day schedule instead of having to pitch two or three straight days, as many relievers do. Or coaches and the front office decided that Sale was of more value pitching 180 to 200 innings, rather than 70. Given Sale's performance—a 14-4 record and 2.72 ERA as of Aug. 21—that appears to be the right decision.
The Nationals mapped out their plan for Strasburg from the very beginning of the season, giving themselves a little wiggle room on how many innings he'd pitch based on how he progressed through his schedule.
If the White Sox have any such plan for Sale, they haven't been as forthcoming about it.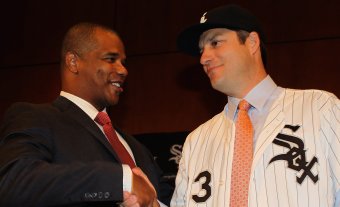 Kenny Williams and Robin Ventura don't intend to shut down Chris Sale.
Jonathan Daniel/Getty Images
Considering that Sale has been bounced between the starting rotation and bullpen, along with the team deciding three months into the season to skip Sale's scheduled start on occasion, it appears that their plans are much more fluid.
Yet there is a more prescribed course of action for pitchers coming off Tommy John surgery. Pitchers have a regimen of recovery and rehabilitation to follow, based on many previous cases.
No outlined itinerary exists for a pitcher like Sale. There's much more guesswork involved for him and the White Sox. Sports Illustrated's Tom Verducci has researched a theory that pitchers under 25 years of age shouldn't increase their innings by more than 30 percent for each subsequent season. But that's not a standard industry practice. And if it is, the White Sox have obviously dismissed it.
With six weeks remaining in the regular season, it's basically too late to change course now. The White Sox will have to continue coming up with ways to get Sale extra rest and keep his innings total down while attempting to extend his season into September and October.
They can give him an extra day, skip one of his turns or perhaps limit him to five or six innings per start. If the team is able to expand its first-place lead, that could also afford them the opportunity to shut Sale down for a week or two until the playoffs begin.
Crossing their fingers might also be something the White Sox want to try. There's going to be a good amount of hope and luck involved in their handling of Sale through the rest of the season.
Follow @iancass on Twitter
This article is
What is the duplicate article?
Why is this article offensive?
Where is this article plagiarized from?
Why is this article poorly edited?