Report Card Grades for Every Houston Texans Rookie Through Preseason Week 2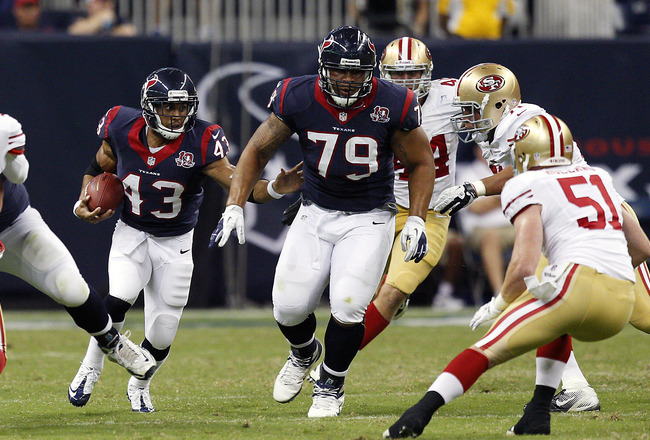 Bob Levey/Getty Images
Rookies are similar to certain people that we must accommodate in our everyday lives: can't live with them, can't live without them.
No coach wants to depend on the performance of a first-year player. Injuries and salary cap casualties often force feed rookies up the depth chart. The principal asset that they offer is their talent, but their inexperience can be a frequent liability.
This is where the Texans find themselves at several positions. Wide receiver, right guard, right tackle and the kicking game are chief concerns, while more depth across the defense would be helpful.
After two wins against the Carolina Panthers and San Francisco 49ers, Houston should be feeling pretty good about itself. Now we shall dig a little deeper into the newest additions and award them their midterm grades for the preseason.
Quarterbacks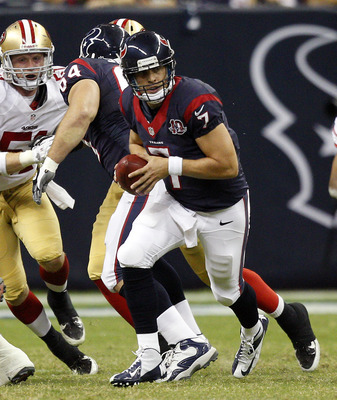 Case Keenum
Bob Levey/Getty Images
Case Keenum
Trying to make it in the NFL is a big step up from dominating Conference USA. And with every snap that Keenum has taken so far, it shows.
Operating from under center in the pros as opposed to the shotgun in college demands a kind of footwork previously unknown to him. While taking his drop he must read the defense, go through his progressions, sense the rush and try to keep from getting overwhelmed by it all.
So far it is difficult to tell if the player who surpassed Timmy Chang in the NCAA record books will suffer the same fate. A season on the practice squad would be the best place for him to learn by observing.
Preseason stats
Passing: 3 completions out of 6 attempts, 53 yards, 2 sacks
Rushing: 3 attempts for -5 yards
Grade: B
Running Backs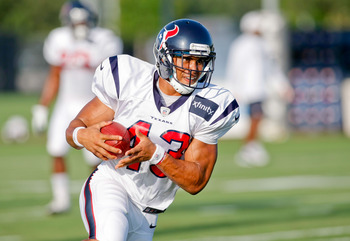 Jonathan Grimes
Brett Davis-US PRESSWIRE
Jonathan Grimes
Grimes has been a revelation, considering his small college background at William & Mary. His ability to locate the hole and use his quickness to zip through it has been surprising.
Justin Forsett was thought to be a lock as the third running back, and with four years in the league his status is not at risk. But if the Texans expect Grimes to stay safely hidden on the practice squad, they are mistaken.
Between his ability to carry the ball and play special teams, another team would be happy to put him on its active roster. His stay in Houston will probably be a short one.
Preseason stats
Rushing: 11 attempts for 59 yards, 5.4 avg., 1 TD
Grade: B+
Davin Meggett
The son of former NY Giant Dave Meggett has looked capable of growing into a backup role but has not been as dazzling as Grimes. He is smaller and not as fast but can move the ball when given the chance.
If as predicted, Grimes finds a home elsewhere, Meggett could grab a spot on the practice squad as his replacement.
Preseason Stats
Rushing: 8 attempts for 40 yards, 5.0 avg.
Grade: C+
Wide Receivers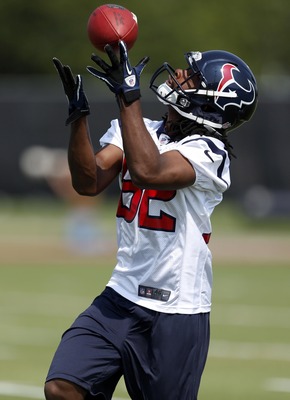 Keshawn Martin
US PRESSWIRE
Jerrell Jackson
He did not suit up for the San Francisco game and has yet to make an on field appearance for the team.
Grade: Incomplete
Mario Louis
The Grambling grad has played strictly on special teams but did have a tackle against the Niners.
Grade: C-
Keshawn Martin
He has been as good as advertised, which proves that his all-around athleticism and foot speed were not just collegiate coincidences.
What Martin lacks in size he makes up for in impact. He gets good separation, makes himself a good target and catches everything within reach.
Though his blocking could stand improvement, this is a minor complaint. By outplaying every other rookie receiver, his value has exceeded his draft position.
Preseason Stats
Receiving: 5 catches for 60 yards, 12.0 avg.
Grade: B+
DeVier Posey
It must have been understood that by only playing three out of 13 games in his final year at Ohio State, some time would be needed for Posey to get in the swing of things.
But no one could have expected him to be "missing in action" by this point. He has played only a handful of downs and has failed to register a single reception.
Unlike Martin, his value relative to his draft position has plummeted. But third-round picks get almost as many chances as Lindsay Lohan to put their house in order.
Let us file him under "Project" for the time being.
Grade: D
Tight Ends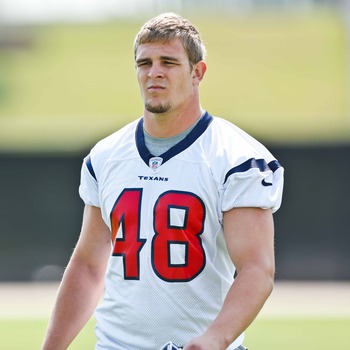 Phillip Supernaw
US PRESSWIRE
The depth chart at tight end for Houston is, well, tight. Between Owen Daniels, Garrett Graham and part-timer James Casey, there are not enough balls to go around.
Still Brock has caught the only pass to come his way, and for a 20-yard gain at that. Supernaw has put himself on special teams where the action is and would be great to keep for his name alone.
Neither will stick, but they can tell their grandkids that they spent a summer at an NFL training camp.
Logan Brock
Grade: C-
Phillip Supernaw
Grade: C-
Offensive Linemen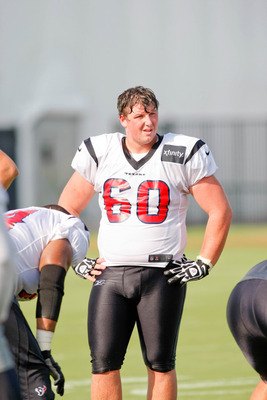 Ben Jones
Brett Davis-US PRESSWIRE
Brandon Brooks (RG)
Brooks seemed an odd choice for a blocking system that prizes agility over enormity. At 6'5" and 350 lbs. coming into camp, he certainly fit the latter description.
So far, he appears to be unsure of which way to go in zone blocking sequences. You have to think about space and direction as much as the man you are facing. It can get confusing.
Confusing enough to get two holding calls in the third quarter against the Niners, but only one counted against him. He has not given Antoine Caldwell any nightmares about possibly losing the starting job.
Looks like another entry for the "Project" file.
Grade: C-
Ben Jones (C)
The first time that he caught anyone's attention was when he was getting called for an unnecessary roughness penalty against the Panthers. It was so blatant, and this former All-SEC center looked like he was full of Red Bull.
Since then, Jones has looked more like the eventual successor to Chris Myers—or maybe even as a candidate for the much-contested RG opening. Of all the rookie offensive linemen, he is the closest to getting some significant playing time.
Grade: B
Nathan Menkin (LT)
Menkin looked bewildered by the inside moves of the Carolina defensive ends towards the end of that game. As far as could be determined, he did not play a down against San Francisco.
Grade: D
Nick Mondek (LT)
He was turned inside out by Antwan Applewhite of the Panthers for a sack of T.J. Yates and also logged a holding call for good measure in that game.
Mondek played better against the second string DL of the Niners, but it would have been fun to see him against Justin Smith. Well, it would have been fun for Smith, that is.
Grade: C
Cody White (LG)
I must be honest regarding White. If he made it onto the field in either game, I did not notice—which is not necessarily a bad thing for an offensive lineman if he was in the lineup.
Grade: Incomplete
Defensive Linemen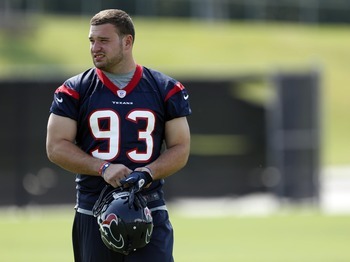 Jared Crick
US PRESSWIRE
Jared Crick (DE)
Crick was not available for the Panthers game but did get three tackles in the second half against San Francisco.
He has had to make up for the time he lost due to both a neck problem and some difficulty with the Texas heat. Some observers saw a flash of J.J. Watt in him, but to my eyes, Jared lacks the sheer strength of the Texans starting DE.
Grade: B
Hebron Fangupo (NT)
The boulder-sized middleman had a fumble recovery and a tackle in the Panthers contest. Then he received extra playing time versus the Niners when Shaun Cody was out with a back injury, but he failed to distinguish himself.
The days when a six-foot nose tackle could hold his own against today's oversized OLs may be done. Ra'Shon Harris has five inches on Fangupo and is consistently outplaying him.
The UDFA from BYU will be handing in his playbook before the season starts.
Grade: C-
Keith Browner (DE)
One tackle in the preseason does not make up for the year away from football that Browner had in 2010. The long line of Browners who have played in the league before him may give him advice but not the edge to make this roster.
Grade: D
David Hunter (DE/NT)
The crosstown trek from the University of Houston campus to the Reliant Training Center is as close as Hunter will get to actually playing in the NFL. There are just too many talented players ahead of him.
Grade: Incomplete
Linebackers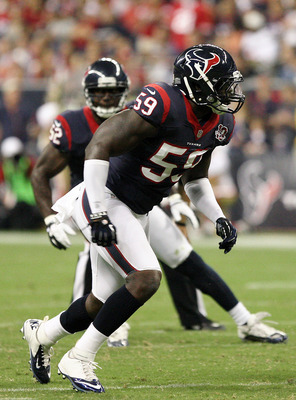 Whitney Mercilus
Troy Taormina-US PRESSWIRE
D.J. Bryant (OLB)
What Bryant showed in the Carolina game was tantalizing: a tackle, a QB pressure, a QB hit and some moves on the RTs that were quite polished.
He was less visible in the next game, but the coaches had to have noticed his skills by now. Some time on the practice squad would benefit both him and ultimately the team.
Grade: B
Delano Johnson (OLB)
As with Bryant, Johnson is big and fast for his size. Making the switch from college DE means added responsibilities of pass coverage and filling the gaps on running plays.
Delano may have the physical capacity, but will there be enough time for him to pick up the rest of the skills needed to impress the coaching staff?
Grade: C+
Shawn Loiseau (ILB)
Loiseau came out Merrimack College with a reputation as a hitting machine. In his time with the Texans, he has not disappointed.
With a couple of tackles in each game so far and a willingness to play the gunner on special teams, he might make the active roster until Darryl Sharpton returns.
Grade: B+
Whitney Mercilus (OLB)
The Panthers will tell you that his name befits him, as he was merciless against them. With three tackles, 1.5 sacks, one tackle for loss and two QB hits, they must have thought that Lawrence Taylor had come out of retirement just to bedevil them.
With less playing time before the Niners contest, he and his stats came back down to earth, as he had just one tackle. But what a debut! Two or three games like that during the real football season combined with some consistent play, and he could be pushing Brooks Reed for the starting role at OLB.
Grade: A-
Rennie Moore (OLB)
He got into the Niners game but did not make himself noticeable. I am fairly certain that he rode the pine against the Panthers.
Grade: Incomplete
Greg Williams (ILB)
Williams was officially out for the San Francisco game and may not have suited up for Carolina either.
Grade: Incomplete
Safeties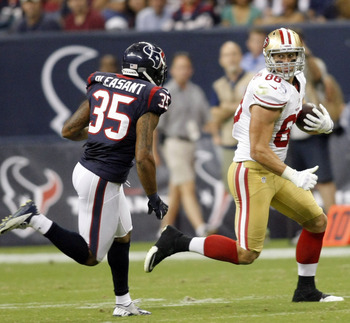 Eddie Pleasant
Brett Davis-US PRESSWIRE
Eddie Pleasant (SS)
It's hard to resist, but Eddie has been a "pleasant" surprise.
He seems to have the same attitude and aptitude as Loiseau. He has an appetite for contact (four tackles in two games) combined with a readiness to sacrifice his body on special teams.
Pleasant is the kind of guy that coaches try to get on the roster, even if it is not the active one. It would give him time to hone his coverage skills and be a backup safety to boot.
Grade: B
Placekicker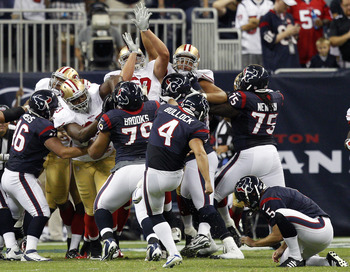 Randy Bullock
Bob Levey/Getty Images
Randy Bullock (PK)
The kicking game for the Texans started out strange and just gets weirder.
Houston spent a fifth-round pick on Bullock, which is unusual for a placekicker. Then the front office decided to bring in Shayne Graham for some competition. What purpose this serves remains a mystery.
It gets weird because Graham has a slight edge over Bullock. Shayne is 4-for-4 with a long of 49 yards, while Randy is 2-for-3 with a long of 51 yards.
If Bullock turned out to be a training camp bust, then Graham could have come and saved the day. Having them go head-to-head might just get into the head of the rookie.
In the end, they will probably go with Bullock to save face and have Graham on speed dial just in case.
Grade: B
Keep Reading

Houston Texans: Like this team?