UFC on Fox 5: Five Potential Bouts for the Fourth Fight on Fox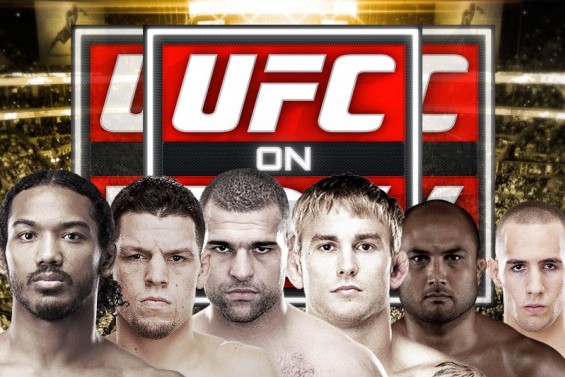 Courtesy of mmamania.com
UFC on Fox 5 comes to us on Saturday, Dec. 8, and is already the talk of the MMA world. Despite having several exciting fight cards in the coming months, this event features exciting matchups between big names in multiple divisions.
With an already stacked card, including a lightweight championship bout between Benson Henderson and Nate Diaz, along with Shogun Rua vs. Alexander Gustafsson and BJ Penn vs. Rory MacDonald, it is clear that the UFC is attempting to finally generate the huge numbers it's been looking for.
There are a few schools of thought on the opening bout. Some feel that it should be between stars who are going to put on an entertaining scrap and that name value isn't as important as the quality of action. Others think that another top name should be thrown in the mix to generate interest.
Keeping both mentalities in mind, I've put together a list of five fights that cover the entire spectrum. Some are bouts with "Fight of the Night" written all over them, while some keep in line with the "How is this on free television?" theme that the UFC has already started.
Here is a list of five fights to consider as the opening bout for UFC on Fox 5.
Begin Slideshow

»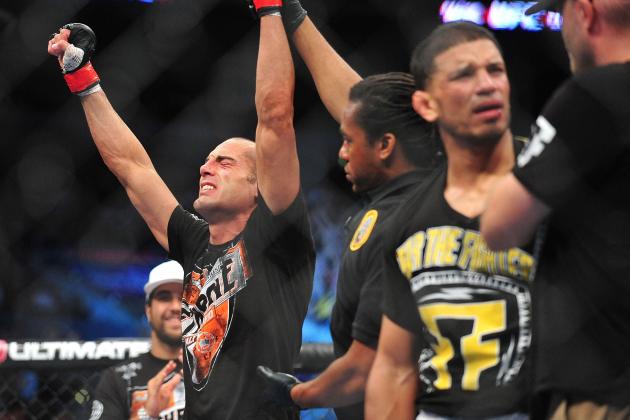 Gary A. Vasquez-US PRESSWIRE

Matt Brown has been on a roller coaster of momentum since his time on The Ultimate Fighter. The Georgian brawler followed a three-fight winning streak with a trio of losses that might have seen him holding a pink slip were it not for his rugged approach to combat.
At UFC 116, Brown showed the world that he can compete with the best, as he nearly submitted Chris Lytle with a D'arce choke that left "Lights Out" purple from the neck up.
Currently riding another three-fight winning streak, Brown is ready to showcase his skills against another name opponent, and I can't think of a better matchup than Mike Swick.
Swick fought for the first time in 30 months at UFC on Fox 4 and did a fantastic job of kicking off the broadcast. His battle with DaMarques Johnson was back-and-forth and could have won fight of the night. Instead, the violent finish took home a knockout of the night trophy.
A bout between the welterweights allows the UFC to market a star like Swick, but also provide fans with an action-filled war of attrition.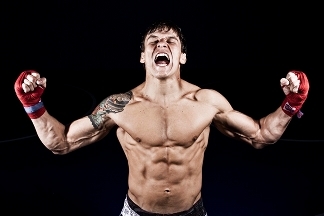 Courtesy of mmamania.com
"Former world champion" is a phrase that can help to market any fight. A bout between two men who share this distinction could help energize the stagnant growth of the bantamweight division.
Once the best bantamweight on the planet, Brian Bowles is a dangerous man who can knock you out with a single punch, or choke you unconscious in the blink of an eye. With big power, Bowles has knocked out Miguel Torres and Marcus Galvao, along with six submission wins to his credit.
Eddie Wineland struggled to find his footing upon arriving in the UFC, losing consecutive fights to Urijah Faber and Joseph Benavidez, but the former bantamweight champion announced himself as a major player in the division by knocking out Scott Jorgensen in June.
With the lighter weight classes generating a lack of fan response, this is the type of explosive slugfest that could get fans on board. Between the two, these bantamweights have three knockout of the night, three submission of the night and a fight of the night trophy to their credit.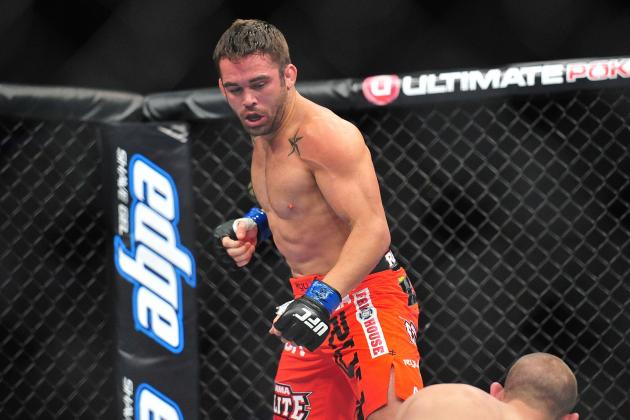 Gary A. Vasquez-US PRESSWIRE

Since joining the UFC, Jamie Varner has turned in a pair of thrilling performances. His knockout over undefeated prodigy Edson Barboza put him on the map, and a fight of the year candidate against Joe Lauzon helped to make the UFC on Fox 4 broadcast one of the best events of the year.
Who better for Varner to square off against than Diego Sanchez? Sanchez has been out of action since a February loss to Jake Ellenberger and has been preparing for a return to the lightweight division.
Long considered to be one of the most exciting fighters on the planet, Sanchez has won Fight of the Night trophies on five occasions.
Even more, various MMA journalists have awarded the former "Nightmare" with Fight of the Year honors in 2005, 2006 and 2009 for bouts against Nick Diaz, Karo Parisyan and Clay Guida.
Both fighters have a wrestling background but prefer to utilize an aggressive striking game. Could Jamie Varner bring enough fight to help Sanchez earn a fourth Fight of the Year?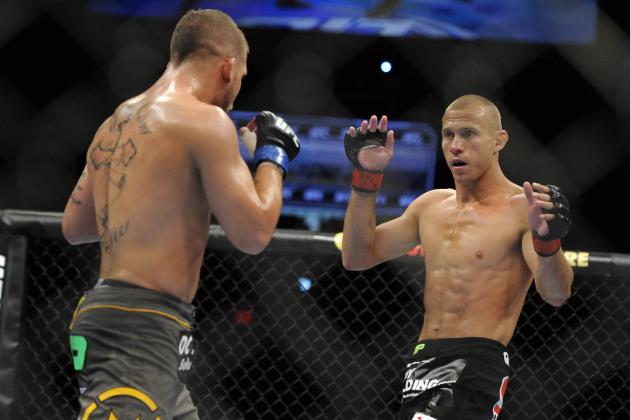 Rafael Suanes-US PRESSWIRE

Donald Cerrone is a brilliant lightweight whose accurate striking game is only surpassed by his wickedly slick submissions. When "Cowboy" called out Anthony Pettis at UFC on FUEL back in May, all signs pointed to UFC 150 in Denver as the bout's home.
Unfortunately, Pettis underwent shoulder surgery to repair some damage and was unable to participate on the August card.
Pettis is a third degree black belt in taekwondo who most recently competed at UFC 144 in Japan. The man known as "Showtime" scored an incredible head kick that knocked out Joe Lauzon on the event's main card.
With Cerrone picking up a thrilling, knockout victory over Melvin Guillard, the stage is set for a lightweight battle between two of the division's most promising stars.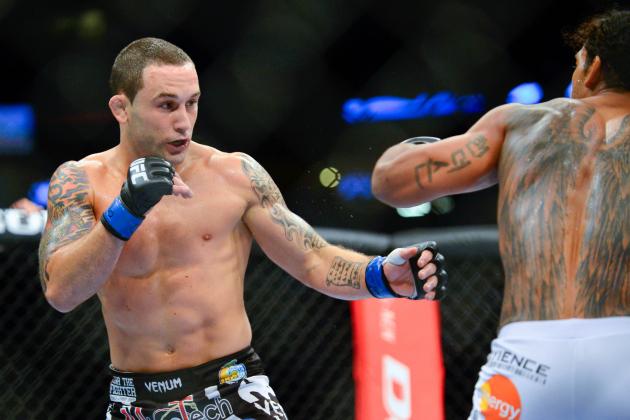 Ron Chenoy-US PRESSWIRE

During last night's announcement that Frankie Edgar is officially moving down to the featherweight division, the former lightweight champion told us that he wants to fight before the end of the year.
With only two feasible options for a year end fight, Edgar would need to compete at either UFC 155 or on the UFC on Fox 5 broadcast. For the sake of "go big or go home," the UFC could choose to feature his divisional debut outside of PPV.
Edgar is a star who people want to watch, but the numbers indicate that he isn't a fighter that fans are willing to spend their hard-earned dollars to watch. That being said, it could be smarter to move "The Answer" onto free TV instead.
Mendes is a legitimate threat within the division, and he holds wins over two members of the divisional top 10 in Cub Swanson and current No. 1 contender Erik Koch. The only blemish on his 12-1 record is a failed attempt at dethroning Aldo.
The Alpha Male stud proved that he can be an exciting finisher when he disposed of Cody McKenzie in only 31 seconds at UFC 148.
Edgar had trouble with Gray Maynard, who, like Mendes, is an elite wrestler with heavy hands. Not only would this bout serve as a title eliminator, but it is a toss up that fans will debate until the bell sounds.