The NFC North's Best Running Backs of All Time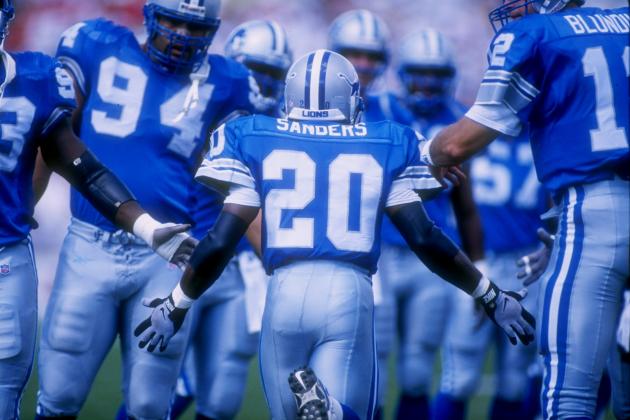 Scott Halleran/Getty Images

The NFL is becoming a pass-oriented league with the best teams typically being those who have a strong quarterback and a capable wide receiving corps. Experts and analysts have continuously debated if this shift makes the game more exciting, but the truth is that there is something to be said for the prolific running back.
While the NFC North is certainly contributing to this shift toward pass-first offenses, they have also had their share of elite running backs that rank among the best to ever play the position. These players were game-changers and serve to remind us what an elite running back can do for a team.
This article will highlight the best running back to ever play for each respective NFC North team and will rank them from fourth to first based on their prowess as a runner and what they brought to their offense.
Begin Slideshow

»
At just 27 years old, Adrian Peterson's presence on an all-time greats list may appear strange, but is also a testament to his production over the first five years of his career.
Truth be told, the Vikings do not have a history of highly effective running backs. In terms of yardage, Peterson is now sandwiched between Robert Smith (1998-2000) and Chuck Foreman (1973-1979), and will likely be the top Minnesota rusher after his first full game this upcoming season.
In his first five seasons with the Vikings, Peterson has been a model of consistency, only rushing for under 1,300 yards in two of his five seasons, both of which he played less than a full season. It is also worth noting that he only fell two yards short of that mark in 2010, playing 15 games of the regular season schedule.
His most prolific season came in 2008, when he racked up 1,760 yards on the ground, averaging 4.8 yards per carry. Significantly, Peterson was lining up behind Tavaris Jackson and Sage Rosenfels, two unproven quarterbacks, making this performance all the more impressive.
In 2009, his rushing yardage dipped due to the shift in strategy to a more pass-oriented offense upon the arrival of Brett Favre. In this season, Peterson showed his versatility, jumping from 125 receiving yards the year before to 436 yards in 2009.
The interesting thing about AP is that he shares a lot of attributes with the players currently above him on this list. While he certainly has remarkable speed and elusiveness, he also never shies away from contact, embracing the opportunity to break tackles and stiff-arm defenders for a few extra yards.
With his current injury concerns, one has to wonder if he will be able to maintain this style of play, or if it will end up leaving him on the sideline for a significant amount of time. However, with the raw talent and drive that Peterson has, there is no reason to doubt that he could potentially work his way up this prestigious list. In the current league, which is becoming more and more pass-oriented, Peterson reminds us of what it can mean to have an exciting and explosive runner on the roster.
Jim Taylor played nine seasons for the Green Bay Packers and amassed 8,207 yards from scrimmage.
From 1960 to 1964, Taylor rushed for over 1,000 yards in each season. Today, players who rush for over this mark are regarded as having impressive seasons, but Taylor played in a time where the regular season was only 14 games, making this feat all the more impressive.
Taylor was present for three of the Pack's NFL Championship wins, and was the embodiment of the tough, gritty Green Bay Packer culture during that time. To look at pictures and videos of Taylor during his career, he looks more like one of today's linemen instead of a premier running back.
With his size, Taylor's running style was that of a freight train. He is quoted as saying that his rushing philosophy was that he wanted to "attack" his defenders as opposed to trying to resist their attacks. He intended to use his arms and bulk to break through defenders, and defenders often found it difficult to take him down on first contact.
Any Packer fan will tell you that their history is full of legendary quarterbacks like Bart Starr, Arnie Herber, Brett Favre (though many are still upset with him) and current standout Aaron Rodgers. What is interesting about this is that they have not had an amazing history of explosive running backs. In fact, over their long and storied history, the Packers have only had three backs rush for over 4,200 yards in their career with Green Bay. This is, of course, is not to take anything away from Taylor's accomplishments, but rather to highlight how impressive it is that he was able to succeed in an organization that has always lived and died through the air.
Of course, there are still rushers who break tackles and are willing to fight defenders for extra yards, but power runners like Jim Taylor are few and far between in today's NFL.
It says something special about a running back when Jim Brown, arguably the best to ever play the position, is the presenter on their entry on NFL.com's list of 100 greatest players. It says even more when Brown describes him as an "animal" and speaks fondly of Payton breaking his all-time rushing record.
By the end of his career, Walter Payton had run for 16,726 yards at 4.4 yards per carry. He was also a threat in the passing game, accumulating 4,538 receiving yards throughout his career at just over nine yards per reception. Payton is listed as the second all time rushing leader behind Emmitt Smith, trailing Smith by only about 1,600 yards, and having played two less seasons.
Walter Payton was the main focus of the Bears' offense in their run to Super Bowl XX, and for good reason. Payton is recognized as the prototypical power running back, both in stature and his approach to the game. He was the kind of player who knew what it took to win games and had the tools to do so, possessing the ability to run over people and the knowledge to understand how to use his talented blockers.
When talking about his perspective on breaking tackles, Payton channeled Jim Taylor by saying that (h/t Ron Flatter of ESPN Classic) "If I'm going to get hit, why let the guy who's going to hit me get the easiest and best shot? I explode into the guy who's trying to tackle me." This was the crux of the Payton approach to running the ball: fight force with force. If a defender was coming to push him out of bounds, Payton would turn back into the field and force the defender to earn the tackle.
Walter Payton is often called the prototypical running back, so it would make sense for every coach at any level to use Payton as an example of what running backs should aspire to be. He was the type of player who would do whatever it took to get extra yardage and put his team in the best place to win. Ultimately, he knew that success began with preparation and his workout regiment was a testament to his drive, will and passion for the game.
Hard work, high football IQ and heart is ultimately what earned "Sweetness" his place in football history, and he gives young backs everywhere the blueprint to success.
In preparation for this article, several recurring themes emerged for each player. Adrian Peterson was consistently lauded as one of the best all-around backs in history, Jim Taylor is seen as one of the elite power backs the league has ever seen and there are legendary tales about Walter Payton and his insane workout regiment. The theme that kept coming up with Barry Sanders was the concept of artistry.
If it is true that necessity is the mother of invention, a lot of Sanders' success can be attributed to the fact that he was forced to run for his life on nearly every play and create something out of nothing. Measuring 5'8" and weighing 200 pounds, Sanders was not interested in running over anyone and rather opted to elude, spin or hurdle to avoid defenders.
Over his 10-year career with the Detroit Lions, Sanders never rushed for under 1,100 yards, averaged five yards per carry and averaged nearly 100 yards per game. He averaged 128.3 yards per game during the season in which he rushed for over 2,000 yards. This is all the more impressive when you consider that Sanders was the only marquee offensive player for the Lions over the bulk of his career.
One wonders what he may have been able to do with a line like Emmitt Smith had in Dallas. Perhaps he would have easily attained the NFL's all-time rushing record. Perhaps he would have led his team to an NFL title. Perhaps he would have stayed in the league for more than 10 seasons. And perhaps this potential success would have come at the cost of some of the most mind-blowing escapes and maneuvers ever seen in football.
There was something incredibly poetic about watching Barry Sanders run the football. In reference to the fact that Barry Sanders spent a great deal of time running behind the line of scrimmage, often losing yardage, Michael Strahan once said "He would run 50 yards to lose one yard, but it was the prettiest yard you ever seen lost."
There was indeed artistry to the way that Barry Sanders ran the football. He had his own unique style and performed escapes that you cannot believe truly happened, even after watching the same highlight 50 times. Occasionally, NFL fans may see current players make plays like the ones on Barry Sanders' résumé, but it is hard to believe that we will ever see another running back consistently run the way he did. It makes it difficult to accept that he took his talents from the game so early, but the best artists always do leave their audience wanting more.
There is no doubt that the order of these players will be controversial to those that read it, especially considering the divisional rivalry. All four of these players brought something special to the game and excited crowds with what they were able to accomplish. Surely, one could go by the numbers alone to compile a rankings list, but numbers never reveal the full measure of a player's worth.
Adrian Peterson has given Minnesota fans reason to hope. Even if the rest of the offensive attack is questionable, a healthy Peterson is always a threat to blow a game open.
Jim Taylor is the embodiment of the power running back. He was a major factor in Green Bay's early success and reminds fans of what true power at the position can accomplish.
Walter Payton is one of the best to ever play the game and this is all due to his focus and drive. Payton prepared like few would and therefore boasts a career that few ever will match.
Barry Sanders had a style all his own and gave Detroit fans something to be excited about in the midst of an otherwise terrible team. There will always be "what if's" regarding Sanders' career, but these questions are readily silenced by the incredible moments he gave us over the years.
It is true, this list is a short one, but the greatness of the players represented herein makes it a valuable exercise. As we continue to see offenses focusing more on effectively passing the ball, it is interesting to examine those who are willing to carry the ball through the tumultuous line of scrimmage and amaze us with every shed tackle.