Philadelphia Flyers: 5 Reasons Flyers Fans Shouldn't Panic...Yet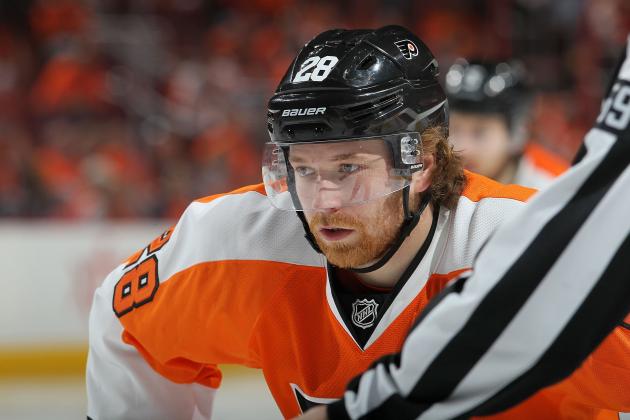 Jim McIsaac/Getty Images

It hasn't exactly been a banner offseason for the Philadelphia Flyers.
First, despite monster offers to the top two free agents on the open market, Philly failed to land either Zach Parise or Ryan Suter. They opted to sign together in Minnesota.
Then, in a bold attempt to replace the injured Chris Pronger, the Flyers signed restricted free-agent Shea Weber to a whopping 14-year, $110 million offer sheet, only to see the traditionally frugal Nashville Predators match the robust deal.
Meanwhile, the players Philadelphia has acquired this summer (Luke Schenn, Ruslan Fedotenko, Bruno Gervais) are solid role players but not game changers in an Eastern Conference that saw teams like the New York Rangers and Carolina Hurricanes drastically improve themselves this summer.
Still, it's not all gloom and doom in the City of Brotherly Love. Here are five reasons why Flyers fans shouldn't panic. Yet.
Begin Slideshow

»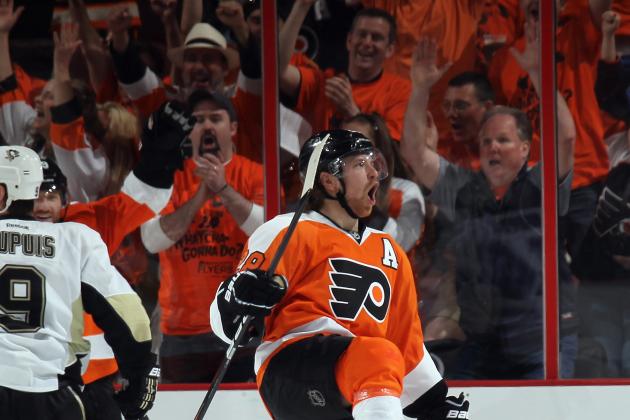 Bruce Bennett/Getty Images

The most important reason why Flyers fans shouldn't panic is their most valuable player and one of the most exciting players in the game today.
Last season, Claude Giroux established himself as one of the league's truly elite forwards. For the second year in a row, he led all Flyers in scoring and finished last season third among all NHLers in overall offensive production.
Likely to be named Philadelphia's next captain, Giroux isn't all just glitz and glamour on the offensive end of things. He's a tremendous two-way forward who is just as dangerous without the puck as he is with it.
In just three-and-a-half seasons with the Flyers, the Hearst, Ontario native has established himself as a high-octane offensive force who plays with an edge. Few can forget Giroux's opening shift in Game 6 of the Eastern Conference Quarterfinals last season when he leveled Sidney Crosby only moments before burying the game's first goal.
It's shifts like that that have endeared Giroux to the fans in Philly and why there shouldn't be any panic as long as he's around.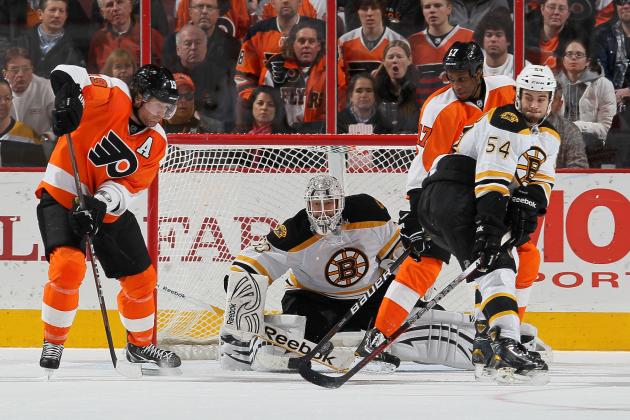 Jim McIsaac/Getty Images

While Giroux represents a good portion of the skill up front for Philadelphia, it just wouldn't be Flyers hockey without a few bruisers within the forward corps as well.
And thanks to recent contract extensions to both Scott Hartnell and Wayne Simmonds, Philly will be able to showcase a pair of stout power forwards for several years to come.
Hartnell (6'2", 210 pounds) and Simmonds (6'2", 185 pounds) represent two of the bigger bodies up front for the Flyers and have proven to not only be able to contribute physically but offensively as well.
Hartnell is coming off career bests in goals (37), power play goals (16) and points (67) and was well deserving of the six-year extension inked yesterday. He's become a fan favorite in Philly and has developed tremendous chemistry on the team's top line with Giroux.
Meanwhile, Simmonds, like Hartnell, is coming off career highs in goals (28), power play markers (11) and points (49). Set to turn 24 this Sunday, Simmonds will play out his prime years in Philadelphia after signing a six-year extension with the Orange and Black last Thursday.
Hartnell and Simmonds may not exactly be Broad Street Bullies but their physicality coupled with their offensive upside should give the Philly fans exactly what they want.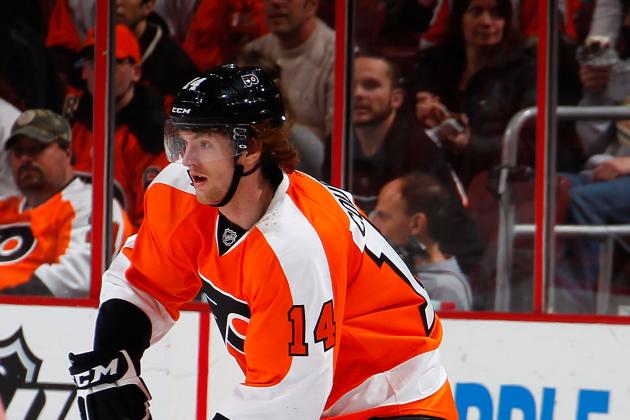 Paul Bereswill/Getty Images

The Flyers are not only big (Hartnell & Simmonds) and skilled (Giroux, Danny Briere) up front, they're also young.
Youngsters like Matt Read and Sean Couturier were forced into action last season in their first year of NHL service and responded admirably. Imagine their potential in year two.
As a 26-year-old rookie, Read burst onto the scene last season leading all first-year skaters in goals (24) and finishing fourth in overall rookie scoring with 47 points. Those totals were good for fourth-best and seventh-best respectively on Philly's roster last year.
Read won't have the element of surprise in his favor next season but should see additional ice time following the departure of fellow forwards James van Riemsdyk and Jaromir Jagr.
Meanwhile, 19-year-old Couturier—the youngest player on the Flyers' roster last season—lived up to the hype after Philly made him the eighth-overall pick last June. The Phoenix, Arizona native posted 13 goals and 27 points during the regular year but separated himself in the postseason with his suffocating shutdown defensive presence.
The future appears very bright for youngsters like Read and Couturier. And so too for the Flyers.
Bruce Bennett/Getty Images

On the list of famous hockey families, the Schenns are nowhere near the likes of the Hulls or Brotens or even the Staals. But with their powers combined in Philly, they stand to present a formidable threat to their opposition.
At just 20 and 22 years old respectively, Brayden and Luke Schenn represent the future of the Philadelphia Flyers.
Offensively, Brayden has the ability to be an impact forward for the next decade. He didn't crack Philly's lineup full-time last season until after Christmas and then produced just 12 goals and 18 points in 48 games.
But then the playoffs hit. There, Brayden mustered three goals and nine points in just 11 tilts and displayed the gritty, nasty edge to his game that has made him one of the most highly touted forwards in recent memory.
Like fellow budding stars Read and Couturier, Brayden stands to see additional minutes this season and should feel more confident and comfortable than ever with his older brother by his side.
Luke provides depth to a Flyers' defense corps that is in desperate need of blueline help following the departure of Matt Carle via free agency (and the recent injuries to Andrej Meszaros and Andreas Lilja). And while he's yet to realize the potential that made him the fifth-overall selection back in 2008, Luke has the ability to be one of the Flyers hardest hitting defenseman next season and will likely lead the team in blocked shots.
Neither are household names yet but without the pressure of having to be the top offensive or defensive forces in Philadelphia, Brayden and Luke Schenn will be given time to develop into the superstars everyone knows they can be.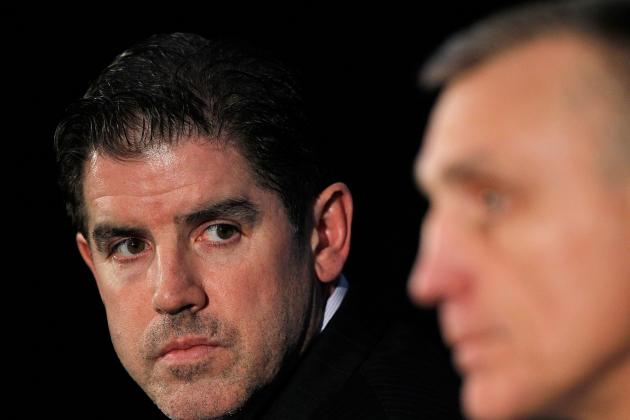 Jonathan Daniel/Getty Images

There are off-ice reasons for Flyers optimism as well.
In Head Coach Peter Laviolette and General Manager Paul Holmgren, Philadelphia boasts one of the more aggressive pairs guiding an NHL squad.
In two-and-a-half seasons in Philly, Laviolette has led the Flyers to a 122-73-26 overall mark in 221 games (.611 winning percentage). Laviolette's run includes three straight top-three finishes within the Eastern Conference's highly competitive Atlantic Division and a 23-22 record in 45 playoff tilts.
Laviolette continues to get the best out of each and every player on his roster. He should have received serious consideration for the Jack Adams award for Coach of the Year last season, after a 103-point regular season in which a handful of rookies received regular minutes and the team's captain was lost in December.
Meanwhile, Holmgren remains one of the league's most aggressive and active GMs. The Weber offer sheet shows that.
And if there's a deal to be made to help the Flyers before the start of the season Holmgren will find it. He'll continue to probe Anaheim for a potential Bobby Ryan deal and is likely surveying defenseman like Keith Yandle to see if a reasonable transaction can be reached there too.
Holmgren may have struck out a few times already this summer but it won't stop him from continuing to swing away.