Pros and Cons of Each of Seattle Seahawks' Quarterback Options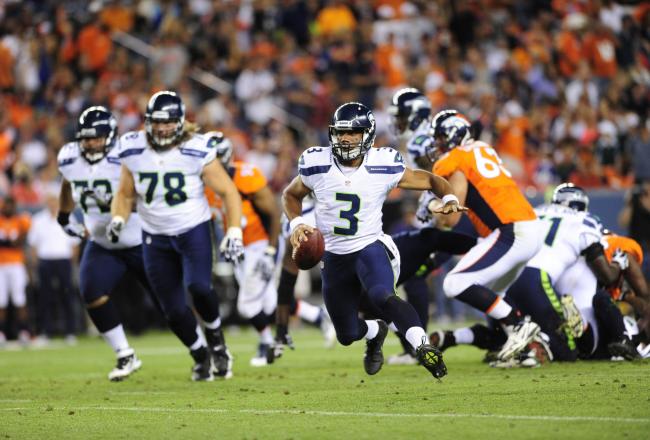 Byron Hetzler-US PRESSWIRE
The Seattle Seahawks have a legitimate quarterback competition on their hands between a guy everyone expected to join the Miami Dolphins in free agency and a 5'11'', N.C. State and Wisconsin alum everyone said was too short to make it in the NFL.
Who have thought Matt Flynn's and Russell Wilson's football paths would have ever crossed?
As unforeseen as a Flynn vs. Wilson quarterback battle may have been, the reality is that it's now in full swing, with only two preseason games left for the Seahawks' coaching staff to make the crucial decision.
Let's attempt to give the coaching staff out there in the Pacific Northwest some help by listing the pros and cons of both candidates.
Note: Tarvaris Jackson, the team's 2011 starter, is still on the roster, but tweets like this from ESPN's John Clayton make it sound like Jackson's days are numbered.
Matt Flynn Pros
1. His NFL Experience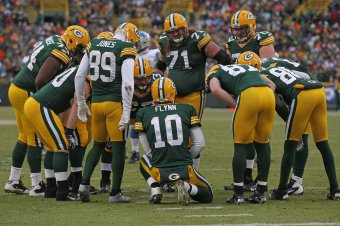 Jonathan Daniel/Getty Images
The 27-year-old Flynn held the clipboard on the
Green Bay Packers
' sideline for the first four years of his career.
During that time, he learned the intricacies of Mike McCarthy's dynamic pass-happy offense and was there to witness Aaron Rodgers blossom into a bona fide star. What Flynn learned about playing quarterback from his coach and Rodgers is seen as invaluable.
We all know what he did against the porous Detroit Lions secondary in his only start of 2011. Throwing 480 yards with six touchdowns at a nearly 71-percent completion rate opened the eyes of many.
In 2010, filling in for Rodgers against the Patriots in New England, Flynn went 24-of-37 for 251 yards with three scores and an interception in a narrow defeat.
2. His Size
Obviously, size isn't an automatic indicator of quarterbacking success, but it helps to be taller with a filled-out frame.
At 6'2'' and 225 pounds, Flynn doesn't have the ideal stature of an NFL quarterback, but he's listed at the same size as Rodgers.
So there's that.
3. His Contract
Joe Nicholson-US PRESSWIRE
In an alternate universe where money is totally irrelevant, Flynn's newly signed contract wouldn't matter. But here on Earth, it does.
The former seventh-round draft picked inked a three-year, $19 million deal worth up to $26 million that included $10 million in guaranteed money with the Seahawks in March.
Compared to other starting quarterbacks across the league, the money invested in Flynn is chump change, but it'd be somewhat humiliating if the Seahawks made him their big offseason acquisition, paid him the guaranteed money and elected to sit him behind Wilson.
Matt Flynn Cons
1. His NFL Experience (or Lack Thereof)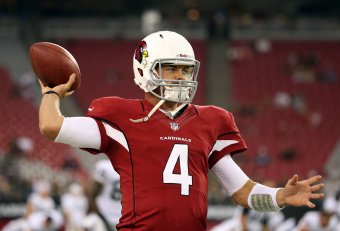 Christian Petersen/Getty Images
Yes, Flynn's NFL experience is both a pro and a con. Though he's 27, he's only started two professional games. Two. He's thrown a mere 132 passes. Sure, Flynn was extremely impressive in both starts, but he doesn't have a major edge on Wilson in terms of true on-field experience.
If anything, the Kevin Kolb effect could work against him.
After showing glimpses of brilliance in a few starts with the Philadelphia Eagles, the Arizona Cardinals jumped on the young signal-caller who, to many, was oozing with upside. Thus far in the desert, Kolb's been a vast disappointment. Before signing a mega-deal with the Cardinals, he had seven starts under his belt.
2. The System in Green Bay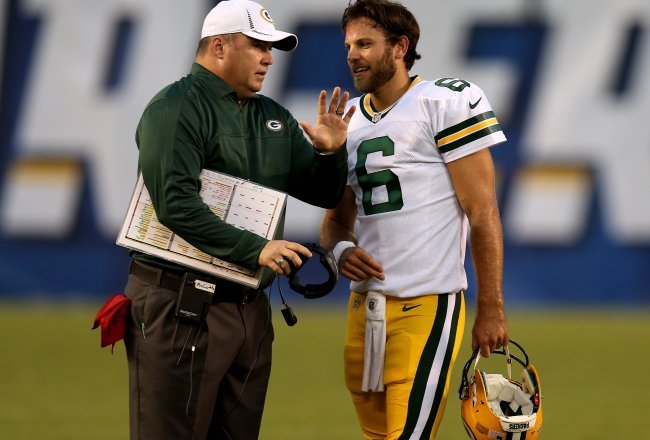 Stephen Dunn/Getty Images
Though this con doesn't directly relate to Flynn or his abilities under center, it speaks to his success as a Packer.
There's a thought that McCarthy's system is so exquisite and the collection of explosive pass-catching targets in Green Bay made it relatively easy for Flynn to flourish.
His reads, accurate and deceptively strong arm strength are undoubtedly his biggest assets, but it's not far-fetched to think that the offensive atmosphere in Green Bay is simply conducive to immense success.
Russell Wilson Pros
1. His Upside
Though Wilson played collegiate football during a year of graduate work at Wisconsin, he's only 23 years of age. With a live arm, a sound delivery and the smarts to read defenses, there's no telling how good Wilson could be.
When a team drafts a player, there's always the thought and hope he'll become a star, so Wilson's potential certainly works in his favor.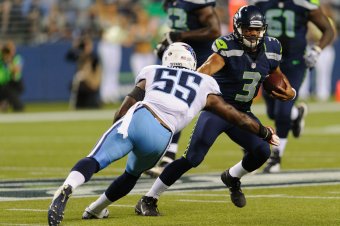 Steven Bisig-US PRESSWIRE
2. His Scrambling Ability
Flynn is no slouch athletically, but Wilson is a far more proficient scrambler. He ran for more than 1,400 yards during his college career and scored 23 touchdowns on foot.
With more multidimensional signal-callers sprouting up across the league, Wilson's elusiveness and speed are undoubtedly a plus for him.
3. His Preseason Play
Wilson's been dynamic during the first two games of the preseason. His upside and scrambling ability were both on display, and he's been the best quarterback on the Seahawks' roster. Against the Tennessee Titans, he threw for 124 yards with a touchdown and an interception, but he also accumulated 59 yards on the ground, which included a nifty 32-yard scoring scamper.
Against the Denver Broncos, Wilson was even better. He finished the evening 10-of-17 for 155 yards and two touchdowns. He "carried" the ball five times for 33 yards as well.
Flynn hasn't been atrocious by any stretch of the imagination, but the big-play ability of Wilson, albeit against the opposition's second team, has been clearly demonstrated.
Russell Wilson Cons
1. His Height
We heard this while Wilson was in college, and it was well documented during the pre-draft process. Wilson's only 5'11'', and that might be a little generous.
Though a few quarterbacks under 6'0'' have made a name for themselves in the NFL, most namely Drew Brees, history says small signal-callers have trouble making all the throws at the professional level.
2. His Scrambling Ability
Jim Rogash/Getty Images
Wilson is gifted in the open field with the ball in his hands, but that could actually hurt him. It's one thing scrambling in the Big Ten. It's another rushing for extra yardage against NFL defenses. We've seen smaller, scramble-happy quarterbacks like
Michael Vick
deal with a rash of injuries throughout their careers.
3. He's Inexperienced
Simply put, Wilson's a rookie. Yes, recently, some rookie quarterbacks have succeed in their first years, but there's typically plenty of growing pains a long the way. No, Flynn isn't significantly more experienced than Wilson, but at least he's been a part of an NFL team for four seasons.
Tarvaris Jackson Pros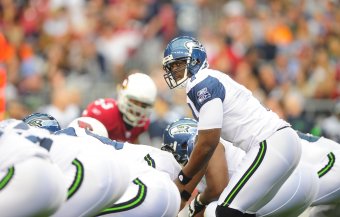 Mark J. Rebilas-US PRESSWIRE
1. He's the Incumbent Starter
Jackson was the team's starter in 2011, and he has many fans in the Seahawks' locker room. Not that there'd be a mutiny if Jackson was traded, but he grew into a leadership role last year.
2. His Athleticism
Wilson's athletic, but Jackson's just as skilled in the open field with his legs. If the team loves Wilson's versatility as a playmaker, they should be enamored with Jackson.
3. His Strong Arm
There's never been any question about Jackson's arm strength. He can make the all the NFL throws and do so with fine velocity.
Tarvaris Jackson Cons
1. His Inconsistency
Who should be named the starter in Seattle?
Jackson's career has been marred with inconsistency on a game-by-game and year-by-year basis. After a stretch of inspired play, he typically falls into a spell of sporadic performances.
2. His 2011 Season
With Jackson as the starter, the team was 7-8 in 2011. He completed just 60 percent of his passes and threw 14 touchdowns to 13 interceptions. Hardly a stellar season, but not a horrible one, either.
3. He's Reached His Ceiling
After six years in the league and a slew of starts under his belt, the 29-year-old Jackson has presumably reached his ceiling as a quarterback. Not a good sign if you're trying to build a contender for the future.
4. His Contract
If Jackson's on the opening-day roster, he's due $4 million in base salary for the 2012 season. After a rather disappointing 2011, at 29, the Seahawks don't want to pay that much for their potential third-string quarterback.
This article is
What is the duplicate article?
Why is this article offensive?
Where is this article plagiarized from?
Why is this article poorly edited?

Seattle Seahawks: Like this team?