Tape Review: Jake Locker 'Wins' the Titans Starting Job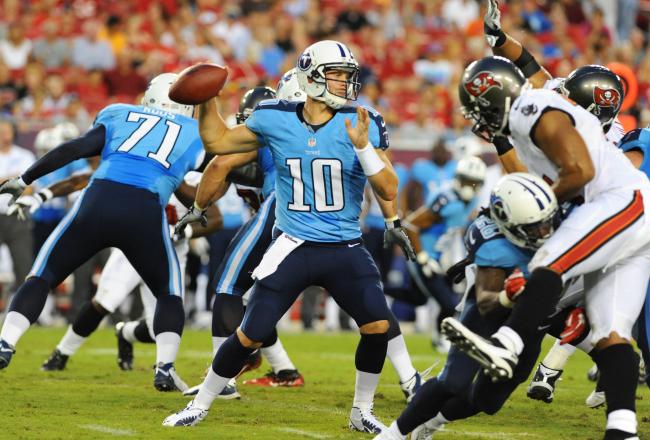 Locker's footwork is a question mark.
Al Messerschmidt/Getty Images
On August 20th, Mike Munchak announced (hat tip to John Glennon of The Tennessean) that Jake Locker would be the starting quarterback for the 2012 Tennessee Titans.
While the decision makes sense on the macro level, anyone watching Locker against Tampa Bay on August 17th has to be wondering what necessitated the Titans making that call now.
Obviously, the Titans have to do what's best in the long run, and that means playing Locker. This piece isn't meant to be a criticism of that call.
Still, watching Locker against the Bucs, it's obvious there are still some rough edges to polish.
Numbers rarely tell the whole story, especially in the preseason, but in this case they do a good job of indicating how bad things were for Locker. He finished his night 4-of-11 passing for 21 yards and a pick. For those scoring at home, that's a YPA of 1.9.
A look at the tape reveals just how bad things got and gives us a checklist of what Locker needs to work on before the season kicks off.
3rd-and-9: Locker Throws for Wright, Intercepted
This play is so bad, I hardly know where to start. Locker does a nice job getting out of the pocket. Once he scrambles, he sees Kendall Wright flash open for a moment, then inexplicably tries to loft a jump pass to him. He air-mails everything, and the ball is picked off and run back to the 2-yard line.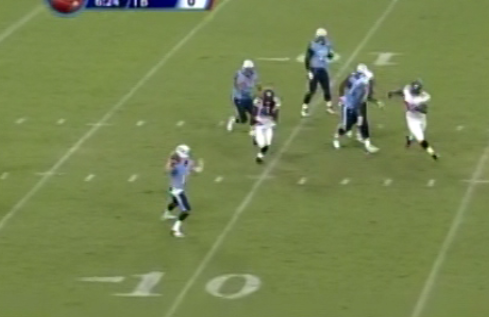 Locker makes three primary mistakes on the play.
He throws late across his body over the middle.
He doesn't set his feet to make an accurate throw.
He tries to force a ball into a receiver who was really not open on the play. Wright was breaking from left to right and was about to hit open space on the right side. Locker forced the throw moving from right to left, away from where his receiver was running.
It's just bad.
1st-and-10: Locker Throws Incomplete to Wright
Locker is hit in the chest as he releases the football. He's unable to fully follow through on his throw, and the ball comes out a little high and slightly behind where it should be.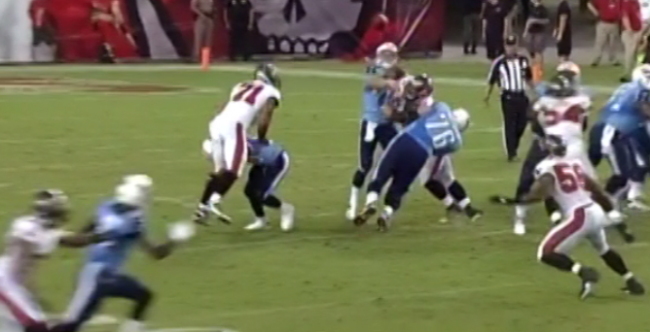 Locker is hit as he throws.
With more time to throw, this is big gain to Wright.
3rd-and-5: Locker Throws Incomplete to Cook
Locker again faces a heavy rush on a blitz and throws this ball a bit off his back foot. The pass to Jared Cook is catchable but high, and the defender helps break it up. Again, with time and room to throw, Locker hits this as a completion.
1st-and-10 Locker Throws Incomplete to Mooney
Locker is under pressure again, and he tries to throw off his back foot. The entire sequence is a mess, as the ball hits a lineman in the shoulder, bounces up in the air and is nearly picked off.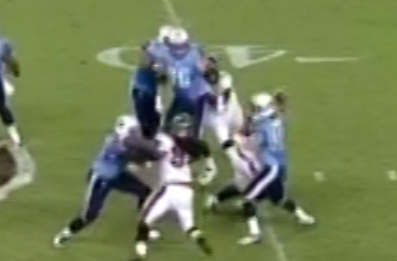 Locker throws this flat-flooted.
3rd-and-9 Locker Throws Incomplete to Cook
The Bucs blitz Locker, but it's mostly picked up. Locker panics and throws to Cook. Cook is both covered and well short of the first down. He drops the pass, but it doesn't matter, as he wouldn't have made the necessary yards.
3rd-and-Goal: Locker Throws Incomplete to Cook
Yeah. I have no idea.
Cook isn't really open, and Locker tries to make a safe throw that won't get picked.
Not close.
Mission accomplished, I guess.
1st-and-10: Locker Throws Incomplete to Wright
Locker has plenty of time to throw and fires the ball into two Tampa Bay defenders. The ball should have been intercepted.
This is Locker's worst throw of the night.
He misses the safety coming across, but that doesn't matter because the corner on Wright was going to pick off the pass anyway.

There's no defense for a read this bad. It's the opposite of the previous over-safe red-zone throw to Cook.
Locker's big problem on the night was decision-making and dealing with pressure. He did have at least one nice completion and a good scramble, but all in all, it was a disaster.
Locker should be the starter for Tennessee, but he's going to have to correct his footwork under pressure and learn to take sacks rather than throw from bad positions.
Second, he's going to to have to do a better job of diagnosing when there is and isn't pressure. At times he held the ball too long, and at other moments he saw blitz and threw too soon.
Finally, the Titans are going to have to do a better job in pass protection. The line play has been spotty at best in the first two games, and taking pressure off Locker can only help him at this stage.
This article is
What is the duplicate article?
Why is this article offensive?
Where is this article plagiarized from?
Why is this article poorly edited?