Why Machida and Every Other 205-Pounder Don't Stand a Chance Against Jon Jones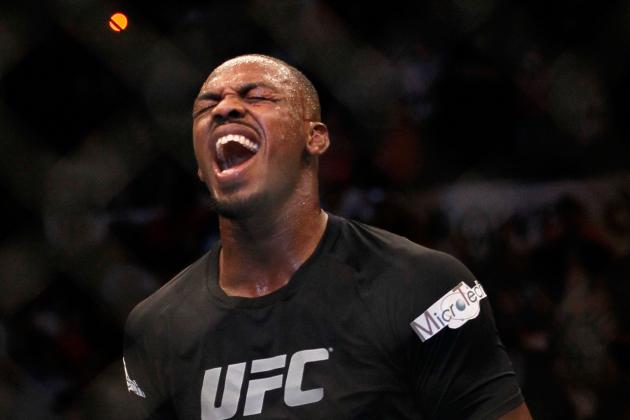 Kevin C. Cox/Getty Images

Dominating a sport is one of those things that every fan loves to see but secretly hates to watch go on too long, and Jon "Bones" Jones is frustrating an awful lot of people out there.
The 25-year-old is developing the kind of streak that most professional athletes can only dream of, and that isn't just in mixed martial arts, that's in sports.
Right now, the prodigy is preparing for his bout with Dan Henderson in just over a week's time, but the odds dictate that Jones will see out a comfortable victory over the, far from easy, opposition.
Looking past the Henderson fight, it's become evident that Lyoto Machida is the man that many out there want to see Jones go up against next—a fight Jones wants no part of.
The Nike poster boy undoubtedly has the talent to put Machida away for a second time, and despite reports that Jones doesn't want the fight (via Franklin McNeil of ESPN.com), he's still sitting too pretty to be caught quite yet.
The New York native is enjoying the kind of run that future prospects will find it nigh impossible to match, and here's why it's going to continue for some time yet.
Begin Slideshow

»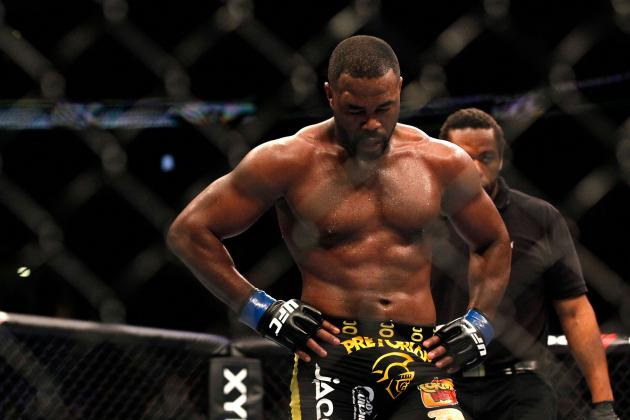 Kevin C. Cox/Getty Images
Jon Jones: Unstoppable?
As touched upon already, Jon Jones has developed quite the winning streak over the last 18 months.
After suffering a slight (and sole) hiccup against Matt Hamill, the youngster has gone on to mow through the light-heavyweight division with some pace.
Jones has been taken to a decision just once since the embarrassing disqualification in Sin City, and has since moved from tier to tier in the world's eyes.
With momentum comes confidence, and in MMA, that's quite a powerful tool.
Of course, it's fair to say that reaping success is the kind of reward that can often make a fighter complacent, but that just isn't possible for Jones—the "Average Joe" of the UFC.
Unlike so many who appear to get into this industry for the wrong reasons, Jones genuinely appears to enjoy the sweet taste of victory, and it's going to take quite an opponent to prohibit him from sampling the goods once more.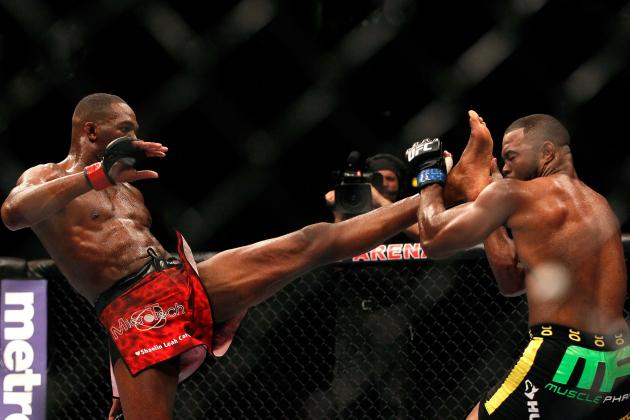 Kevin C. Cox/Getty Images

In some ways, versatility is one of the few departments where one could argue that Machida may actually match Jon Jones.
The Brazilian southpaw has made a career based on his varied training disciplines and while the qualifications are all well and good, Jones boasts a different type of unpredictability.
In short, "Bones" hasn't got the numerous black belts that Machida has, but his very approach is one that simply can't be forecasted, as is obvious in the above video.
Every fighter has a degree of malleability in their arsenal. This sport is all about adapting to thousands of different scenarios, each one as unique as the one preceding it.
But, just as is the case with most attributes, Jones simply has more, and his ability to change according to the situation at hand is second to none.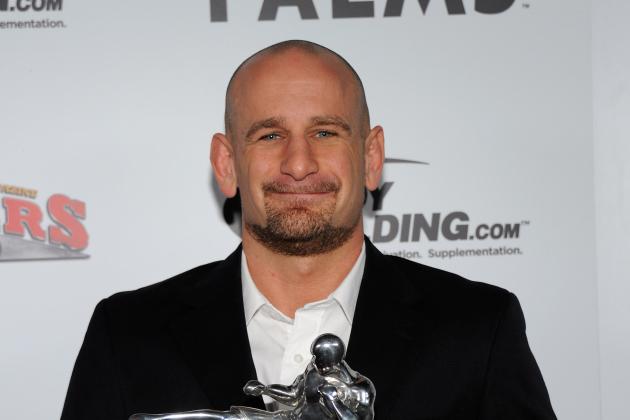 Ethan Miller/Getty Images
Jackson: The man currently behind the machine
Jones has had numerous tutors in his professional career so far, and each one will likely claim their share of the responsibility for raising such a stark talent.
However, it's with his current coach, Greg Jackson, that the UFC champion is now developing his trade and has garnered some of his more recent plaudits.
Jackson is a former World MMA Coach of the Year and has taught the likes of Shane Carwin, Carlos Condit and Andrei Arlovski during his time amongst the martial arts' elite.
While an inherent talent certainly exists within any champion, that talent can often go to waste unless nurtured by the right person and Jones is no different.
In Jackson, Jones has found a prosperous partnership and one that would appear to bear fruit for both as long as they remain together.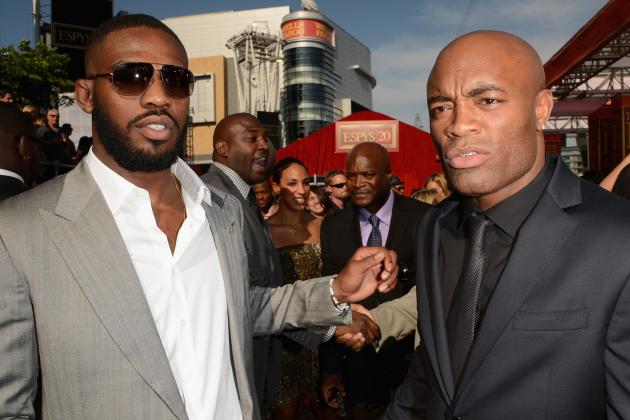 Jason Merritt/Getty Images
Jones (left): A more mature figure
The youngest UFC champion in the history of the business, Jon Jones has had quite a generous helping of pressure applied to his shoulders since he was 23 years old.
Now two years closer to his fighting prime, the 2011 ESPN Fighter of the Year has come on leaps and bounds since that original 2011 title victory over Mauricio Rua, not only as a fighter, but also mentally.
With all the endorsements and benefits that come from being a sport starlet, it would be easy to watch as another babe failed to deal with the plaudits and quickly plummet from the limelight.
However, Jones' feet remain firmly planted on the ground and this fighter is developing the winning maturity that is so crucial to maintaining any title streak.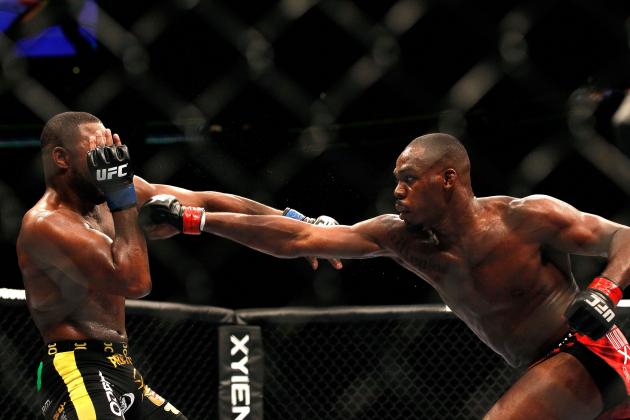 Kevin C. Cox/Getty Images
Jones: The modern day Stretch Armstrong
It would be impossible to talk about just why Jon Jones will continue to dominate the UFC without referring to what is, essentially, a quite freakish 84" reach.
In fact, the only other elite competitor that comes close to the 25-year-old in the 205 lb division is Stephen Bonnar who's a mere four inches away from the champ—still quite a distance in UFC.
Honorable mentions have to go to Cyrille Diabaté and Ednaldo Oliveira—each with 81.5" reaches—but the pair are still some way from posing a threat to Jones, if any.
Able to pull in an opponent from impossible lengths, "Bones" has made it quite clear in his early career that he's capable of remaining outside of his opponent's capability while keeping his own intact.
You can train, study and work as hard as you want to make it to the top of your trade, but when you're gifted with the genetic advantages that Jones has been, it just doesn't seem fair.
Since emerging as a top contender, there has undoubtedly been an increase of lanky kids hoping that they can now put their height to good use as an MMA fighter.
Just as well they don't sell medieval torture racks anymore.