Defence, Midfield or Offense: What's Man Utd's Biggest Concern This Season?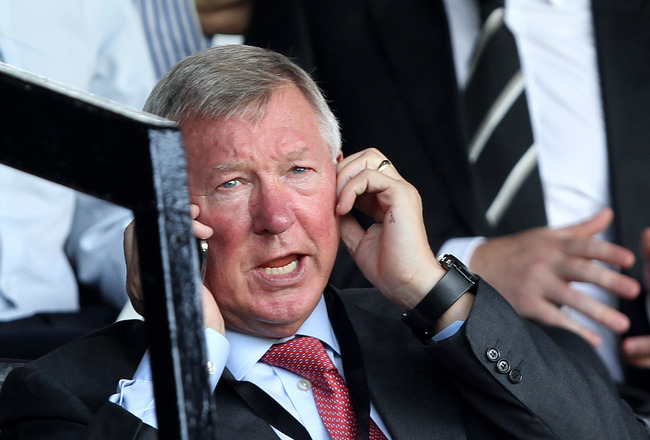 Jan Kruger/Getty Images
Very seldom will a manager ever find himself completely at ease with all aspects of his squad and its balance across the board.
The summer and winter transfer windows are a biannual break that allow every outfit to strengthen as it can, but even then, it is not possible to come out with the team that it might hope for.
As a result, almost every side will go into its season with at least one evident weakness: an area of the pitch that simply is not as strong as the rest.
Manchester United may be a great side and one that's in the pantheon of the world's biggest clubs, but it is not exempt to this occurrence.
So, in what area shall the Red Devils experience the most trouble in this year, and if they were to falter, where would that be?
Attack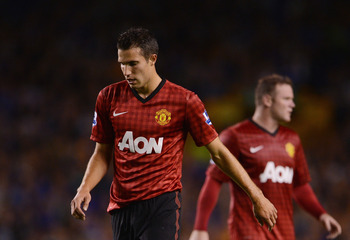 Michael Regan/Getty Images
For the sake of this discussion, the attack will consist solely of the most obvious candidates: the strikers and centre-forwards.
Frequently, is it argued that wingers are as much a part of the attack as any other but that won't be the case here.
With Robin van Persie now at Old Trafford, Sir Alex Ferguson recently took it upon himself to liken his attack to the one he governed in 1999.
That treble-winning side had the likes of Andy Cole, Teddy Sheringham, Ole Gunner Solskjaer and Dwight Yorke amongst its ranks.
As you can imagine, that means it would take quite a strong competitor to even be likened to that quartet.
And United now has that variety.
Based on recent seasons, a front four of Wayne Rooney, Danny Welbeck, Javier Hernandez and Van Persie is enough to frighten some of the biggest clubs in world football.
Monday evening's fixture against Everton was a sign that this side are still in a state of transition, but if there's one thing that you can be assured the Red Devils will do, it's score goals.
Following Shinji Kagawa's arrival in Manchester, it appears that Sir Alex Ferguson will feature only one central striker with a wider asset on either side of him as a "go-to" formation.
Of course, with four (or more) elite strikers at the club, that will undoubtedly change at times, but for now it appears to be the primary tactic.
As time grows, it's inevitable that the dream pairing of Wayne Rooney and Robin van Persie will take precedence, and allowing for some calamity of injuries or an Andy Carroll-esque failure, that duo will net and then some.
To be able to resort to the likes of Hernandez and Welbeck in times of need is a fearsome quality for any side, and the fact that those two stars will likely be relegated to the bench for much of the season speaks volumes.
Provided the ball can be put at their feet, United's attack would appear to be the least of Alex Ferguson's worries.
Midfield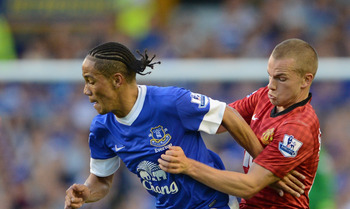 Michael Regan/Getty Images
With his time at the club gradually winding to its inevitable close, it's evident that Sir Alex Ferguson is working towards installing the next generation of players at Old Trafford.
Nowhere do these intentions seem more clear than in the Manchester United engine room, a part of the pitch that is soon to see Paul Scholes and Ryan Giggs evacuate for good.
Centrally, United can turn to Scholes, Tom Cleverley, Michael Carrick and Anderson, while Darren Fletcher is also making his way back to the first team following a chronic intestinal illness over the last year (via Independent).
While Scholes is assuredly of a pedigree above the rest, his age means that he is not able to perform the same wonders that he could in his youth.
Anderson and Cleverley are on the other end of the scale; still relatively young, the pair are frequently referred to as "potential" and "future stars."
That certainly bodes well for the years to come, but United lack a superstar playmaker in his prime, so it is not that surprising to hear of alleged negotiations with Real Madrid's Kaka (via Guardian).
Looking to the more offensive states, United have good options in Ashley Young, Antonio Valencia, Nani and Kagawa.
The wings and attacking midfield have arguably the best selection of players in or closest to their playing prime; the aforementioned quartet has an aggregate age of 26.
As far as performance goes, the Red Devils' chance creation looked lacklustre against Everton on Monday.
The visitors found it difficult to mount any aerial challenge against the Toffees, and although ball retention was wonderful at times, United found it difficult to move forward with any real venom.
I have no doubt that fluidity will progress as the campaign does, but the midfield appears to be somewhat of a conundrum for now.
Defence
Michael Regan/Getty Images
The area which will warrant the most concern for Manchester United this season, without a doubt, is their defence.
In Nemanja Vidic and Rio Ferdinand, the club have a set of world class centre-backs—that much nobody can argue with.
What is up for debate is just how often the duo get to function as that, a pair.
Both on the wrong side of 30, Vidic and Ferdinand are beginning to show their injury proneness, and while the injury factor is not as rife with the Frenchman, Patrice Evra is also a shade older than ideal.
Once again alluding to Sir Alex Ferguson's new dynasty of playing staff, Phil Jones, Chris Smalling and Johnny Evans are in place to take up the central mantle.
Looking out wide, Ferguson has the fresh-faced talents of Rafael da Silva at right-back while, as I write, the club edge closer to signing left-back Alexander Buttner from Vitesse Arnhem (via BBC Sport).
Again, it looks as if the future of the full-back slots is in safe hands, but the entire defence appears to show a distinct rise in players too young to compete at the top and ones that are now too old.
In short, the club haven't got enough talent for the here and now.
That is not to say that having some youth in your squad is not the way forward, in fact, I'd condone it.
But that youth goes to waste without the more experienced lynchpins that will accentuate those younger players while perhaps making up for some of their shortcomings.
Not surprisingly for his character, Antonio Valencia has also proven to be a capable team player in recent times and is currently paying his dues as a servant of the right flank.
With Michael Carrick also plying his trade in defence at times, the Red Devils' back four just seems to look more and more ragtag the more one analyses it.
Even without a plague of injuries, United will struggle with their mix of young and old at the back, so they had better pray for a healthy season.
Keep Reading

Manchester United: Like this team?