Seattle Seahawks: Odds of Each Quarterback Winning the Starting Job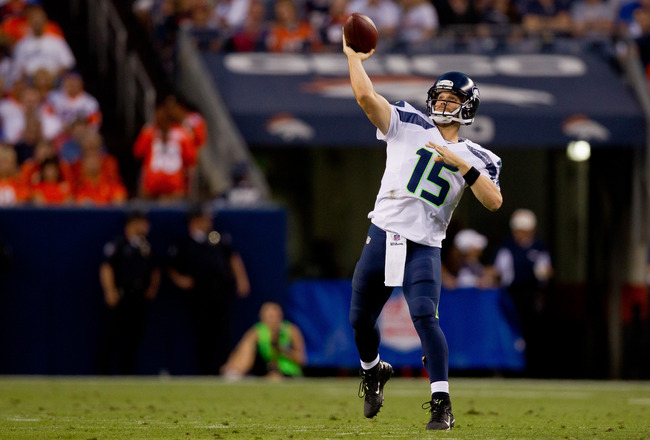 Justin Edmonds/Getty Images
As the Seattle Seahawks move towards the finish of the preseason, they will need to organize their depth chart.
That starts with the quarterback position.
Currently there is a three-man race between the incumbent starter Tarvaris Jackson, rookie Russell Wilson and recently-signed Matt Flynn.
Flynn has started both of the preseason games so far as Wilson's snaps have only been during the second half. Jackson has not gotten any time during the preseason and may be moving closer to punching his ticket out of Seattle.
Flynn has shown glimpses, whereas Wilson has truly impressed during his limited snaps throughout the preseason. Jackson has struggled in practice, even though he has been with the first team.
All three quarterbacks have a remote chance of starting under center when the Hawks match up with the Cardinals during Week 1.
Here are the chances of each quarterback grabbing the starting gig.
Tarvaris Jackson: 10 Percent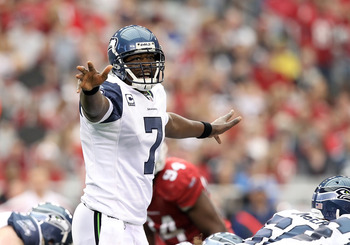 Christian Petersen/Getty Images
Jackson has become the forgotten man for the Seahawks.
At this point, Jackson is more likely to be released than to start for the Hawks. Jackson is owed $4 million this season and could be more valuable as a trade asset at this point.
Jackson would mostly be looked at as an insurance policy barring an injury to the other two candidates. However, the fact that both Flynn and Wilson have looked strong during the preseason does not help Jackson's cause.
The Seahawks are rumored to be shopping Jackson, and if they can get a late-round draft pick in return for him, they should move forward. T-Jack earned a lot of respect from teammates after playing last season with a torn pectoral, but the Hawks need to move on.
It is difficult to imagine Seattle moving forward with Jackson remaining under center, and the coaching staff is aware of exactly what Jackson can do.
He is the Seahawks' insurance policy at this point, so expect him to be retained through the preseason to ensure neither Flynn or Wilson gets hurt.
Russell Wilson: 30 Percent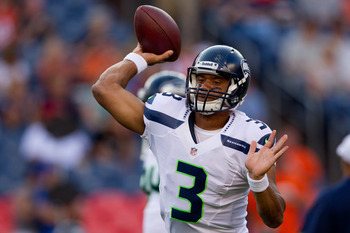 Justin Edmonds/Getty Images
Wilson has been nothing short of inspiring so far this preseason.
Through two games, Wilson is completing 66 percent of his passes. He has tossed three touchdowns and run for another, while only turning the ball over once.
He has shown accuracy, speed and an above-average arm.
But, he has only played in the second half of both games, which has been largely filled with third-stringers. He is only a rookie, and fans should be excited about the bright future that he has in front of him.
He is too young to immediately take the starting snaps, but his experience during the preseason will be invaluable to his growth as a quarterback. He may turn out to be better than Flynn in the long run, but at this point Flynn has the experience factor. It may be a small margin, but Wilson deserves some time on the bench to continue his adjustment to NFL football.
The 2012 Seahawks will still rely on Marshawn Lynch to move the chains and the quarterback will be largely running the West Coast offense.
Flynn fits that system very nicely, and has the edge at this point.
Wilson's time will come, but right now, the job is Flynn's.
Matt Flynn: 60 Percent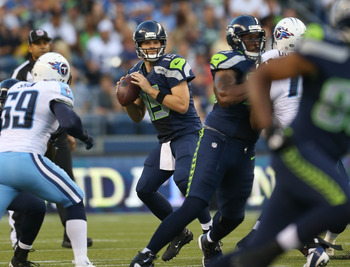 Otto Greule Jr/Getty Images
Flynn surely has not lit up the scoreboard during the preseason.
But that's not what the Seahawks will need out of their quarterback this season. They need a player to protect the ball, make good decisions against various defenses and move the ball.
Flynn can do all those things and more. Through the preseason, he has not thrown a touchdown pass as of yet, but he has still guided the offense downfield in both games.
He needs to continue improving his timing with the receiving core, as Terrell Owens' debut was less than impressive. However, Owens had not played football in more than a year and Flynn proved he could locate the vertical route.
The most pivotal advantage Flynn has is experience.
Although he only has two career starts, he also spent four seasons sitting behind Aaron Rodgers and Carroll considers Flynn a veteran on this team.
Carroll said Flynn is good at recognizing defenses and understanding what is happening. He also said Wilson needs to catch up in that aspect because there is a gap between the two.
Flynn will have his chance to impress the coaches as he finishes up the preseason and if he avoids a major meltdown it will be his job to lose.
He will provide the Hawks with a reliable quarterback who will avoid turnovers. With Flynn under center, Seattle's offense will thrive on short yardage plays and dominate the ball.
Keep Reading

Seattle Seahawks: Like this team?