Report Card Grades for Every Denver Broncos Rookie Through Preseason Week 2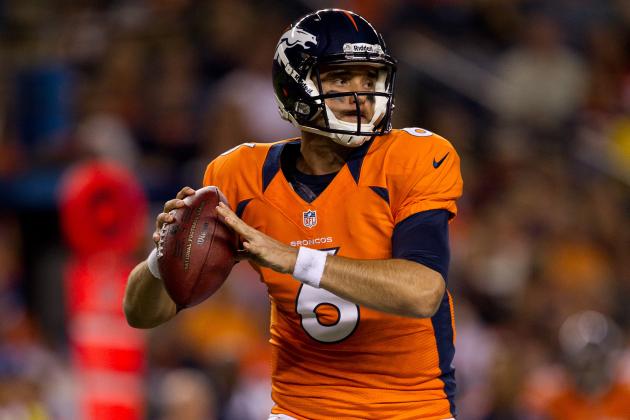 Justin Edmonds/Getty Images
Brock Osweiler
The Denver Broncos have played two preseason games with some very mixed results.
After thoroughly handling the Chicago Bears, they were dealt a 30-10 loss on Saturday night to the Seattle Seahawks.
This was a very important draft for this Broncos regime, headed by John Elway, and the rookie class from 2012 will play a major role in it's future.
So how have the seven players they drafted fared so far?
Begin Slideshow

»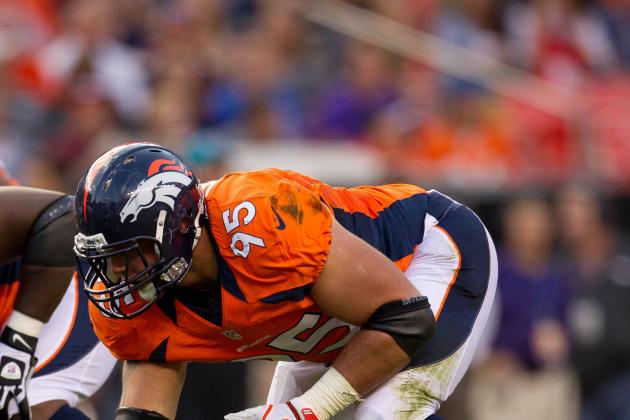 Justin Edmonds/Getty Images

For a guy the Broncos were initially widely criticized for trading down into the second round to select, Derek Wolfe is turning into one of the main bright spots of training camp and preseason.
Wolfe has had a solid camp and in the team's first preseason game against Chicago, he picked up two quarterback sacks.
The Broncos don't have a ton of depth at the defensive tackle position so Wolfe is a guy who could come in and be a major contributor right off the bat.
"That's why we selected him where we did. I like his progress so far in this camp with us. He's a fabulous young man, brings a lot of toughness. The way he prepares is contagious. He's a big, physical body, and he's got a great skill set at rushing the passer", said an obviously impressed head coach John Fox.
Wolfe is young, but he could help give this defense the kind of demeanor it has long been searching for.
Grade: A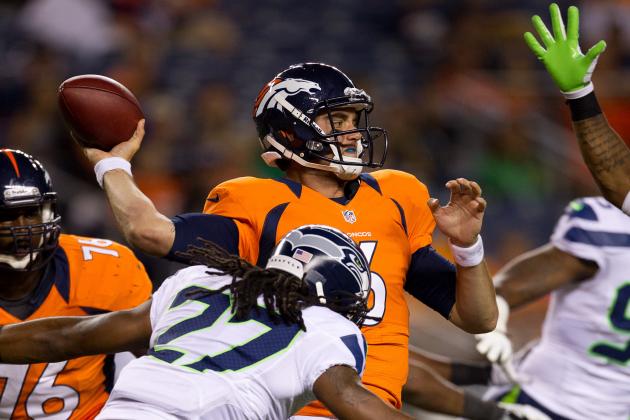 Justin Edmonds/Getty Images

The Broncos surprised again by selecting Brock Osweiler in the second round of the draft despite starting just one year in college at Arizona State.
But the team focused on the positive tools the 6'7" passer possesses, including a rocket for an arm.
Osweiler has been given the chance to learn right away, despite the team having two other quarterbacks on the roster. On Saturday night against Seattle, Osweiler played the entire second half.
In parts of two preseason games, the rookie has completed exactly half of his passes for just 76 yards with one touchdown.
Osweiler has plenty to learn about playing quarterback at the professional level but the organization is giving him the chance to do so, which doesn't spell good things for Caleb Hanie or Adam Weber.
Grade: C+
Justin Edmonds/Getty Images

Bronco fans are eagerly awaiting what Ronnie Hillman can do on the field, but due to a nagging hamstring injury, that has yet to happen.
The team had high hopes for the speedy back they drafted out of San Diego State in the third round, but with only two preseason games to go, he will have to do a lot to gain a role on the offense.
He is expected to play Sunday when the Broncos face the San Francisco 49ers, so barring another setback, Hillman should finally see action in a game.
His injury has given guys like Lance Ball and Xavier Omon a chance to show what they can do, but team officials are likely much more interested in seeing their young investment on the field.
Grade: D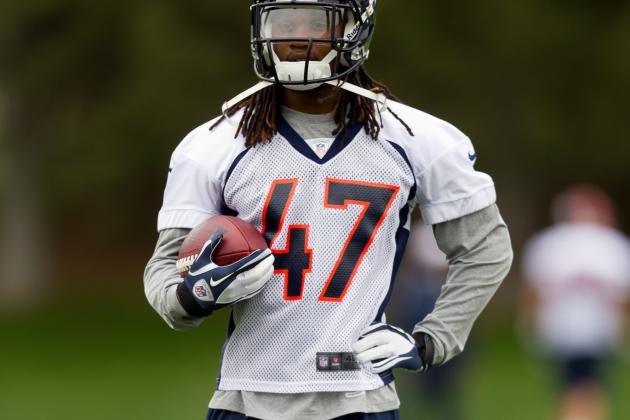 Justin Edmonds/Getty Images

Omar Bolden is another player the Broncos took a bit of a gamble on when they drafted him in the fourth round out of Arizona State.
He missed the entire 2011 season after tearing his ACL, but he has impressed in training camp and could see some action in nickel and dime packages during the season.
However, the team is still yet to solidify it's return game and Bolden is one of the players that they have experimented with. That is the area he is likely to help the team out the most as a rookie in 2012.
Grade: B-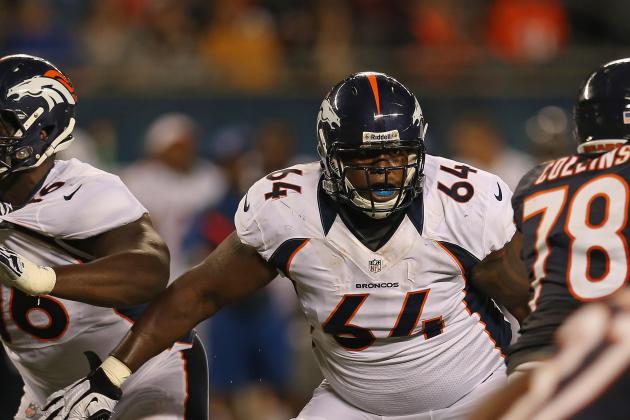 Jonathan Daniel/Getty Images

Philip Blake was drafted out of Baylor and the thought was that he could push J.D. Walton for the starting job. That has not happened, not even close.
Not only has he not challenged Walton, he is currently listed behind Walton and CJ Davis as the No.3 center on the team. There now seems to be a legitimate concern that Blake may not even survive cut days.
Blake has two more preseason games to show his potential but to this point, he hasn't impressed. The battle will be between he and Davis for a roster spot.
Grade: D-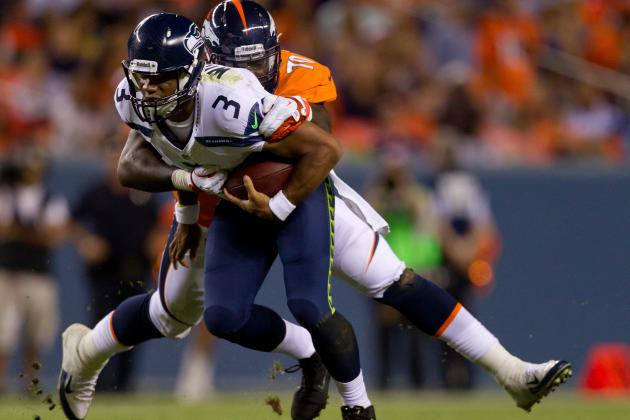 Justin Edmonds/Getty Images

With injuries affecting the defensive line, Malik Jackson is exactly the type of guy who has the opportunity to step up and shine.
Against the Seahawks, Jackson showed what he could do, getting to quarterback Russell Wilson a couple of times, sacking him once.
Jackson will be a reserve defensive end for this team but one with a bright future.
Grade: B-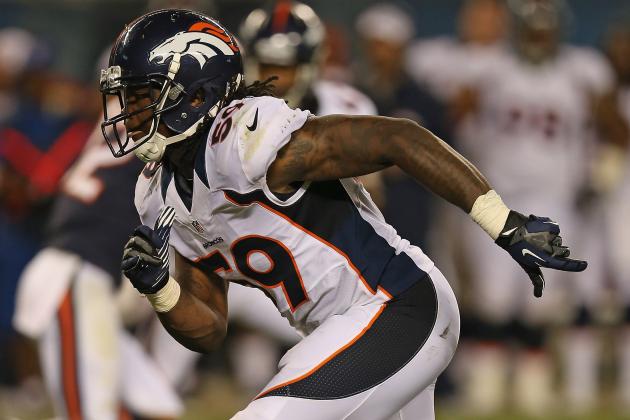 Jonathan Daniel/Getty Images

Danny Trevathan has had as good a training camp as any rookie on the roster, making the most of the chances given to him.
Trevathan is ready to be a key part of the defense this season and has already found his way into the nickel package, where he could be very effective.
But what the team has to be most happy about with Trevathan's progress is the fact that he will make any decision to cut ties with D.J. Williams, which seems to be closer to becoming a reality with each passing day, much easier.
Grade: A-