Tiger Woods: What the 2012 Barclays Tourney Could Mean for the Struggling Star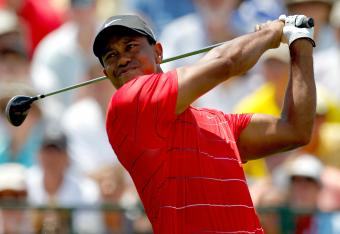 Woods will look to impress at the Barclays
Jonathan Ferrey/Getty Images
The PGA Tour's FedEx Cup playoff begins this Thursday with the Barclays, and Tiger Woods will attempt to pave his way back to the No. 1 spot in golf.
If the 2012 regular season has been any indication of where Tiger stands in his comeback to professional golf, he is off to a respectable start. By no means, however, have golf fans witnessed the Tiger of old.
Since the FedEx Cup's debut in 2007, it has held little relevance in comparison to the admiration that accompanies a win in one of the four major tournaments. Despite that, for Tiger, a win at the Barclays will increase his position as the winningest golfer this year.
He finished first at the Arnold Palmer Invitational in March, the Memorial Tournament in May and the AT&T National in June to become the only three-tournament winner during the 2012 season.
This would be categorized as a monumental feat for the average player on the PGA Tour, but for a golfer with superstar status, it does little to numb the disappointment with his performance in this year's majors.
He was able to crack the top 10 only once. Tiger tied for third at the Open Championship after disappointing third- and fourth-round scores of 70 and 73, which followed two opening rounds of 67.
Finishes of 40th at the Masters, 21st at the U.S. Open and 11th at the PGA Championship did little to merit his status as the best golfer in the world. Neither did his inability to break par in any weekend major rounds.
The silver lining for Tiger this year is his first-place position in the FedEx Cup standings. In 15 tournaments this season, Woods has accumulated 2,269 points, 159 points ahead of Jason Dufner (who will not be playing this weekend) and 177 points against current No. 1, Rory McIlroy.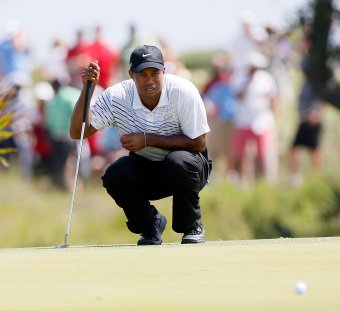 Sam Greenwood/Getty Images
With the points resetting at the start of the playoffs, how will Tiger and the Barclays mix?
He'll have a chance to jump out in front with a Barclays win, resulting in 2,500 FedEx Cup points. Standing in his way will be Long Island's Bethpage Black Course, which features the recognizable warning sign at its start.
Tiger has experienced some success at Bethpage Black, which lies as one of five golf courses in Bethpage State Park in Farmingdale, N.Y.
Woods won the U.S. Open here in 2002, finishing at three under, and is the only golfer to shoot under even par.
Scoring in the negatives is an accomplishment in and of itself on the Black course. According to Golf Course Gurus, it is "one of the best and most challenging layouts the U.S. Open (2002 and 2009) has ever featured."
Ranking at 36th in Golf Digest's 2011-12 Top 100 Greatest Golf Courses in America, the Black course isn't impossible. Golf Course Gurus goes on to claim that the greens are the easiest part of the course, stating "they have got to be the flattest greens a Top 100 course has ever boasted."
This could bode well for Tiger, who has been toiling with his putting stroke all season. He ranks within the top 20 in just two putting statistics: putting from 20-25 feet (fifth) and putting from three to five feet (19th).
Putts within those two previous lengths have been a particular struggle for Woods, ranking 182nd in putts 15-20 feet and 133rd in putts 10-15 feet. His three-putt avoidance stands at a mediocre 2.62 percent.
Where will Tiger place at the Barclays?
He remains, as always, one of the best golfers in approach shots, so if he can straighten out his putting woes of late, a solid run could be made at the Barclays title.
Tiger is paired with McIlroy this weekend in what is certainly brewing into golf's hottest rivalry.
According to Doug Ferguson of the Huffington Post, in the 12 tournaments the two have played in together, McIlroy has finished in front of Tiger seven times.
Coming in with 125 other Tour players, both stand as heavy favorites to place at the top of the leaderboard come Sunday evening. And each has something to prove.
McIlroy: that he is deserving of the No. 1 world ranking.
Tiger: that he is the most successful golfer in the past decade.
Let the games begin.
This article is
What is the duplicate article?
Why is this article offensive?
Where is this article plagiarized from?
Why is this article poorly edited?