San Jose Sharks: Top 5 Ways to Get Depth Scoring During 2012-13 Season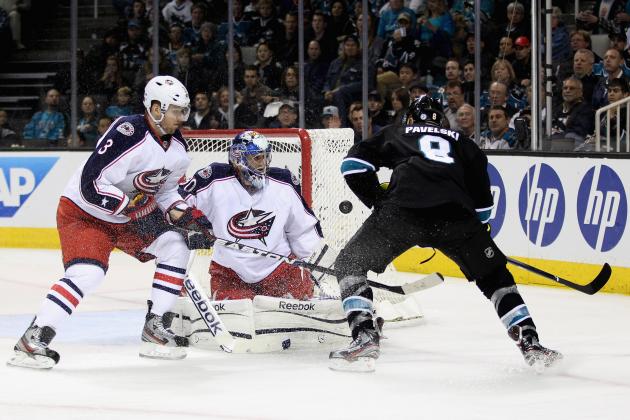 Ezra Shaw/Getty Images

The 2011-12 San Jose Sharks were carried to the playoffs by the usual suspects.
Joe Thornton had 59 assists, good for third in the NHL. Patrick Marleau, Logan Couture and Joe Pavelski all scored at least 30 goals, making San Jose one of only two NHL teams (New Jersey) with such a trio of lamp lighters.
Dan Boyle finished eighth among defenseman with 48 points, and Antti Niemi posted a .915 save percentage in a whopping 68 starts.
So, behind their stars, San Jose made the playoffs for the eighth straight season.
However, unlike the last two years, San Jose lacked depth scoring, and the pressure on their stars was overwhelming. It hurt the team during the regular season, and they finished with their lowest point total (96) since 2002-03.
The pressure became far too much during the playoffs, as San Jose failed to advance past the first round after Conference Finals appearances during the previous two postseasons.
Those past successes were no doubt greatly due to the Sharks secondary scoring, as the 2009-10 team's third line featured Manny Malhotra and Logan Couture, while the 2010-11 third line was centered by Joe Pavelski. The highest scoring third-liner on last year's team was Michal Handzus.
Entering the 2012-13 season, San Jose still—on paper—lacks the depth scoring necessary to compete for Lord Stanley's Cup. But with offseason still ahead and an unpredictable season yet to unfold, there is still time for the Sharks to make this problem go away.
Begin Slideshow

»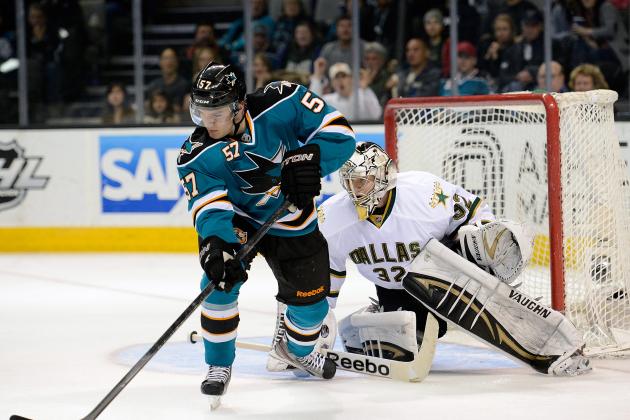 Thearon W. Henderson/Getty Images

Last summer, Sharks general manager Doug Wilson traded two top-six forwards—Dany Heatley and Devin Setoguchi—and got one top-six forward and one defenseman—Martin Havlat and Brent Burns—in return.
Whether this helped or hurt the Sharks is open for discussion, but no one would argue that it hurt the team's depth scoring. This is because the net loss of one top-six forward meant that third-line center Joe Pavelski had to move into the top six. The Sharks made little attempt to fill his third-line void, signing Michal Handzus as his replacement.
Luckily for the Sharks, the formerly enigmatic Jamie McGinn blossomed into the dangerous power forward he always had the potential to become. McGinn scored 12 goals and added 12 assists during the season's first four-and-a-half months, before Doug Wilson attempted to sell McGinn high, trading the young winger for Daniel Winnik and T.J. Galiardi
The move hasn't panned out thus far. As a result, San Jose is back to where they were before last season, with no third-liner who appears likely to post a 15-20 goal season.
Of course, McGinn didn't either last year. What McGinn did have was raw skills and raw passion. He was fast, physical, had a hard shot and loved to try and make plays. Another young Sharks winger—Tommy Wingels—has a similar unrefined game.
San Jose would be ill-advised to enter next season banking on a similar breakout for Wingels, who's two years less experienced than McGinn was. But if all other options fall through and San Jose enters the season with the same projected roster and lineups that they have today, Wingels could be the guy to vitalize the third line.
If that were to happen, Doug Wilson would almost certainly not make the same mistake twice, and hold onto Wingels for the postseason and beyond.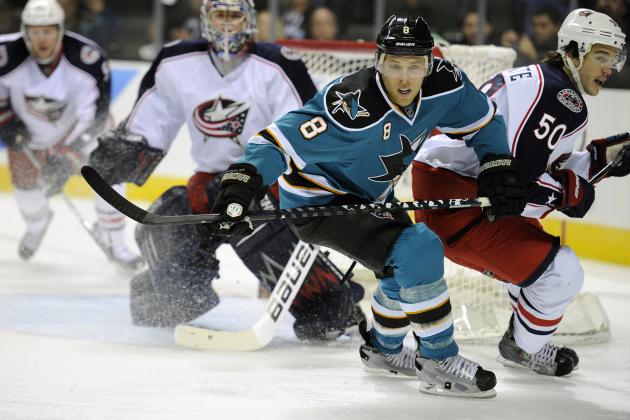 Thearon W. Henderson/Getty Images

The conventional wisdom in hockey is for a team to group its six best forwards together on its top two lines. This makes a good amount of sense, as the top lines see significantly more ice time, and good players play better when working off of other good players.
Because of this, San Jose should enter the 2012-13 season with Joe Pavelski alongside Joe Thornton and Patrick Marleau, where his 31 goals and stellar cerebral two-way play helped the Sharks top line stand out as one of the best in hockey.
If San Jose's terrible lack of depth scoring continues or worsens, however, the Sharks may need to think outside of the box.
Conventional wisdom would also say that if a top-six forward was demoted to boost the third line offensively, Ryane Clowe would be the demoted forward. He's the team's worst top-six forward, and his gritty, physical game and demeanor already resembles that of a checking-line forward.
However, Clowe's presence on the third line would not boost San Jose's offense enough to justify his departure from the second. His goal scoring would drop without creative linemates Martin Havlat and Logan Couture, and his ability to create is not special enough to significantly help his linemates.
Pavelski, on the other hand, may just make that significant impact if demoted. His defensive effort and grit make him an ideal third-liner as well, but his hockey I.Q. and offensive creativity also mean he could lift up San Jose's entire third line.
Pavelski lead a dominant third line two years ago, and his linemates were Kyle Wellwood and Torrey Mitchell. Pair Pavelski with T.J. Galiardi and Michal Handzus and you have a line with almost as much offensive skill and speed as that line, with far more defensive skill and experience.
The two questions would then become: Does the boosted third line justify reducing Pavelski's minutes and does it justify harming the top six?
The answer to the first question is yes. Pavs is still one of San Jose's elite players on the power play and penalty kill, meaning he would still log over 16 minutes a game. The strong third line would also allow the top six to play a little less, resting San Jose's most valuable players.
The answer to the second question is maybe. Ryane Clowe jumping to the top line wouldn't hurt too much, as he's essentially a grittier, better defensive, worse offensive version of former top-liner Dany Heatley. The biggest concern would be with Tommy Wingels replacing Clowe on the second, and that's why this is still nowhere near San Jose's best option entering 2012-13.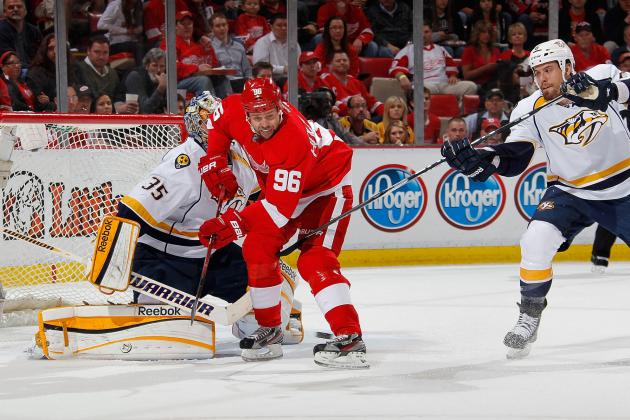 Gregory Shamus/Getty Images

The Sharks' third line, as is, does have some things going for it. The projected group of Tommy Wingels, Michal Handzus and T.J. Galiardi would have two speedy wingers with high motors, offensive potential and already strong defensive games alongside Handzus, a center who's put up quality offensive numbers before and is still strong defensively and in the faceoff circle.
That line, or one with Andrew Desjardins replacing Galiardi, would be one of the better defensive third lines out there. If San Jose could add offense elsewhere—to the fourth line, for example—they could thrive even without much third-line offense.
Enter Tomas Holmstrom. The 39-year-old is clearly on the decline after netting only 11 goals last year, but he averaged 23 goals over the previous six seasons. Of course, a large number of those goals come on the power play, but an improvement to San Jose's power play would alleviate third-line pressure.
The chances that he returns to 20-plus goals is low, but Holmstrom's price will also be low, and the chance that he puts up double-digit goals next season while providing an offensive boost to San Jose's bottom six is high.
This would not be San Jose's best free-agent option, as the aging Holmstrom may not even be capable of playing on a nightly basis anymore due to his lack of skating ability and defensive skill. But if better options sign elsewhere, Holmstrom would be a strong low-risk, moderate-reward signing.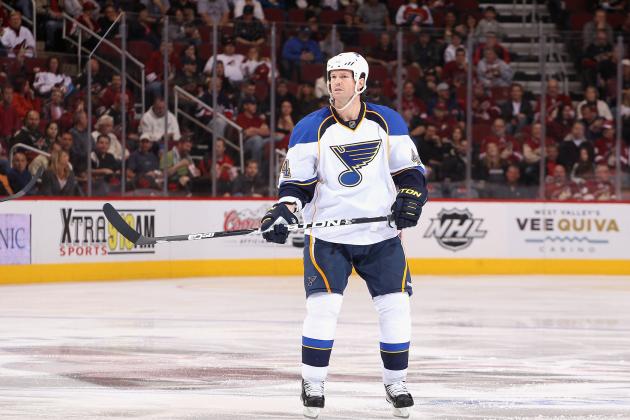 Christian Petersen/Getty Images

For the first time on this list, I am presenting San Jose with an option here that not only could help the depth scoring, but would almost certainly do so.
During the first round of the playoffs, San Jose was outplayed by the St. Louis Blues in just about every facet of the game. Penalty killing was the Sharks' biggest weakness, as they allowed six power play goals in five games. After that, it was a stark contrast in third and fourth line play that really gave St. Louis the edge.
Part of that edge came from Jason Arnott. The veteran center finished last season with 34 points and was an integral part of the Blues' success. His presence on the third line allowed wingers who looked like weaknesses entering last season—such as Matt D'Agostini and Vladimir Sobotka—to have productive years.
His experience meshed perfectly with St. Louis' young third line, and his playoff experience helped carry the young team through Round 1.
Arnott is 37, but his physical decline appears to be minimal. He's scored at least 17 goals in every season since 1998 and hasn't scored fewer than 20 per 82 games during that time. Arnott has had trouble playing full seasons but isn't likely to get badly injured—he's played at least 62 games in each of the last 10 seasons.
The Sharks' third line is begging for a player like Arnott. His 20 goals alone would be worth his price tag (no more than $3 million for one year, $2.5 for two), but his impact would go far beyond that. He can create for others, his experience could help Tommy Wingels and T.J. Galiardi break out offensively and his hockey I.Q. and defensive skill would keep the third line's defensive identity intact.
Arnott would certainly improve San Jose, and there is a very strong chance he'd solve San Jose's depth scoring issues altogether. However, there is still one more move—although less likely—that would be the ideal solution to San Jose's problem.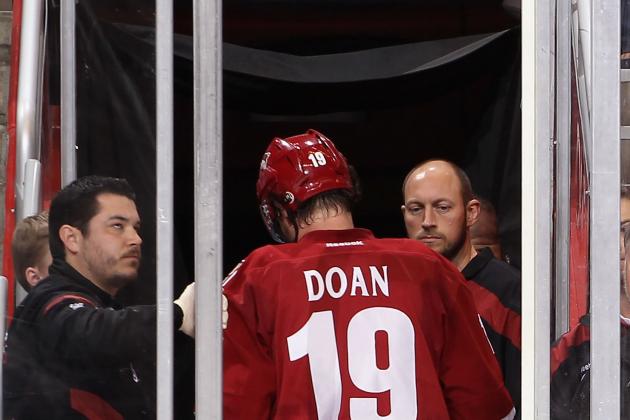 Christian Petersen/Getty Images

If the San Jose Sharks sign Shane Doan, they will jump from a second tier team—or a "soft" Cup contender—to a top-tier, Stanley Cup favorite.
There are other teams in the Doan hunt with just as much or more to offer him: money, a chance at a title, a long-term deal. But no team besides the Coyotes have as much to gain by signing him.
Without Doan, the Sharks best option is Jason Arnott; a great third-liner who would make the third line stronger offensively but not improve the top six, team defense or physicality. With Doan, the Sharks would have four improved lines, improve at both ends of the ice, get more physical and get more nasty.
Doan would improve San Jose's top six, regardless of which line he plays on. If he were to join the top line, he'd provide a physical element and net-front presence that the line lacked last season. If he were to play with Martin Havlat and Logan Couture on the second line, he'd simply replace Ryane Clowe as that line's power forward. Doan and Clowe's games are similar, but Doan simply does everything better than Clowe.
His presence would push either Joe Pavelski or Ryane Clowe to the third line, where both players would be excellent fits. As I already discussed earlier, Pavelski and Clowe have a natural third-line mentality and approach, but both also bring top-six skill and scoring ability. However, the difference in this case is vast.
First of all, Pavelski and Clowe's absence from the top six would not hurt the top six since Shane Doan, not Tommy Wingels, would be replacing them. In turn, this would mean that Wingels remained on the third line, giving Pavelski and Clowe a much better line to work with than they would without Doan.
Finally, this would give San Jose a fourth line that featured two of the following three: Michal Handzus, T.J. Galiardi and Andrew Desjardins. No matter which two it would end up being, a Shane Doan addition would give San Jose one of the better first, second, third and fourth lines in the league.
Considering how strong the Sharks are at the top, it's scary to think what they could do with that kind of depth.