North Carolina Basketball: 5 Things That Excite Fans About 2012-13 Tar Heels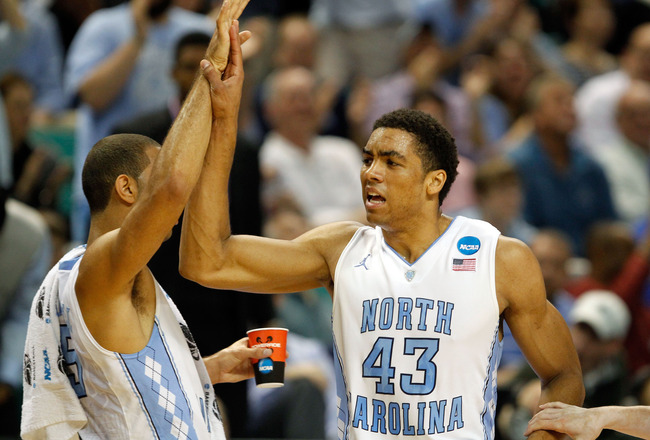 Streeter Lecka/Getty Images
Thanks to an extensively decorated past, North Carolina basketball enters each and every season with high expectations. But after losing four potential lottery picks to the NBA, the 2012-2013 campaign could be a bit different at Chapel Hill.
Harrison Barnes, Tyler Zeller, Kendall Marshall and John Henson all will be playing in the association this upcoming year, but five McDonalds All-Americans remain on the current roster.
Led by sophomore sensation James Michael Mcadoo, the Tar Heels look to do something that they haven't had the chance to do in years.
Exceed expectations.
For the first time in seemingly forever, someone other than UNC or Duke is expected to win the Atlantic Coast Conference. And though the Tobacco Road rivalry promises to entertain, a matchup with ACC favorite North Carolina State may be the best conference game of the year.
Either way, the upcoming season should be slightly irregular for fans of UNC. UNC isn't David nor Goliath. But it still has the talent to compete.
Here are five reasons that fans should be excited about 2012-2013—
Marcus Paige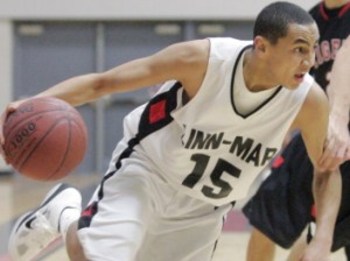 For most schools, the loss of four key starters would diminish any title hopes for the following year considerably. A rebuilding process of sorts would leave the team essentially crippled for a season or two, while the younger talent developed and matured.
Not North Carolina.
Because thanks to top-notch recruiting, it doesn't rebuild. It reloads.
Roy Williams and co. will introduce another talented freshmen class in 2012-2013 led by one of the most highly sought after recruits, Marcus Paige.
The versatile point guard from Iowa tops many scouting boards at his position and has few flaws in his game. Tremendous ball handling and decent jumps compliment Paige's greatest asset: his ability to see the floor and make plays.
His leadership potential has been noted by many, but his overall command of the offense made Roy Williams select Paige as the successor to Kendall Marshall.
Marshall surprised the nation last year with his playmaking ability and high assist numbers. Many believe that Paige will do the same in time.
The only knock on North Carolina's top recruit is his lack of strength—something that can (and will) improve with some hours in the weight room.
But with all of the qualities and intangibles desired in a true point guard, Paige figures to be the man at Chapel Hill in the coming years.
That is if he doesn't follow Marshall to the NBA.
The Schedule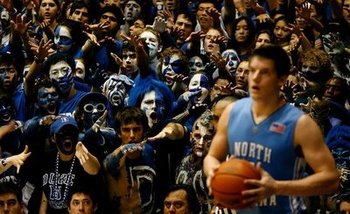 For the first time, the ACC schedule will include 18 conference games.
One season before the conference welcomes Syracuse and Pittsburgh into play, an extended slate of games will allow for additional inner-league action in 2012-2013.
And it could prove tough on the Tar Heels.
North Carolina will have a home-and-home series with the ACC's top five teams from last season (Duke, Florida State, Virginia, NC State and Miami), and the non-conference portion of the schedule isn't much easier.
True road games at Indiana, Texas and Long Beach state should test an inexperienced North Carolina squad without question. And a competitive field in the Maui Invitational includes teams like Butler, Marquette and Southern Cal.
Improving teams at Maryland and Virginia Tech may not yet be ready to compete against national championship contenders like UNC. However, we all know that anything can happen in ACC play.
Besides their date with the Hoosiers, Tar Heel fans can circle February 13 and March 9 on the calendar. The two annual matchups with Tobacco Road Rival Duke should once again be primetime entertainment.
Even if they aren't battling for the ACC crown.
James Michael McAdoo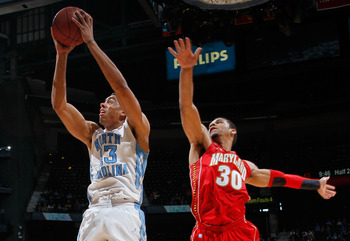 Kevin C. Cox/Getty Images
Amazingly, even with all of the talent that North Carolina lost to the draft this past summer, it could have been worse.
James Michael McAdoo's decision to remain at Chapel Hill for his sophomore year was one that potentially salvaged the 2012-2013 campaign for the Tar Heels.
A consensus top-10 recruit from the class of 2011, McAdoo excelled in limited playing time as a freshman last year. Slotted behind first-round draft picks Tyler Zeller and John Henson, he averaged just over six points and nearly four rebounds in about 15 minutes per game.
Now, McAdoo will likely be North Carolina's first option on offense. With a considerable increase in minutes, he will be able to show the nation why many projected him as a lottery pick before he even left high school.
His unique combination of athletic ability and size (6'9") are rarely seen in a power forward at the collegiate level. So a polished postgame could spell trouble for many in the Atlantic Coast Conference.
McAdoo showed glimpses of brilliance last year—particularly down the stretch.
While filing in for an injured Henson in the ACC tournament, he held his own. Then, McAdoo went for 17 points in an NCAA tournament game against Vermont followed later by a 15-point-performance against Kansas in the elite eight.
He is a guarantee at just 19 years of age. However, if James Michael McAdoo is able to build upon his brief success of a year ago, he could be in the discussion for player of the year honors in 2012-2013.
Reggie Bullock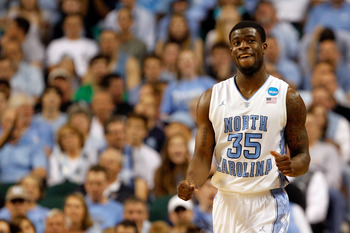 Streeter Lecka/Getty Images
Reggie Bullock returns to Chapel Hill as one of the Tar Heels' few experienced veterans in 2012-2013. The North Carolina native will look to improve upon a rather lackluster sophomore season in which he had an average of just under nine points and five boards a game.
Bullock was heavily recruited out of high school in 2010 for his shooting range and overall raw potential. But in his first two seasons in Carolina blue, the 6'7" wing man has yet to live up to the hype.
Growth was obvious once Bullock started in the absence of Dexter Strickland last year. But as the fifth option on the floor, his offensive game fell secondary to defensive consistency.
Now, he will play more of a primary role in UNC's offense. And if his performance over the summer is any indication of what's to come, Bullock may become a fan favorite at Chapel Hill.
I know it is relatively meaningless to most, but MVP honors and an impressive display at the NC Pro-AM for the Carolina guard showed promising signs.
Heck, I know that a 31-point performance in the championship game against a squad comprised of four Duke Blue Devils has to give the Tar Heels something to smile about.
Loaded Backcourt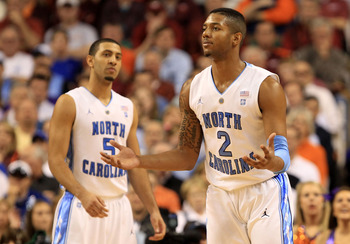 Streeter Lecka/Getty Images
For a team whom many have already written off, North Carolina should have one heck of a backcourt in 2012-2013.
Both Dexter Strickland and Leslie McDonald are returning from serious knee injuries that sidelined them most of last year—and each have something to prove.
For Strickland, his senior season is on the line. And though McDonald has an additional year of eligibility remaining, the same sense of urgency applies.
The two have been both classmates and roommates. Now, Strickland and McDonald represent some of the only veteran leadership that UNC has to offer.
Rehab has consumed much of the summer for both, and paired workouts have assisted them in the recovery process.
The ceiling is higher for McDonald, whom many hope will develop into the legitimate three-point threat that the Tar Heels have lacked in recent years. But Strickland's ball handling and perimeter defense simply can't be overlooked.
Neither guard is going to light up the scoreboard or average a double-double. Don't expect McDonald or Strickland to represent Carolina's first option on offense.
But both will be looking for bounce back seasons, and healthy recoveries could give UNC one of the most dynamic backcourts in the country.
Keep Reading

UNC Basketball: Like this team?