5 Ways the New England Patriots Can Use Jeff Demps to Build a Monster Offense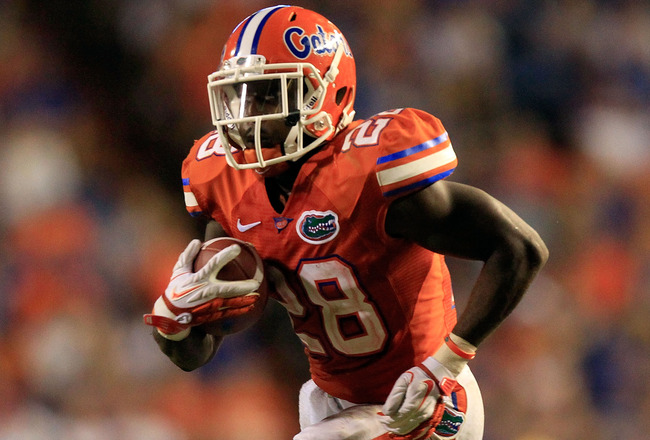 Sam Greenwood/Getty Images
With Jeff Demps, the New England Patriots have the NFL's most dynamic offense.
In addition, Demps' ability makes the Pats offense arguably the most versatile ever.
He joined the team last Friday, per Ian Rapoport of NFL Network:
Breaking: Olympic sprinter Jeff Demps will sign a contract to play for the #Patriots, per 1 of his agents, Nohemy Baltodano. Wow!

— Ian Rapoport (@RapSheet) August 17, 2012
So what can we expect from Demps, and where we will he fit in exactly? Well, it's certainly more ways than one, as his diverse skill set causes many issues for opposing defenses.
Dynamics from Shotgun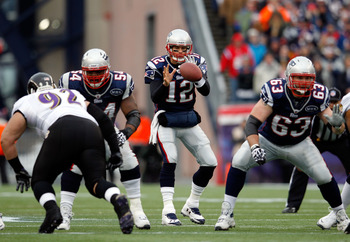 Rob Carr/Getty Images
Whether it's single or split backs with Tom Brady in shotgun, this is arguably the most dynamic formation with Jeff Demps.
From here, the obvious calls are delayed draws, quick tosses to the outside or a read-option for Brady to also work from play action. Other interesting ways to attack a defense are screens and direct snaps.
A screen just gets Demps into the open field quicker, but a direct snap will catch a defense off guard faster. The passing threat of Brady and the Pats' receiving targets will overlook Demps' presence in the backfield.
So, getting him the rock sooner, the better.
On short-yard situations with the defense spread out, Demps' acceleration will pay the most dividends simply because he can get to and past the line of scrimmage faster than any linebacker or defensive back.
And if New England really wants to mess with an opponent, motioning him out to the slot or on the wing creates a whole new set of problems.
Widen a Defense from the Slot/Wing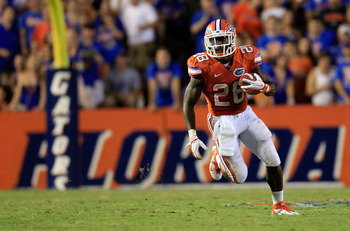 Sam Greenwood/Getty Images
These are the formations where Jeff Demps can conveniently get better positioning on the outside.
From the wing or slot, New England has quick bubble screens, slants and the potential to split a Cover 2 zone. No linebacker is going to match him in single coverage, and most defensive backs don't have Demps' kind of speed either.
In short, lining him up here is to widen a defense, which opens up the zones a bit more.
Doing so gives the Patriots a horizontal rushing threat on jet sweeps and the option of reverses. And when a defense gets flowing in one direction, that's when Brady can hit with a more dangerous play action.
Anything to freeze a defense momentarily will pay extreme dividends.
Specifically designed plays such as a throwback screen or deep wheel route also get Demps favored against man coverage. At the very least, his presence at the wing or slot will force a defense to acknowledge that position.
Even if it's just a decoy, the Patriots have Demps to gain a stronger advantage in the play-calling chess match.
Take Direct Control in the Wildcat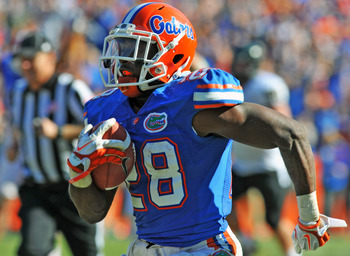 Al Messerschmidt/Getty Images
Here is where the direct snap is evident, but still useful.
Possessing world-class track speed, trying Jeff Demps as the Wildcat conductor enhances his ball-carrier vision.
From this formation, Demps can get a pre-snap feel for where to make the cut and how long to stretch out a defense before slicing inside. Around the goal line or any short distance is a distinct competitive advantage.
Say it's 3rd-and-1, presenting Demps in the shotgun Wildcat basically makes the first down a foregone conclusion. His quick explosion and all-around athleticism will be off the ground and leaping over the pile before anyone else can react.
The man simply knows how to build momentum within short space and time. So, no chance for the defense to slow Demps down until he moves the chains.
He can also widen a defense from the Wildcat like when in the wing/slot, but not to the same extent.
As much as Demps in the Wildcat provides for the Pats, this lacks the passing threat with Tom Brady not taking the snaps.
Must Be Effective in Basic Formations
The Florida Gators may not have gone under center too often, but we see the advantage of such a formation with Jeff Demps in the backfield.
With the opportunity to take handoffs and tosses from Tom Brady, Demps will only develop faster from a pro-style set. The I-formation we see from the video gives way to a fullback fake toss and puts Demps in a favorable and spacious situation.
Running the typical sweep, toss, counter or dive play also benefits the use of Demps' speed. Obviously, sweeps, tosses and counters will get him to the outside, and the dive is an option for a quick hit up the gut.
Split- or single-back sets with Brady under center just allows for a more traditional running game and play action. After all, this is the basis for any offense, and Demps' ability must be a threat here, so he can be a threat in shotgun, Wildcat and/or from the wing or slot.
If not, then the utilization of Demps would become more predictable and make it easier for defenses to prepare.
Special Teams for Field Position
Sam Greenwood/Getty Images
Special teams is where Jeff Demps can help the offense without actually playing offense.
Field position.
No matter how much Demps contributes offensively, New England already presents an explosive and dynamic attack against any opponent. And starting each possession with better field position only enhances that aspect.
While at Florida, Demps averaged 28.8 yards per kickoff return and took one back to the house.
Last season, the Pats ranked No. 29 on kickoff returns by averaging only 21.4 yards per attempt. So Demps' potential to position New England 7.4 yards better is an astronomical difference.
That's nearly one less first down New England would need on any given drive and only 1.2 yards below Brady's average yards per pass attempt (8.6) in 2011.
Also, the Pats were only mediocre on punt returns by averaging 10.2 per attempt, which ranked No. 16.
Although Demps didn't return any punts after his freshman season, the ability to develop there is possible when you combine his kickoff return and running back vision experience.
Follow John Rozum on Twitter.
Keep Reading

New England Patriots: Like this team?