Chelsea vs. Reading: Picking the Ideal Blues Starting XI to Rip the Royals Apart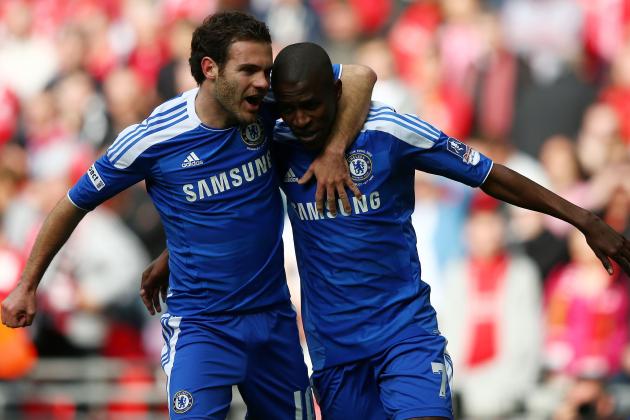 Clive Mason/Getty Images

It's been a pretty long time since Chelsea have played in the friendly confines of Stamford Bridge, but the Blues are finally back at home on Wednesday, where they play host to Reading FC.

Chelsea looked very good in the first seven minutes Sunday in its 2012/13 English Premier League opener, scoring quick two goals en route to a 2-0 win at Wigan Athletic, but the rest of the match the European champions looked a lot like last season's squad which often struggled to win the time of possession battle.

Some starters looked pretty solid, some excelled and a couple continued to worry me with their play against the Latics.

Here's the starting XI I think manager Roberto Di Matteo should send out against the Royals in West London on Wednesday (ESPN2, 19:45 p.m. BT/2:45 p.m. ET/11:45 a.m. PT).
Begin Slideshow

»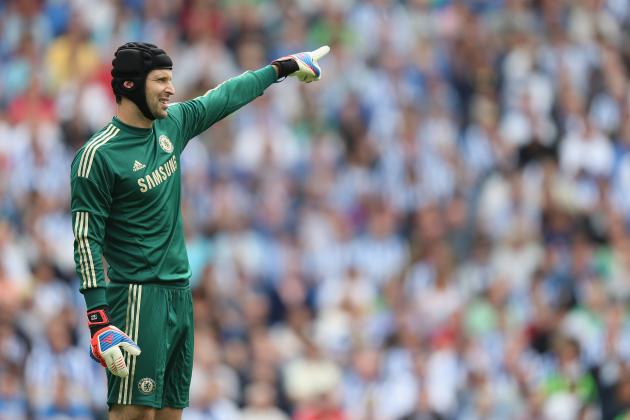 Mark Thompson/Getty Images

What a pleasure for Di Matteo to always be able to turn to a reliable player like Petr Čech in goal, game in and game out.

I won't waste any of our valuable time trying to explain to you Chelsea readers why he will start. It's about as simple as putting milk and eggs on your grocery list every week— you simply need them.
Ross Turnbull will most likely be there again to backup Čech, but starting Turnbull in the home opener with a chance to start the EPL season off 2-0-0 just isn't going to happen.
Čech please.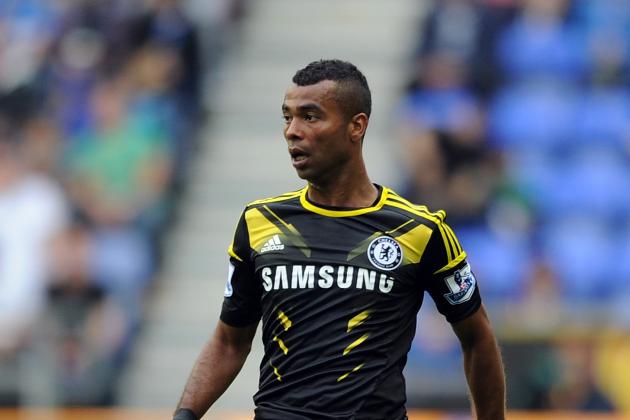 Chris Brunskill/Getty Images

The 31-year-old Englishman played a pretty solid game on Sunday at the DW Stadium, but as he does almost once a match, he attempted a shot on goal that I'm sure made most fans gasp after he took it.

Not known as a goal-scorer, Cole is very dependable at left back, and if he continues to play as he has in past seasons, I have no problem with him taking that one crazy shot every game. Who knows; he's bound to score one of these days.

The versatile Ryan Bertrand is always a reliable replacement at the position, but in terms of establishing some sort of permanent starting XI, Cole should be there almost every match this year barring any serious injury.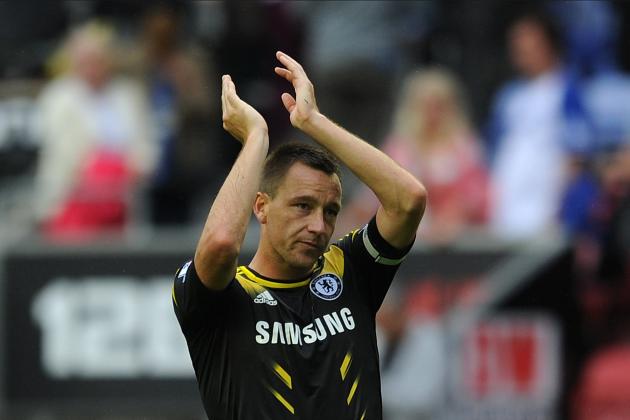 Chris Brunskill/Getty Images

He looked a little out of breath in the second half and somewhat rusty at times, but John Terry played a pretty good game in my eyes and will again be in his normal spot against Reading midweek.

Although his off-the-field problems aren't totally behind him quite yet, the feisty 31-year-old Englishman has to start when the Blues need a win, and for him to be on the bench in the league home opener seems like sacrilege.

And with 49 career goals and one of the strongest headers in the game, this defenseman and team captain can be very offensive when Chelsea needs a score.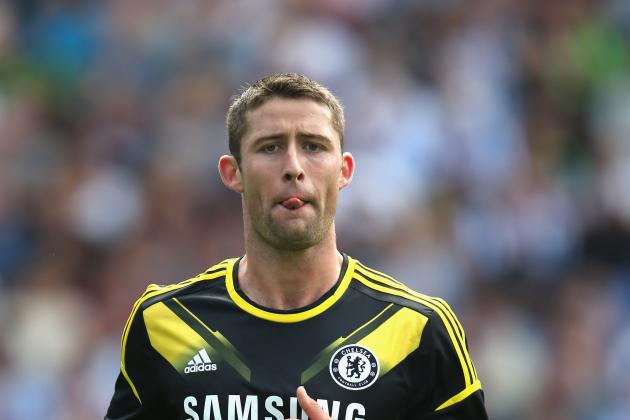 Mark Thompson/Getty Images

After making a huge effort last year to go out and get Gary Cahill from Bolton Wanderers, it's about time to begin giving him some starts and valuable minutes in my opinion.

Combined with David Luiz's failure to always stay back in his defensive position—although he has improved in that area—and his sometimes questionable temperament, working Cahill into the lineup more often would keep Luiz honest and fresher and provide some valuable game experience.

In Luiz's defense, the yellow card he received on his first tackle of the game at Wigan was unwarranted, but it seems the reputation precedes him and it's easy for the referees to spot the young Brazilian with his curly lion's mane.

Luiz most likely thinks he should start every game, but RDM would be wise to start working the talented Cahill in more regularly, especially with so much so many matches ahead in the next 10 months. This game against the Royals is a perfect opportunity.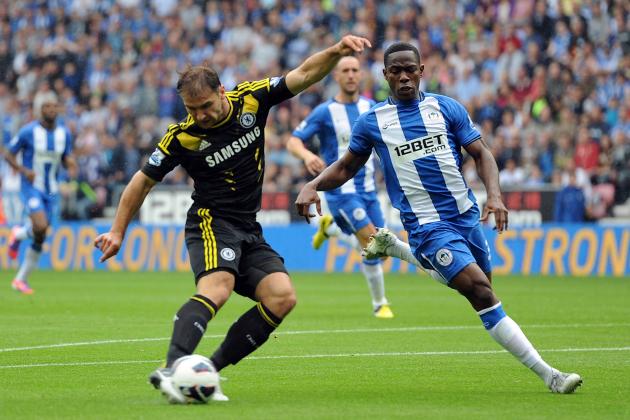 Chris Brunskill/Getty Images

Ivanović scored the opening goal of the new season against Wigan on Sunday and provides an intimidating physical presence (6'2", 186 pounds) on the backline for the Blues.

With José Bosingwa now gone and the acquisition of César Azpilicueta from Olympique Marseille not quite a done deal just yet, the big Serbian will definitely be starting at his right back spot at Stamford Bridge against the Royals.

Against Wigan, Ivanović played his usual dependable game for the Blues.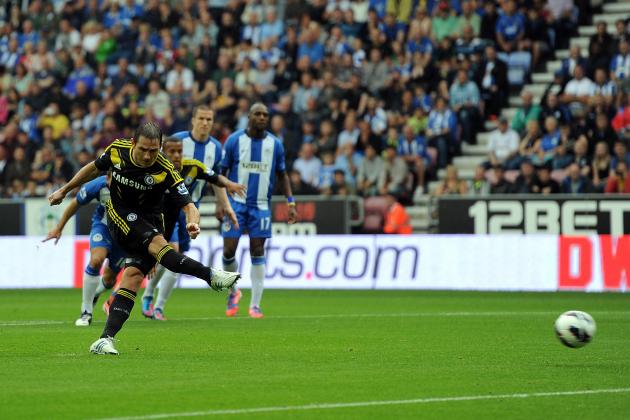 Chris Brunskill/Getty Images

If Chelsea management had any doubts about letting the talented 34-year-old Lampard go after this last year in his current contract, his performance on Sunday should make them realize it would not be a wise move.

And apparently, Di Matteo feels the same way, as he said in an interview last week about Lampard and his ongoing talks with management.

"Frank is a very ­important player for us. "He has shown his qualities over the years," Di Matteo said. "He can keep playing without a problem. He is in good shape, he has had no major injuries and he looks after himself."

Lampard not only provides valuable veteran leadership for the Blues, but is also a phenomenal penalty kick option, having now converted on 37 of 40 in EPL play after his first-half goal on Sunday.

The Englishman also showed he's still got it on defense, as he made a great defensive sliding save in second half in the box on a Lactics surge.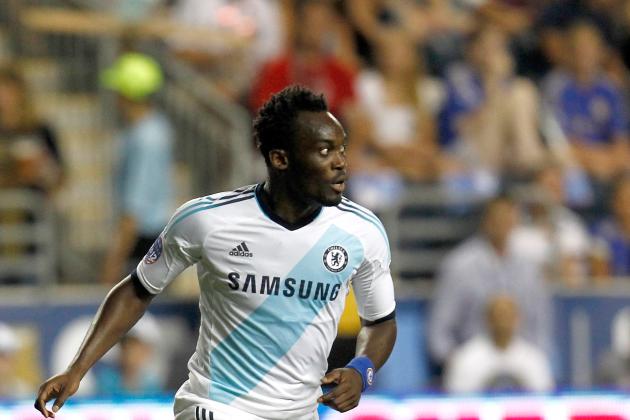 Jeff Zelevansky/Getty Images

John Obi Mikel seems to have earned his holding spot in the midfield over Michael Essien but with a huge match against Newcastle United at home on Saturday (Fox Soccer Channel, 12:30 p.m.ET/9:30 a.m. PT), I wouldn't be surprised if Essien got the nod here against Reading and Mikel returns against a more talented Magpies side in a revenge game on Saturday.

This one's really a toss-up to me, but with three matches in seven days so early in the season, I'd look toward giving Mikel a little rest and Essien some playing time against the recently promoted team knowing Saturday's game should be more difficult facing the likes of Newcastle United's prolific Demba Ba, Hatem Ben Arfa and Papiss Cissé.
Chris Brunskill/Getty Images

The Man of the Match on Sunday and the guy I feel Chelsea blue bloods will develop a love affair with by Christmas, Eden Hazard, may have earned this starting spot in many people's minds after the way he played on the tour of America and against the Latics.

With two assists on the Blues' first (and only) two goals so far this season, 23 passes and a respectable 74 percent pass completion rate, the 21-year-old Belgian looks worth every penny of his blockbuster £32 million deal so far.

Dubbed the "right-footed Lionel Messi," the former Lille star showed the comparisons are warranted very early on in his first game in the Premiership on Sunday, and his 20 goals, 17 assists and 14 Man of the Match awards for Les Dogues last season proves his value to a club.

Backing Hazard up is another summer acquisition, Brazilian Oscar, who also looked very good in his first match ever in the EPL. And with the young Hazard and Oscar on the left wing, Chelsea is extremely deep and talented at this spot, and should be for years to come.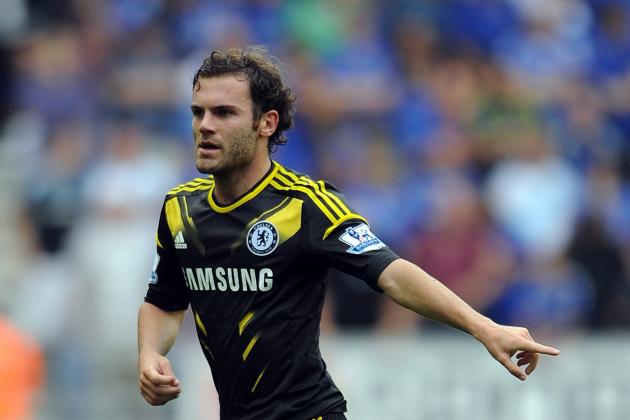 Chris Brunskill/Getty Images

The quarterback of Chelsea's offense and the Blues' Player of the Season in 2011-12 season, Mata should hold down this spot for quite some time, especially with the club's desired evolution into a short-passing, Barcelona-type squad.

Spaniard Mata played a good game at Wigan and is pretty much a no-brainer for a start on Wednesday in the home opener as well as Saturday's showdown with Newcastle, also at Stamford Bridge.

Raul Meireles subbed in for Mata on Sunday and is a decent backup, but Mata has proven he can facilitate the offense with his passing and score when necessary (nine EPL goals last season).

With these two players along with Hazard, Oscar, Marko Marin and Ramires, the Blues are loaded in the advanced midfield position, and once they all get used to their roles, the club's time of possession and number of goals scored should steadily improve.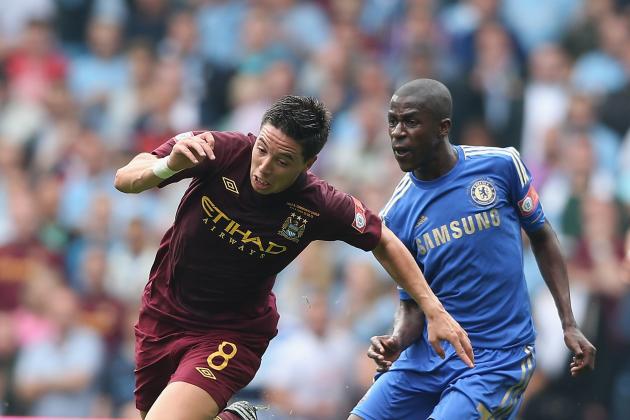 David Rogers/Getty Images

The speedy 25-year-old Brazilian missed the league opener on Sunday with an illness and was replaced by Bertrand, who has shown he can provide solid backup for Cole at left back and for Ramires as a defensive winger, a role he played in Chelsea's historic win over Bayern Munich in the Champions League final in May.

If he is healthy, expect Ramires—who led the club in successful dribbles per game and tackles and won the club's Players' Player of the Year award last season—to get into the mix against the Royals.

If he's not, Bertrand will likely fill in again up-field, but I expect Ramires to be in the starting lineup for this one.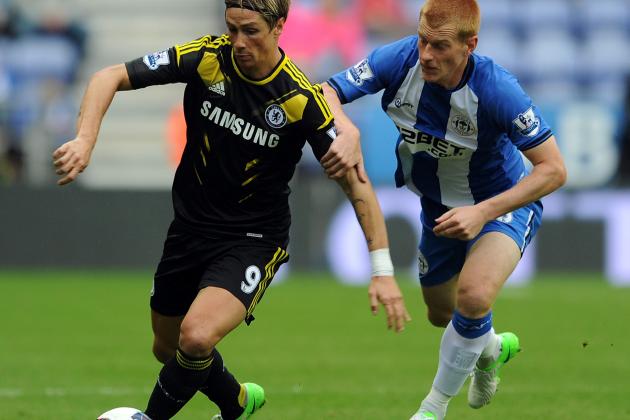 Chris Brunskill/Getty Images

I am trying so hard to give El Niño a chance. Seriously.

With a new season upon us, Didier Drogba gone and Romelu Lukaku out on loan to West Brom, it's crucial for Torres to get into some kind of a groove but his play Sunday still revealed several weaknesses.

His passes left a lot to be desired, he was caught flat-footed often and his timing, like last season, is still off as he was caught offside a couple times.

Torres almost got a goal, effectively fighting through a challenge in the second half, but it was cleared away at the last second by a Latics defender.

Catering to his fragile ego, RDM will likely tread lightly in subbing Daniel Sturridge for the Spaniard as his threat to leave over the summer forced management to tell him the (starting) spot was his.

But after the way Torres played Sunday and the way Wigan's Victor Moses looked against the Blues, I wouldn't be surprised if Chelsea pushed harder in its efforts to land Moses, possibly in the not-too-distant future.

Not starting Torres against Reading on Wednesday might get in his head, so I expect him to get the start again in the home opener to give him that chance to gain some much-needed confidence.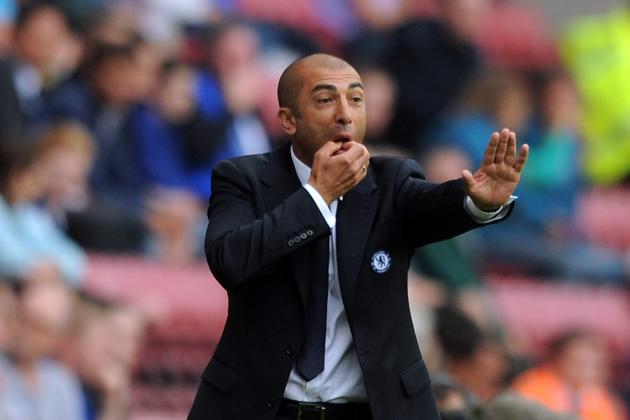 Chris Brunskill/Getty Images

As Manchester City learned Sunday against Southampton, the promoted teams in the EPL can not be taken lightly.

This starting XI will give Chelsea a chance to jell some while also giving guys like Cahill, Essien and Ramires their first minutes of the season.

And, if so inclined, let me know who you think the starting XI will be in the comments section below.

Follow me on Twitter: @KevinStott11